If you're interested in a more pleasant bathroom experience by purchasing a bidet and you want the luxury of a heated bidet for those cold days and added comfort- look no further! We've gathered up our top 6 picks here; no matter which features you're most attracted to and what your budget is- you're guaranteed the very best on this list.
Regardless of whether you'd like to control your bidet's water temperature or have adjustable flow options, this post is going to go over our opinion on the best-heated toilet seats on the market this year. When finding a model with the features you want, it is also important to consider the bidet's water pressure, speed, and noise level (which we will go over a few here) so you can choose the one that fits you the best.
You have many options and features when it comes to different bidets, which makes each one unique. Most heated bidets have an easy installation process, and they will require a hot water line connection to be connected. A few models come with additional features like deodorizers, environmentally friendly added features, and the option for remote control- to make toilet time that much more luxe!
Options are many, and prices vary widely- from budget toilet seats that cost only a little more than a standard one to lavish and elaborate options with everything you could ask for. Here is a list of the best-heated bidet toilet seats on the market, reviewed based on the most important features.
Ready? Let's jump right in.
Bio Bidet BB-600 Advanced Bidet Toilet Seat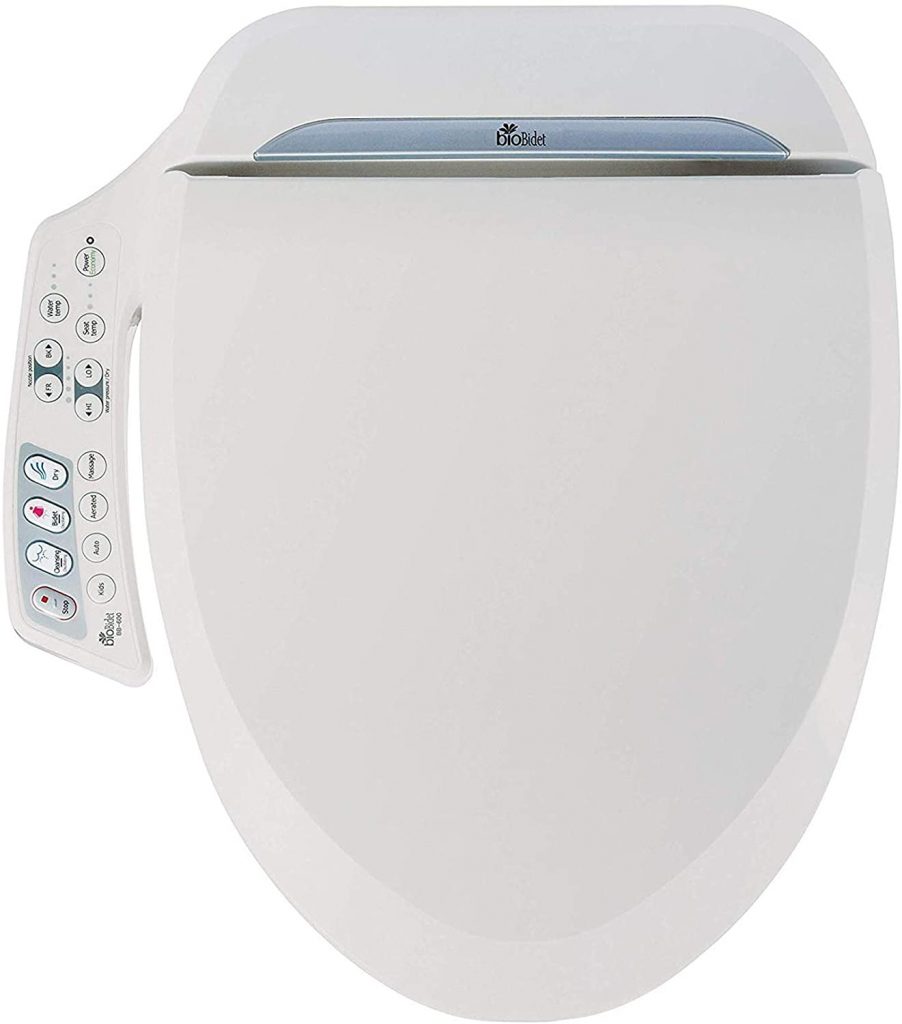 This heated bidet toilet seat is available in two lengths: elongated and round. Although it can take some twisting to read the buttons on the side panel, you can easily reach the controls. It also features a heated function for greater comfort and antibacterial material.
You can access seat heating, water temperature, water pressure, and nozzle position functions using the bank of buttons. The BB-600 also offers front and rear cleaning, oscillating, and massage modes, as well as auto wash and kid's wash functions, making it appropriate for use by all members of the family. Tank reservoirs prevent cold spots, ensure a constant flow, and are eco-friendly. BB-600's mild warm air dry post-cleaning is also included.
Pricing and more details on the Bio Bidet BB-60 here.
Lotus Smart Bidet ATS-500 Toilet Seat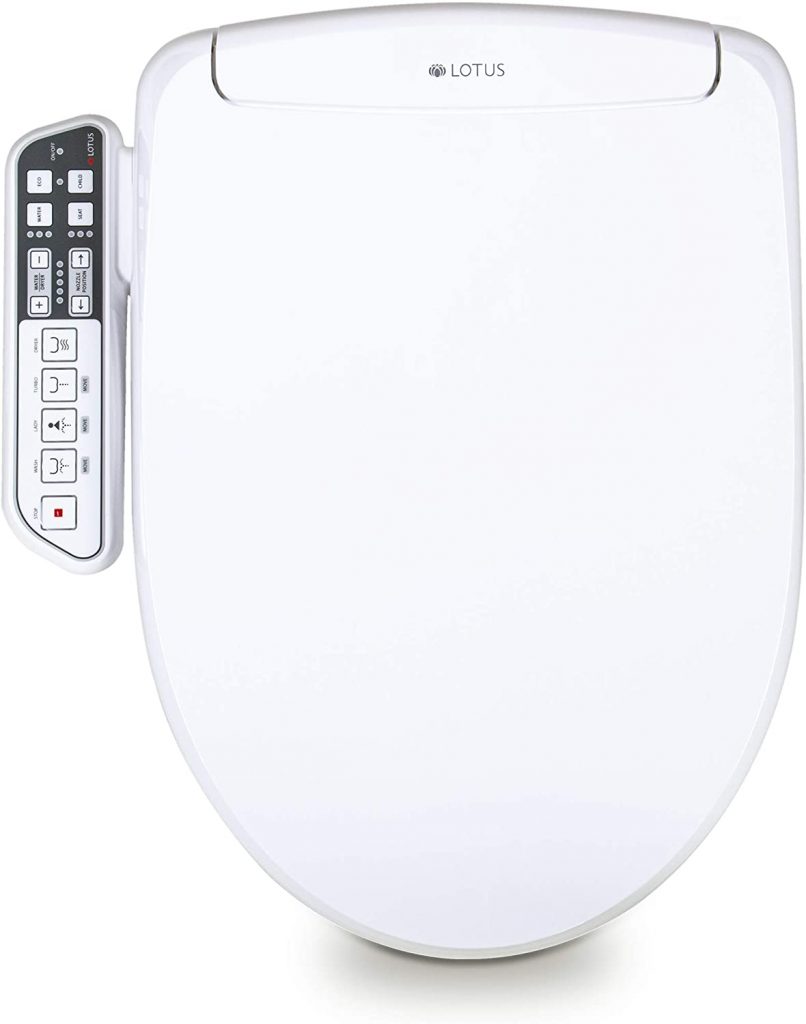 There are elongated, and round Lotus Smart heated bidet toilet seats available. As the lid closes gently, fingers are protected, and nocturnal noise is reduced. The control is right beside the toilet, and regular controls are located at the front of the controller, making them easier to find. You also have the option to purchase this seat with a wireless remote instead of having the control panel on the side.
The Lotus Smart heated bidet is marketed as environmentally friendly since it has an eco-friendly mode and an air dryer that avoids the use and disposal of toilet paper. The heated seat provides extra comfort.
The settings are turbo wash, rear and front wash, and an energy-saving mode that is jet washed before and after use to ensure total cleanliness.
Pricing and more details on the Lotus Smart Bidet ATS-500 here.
TOTO s350e Electronic Bidet Toilet Seat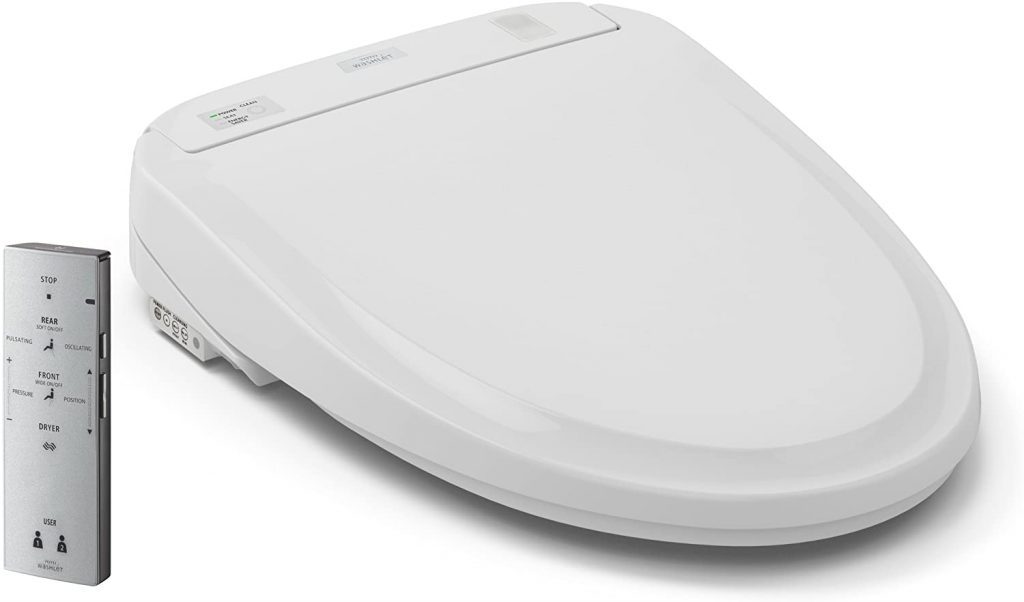 It isn't cheap to buy the TOTO SW583 #01 s350e Electronic Heated Bidet Toilet Seat. It is the most expensive item on our list, but it offers the most functionality. It has an auto-opening and auto-closing feature and is heated. Furthermore, you can use the nightlight to improve your experience in the bathroom. No matter how far back you are in line, tankless water heaters provide you with access to warm water whenever you need it.
Before each use, the heated bidet moistens the toilet, preventing stubborn odors. You can wash the bowl from the front and back, and there are 5 different water pressure settings. You can also use the Ewater+ compound to clean the bowl before and after each use. An easy-to-use remote control is used to control the entire system.
Pricing and more details on the Toto s350e here.
SmartBidet SB-1000 Electric Bidet Seat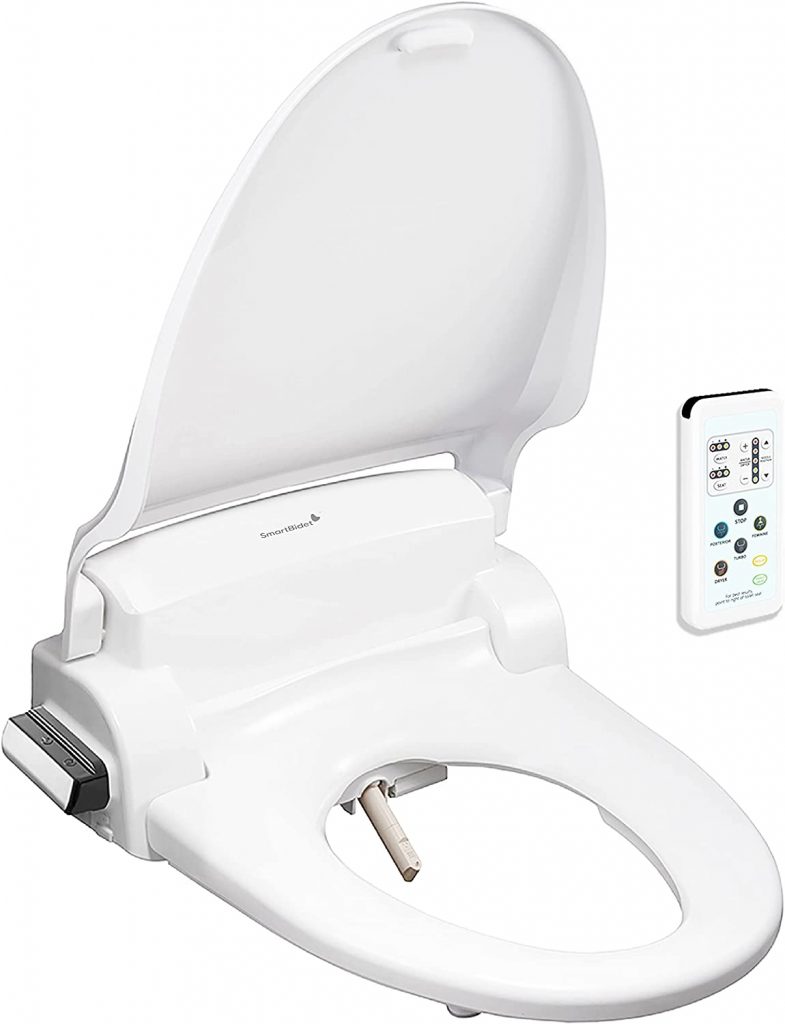 Another affordable heated bidet seat is the SmartBidet SB-1000 Electric Bidet Seat. With different models for elongated and round seats, it offers a soft-closing lid. Even though the company claims it to be an easy installation, the process doesn't seem to be streamlined like other devices.
Also, it comes with a very short water hose, so it might be necessary to purchase a longer, more appropriate one.
This bidet toilet seat offers a heated dryer, and it has front and backwashing. There is a turbo wash, but some have claimed it may be too powerful to use effectively. By using the handy remote control, you can adjust all the settings to your liking while minimizing your environmental impact; it's a win-win!
Pricing and more details on the Smart Bidet SB-1000 here.
Brondell Swash 1400 Luxury Bidet Toilet Seat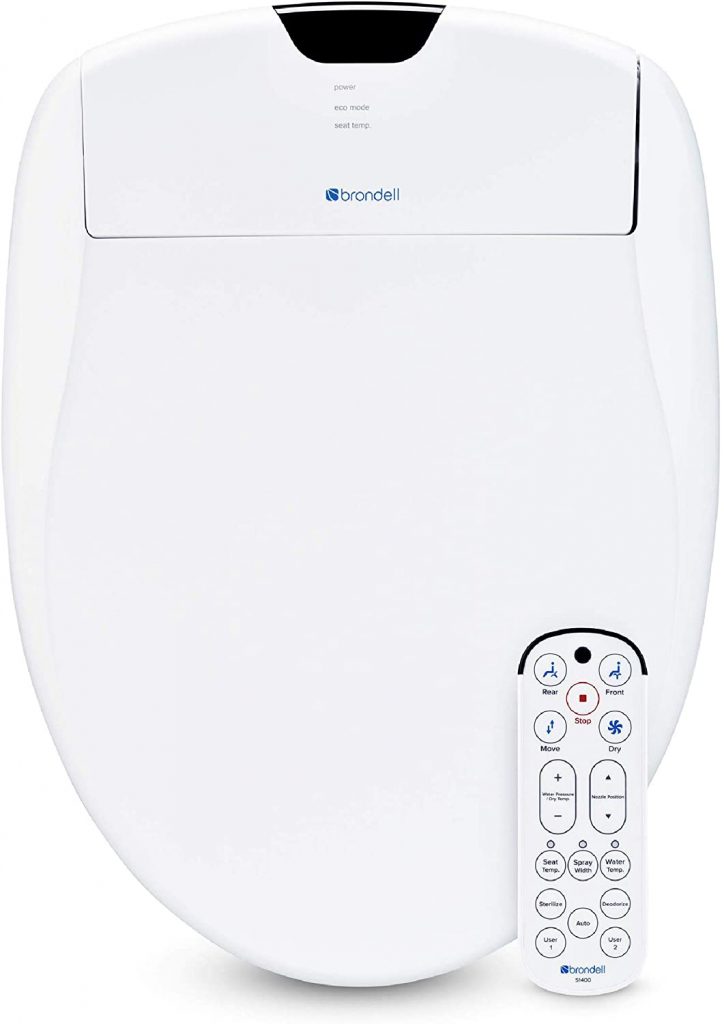 In terms of price, the Brondell Swash 1400 Luxury Bidet Toilet seat is somewhat expensive. The TOTO is a bit more affordable but still a pricey model. In place of a control panel, it has a remote control. The Brondell Swash 1400 features a warm air dryer, two stainless steel spray nozzles, and an ambient night light to enhance the bathroom's ambiance.
Additional luxury is provided by the endless warm water spray and heated seat. Due to all the hardware in the round seat model, you will end up with a fairly small hole in your toilet seat. It seems as though some of the less expensive and less technological seats do a much better job of cleaning than the more expensive options. In this case, you have to decide which features are most important to you and which features aren't so much.
Pricing and more details on the Brondell Swash 1400 here.
Kohler Novita BD-N450US-N0 Elongated Bidet Seat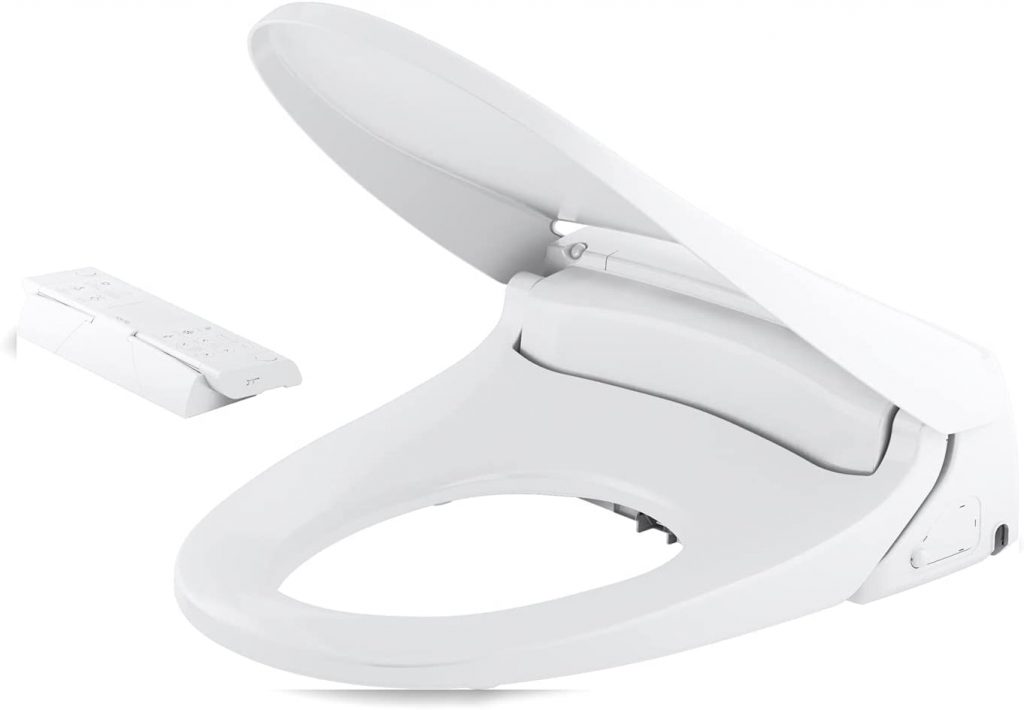 In the Kohler Novita BD-N450US-NO Elongated Bidet Seat, the automatic water heater ensures warm water is always available when you need it. Cleaning is ensured before and after each use with the help of the stainless steel wand.
The Kohler is well-equipped to keep you clean with front and rear wash modes as well as a 3-level adjustable nozzle. You can use the waterproof remote control for this. Some issues have been reported to occur with the positioning of the dryer fan, and it can feel as if it's facing in the wrong direction. Additionally, the instructions for the remote are said to be not very clear, which can take some getting used to. Also, a number of the features on your phone can be challenging to turn off, such as the nightlight.
Although the Kohler bidet toilet seat is a good product in most respects, it is quite challenging to use and is not very intuitive. But if you love the features and are up for learning how to use them, we'd say- go for it!
Pricing and more details on the Kohler Novita BD-N450US-N0 here.
Final Thoughts
The best bidets are comfortable, improve personal hygiene, and are eco-friendly. Many variables affect the price of a heated bidet toilet seat, so you have to weigh your options and choose the one you feel is best for you.
With its heated seat, water tank, and its great set of features- the Bio Bidet Ultimate BB-600 Advanced Bidet Toilet Seat seems like one of the best options, despite its moderate price tag (definitely worth the extra bit of money).
Even though it is much less expensive than the Bio, the Lotus Smart Bidet ATS-500 Toilet Seat has a decent array of very affordable features. We love that it has the option to purchase with a remote instead of a side panel.
You can't go wrong with any of the heated bidet toilet seats listed above, but it's important to find the one that ticks most of your boxes in what you're looking for.
Are you interested in learning more about the different types of bidets out there? Check out The 12 Types Of Bidet Including Weird & Wonderful Options for more information.