Swimsuit shopping is complicated at the best of times. Throw in the added task of working out whether the brand really is sustainable, and things get overwhelming pretty quickly.
I take a look at what factors truly make a swimsuit sustainable, and round up 32 of our favourite ethical swimwear brands.
Women's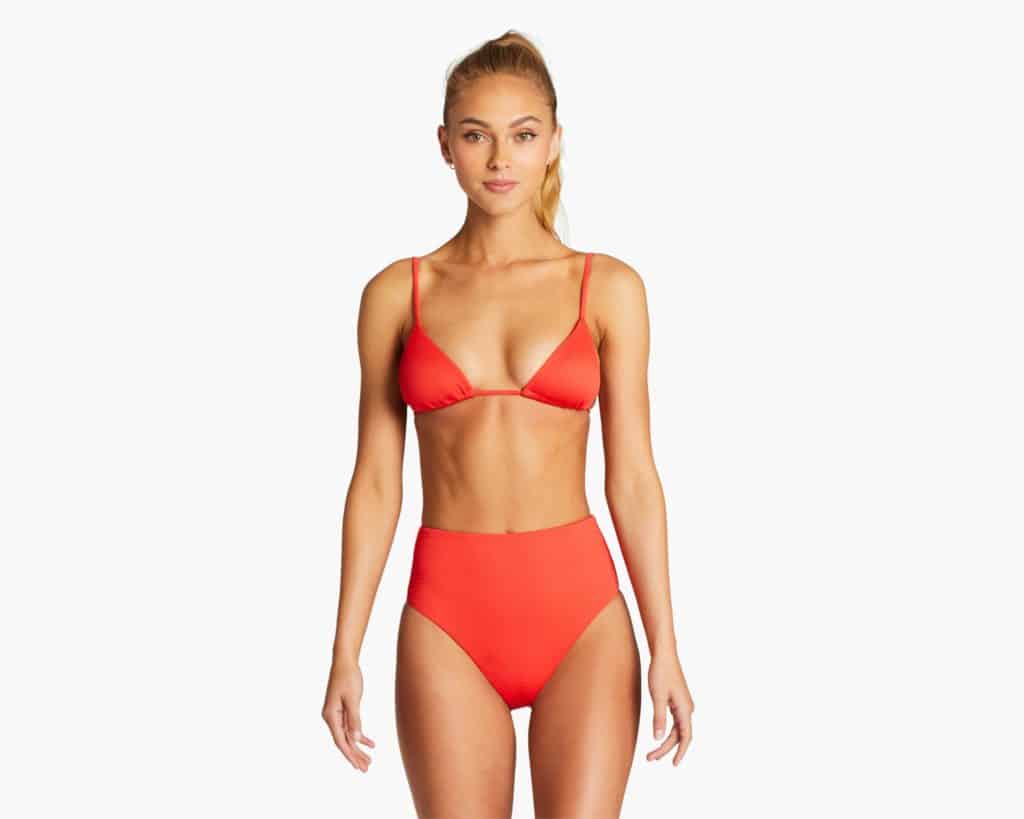 Vitamin A
Made in the USA using recycled nylon, recycled plastic bottles, plant-based (from castor beans).
Women's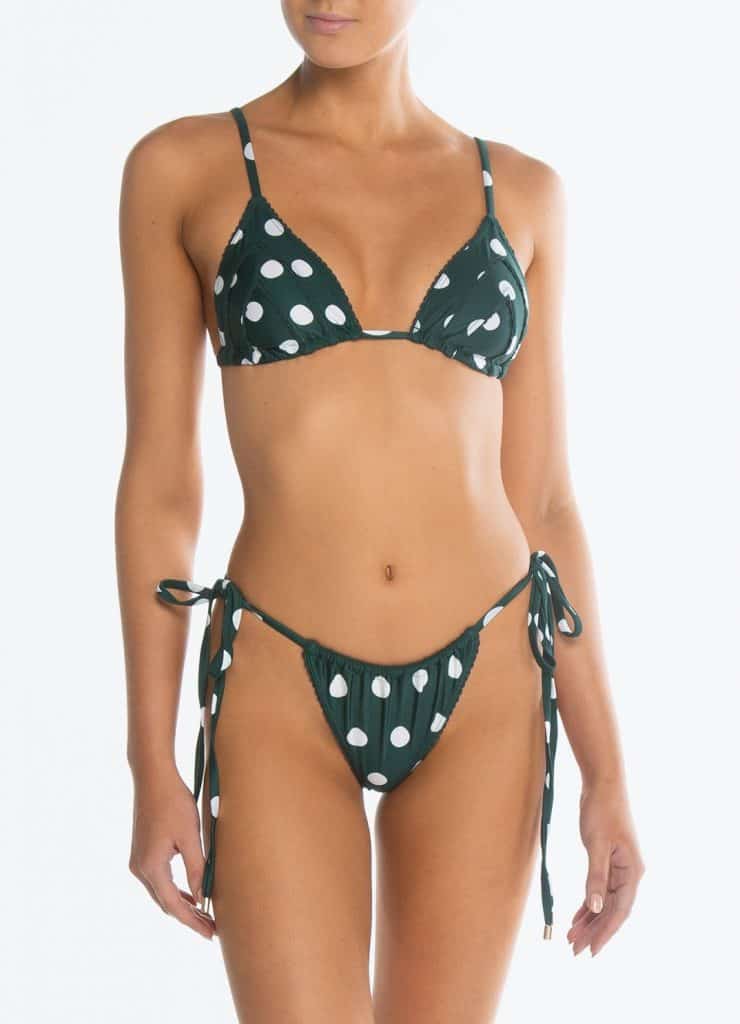 Peony
Made using ECONYL®, and an in-house recycled yarn lining.
Mens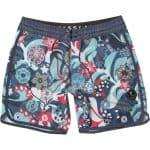 Vissla
These shorts are made using Cocotex® (coconut), recycled polyester, REPREVE (plastic bottles).
32 Sustainable Swimwear Brands
Here is my list of 32 sustainable swimwear brands.
Summersalt – Young and Fun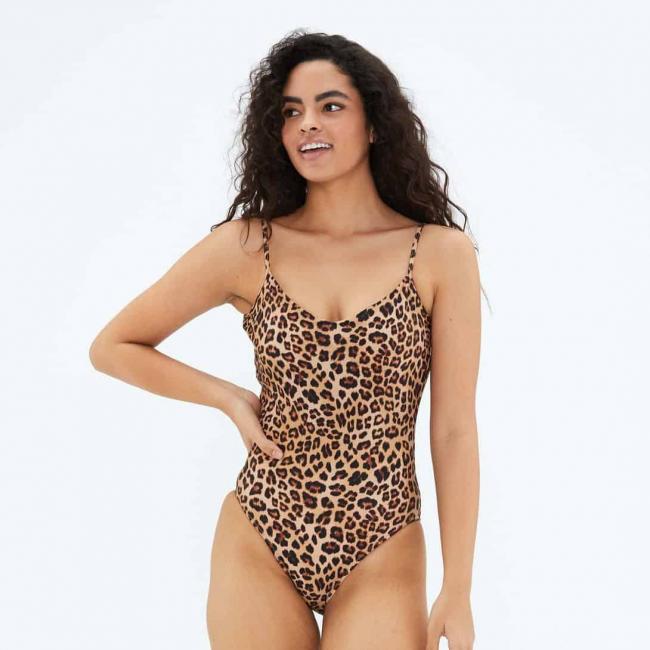 Made using 78% Recycled Polyamide, 22% elastane
Summersalt swimwear takes comfort seriously. They used measurement data from over 10,000 women in the design of their swimwear to ensure a flattering fit 100% of the time.
Their swimsuits boast 5X more durability and 4x more compressing power than the average swimsuit, and everything is under $95.
Mamadelta – Delicate and Feminine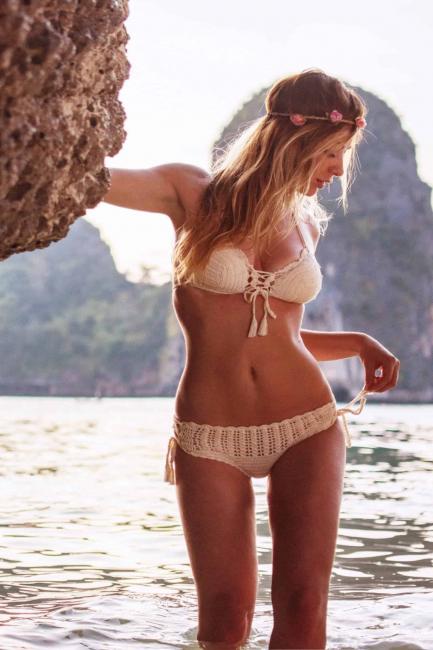 Made in Vietnam using Fine Yarn
The yarn used to make these bikinis is water-resistant, light-weight, and durable. It also has an Azo-free certification. The swimsuits are one of a kind with detailed stitching to enhance the design.
By wearing this bikini, you are helping to provide work opportunities and improve the lives of artisans in the Mekong Delta.
Vitamin A – 70's Beach Glam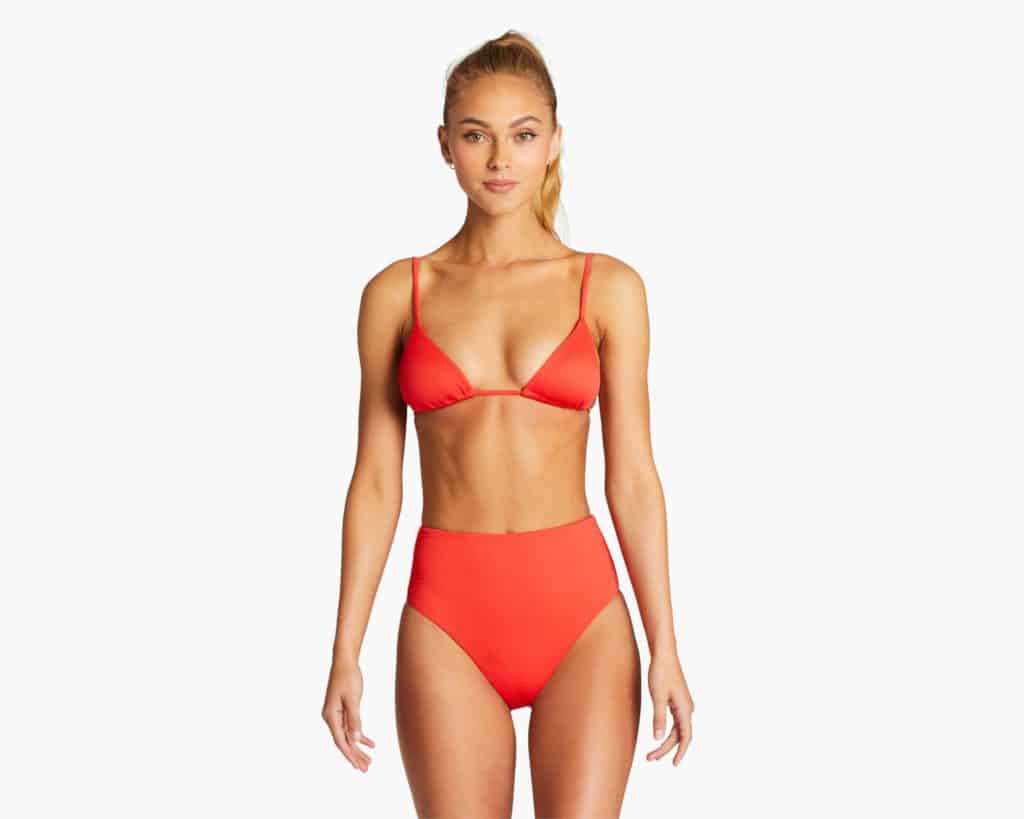 Made in the USA using recycled nylon, recycled plastic bottles, plant-based (from castor beans)
Amahilha, the founder of Vitamin A, created her own signature fabric Ecolux made from recycled nylon after she was told there was 'no market' for sustainable swimwear.
Since then she has gone on to create other eco-friendly materials like BioSculpt, which is a plant-based alternative to nylon.
Jessica Rey – Stylish and Modest
Made in the USA using 78% regenerated polyamide / 22% Lycra Xtra Life
Jessica Rey swimsuits are all handmade in the USA. This makes sure that all workers are paid fair wages and have good working conditions.
Her garments are made to be modest, but not frumpy. The range is perfect for anyone looking to cover up in style.
VYB – Modern Beach Babe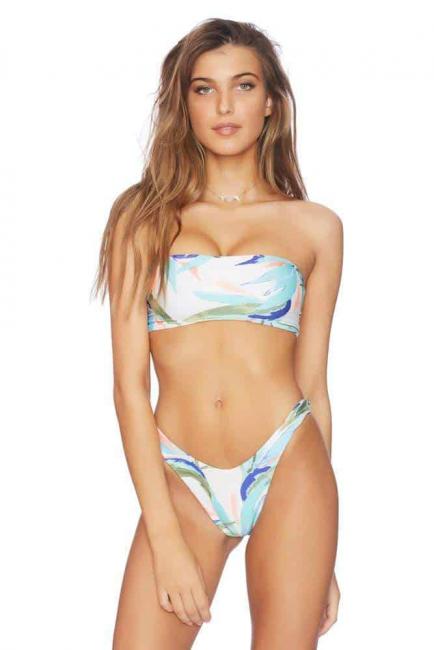 Made in the USA using deadstock fabric (89% Nylon, 11% Spandex)
Any swimsuits made of deadstock fabric are limited edition, and once a style is sold out it has gone forever.
Although not made of environmentally friendly material, this is material that has been saved from going to waste and also saved the need to create more fabric. Using deadstock fabric is just a different way of recycling.
Mara Hoffman – Simple Statements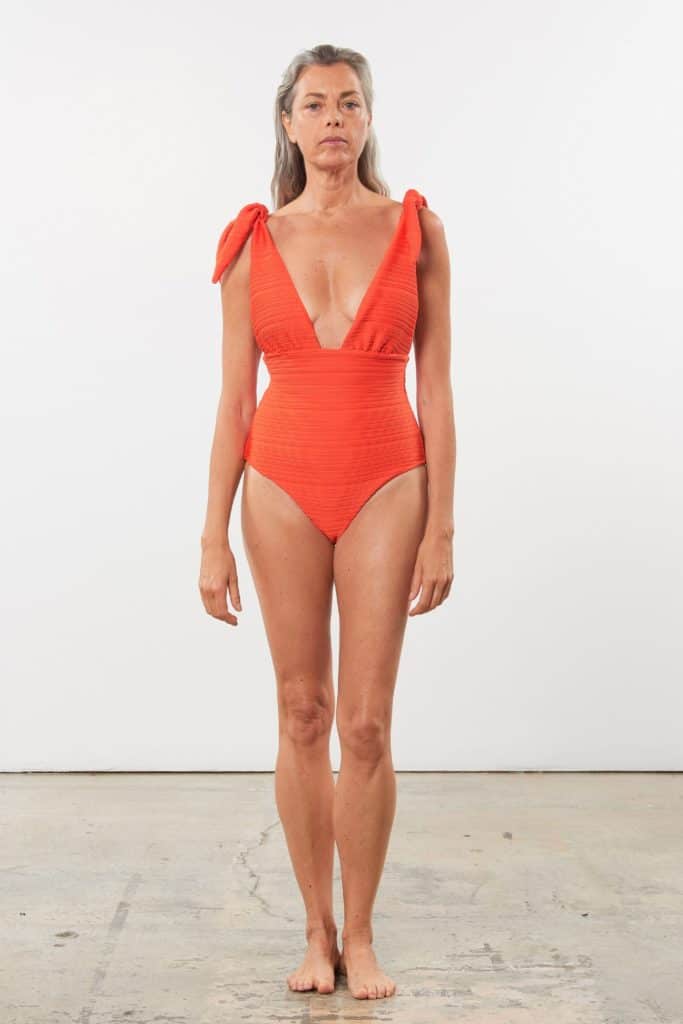 Made in the USA using 70% Recycled ECONYL nylon, 22% spandex
Since 2017, when Mara Hoffman started using ECONYL fabric, the brand has saved over 17,000lbs of waste from being sent to landfill. This includes around 4,500lbs of fishing nets.
The collection is full of bold colors and prints, with each design available in a range of different cuts.
Reformation – Clean and Modern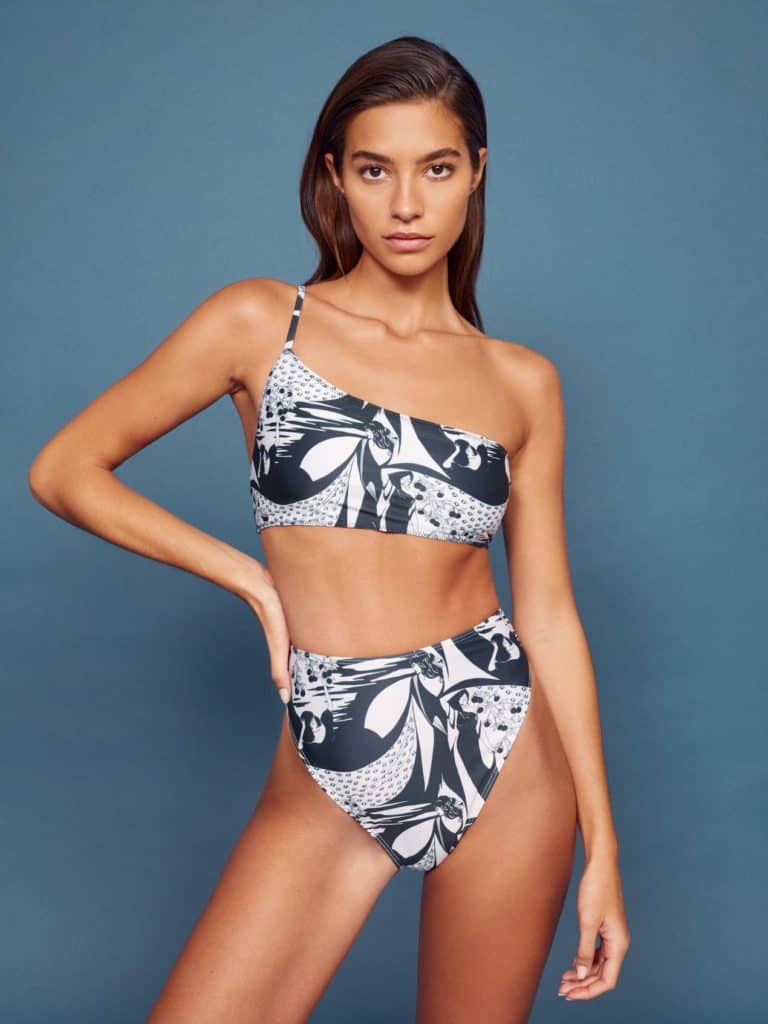 Made in the USA using 78% ECONYL Regenerated Nylon, 22% elastane
Reformation put sustainability at the core of everything they do. They have been both carbon and water neutral since 2015.
As a brand for women, over 75% of their management team are women or people from underrepresented populations.
UND – Timeless Athleticism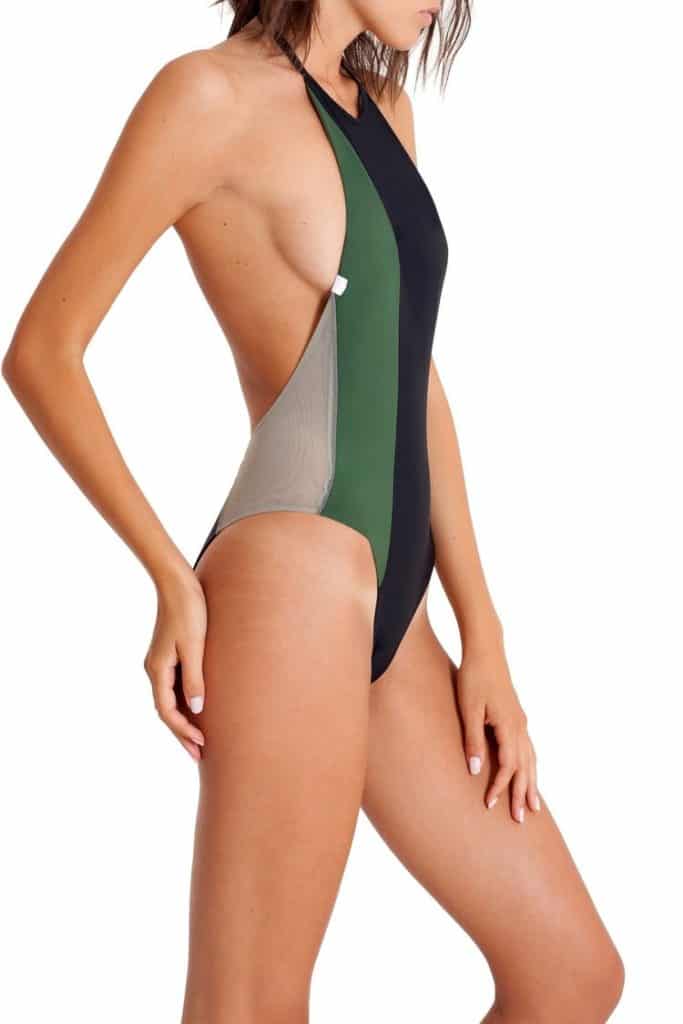 Made in Italy using  Recycled Lycra and Oeko-Tex certified tulle
UND swimwear was created to provide value in an ethical and sustainable way. The signature mesh details ensure the collection stands out from the crowd.
All of their suppliers are part of an efficiency program to help reduce waste, CO2 emissions, and water usage.
Elle Evans – Classic Cuts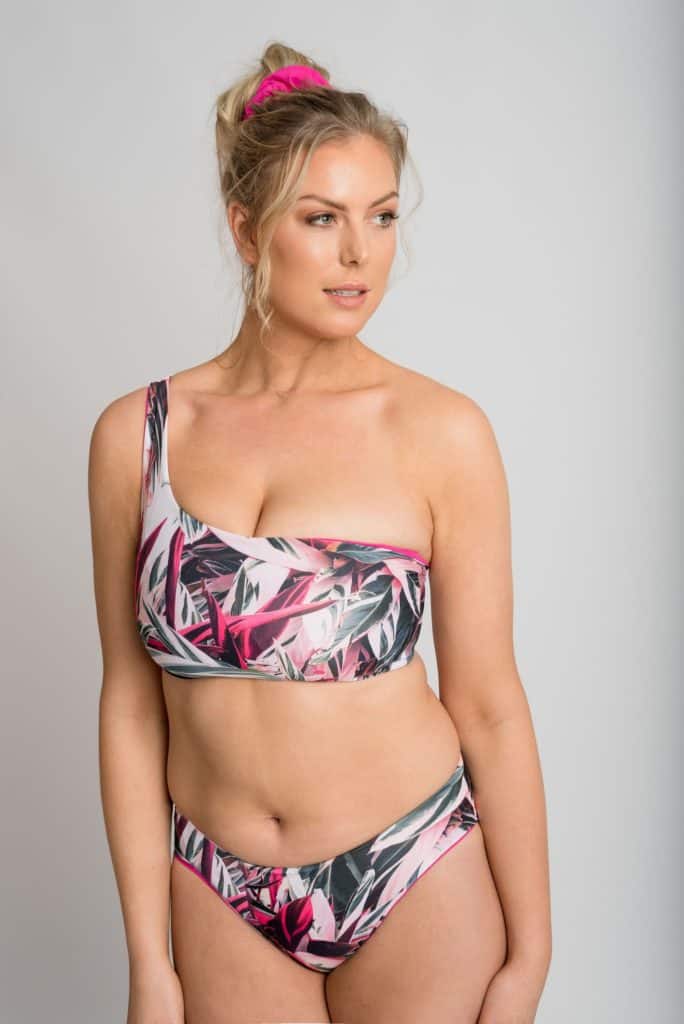 Made in Australia using 8% Recycled Nylon 22% xtra life lyrca (regenerated ECONYL nylon fibre and leftover cut-offs)
Elle Evans will only make your swimsuit after you have ordered it. This way they can guarantee that nothing they make ends up wasted.
Scrap material isn't thrown away but used as a frill or strap on another swimsuit. They even use deadstock fabric to ship their orders and use a carbon neutral courier.
Patagonia – Built for Adventure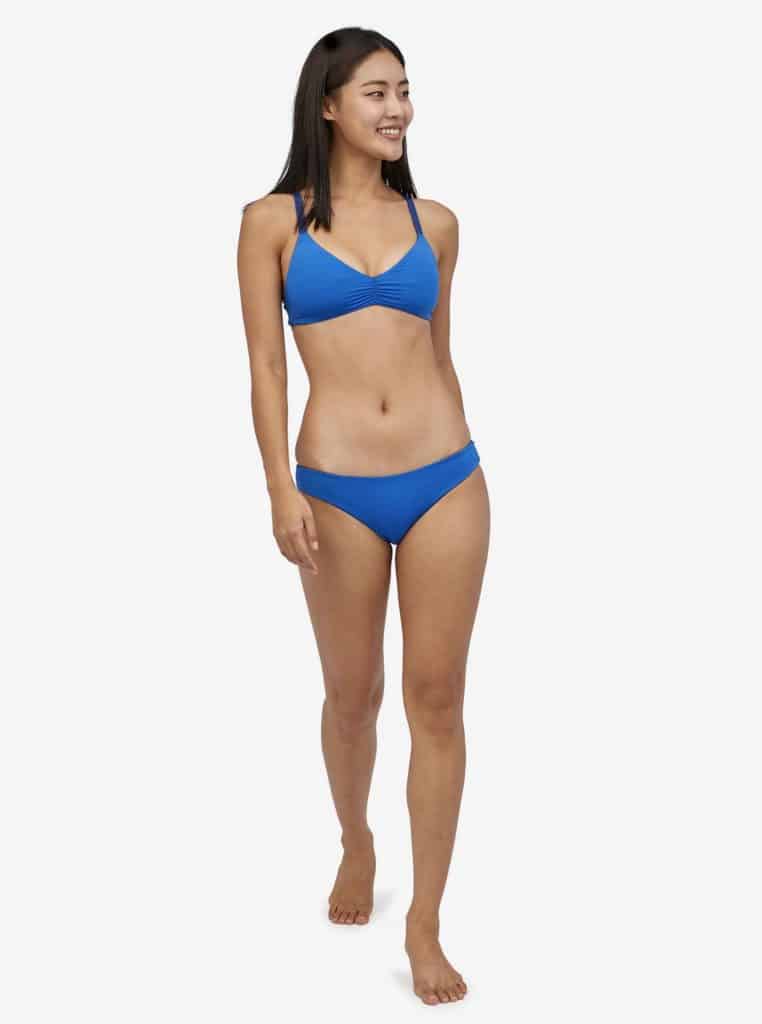 Made in Colombia using 83% recycled nylon/17% spandex
Patagonia swimsuits are built with an active lifestyle in mind. Whatever you throw at your swimsuit, it'll be able to handle it.
They are continually working on becoming more and more sustainable in everything they do. By 2025 Patagonia aims to be carbon neutral.
Bower – Modern and Beautiful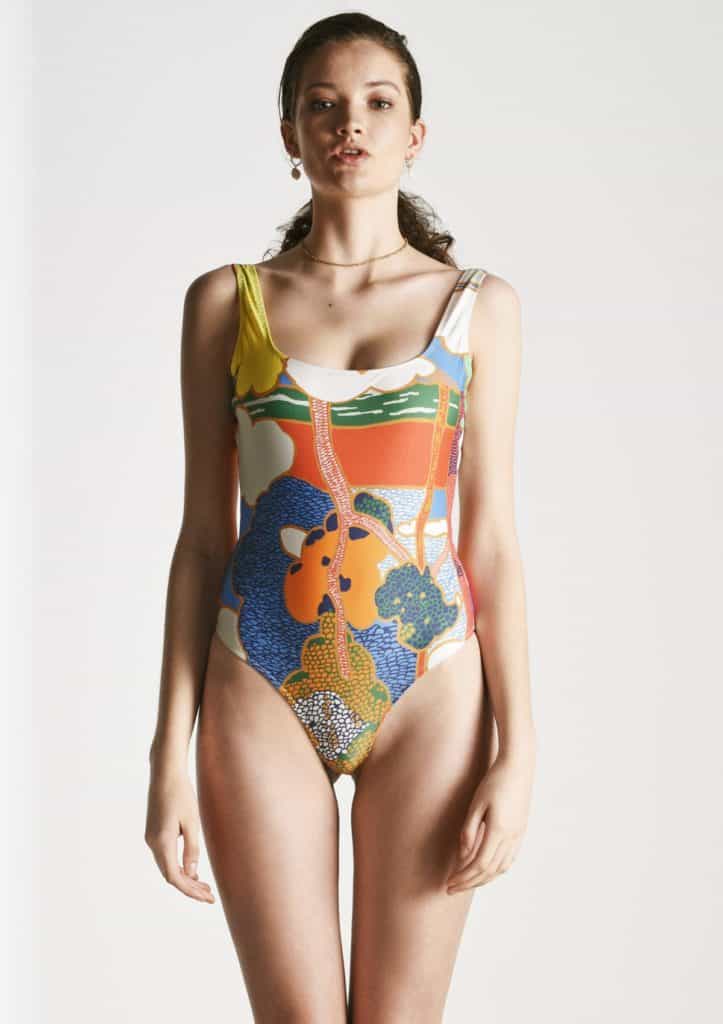 Made in Italy using a sustainable techno-fabric made from ECONYL® recycled yarn
Committed to being as sustainable as possible BOWER partnered with the Healthy Seas Initiative and donates 1% from every purchase to their cause. This money goes towards cleaning the oceans.
Each piece is made to order, and only limited fabric is purchased to help cut down on deadstock fabric and waste.
Fisch – Island life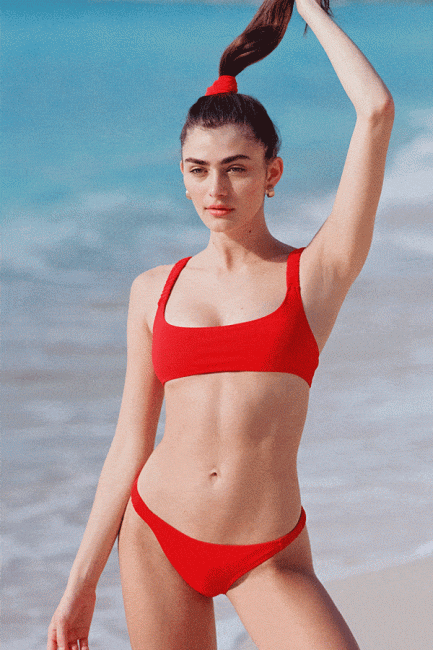 Made in Italy using 65% Econyl® (fishing nets and nylon waste) 35% Elastane
Only launched in 2017 this new brand is making waves in the sustainable swimwear scene. Inspired by the creative director's childhood in St Barths, these sustainable swimsuits look and feel luxurious.
The fabric is sourced in Italy, where the clothes are made, to cut down on their carbon footprint.
Davy J – Comfortable Confidence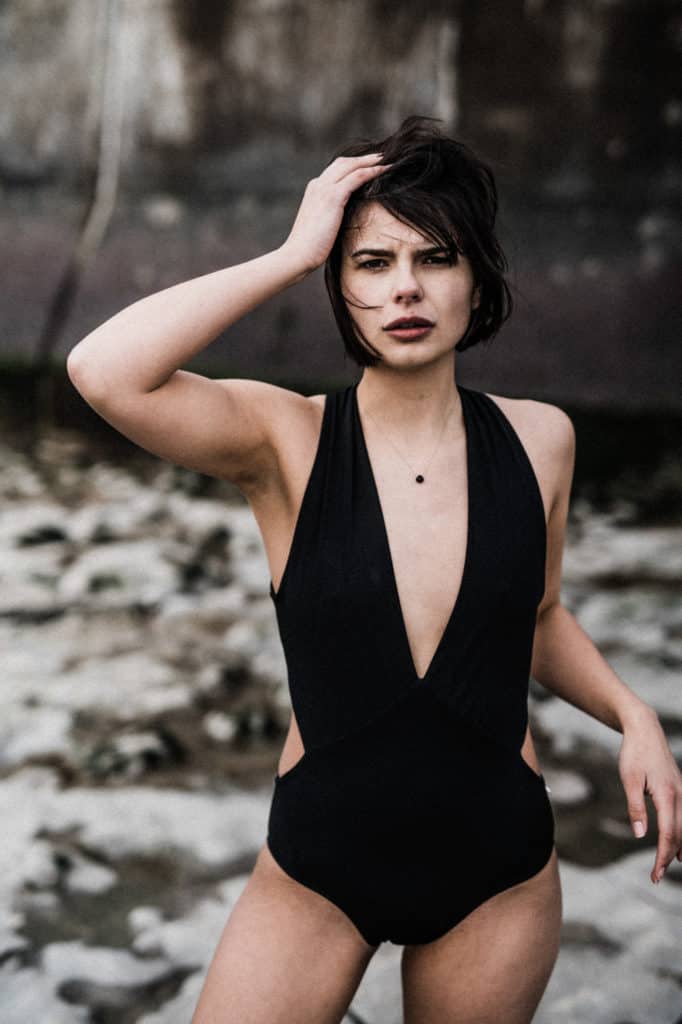 Made in England using 100% recycled nylon
Davy J is trying to create a closed loop system. Their swimsuits are made to last, but when they have reached the end of their life you can send them back and they'll be reused.
You can even send swimsuits you didn't buy from Davy J back to be recycled.
Fauna – Brazilian Vibes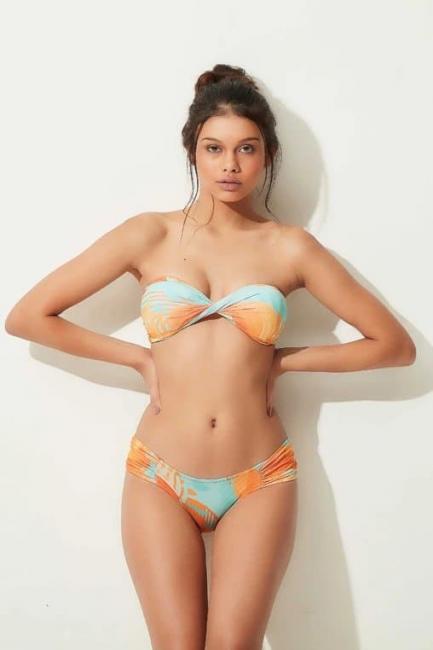 Made in Brazil using 87% biodegradable polyamide fiber, 13% elastane
The majority of the material used in Faunas swimwear will biodegrade in 4 years in landfill. The bacterial activity in landfill sites is what causes the decomposition to start, so you don't need to worry about it decomposing it while you're still wearing it!
There are lots of cool prints to choose from, as well as the classic block colors.
BOLDswim – Minimalistic Luxury
Made in Brazil using 100% Amni Soul Eco® Thread /CO2 Light Fabric
Limited quantities of each piece are made, and the scraps are donated to local Brazilian artisans. These local artisans use the scraps to make household goods that they sell.
The signature fabric is biodegradable, but also soft and breathable.
Natasha Tonic – Tomboy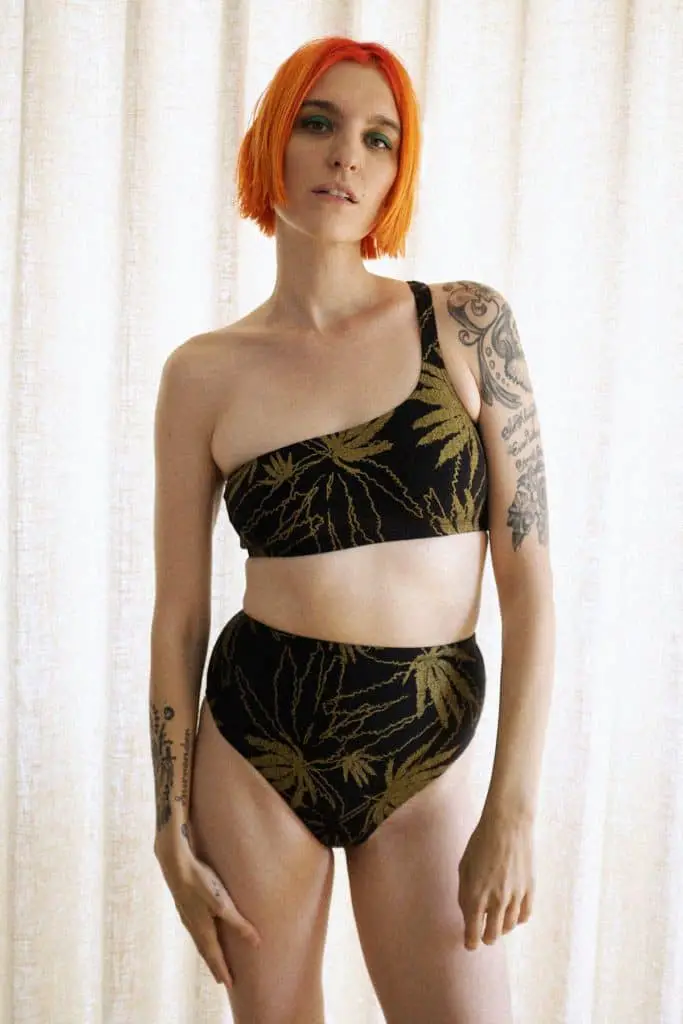 Made in the USA using an ecocert organic hemp blend
Natasha hand prints her swimwear in her studio in LA. This means that no two pieces will be exactly the same and that the prints are less toxic to your skin and the environment.
Hemp is a very sustainable material, the plant uses up less water and uptakes more CO2 than most other plants.
Galamaar – Plain Sophistication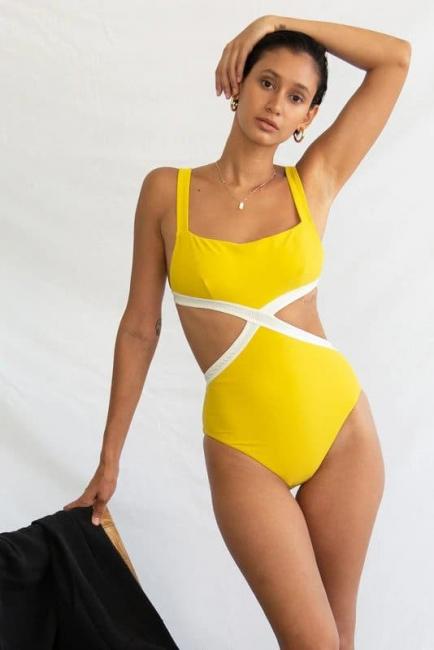 Made in USA using 88% recycled Econyl® / 22% Spandex
Galamaar doesn't believe in fast fashion. The fibers used to make their swimwear are made to last up to 50% longer with proper care.
Every detail has been considered, even the tags they use are made of recycled material.
Peony – Summer Lovin'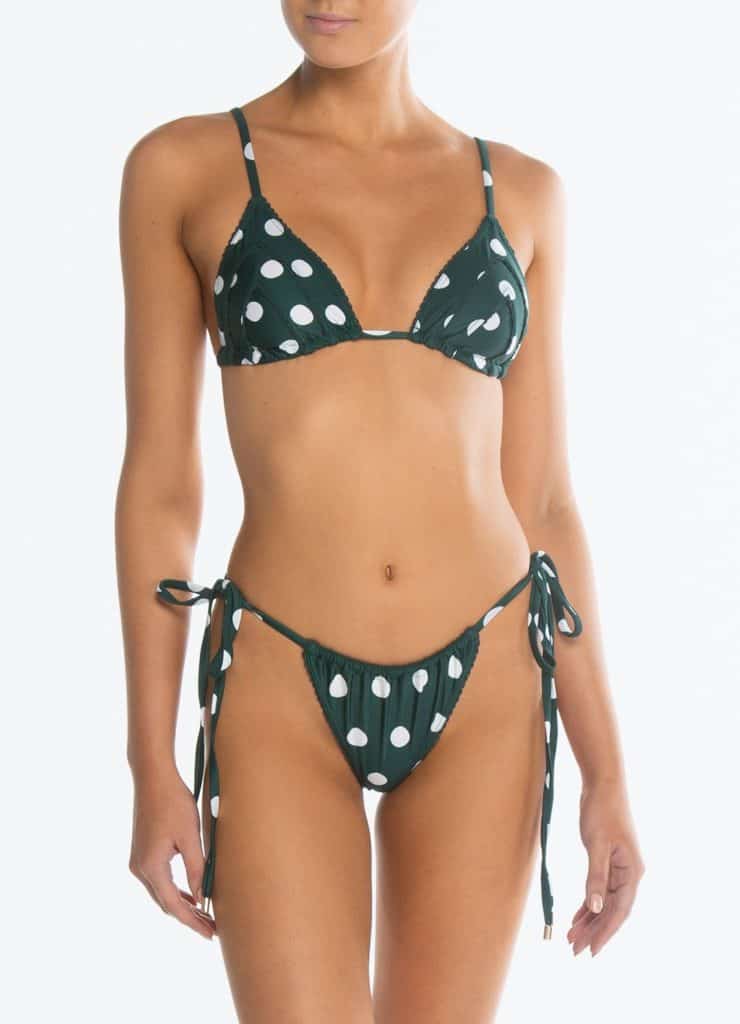 Made using ECONYL®, and an in-house recycled yarn lining
The swimwear is made from 100% sustainable fabric, including the lining. Some sustainable brands use recycled material for the outside of the garment but then use unsustainable material for the lining.
Peony is a family-run business and they love spending time outdoors. It's this love of nature that inspired them to start Peony and help conserve the environment.
for the dreamers – Classic Surf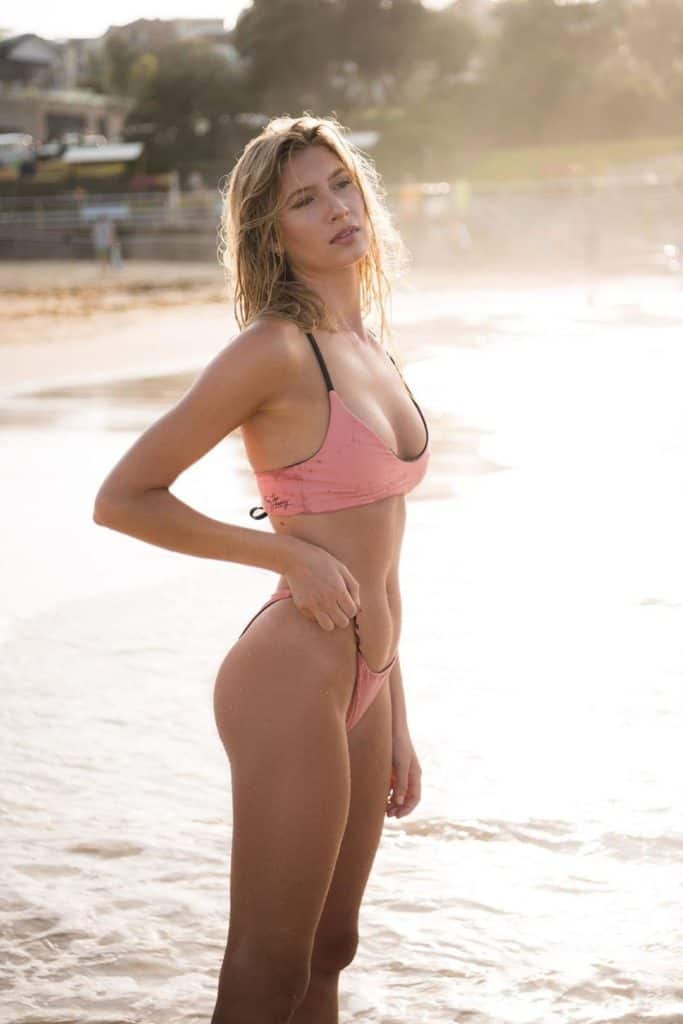 Made using ECONYL® and XTRA LIFE LYCRA®
For the dreamers aren't just concerned about the environment, they also feel strongly about social responsibility. That's why 5% of every purchase is donated to Water is Life, which helps provide safe drinking water around the world.
The swimsuits are simply designed on purpose so they will outlive trends. For the dreamers is an affordable option, it's sustainable swimwear that won't break the bank.
Volcom – Versatile Cuts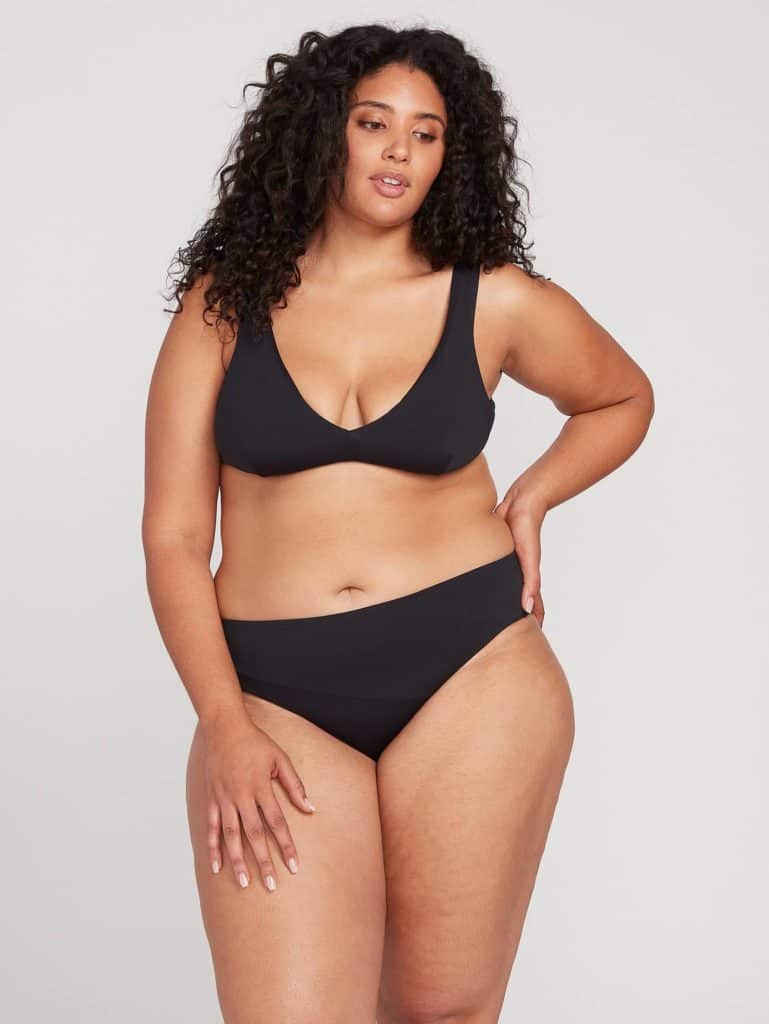 Made using 82% Econyl Regenerated Nylon / 18% Elastane Jersey
This year Volcom reset their environmental goals with a continued focus on sourcing, but also on messaging. They want to spread the importance of sustainability through their marketing.
The men's board shorts are made out of hemp, a sustainable material Volcom aims to use more of in the future.
REI – Adventure Junkie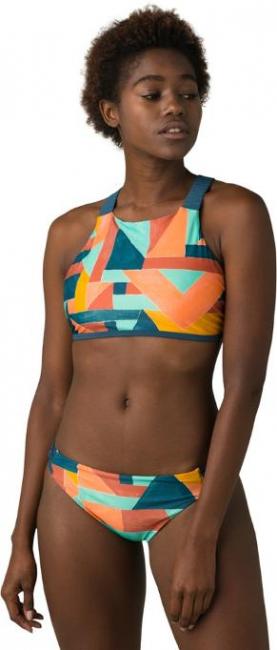 Made using mostly 78% recycled nylon/22% Lycra
REI itself does not make sustainable swimwear but curates a collection from other sustainable brands like prAna and Patagonia. There are regular sales on so it's perfect for grabbing a bargain.
REI is committed to tackling climate change and in 2018 invested 70% of its profits into the cause.
Abysse – Empowering Confidence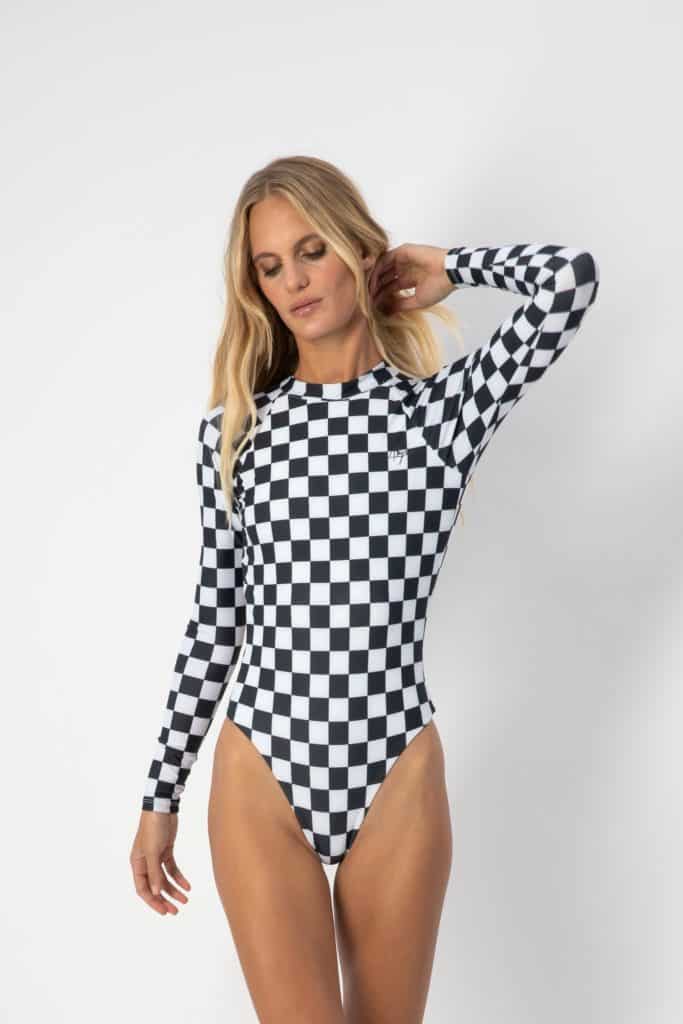 Made in California using 100% Italian Recycled Fabric
The Abysse company motto is produce less, produce well. They believe that sustainability should not be a marketing tool, and use recycled materials from the beginning to the end of their production line.
The swimsuits are designed to push boundaries and provide innovation in sports fashion.
Otherwild – Androgynous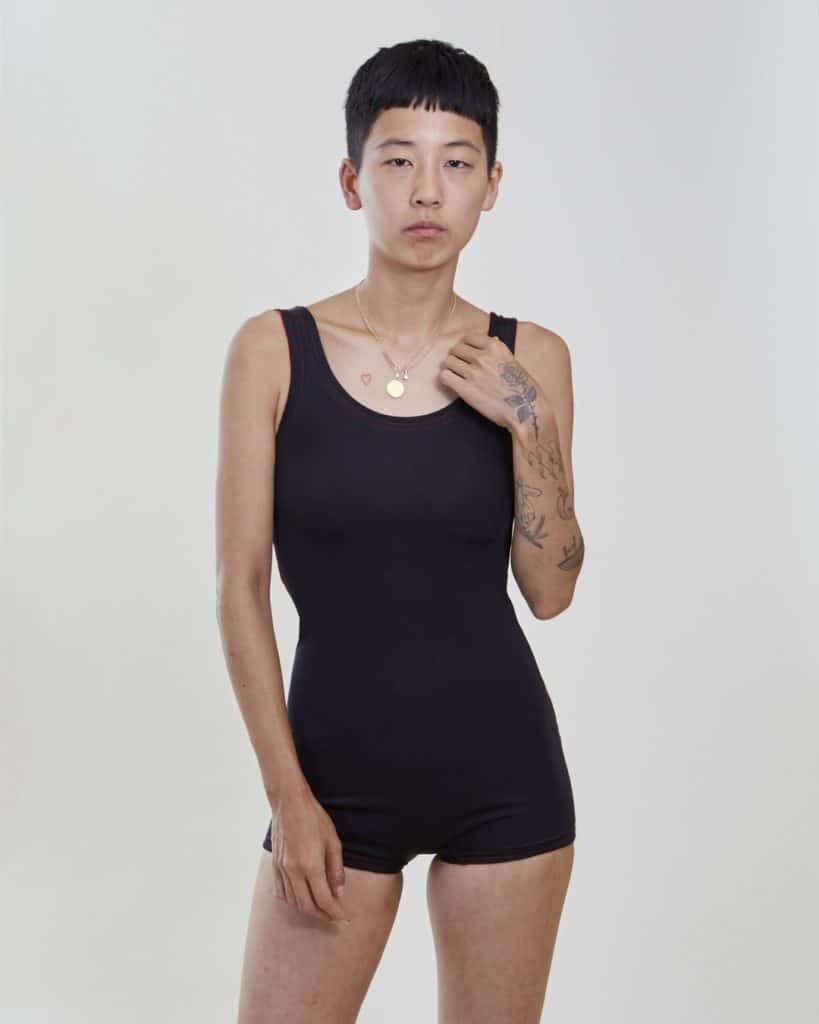 Made in the USA using 82% recycled polyester 18% long life spandex 
Otherwild's swimwear is designed for those whose fashion choices fall outside the norms defined by modern swimwear collections.
Made to fit all types of bodies and gender expressions these swimsuits are ethically made in New York.
Hackwith Design House – Uniquely Versatile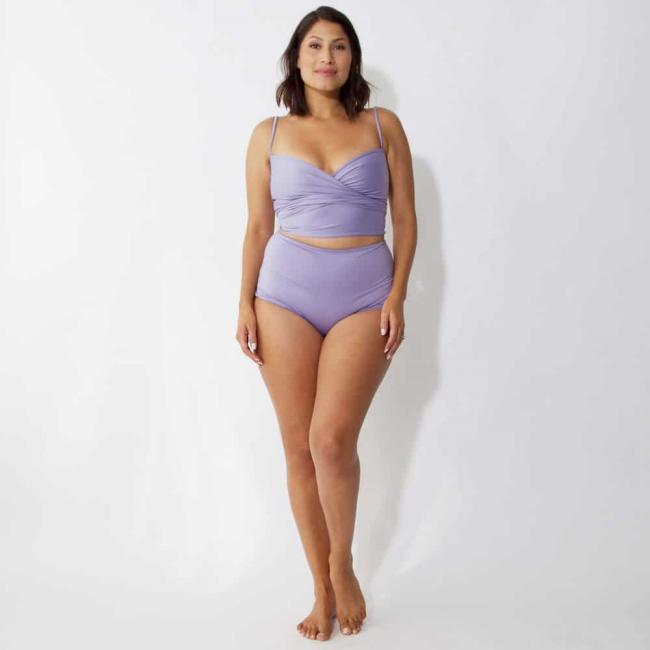 Made in the USA with 74% Recycled Polyester, 26% Spandex
Hackwith Design House have a studio located in Minnesota where all the clothes are made to order to help cut down on waste. When you purchase from them you are helping promote US manufacturing.
The pieces are designed so that you can wear them in multiple different ways. This means that each piece will suit any body type.
Wolven – Wild and Bold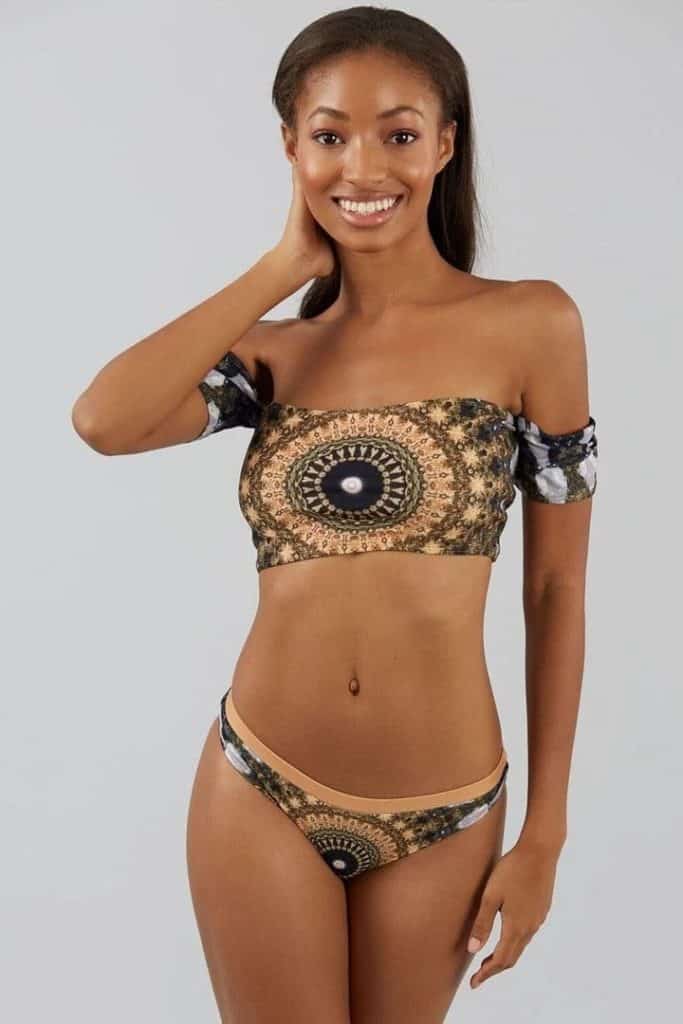 Made in China using 84% Recycled PET and 16% spandex
For every sale made 1lb of plastic is removed from the sea. Wolven also take part in a carbon offset program helping build greenhouse gas-reducing water purification in Honduras.
The swimwear is uniquely patterned and can easily double as a top paired with some jeans, taking you from the beach straight to dinner.
Arkitaip – Boho Crochet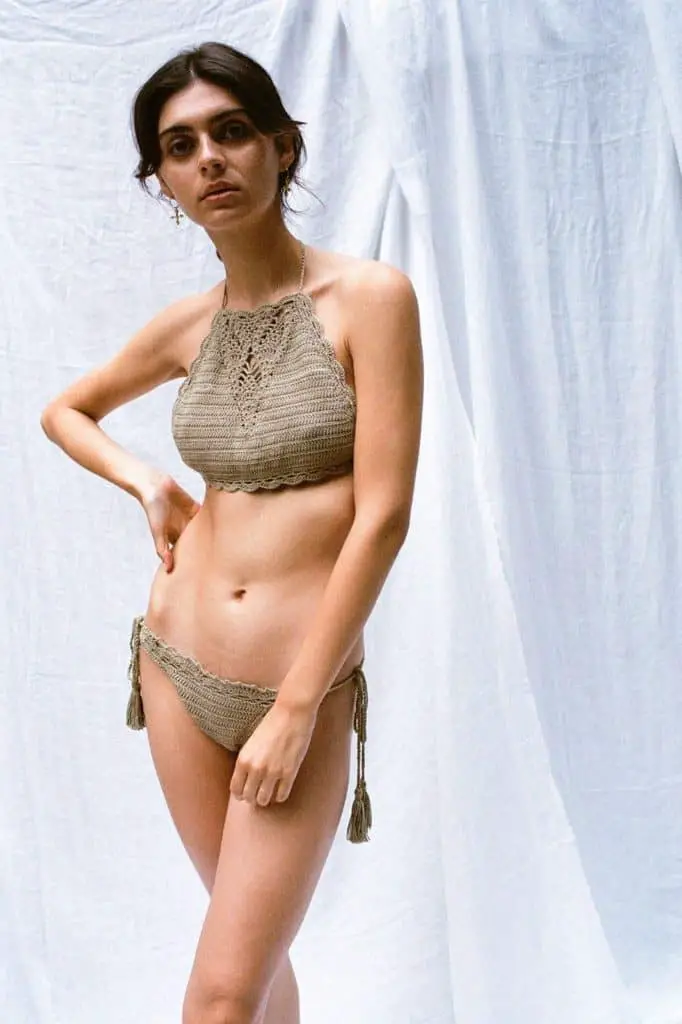 Made in Europe using 80% recycled and 20%-virgin linen, then lined with ECONYL®
A unique feature of crochet linen is that it tightens slightly when it gets wet. Furthermore, the pieces are made to measure so you never have to worry about soggy bikini bottoms.
Linen is antimicrobial so good for sensitive skin and will biodegrade in as little as two weeks if disposed of in the correct conditions.
We Are HAH – Sexy Swimsuits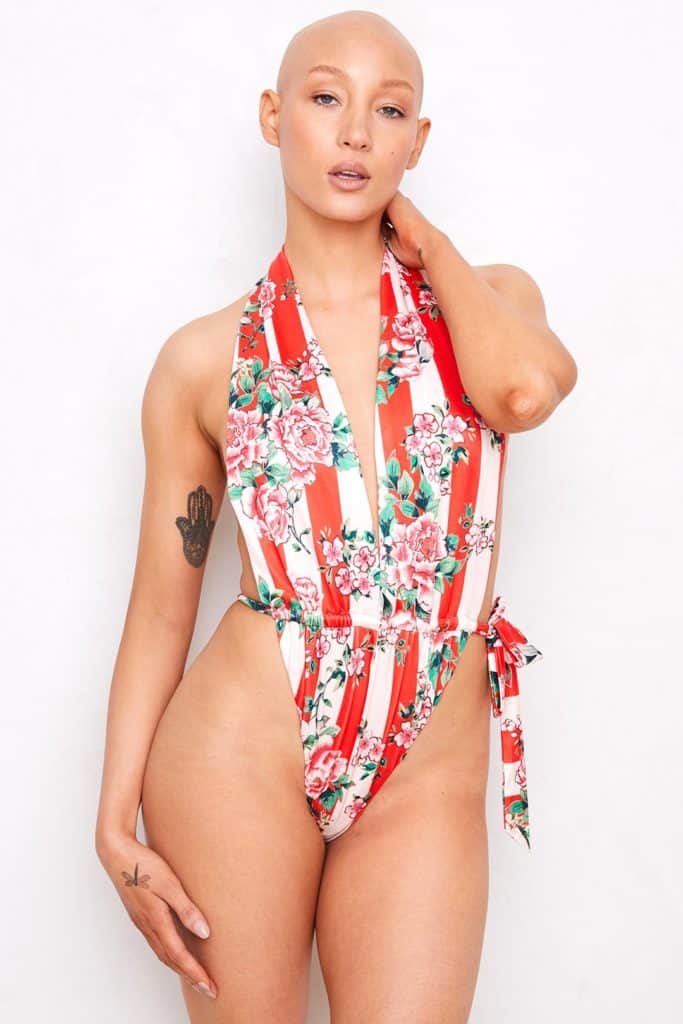 Made in Sri Lanka using eco-friendly EFL™ fabric
EFL stands for extended life fabric. It's made from 30% renewable sourced materials which are also biodegradable (such as corn sugar).
It also uses 25% less energy to make, and emits 50% less greenhouse gas. The suits ooze sex appeal with cuts to make you feel confident.
Anekdot – Block Colors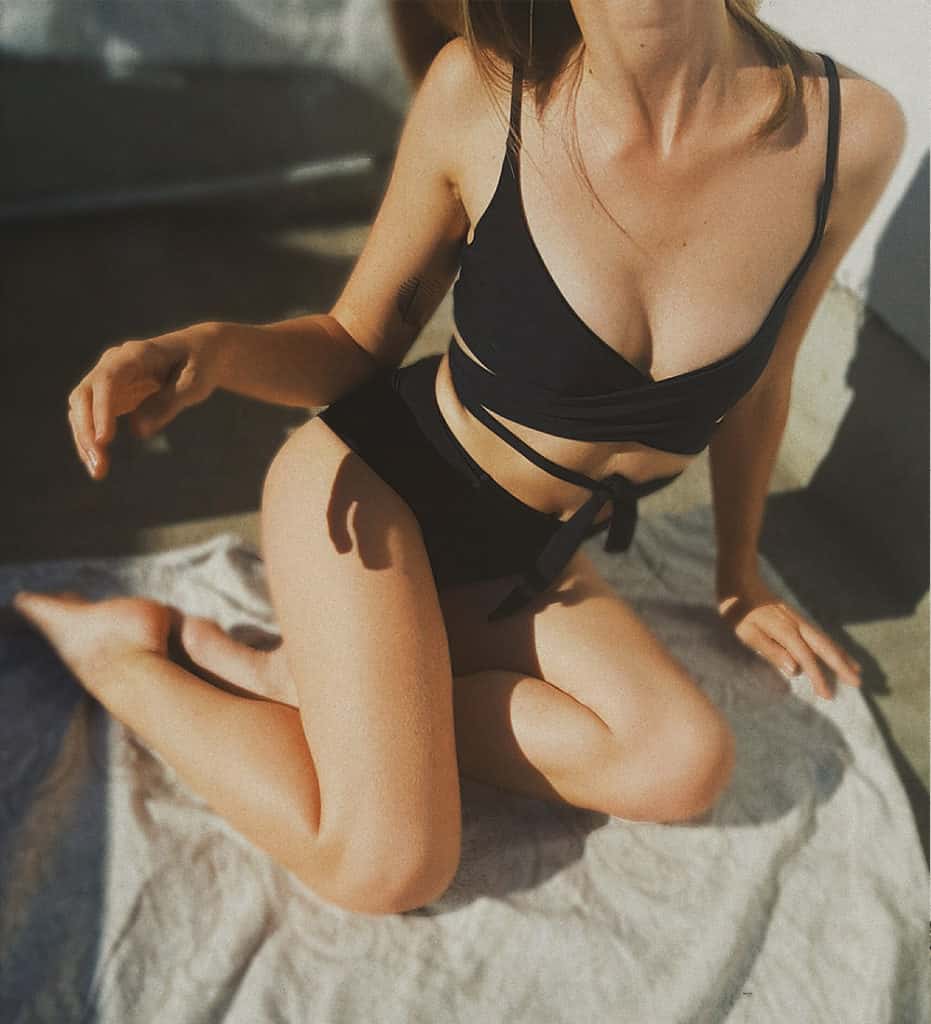 Made in Europe using 78% of Econyl and 22% Elastane, trimmings use deadstock fabric
Anekdot is an upcycle brand, they design based on the materials they have and not the other way around.
They source fabric from anywhere they can find it. A few examples include production leftovers, trimmings, or fabric from factories that are shutting down.
Outerknown – Quality Style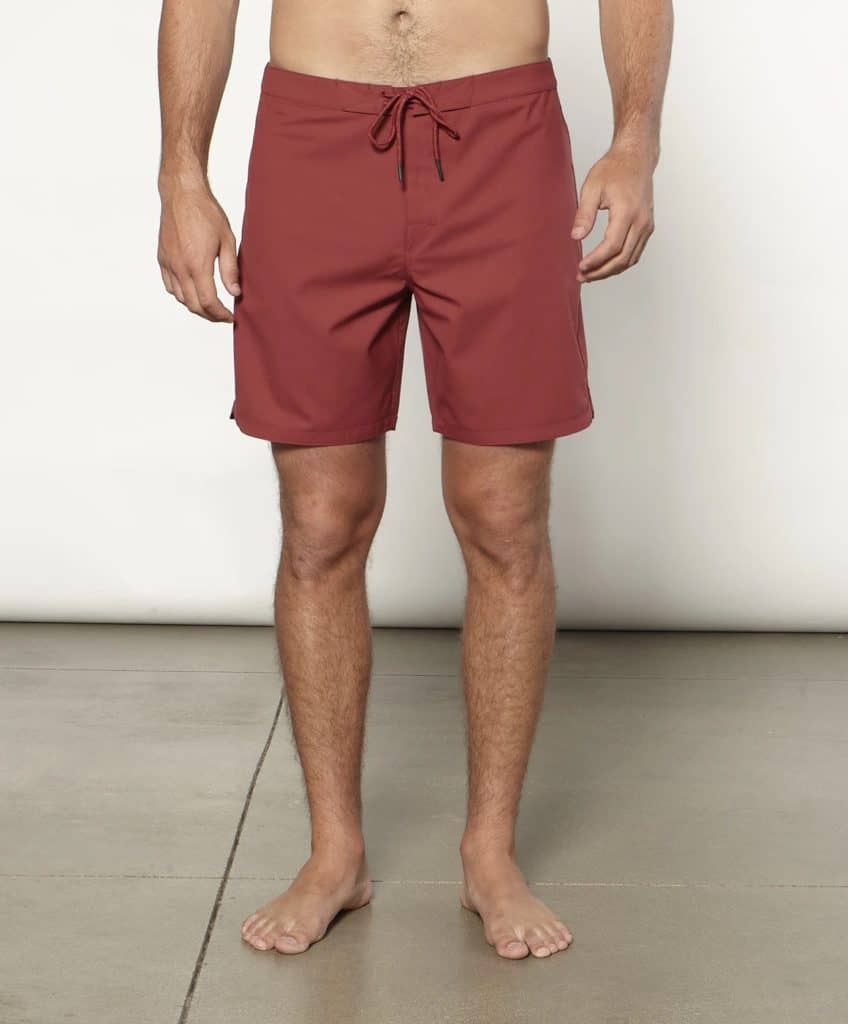 Made using 100% Merino Wool or recycled polyester and recycled spandex.
Be ahead of the curve with the world's first pair of merino wool trunks (according to Outerknown). A naturally breathable and odor-resistant fabric, which is also biodegradable.
This is one of the few menswear brands on my list and they are leading the way for sustainable men's fashion.
Vissla – Eco Male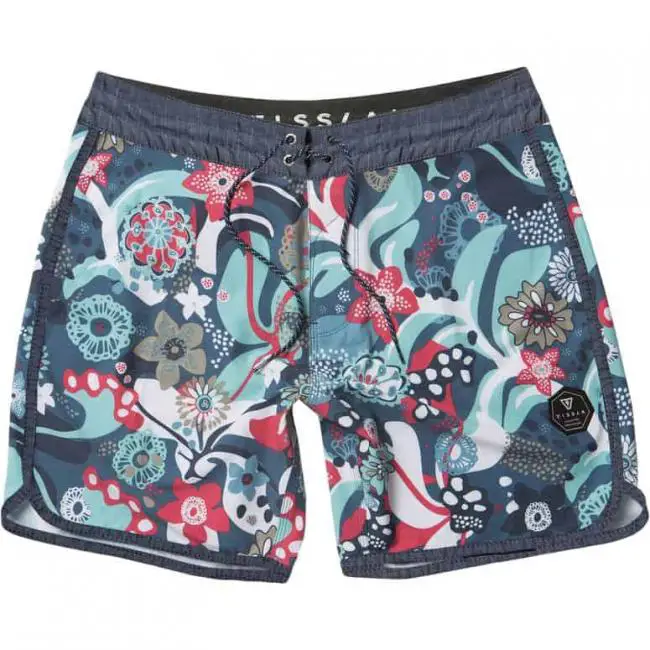 Made using Cocotex® (coconut), recycled polyester, REPREVE (plastic bottles)
Normally the outside husk of a coconut is discarded as waste. Vissla takes this waste and upcycles it into top quality board shorts.
The material is odor resistant and fast-drying thanks to activated carbon. Vissla also uses a 100% PFC and Fluorocarbon-free DWR water repellant coating on their board shorts.
Riz Boardshorts – Pool Party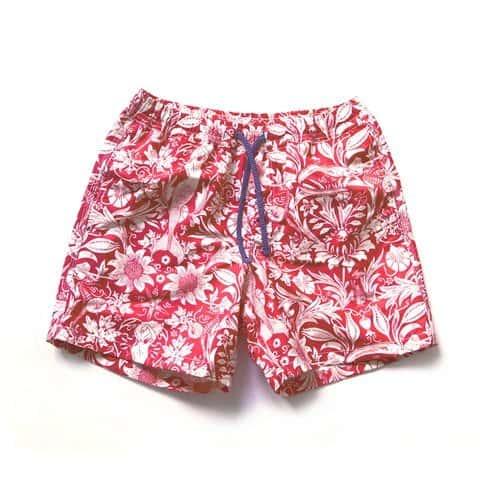 Made in Portugal using 100% recycled and recyclable fabric (plastic bottles)
The shorts are digitally printed in the UK using water-based earth-friendly ink.
They are working towards the aspiration of using plastic bottles from the ocean to make their shorts, at the moment the plastic bottles they use are collected from the land.
Fair Harbor – Gentleman's Style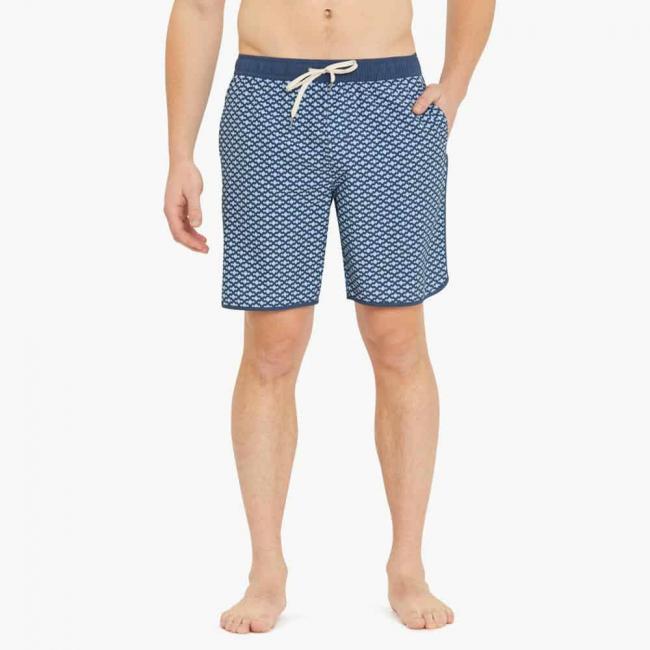 Made using 88% Recycled plastic bottles, 12% spandex
12 plastic bottles are used to make each pair of shorts. They also have a closed-loop initiative through which you can send your old shorts back and they will recycle them.
Instead of an uncomfortable mesh inside, these swim shorts have a comfortable anti-chafe boxer brief liner.
What makes swimwear sustainable?
Shopping for sustainable swimwear can be confusing. We've broken it down into 5 simple things that you should be looking out for when purchasing a piece of sustainable swimwear.
The materials used
The manufacturing process
The shipping process
Giving back
Carbon footprint
The materials used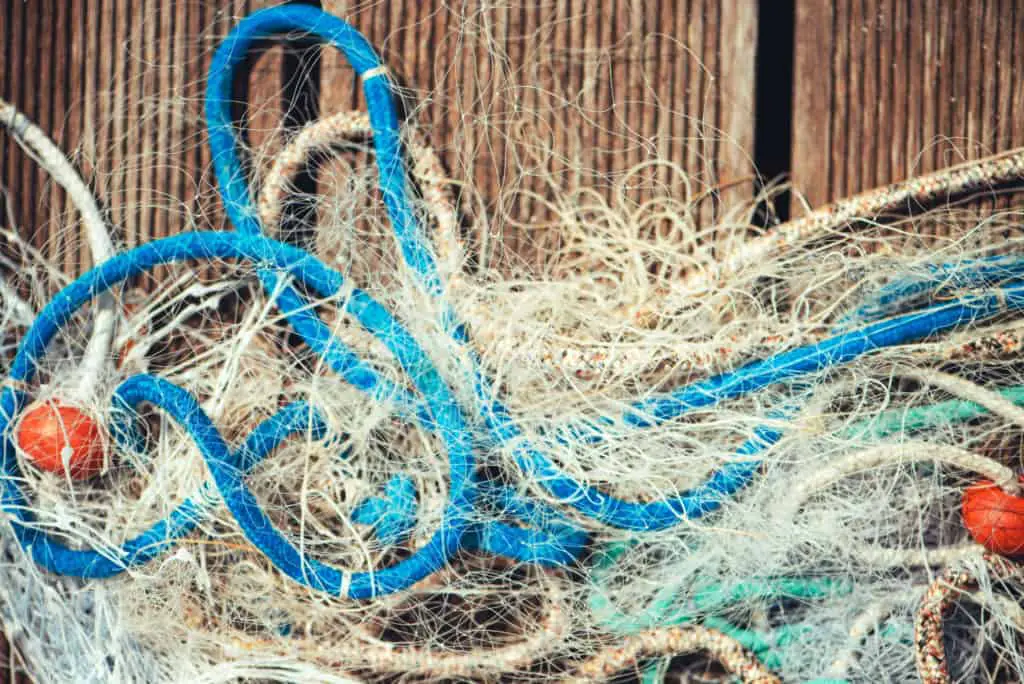 The first thing to look at when searching for sustainable swimwear is the materials used.
Traditional swimwear is made from synthetic polyester and nylon. These materials are by-products of petroleum and producing them uses a lot of water and energy. Neither material is biodegradable.
These materials became so popular for swimwear because of their unique properties which include:
quick drying
tight fitting
low moisture absorbency
Because there are not many alternative materials on the market which are both sustainable and posses these necessary qualities, most sustainable swimwear brands use recycled nylon or polyester. This way they get all the benefits of the materials but in a more environmentally friendly way.
One popular recycled material is ECONLY. It's made using industrial plastic, waste fabric and fishing nets from oceans. The materials are collected and regenerated into nylon, which the manufacturer claims is the same quality as virgin nylon.
Other companies such as REPREVE  use similar processes to make regenerated materials out of plastic bottles.
You'll notice that the majority of brands also use Lycra or Spandex in their sustainable swimwear. These materials help ensure that your swimsuit will last. Making the material more durable cuts down on waste because you'll be able to go for longer without buying a new swimsuit.
Some other materials used include hemp, linen, and merino wool. These natural materials are arguably better for the environment than recycled plastics because they're biodegradable. However, they can lack some of the properties you'll be used to with traditional swimsuits.
The manufacturing process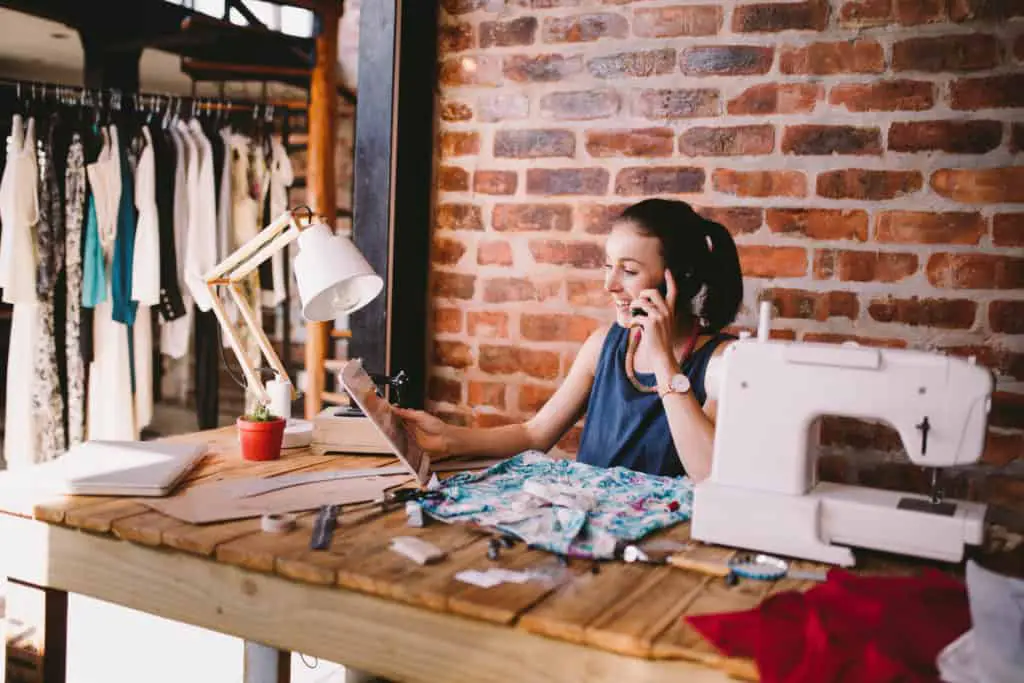 A truly sustainable swimwear brand will care about who is making their swimsuits.
Ensure whoever manufactures the swimsuit pay their workers fair wages and provide good working conditions. You should also have a look into whether the factory is compliant with environmental regulations.
Lots of the swimwear brands featured here have small workshops where they make the swimwear themselves, or with the help of a small team. Some that outsource the manufacturing will visit their factories regularly to check they are meeting ethical standards.
If the swimsuit has a print then you can look at what printing method was used. Digital printing is the most eco-friendly option, it uses 95% less water than traditional printing and doesn't use toxic dyes. It also means that each piece of swimwear will be slightly different, adding to the uniqueness of your swimsuit.
The shipping process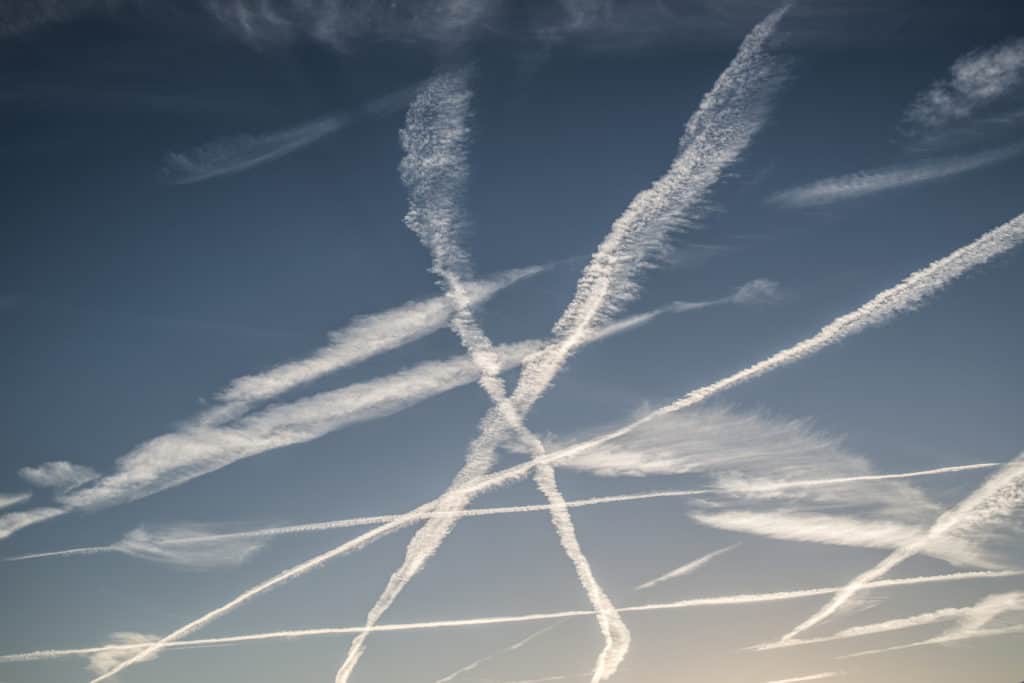 There are two main things to consider here:
Where is it manufactured?
To help keep the swimsuits carbon footprint low, it's best to order one that's made in the same country as you live in. However, if you've fallen in love with one from the other side of the world that could be okay too. Brands such as Elle Evans use carbon neutral shipping companies, so check for this.
Packaging used
Lots of sustainable companies try to use biodegradable packaging. Other eco-friendly packaging ideas we've come across include packaging the product in a reusable bag made from fabric offcuts. Some brands are still choosing to use poly bags (made from recycled plastic) because it reduces damages, which they say are more harmful to the environment than the recycled plastic bag.
Other things to consider
Giving back
Some brands choose to give a % of their profit back to different causes. An example is Wolven, who remove 1 lb of waste from the ocean for every sale.
Carbon footprint
Brands such as Patagonia recognize that the material used to make the swimsuits is only part of the picture. They are currently taking steps to become a carbon-neutral company by 2025. Check out what the brand you're interested in is doing to reduce its carbon footprint.
Swimming on your period
If you're planning to go swimming on your period, you may want to consider the practicalities of buying a one-piece swimsuit vs a two-piece. Pixie Cup, a company that produces environmentally friendly menstrual cups, has this guide on what to consider when swimming on your period.
How can I recycle my swimwear?
Check if the brand has a closed-loop initiative. For example, Fair Harbor will take back used boardshorts and recycle them for you.
Donate them to a good cause. Bra's for a Cause will take old swimsuits and donate them to breast cancer survivors. Alternatively,  you could offer them to your local elementary school for use in arts and crafts.
Get creative and make waterproof dolls for your kids to play with in the bath, or a bag to carry your new swim stuff in.
How do I stop my swimsuit shedding microplastics?
When you wash a swimsuit the agitation causes the material to shed tiny pieces of plastic called microplastics. These microplastics make their way through the water systems and into the oceans, where animals eat them. From there the microplastics can end up in the food chain.
Because most sustainable swimsuits are made from nylon, they also suffer from this problem. However, there are ways to avoid this happening:
If you hand wash your swimsuits in cold water this reduces the number of fibers that shed because there is less agitation involved
You can fit a filter in your washing machine to catch the microplastics before they enter the water systems
Use a guppybag to wash your swimsuits in. The self-cleaning bag acts as a filter, without the need to install one in your washing machine
Summary
If you've enjoyed my article on sustainable swimwear, why not share it with a friend on social?
Looking for more sustainable fashion swaps? Check out my article on eco-friendly and recycled flip flops.