Anyone that has had a place of their own knows how expensive brand new furniture can be. In many cases, it's been mass-produced or made in ways that are not exactly environmentally friendly. Luckily, finding sustainable and stylish furniture and home decor is a much easier feat than you may think.
Sure, buying used furniture at yard sales, estate sales, and auctions are a great idea, but what if you can't find exactly what you're looking for locally? As eco-friendly and sustainable furniture is in such high demand, several companies are stepping up to the plate, featuring multiple ways to make your home a bit more green. From Etsy sellers to shops like What WE Make to Joybird to Thuma, you'll be able to decorate your home in a style that truly fits your personality, without having to sacrifice the desire for sustainable furniture.
Why Sustainable Furniture Is Important
There are a ton of benefits from buying sustainable furniture or patronizing a company that practices sustainability. To start with, sustainable furniture is generally a little bit more affordable than comparable items. Not only are you getting quality furniture made from organic and natural materials, you have the comfort of knowing that those materials are harvested in ethical and sustainable ways.
In addition to more eco-conscious material sourcing, many companies building sustainable furniture also commit to more sustainable construction practices as well, often meaning they make an effort to reduce their overall carbon footprint from manufacturing. Sustainable practices also tend to improve the health and wellbeing of the employees or craftspeople that make the items as well, by eliminating or greatly reducing their exposure to hazardous chemicals like VOCs.
In addition to sustainable furniture, sustainable and eco-friendly decor is also important! Check out some of our favorite products here: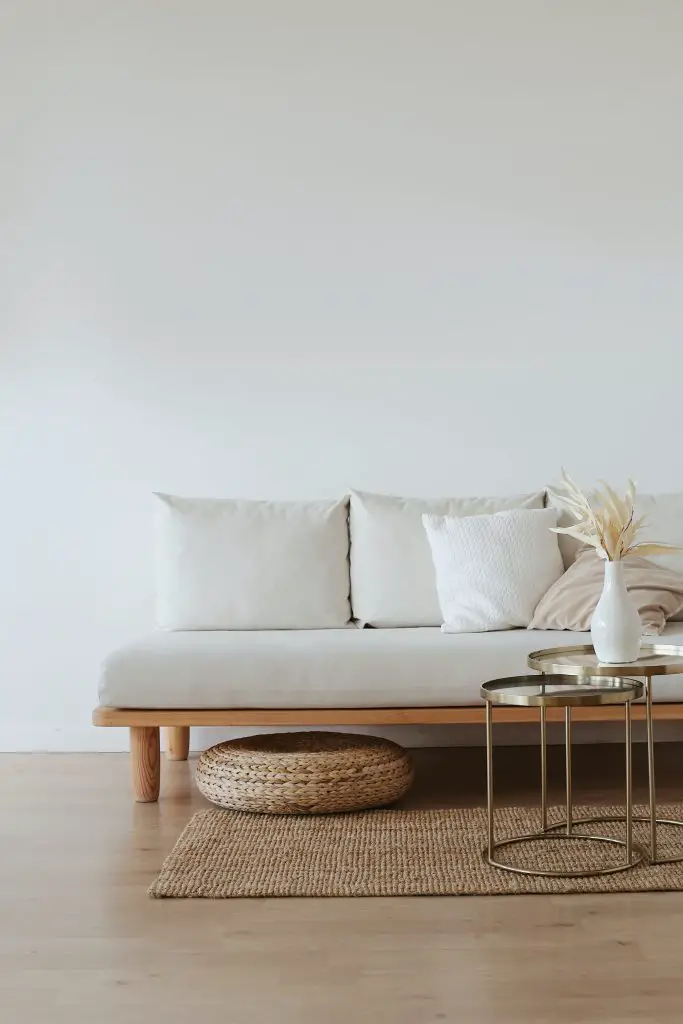 Buying Sustainable Furniture in Person
If you want to find the best deals and likely the most unique pieces, you can often find some hidden gems locally. Spring and summer are ideal for finding fantastic deals at garage and yard sales. Checking your local Facebook Marketplace page for garage sales is a good way to find these sales, as well as Craigslist. Keep in mind that garage sales aren't always posted online, so one of the best ways to find one of these sales is by driving around and looking for signs on corners. You could even post on social media asking if anyone knows of any good yard sales coming up.
Another great option is estate sales and flea markets. When someone's loved one passes away, they don't always want to keep everything in their relative's home, so estate sales are common ways to sell the items that the family doesn't want to keep. Flea markets are often goldmines for sustainable used furniture, from tables and chairs to couches, beds, and more. Even if your town doesn't have a flea market, you may be able to find one that's just a short drive away.
Best Online Shops for Sustainable Furniture
There are a lot of reasons that Etsy is such a popular shopping site. You can find handcrafted goods, from clothing and accessories to used and reclaimed furniture, and you're supporting a small business, rather than a large corporation. Etsy has a little bit of everything, so you'll be able to find the perfect driftwood coffee table or hand-crafted rocking chair for your home.
When you spend roughly 60% of your life in bed, you want to make sure the mattress you're sleeping on is safe to use. Avocado Green Mattress is a member of the Sustainable Furnishings Council and provides its customers with non-toxic and eco-friendly mattresses, as well as organic mattress protectors.
Their products don't end there. They even offer dressers, reclaimed bed frames, and end tables. With mattresses available in sizes from crib to king-sized, every member of the family will be able to breathe a little easier on an organic, eco-friendly mattress.
If you think having pets or kids means you can't have nice furniture, think again! Burrow is a USA-based sustainable furniture company that makes sectionals and sofas that are stain-resistant, eco-friendly, and pet friendly. They only ship within the US, and you'll receive your furniture in modules. It does take a bit of assembly, but their furniture is easy to put together and disassemble. You can even reconfigure things to an extent, so you can customize how your furniture looks.
West Elm is a widely-recognized furniture brand that has recently committed itself to improving its sustainability rating. They have added a line of eco-friendly collections that include everything from shelves to dressers, that are constructed from FSC-certified materials.
They have a strong commitment to responsible forestry and promote conservation consistently. The pieces they produce are modern and chic and fit in perfectly with nearly any decorating scheme or motif.
Joybird is available to buy online only, though they do have showrooms throughout the US. They produce gorgeous mid-century pieces that while a little more expensive than other options are sure to please. They are produced in Mexico in a facility that not only pays competitively but also offers its employees medical benefits and a safe work environment as well.
One of the best guarantees from Joybird is that they ensure that more trees are planted for each item of furniture sold than were used in the construction of the furniture. This means a net-positive impact on the forestry resources used in their products. They even offer second-hand items at significantly reduced prices.
Sabai is a sustainable furniture company that is perfect for people that just need a simple option for their furniture. They offer a greatly simplified catalog, consisting of just a loveseat, ottoman, sectional, sofa, and chair.  What they forego in design choice, they make up for in customization options.
Once you decide on a piece, you can customize the cushion options, upholstery fabric, and even the legs. Sabai furniture is constructed in North Carolina and is made from FSC-certified wood and upcycled materials like composites made from recycled water bottles.
Shopping For Sustainable Furniture Online
Finding sustainable options for home furnishings online doesn't have to be a difficult search. With this guide and some basic considerations of what you need for your home, you'll be ready to add furniture to your space that has a reduced environmental impact, letting you feel great about your choices.