Tis the season for warm, sweet drinks. My Healthy Hot Chocolate is rich, creamy, vegan, and dairy-free. It tastes just as good as unhealthy kinds, if not better! This delicious cocoa is loaded with antioxidants and other good-for-you ingredients. 
 Many seasonal beverages contain loads of dairy, which can be a downer for those with food allergies. Thankfully, you can make plenty of decadent recipes right from your kitchen. Allergy-friendly recipes are great for the holiday season because everyone can feel comfortable eating them. And when they taste this good, no one will be the wiser. 
Healthy Hot Chocolate Customization
The best thing about healthy hot chocolate is all of the customization options. There's hot cocoa for everyone! Here are some of my favorite ways to switch things up. 
Make white hot cocoa by swapping the milk chocolate chips for white chocolate. 
Top with vegan marshmallows. 
Add different extracts for an easy way to spice things up. Almond, butter, maple, strawberry, peanut butter, and peppermint are all great choices. 
Make Mexican hot chocolate by adding ⅛ teaspoon of chili powder and cayenne pepper. This is a warmly spiced drink that's always a crowd favorite. 
Change up the sweetener if you wish. Some of my favorite healthy sweeteners are maple syrup, date syrup, stevia, and erythritol.
Make chai hot cocoa by adding a sprinkle of cardamom, ginger, and cinnamon. 
Caffeinate your drink by pouring a shot (or two) of espresso. 
Try using a candy cane as a stirrer. 
Set up a hot chocolate bar for guests with all the best toppings. Marshmallows, peppermints, sprinkles, and caramel sauce are a good starting point. 
Ingredients
This hot cocoa recipe uses basic ingredients to create one thick, creamy cocoa. You may already have some of these things in your pantry. If not, here's what you need to add to your shopping cart. 
Almond milk. Unsweetened almond milk is an excellent base for this Healthy Hot Chocolate. The result is a plant-based beverage that doesn't taste watered down. If you prefer, you can use oat or cashew milk. The choice is yours! 
If you want ultra-rich hot cocoa, use full-fat canned coconut milk. It tastes like an almond joy candy bar. 
Vegan Chocolate Chips. Times have changed, and many divine dairy-free, vegan chocolate chips are on the market. One tried and true brand is Lily's, which you can find at most well-stocked grocery stores. I love Lily's chocolate because they have variations, including white chocolate, peppermint, and butterscotch. 
These chocolate chips aren't chalky, which can affect the melting process, and they don't contain harmful fillers. 
Coconut Sugar. Coconut sugar is a tasty unrefined sweetener that pairs well with chocolate. Coconut sugar is made from coconut palm sap, with a similar process to maple syrup. It has a lower glycemic index than white sugar and is less processed. 
This sweetener has a deep, mysterious flavor that tastes similar to brown sugar. Many pair it with a lighter sweetener such as stevia, but it shines in a setting like this. You can also use maple syrup or stevia. 
Pure Vanilla Extract. A dash of vanilla brings out the cacao flavor and makes the beverage feel cozy. Plus, your house will smell amazing! 
Pure vanilla is a little more expensive but contains fewer toxins, and you use less. Try it once, and you'll see why it's worth the splurge! Use store-bought vanilla or get crafty and make your own if you have time. You can also use almond extract, chocolate extract, or peppermint. 
Cacao Powder: Swapping cocoa powder for cacao is an effortless healthy change. Cacao powder contains more antioxidants than cocoa and is less processed, so you get more benefits. It tastes almost the same, so chances are you won't even notice the difference. 
Adding cacao powder gives this Healthy Hot Chocolate a multi-dimension flavor. You can find cacao in most local health food stores. Chocolate is one of the biggest mood boosters, so don't be afraid to indulge! 
Cinnamon. A dash of cinnamon creates a lovely spiced flavor that doesn't alter the cocoa too much. Some consider this the secret ingredient! Ground cinnamon works great, but you can also infuse the cocoa with cinnamon sticks. 
For a warmly spiced mixture, substitute pumpkin pie spice for cinnamon. This is incredibly alluring in the Fall when pumpkin spice is a buzzword. 
Toppings. The hot cocoa pictured is topped with coconut whipped cream and a sprinkle of pumpkin pie spice. Sometimes, you can find vegan whipped cream in the stores, but you can make your own within minutes. 
Take a can of coconut cream and refrigerate overnight. In the morning, drain (if there's any liquid) and whip with a stand mixer. Add sweetener to taste. Store in the refrigerator. While this isn't as fluffy as dairy-filled varieties, it's a great substitute. 
Make Healthy Hot Chocolate
Hot chocolate makes holiday movies, snow days, and cookie-baking sessions extra special. This is a beautiful recipe for young chefs to try, once they're old enough to handle a stove! It comes together within minutes, and they'll be delighted by the outcome. This recipe serves 4-6. 
Step One: Warm the Milk
In a large saucepan over medium-low heat, warm the almond milk until it's at room temperature. You don't want to overheat the milk because it will scald and have a layer of film on top. 
Step Two: Add Remaining Ingredients
Add the chocolate chips, coconut sugar, pure vanilla, cacao powder, and cinnamon. Stir until the ingredients are homogenous, but don't let the mixture boil. 
Step Three: Garnish and Serve
Pour into individual mugs and garnish with coconut whipped cream, if desired. Enjoy! 
How to Use Leftovers
Don't throw out your leftovers! Here are a few zero-waste ways you can repurpose Healthy Hot Chocolate. 
Use it as a coffee creamer
Use it to make frozen hot chocolate
Freeze it for a later date
Add a dash to smoothies
Blend with frozen bananas for ice cream
Add to cookie or brownie mix in place of liquid 
Pour over oatmeal for a filling breakfast treat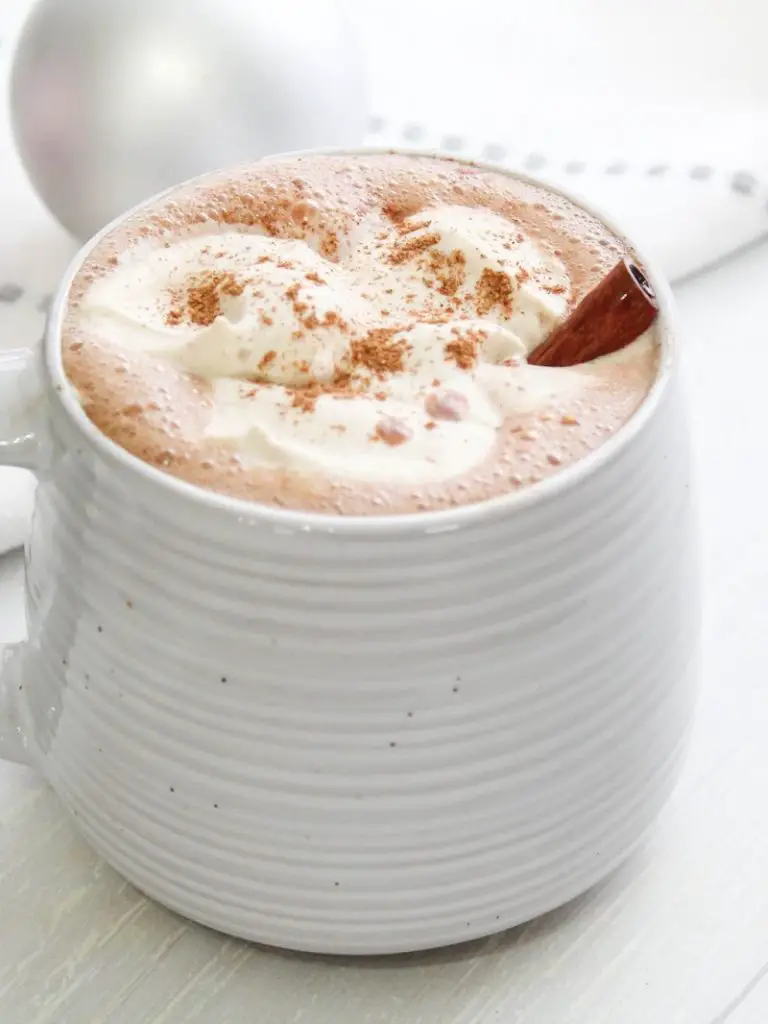 Healthy Hot Chocolate
Instructions
Warm the milk in a saucepan over medium-low heat until it reaches room temperature.
Add the chocolate chips, coconut sugar, vanilla extract, cacao powder, and ground cinnamon. Stir until the mixture is homogenous but not boiling.
Pour into individual mugs and garnish with vegan whipped cream, if desired. Enjoy!