Bidets are widely utilized in South America, Europe, and Asia but are constantly growing in popularity in the United States. BioBidet is one of the top bidet brands in the United States that sells various bidet products, including bidet toilet seats, bidet toilets, bidet toilet attachments, air purifiers, flow faucets, and even more!
They cater products that will suit your budget and style, so there's a BioBidet product that will satisfy your needs! Not only do they have products for every type of customer, but they are also of high quality.
BioBidet is proud to introduce its innovative products, which are easy to use and built to last.
Here's a review of the BioBidet brand as a whole. Get a chance to explore some of its products, features, and price from different ranges!
BioBidet Brand Review
"to revolutionize the bathroom experience while pushing forward with high-quality products, exceptional customer service, and eco-friendly practices" is a mission statement from BioBidet.
As mentioned earlier, BioBidet is a brand from the United States based out of Crystal Lake, Illinois, supporting domestic companies and the country's economy. It was recently bought by Bemis Manufacturing, a big dog in the toilet industry.
BioBidet has a solid foundation regarding its reputation as it has a relatively long list of highly praised bidets and bidet attachments. This brand is trusted when it comes to bidet toilets in the market. Also, they have a wide range of bidet options for all budgets, adding to its popularity. This brand is considered one of the highest-selling brands in the United States.
BioBidet has great customer reviews across many of its products, from its affordable bidet products to its luxury bidet toilets. Their product reviews are above 4.5 stars out of 5.0, which makes their brand very well-liked.
Is Buying a BioBidet Product Worth it?
A big YES for this! BioBidet products are worth every penny. Their products have more great feedback than negative ones, their ratings are consistently positive, and there is something for everyone with their range of affordable products. It's affordable, and its quality is on the top too.
Now have a glance at BioBidet's pros and cons, so you'll know what you are getting into!
Bio Bidet Pros
There are a lot of pros to BioBidet. Firstly, their wide range of products. It's wonderful that this brand offers many options about styles and prices so that everyone will go home with a smiling face holding their purchase of one of its products.
They have other products, like toilets, accessories, toilet seats, attachments, and more, that can satisfy the needs of every customer.
BioBidet offers free shipping on purchases with over $49 on their website!
Most of their feedback is positive! It can be said that customers love their products! Also, as mentioned earlier, their product rating has an average of 4.5 stars or above.
BioBidet products can be purchased online, too, on several e-commerce shopping sites, like Amazon and BioBidet websites, and in stores like Costco.
Their products are also available with a financing payment option through Affirm to help customers get their dream BioBidet product without breaking the bank.
BioBidet Cons
Unfortunately, despite having so many pros, there are cons to be considered too. But don't worry, only one con comes to mind. Sadly, BioBidet does not offer international shipping. Only customers from the United States can order and enjoy their products.
With their products' glowing reviews, the brand seems to be doing just fine, shipping to only one country – the United States.
BioBidet Products for Every Budget
As said earlier, BioBidet offers many products at a vast price range, making them more affordable for everyone. Now, look at some of their products in different price ranges!
Best Luxurious Style Bidet: BioBidet Discovery DLX Bidet Toilet Combination ($2,699)
Best Mid-Priced Bidet with high-end features: BioBidet BB-1000 Supreme Bidet Seat with Remote ($499)
Best Bidet for Beginners: BioBidet Slim Zero ($129)
BioBidet Discovery DLX Bidet Toilet Combination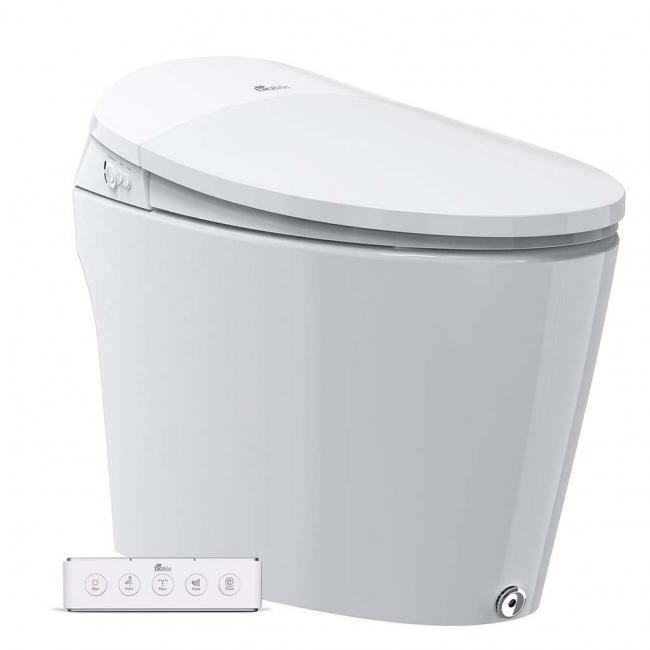 System: Radar-based
Product Dimension: 26.89 in (L) x 15.75 in (W) x 16.30 in (H)
Product Weight: 84.88 pounds
BioBidet: $2,699.00
Bidet King : $2,024.25
bidetsPLUS : $2,699.00
The BioBidet Discovery DLX is one of the brand's premier luxury products. The Discovery DLX is the next bidet toilet level with a beautifully elegant design. This product is minimalist in design and modern finish, showing simple lines and shapes while maintaining elegance.
The product offers a massive of features to enjoy, such as UV sterilization – which sanitizes the nozzle for about three minutes after each use to maintain hygiene between uses, button-controlled seat and toilet lid, rear wash, front (or feminine) wash, pulse and oscillate modes, warm water, a wireless remote, a strong air dryer, no toilet tank, auto power save way, automatic touchless flush and more!
The BioBidet Discovery DLX is at a premium. It costs $2,699 and is considered the most expensive BioBidet toilet!
Bidet King, an e-commerce site, offers this for a price of $2,024.25 only for full price, and financing through affirm also available starting at $183 per month.
Pros
Has UV Sterilization
Auto Open and Slow Closing Seat Lid
Auto Flush
Adjustable Heated Seat
Unlimited Warm Water
Warm Air Dryer
Easy to Install
Cons
No Proximity Sensor
Weak flush (requires 65 PSI of pressure)
Bio Bidet BB-1000 Supreme Bidet Seat with Remote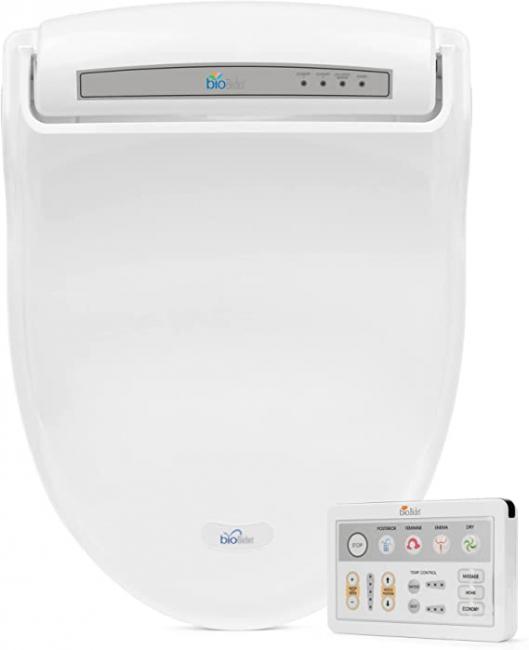 Style: Wireless Remote
Product Dimension: 20.83 in (L) x 15.61 in (W) [OVAL]
Product Weight: 17 pounds
BioBidet: $499.00
Amazon: $375.00
Bidet King: $399.00
The BioBidet BB-1000 Supreme Bidet Seat is a toilet seat attachment for a non-bidet style toilet to make it have a bidet! Not only that this is an excellent option for folks who already have a toilet but do not want to buy a whole new toilet, but it offers a considerable number of unique features like what more expensive bidet toilets have!
Regarding its design, there are two options for what shape you would like it to be – Round or Elongated/Oval. Both are the same in features. They only differ in shape and weight. The round weighs 15 pounds, while the elongated one weighs 17 pounds.
These product features are the wireless remote control, deodorizer, automatic power saving mode, heated seat, air dry, a safety sensor, massage cleaning, and wide cleaning. It also offers quick-release to make cleaning a breeze and many more!
It is also eco-friendly as it features Energy saving mode, which reduces the use of electricity and toilet paper which is good for the conservation of the environment.
The BB-1000 is considered in the middle price range for a BioBidet product. It costs $499 and comes with a standard warranty of 3 years upon purchase.
BioBidet BB-1000 Supreme Bidet Seat is available on Amazon at a discounted price. It can be bought for $375.00.
Pros
Available in two sizes, Round and Elongated
Water is pre-heated; No Cold Water Shocks
Adjustable Heated Seat
Warm Air Dryer
Powerful Deodorizer
3 in 1 Nozzle
Eco-friendly
Easy to Install
Cons
Requires a nearby GFCI outlet
The water tank for warm water is too small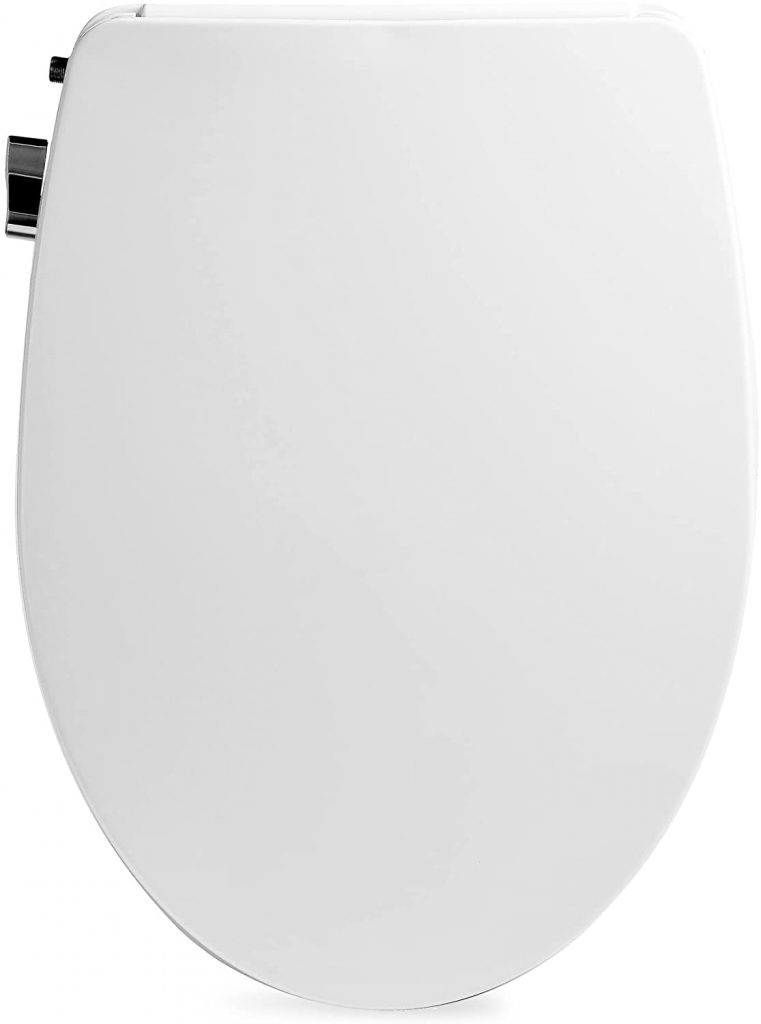 Style: Slim Zero
Product Dimension: 16.68 in x 14.3 in x 2.25 in [ELONGATED]
Product Weight: 4.85 pounds
BioBidet: $99.00
Amazon: $112.07
Best Buy: $129.99 (currently sold out)
Last on the list is the BioBidet Slim Zero. This product is a great option for those people who do not want to spend too much on a bidet. This bidet is an add-on to your toilet, but like any of the BioBidet products, it also comes with a long list of great features.
The product consists of features like a vortex water stream with two nozzles, a hydraulic seat, a lid for a gentle and quiet close, a front/feminine wash, a self-cleaning spray nozzle, and a non-electric to make installation easier. A side panel with pressure controls – which makes water adjustments easier and a comforting night light! However, it does not include temperature control for the water.
This product is eco-friendly too. This helps the sustainability of the environment by reducing the need for toilet paper. Washing with water promotes a cleaner and healthier lifestyle too!
The BioBidet BB-i1300 (Slim Zero) is perfect for beginners. This is great for people interested in getting bidets but who do not want to invest or spend so much on them. This is considered the cheapest bidet on our list and thus costs only $129. It's super affordable and great for everyone on a budget!
It uses durable metal components like that of a solid brass valve. Slim Zero is affordable only at a cost, but it doesn't compromise the product's quality.
This product is available on Amazon for only $112.07. Buyers claim this product is easy to install, too, which makes it good for starters.
Pros
Slow Closing Seat Lid
Has Night Light
Available in two sizes, Round and Elongated
Adjustable Water Pressure
Eco-friendly
No electricity is needed.
Easy to Install
Cons
The night Light has to be manually switched on.
No Temperature Control for the Water
Final verdict
Each product from our top picks offers different features that cater to each customer type. It is based on customers' preferences. If a customer wants to go high-end, then the BioBidet Discovery DLX Bidet Toilet Combination is for them, while if a customer wants a bidet that is affordable but has features like that from the more expensive ones, then the BioBidet-1000 Supreme Bidet seat is for them and lastly when a customer wants a bidet. Still on a budget, then BioBidet Slim Zero is for them.
These are only three of BioBidet's products. Indeed, some more will likely suit your style and needs if what you are looking for is not stated from our top picks. All In all, BioBidet products are of high quality and have great features, from the most expensive to the most affordable ones.
What to consider when buying the right bidet for you?
Brand
Yes, you read it right! Brand should be considered when buying the right bidet. It's not a must, but it is recommended to only buy from reputable or trusted brands. This is because trusted brands are more with excellent quality, which won't disappoint you. They offer products with great features too. Luckily, BioBidet is one of the trusted brands in the bidet toilet industry. Not only are they considered one of the highest-selling brands, but customers also love their products. Their products have great reviews, and it never fails to meet the buyers' expectations. The innovative products of BioBidet were built to last and are easy to use.
Budget
This is most likely the first factor most folks consider when buying things. Indeed, you should know your budget first, as bidets come with different prices depending on how many features they have. Here comes the mighty BioBidet brand, which offers bidet products and many more at a wide range of prices. They cater to different types of customers with different needs and preferences.
The three products mentioned are sorted by price, from luxury to the most affordable ones. If you are looking for more of their products, you should visit their site and shop to know more about what they could offer. It is so great to hear that BioBidet products are also available on some e-commerce sites that offer discount deals where you can get products at a lower cost than their shop price. As part of the brand pros, BioBidet also offers financing through Affirm as its payment method to get your BioBidet dream product.
Style and Features
Style varies from each customer's preference. Some customers want a minimalist and modern design, and some would like a bit of an extra. This all depends on people's tastes. But pardon the tangent, BioBidet never fails to offer trendy styles regarding its products. There is always something for you in this brand. Well, you might not want to forget features. Selecting a feature for your desired product depends on your needs.
It's just like the specs for mobile phones and laptops that you would want to know. But of course, it's a fact that the more and better the features are, it is expected that it would cost higher than the basic or regular ones. BioBidet thinks ahead and offers products at mid-range prices with features like the more expensive ones.
Frequently Asked Questions
What is BioBidet?
BioBidet is a bidet toilet brand from the United States. It is one of the top brands in the bidet industry of that country. Their products are high selling and truly loved by customers. BioBidet ensures its buyer that what they are getting is of high quality. They also advocate for environmental sustainability, which they promote to lessen the need for toilet paper and deliver exceptional customer service.
What does BioBidet offer?
BioBidet offers a relatively long list of bidet products, including bidet toilet seats, bidet toilets, bidet toilet attachments, air purifiers, flow faucets, and many more. They excel in giving high-quality products to great customer service. BioBidet never fails its customers when it comes to its products. The long list of their products also comes with different price ranges.
They offer luxury for those living a lavish lifestyle and affordable products for those on a budget. But wait, there is more! They secure quality in each product by only using durable materials, which is why even the most affordable ones are built to last. This is the reason behind their high product reviews, which average 4.5 out of 5.0 or could be greater.
Where is BioBidet located, and does it ships internationally?
BioBidet is located in Illinois, United States. It's sad to learn that they do not ship internationally. This would mean that only residents from the United States could enjoy their top-rated products. But worry no more! BioBidet products are also available on some e-commerce platforms or sites! Some sites like Amazon do ship internationally. You might get what BioBidet product you like on this platform, which can be shipped to your doorstep. It's great that these platforms do not give a limit to their buyers. So what are you waiting for? Grab your BioBidet product now!  
Why trust us?
We want to help our readers get the best products to help them choose. Our top pick products might help by giving them an idea of what this specific brand could offer them and what is more for them. We do not focus only on this, but we provide them with a glimpse of how this brand is good and why to pick it. When choosing our top-picked products, we assure and guarantee readers that we test and do thorough research first to know what will most likely be their concerns, whether in terms of accessibility, affordability, features, location, or ease of use.
Read next: Bio Bidet Discovery DLS VS BB-2000: What's Best and Why