Are you looking for the best way to compost your organic waste? Composting is the most efficient and sustainable way of disposing of food scraps, yard waste, paper products, and other organic materials. It's no wonder more people than ever before are attempting to compost their food in 2023. To get started, it's handy to have a few tools for composting, such as compost bags!
Composting is no longer only for your hippy neighbor down the road with chickens clucking in the backyard. Instead, it's become a way for everyone to take control of their environmental footprint. 
The United Nations Environment Programme estimates that food loss and waste contribute to 8% to 10% of all greenhouse gas emissions. So committing to being part of a circular economy by diverting food scraps from landfills reduces your carbon footprint and creates nutrient-dense soil that can be used to grow more organic food free of fertilizers! 
Completely new to composting? Check out our guide, How To Compost: A Definite Guide.
What Are Compost Bags 
Compost bags are just one of many tools to use when it comes to composting. They are simply sturdy compostable bags that are more versatile and require less commitment than a standard composting bin. Ultimately, Compost bags are a cleaner and more cost-efficient alternative to compost bins. 
What Are the Benefits
They're large enough to hold all types of organic materials, strong enough not to break under pressure, and have plenty of helpful features like air holes for aeration, so you don't have trouble managing your compost pile. They also reduce odors and pests. 
They are especially useful for small gardens as they are versatile enough to be moved around and tucked aside if needed. Tuck organic materials inside, like food scraps, lawn clippings, and coffee grounds, in three to six months; you'll have a nutrient-dense compost for your garden. 
Composting is becoming an increasingly popular way to reduce your carbon footprint and create nutrient-rich soil for your garden. But if you're new to composting, finding the right bag for collecting your organic waste can be tricky. 
With a vast array of options available on the market today, it's hard to know which ones are best suited for all sorts of tasks, from indoor kitchen scraps management to vermicomposting outdoors. 
We've separated this list into Garden Waste Bags that can be used for composting and Biodegradable Bags that you can put food waste into and then compost. 
So we've done our research and have prepared this comprehensive guide that presents the top 10 compost bags of 2023!
Garden Waste Bags That Can Be Used For Composting
Pilntons Garden Composting Bags 
We love this composting bag for its style, useful viewing panel that lets you know when things are ready, and carrying handles, making it easy to move around the yard! 
Features: 
30 gallons 
Comes in a Two Pack
Reusable 
Zipper Lid 
Handles
Viewing Window
Gardzen Garden Bag
This bag feels super durable, which is necessary if you intend to move it around the yard. While it doesn't have a viewing window, it does have a larger volume than other sizes and bottom handles to get a better grip. 
Features: 
72 gallons 
Comes in a Three Pack
Reusable 
Made of Durable Woven Fabric
Pilntons Reusable Compost Waste Bags with Lid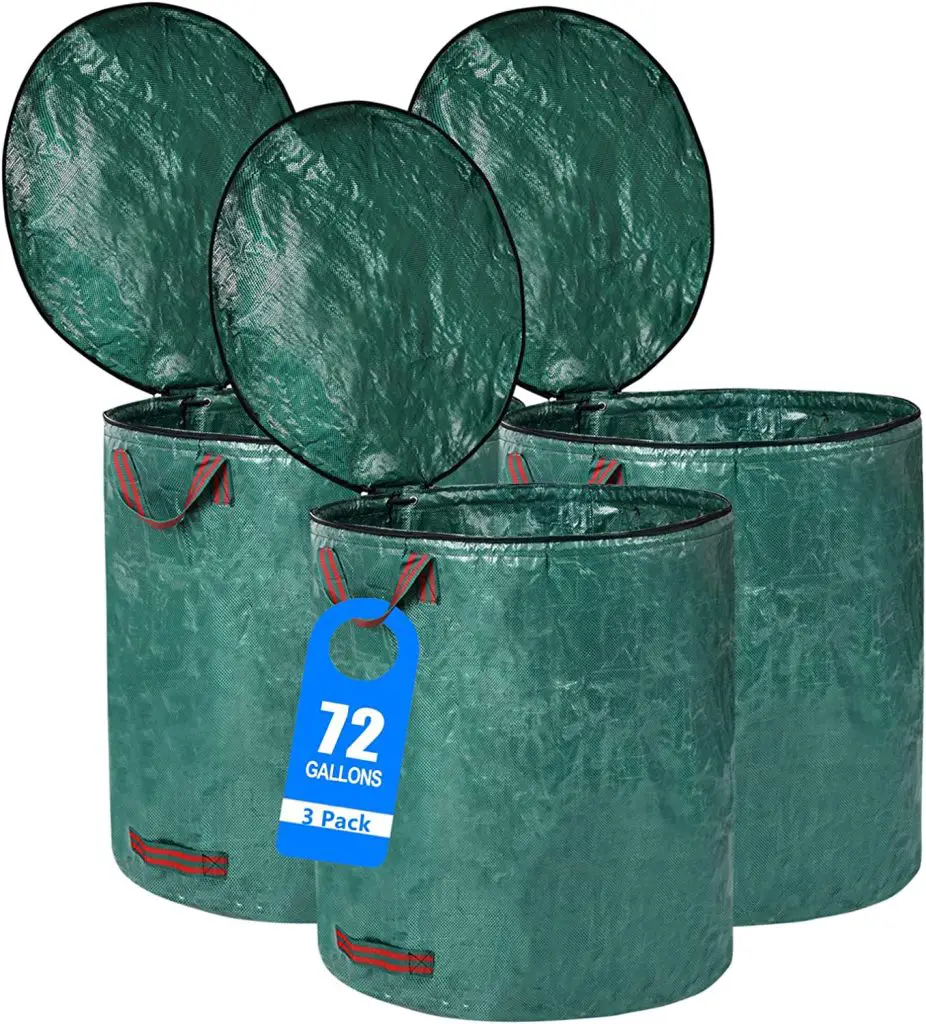 Another great Pilnton option! These are bigger than this brand's option with the window but are made of the same durable material and a top zip to keep pests out. Propylene material with PE coating makes this option waterproof and durable. 
Features: 
72 gallons 
Comes in a Three Pack
Reusable 
Zipper Lid 
Four Handles
Tespher Yard Garden Bag
The Tespher Yard Garden Bag is a great option for those who want to be able to store it away on occasion. It is sturdy but collapsible, allowing it to tuck easily into a garden shed. While this is built for yard waste like leaves, food waste can be mixed in and composted over several months to make nutrient-rich material for your garden. 
Features: 
46 Gallons
Collapsible
Hard Shell Bottom
Zip Top
Taleasy Collapsible Pop-up Garden Bag 
These Taleasy Collapsible Pop-Up compost bags is great for composting garden and lawn waste alongside food scraps in a durable bag. It has a reinforced bottom for extra strength and utility. 
Features: 
33 Gallons
Comes in a Two Pack 
Collapsible
Reinforced Bottom 
Zipper Lid
Jardineer Collapsible Garden Bag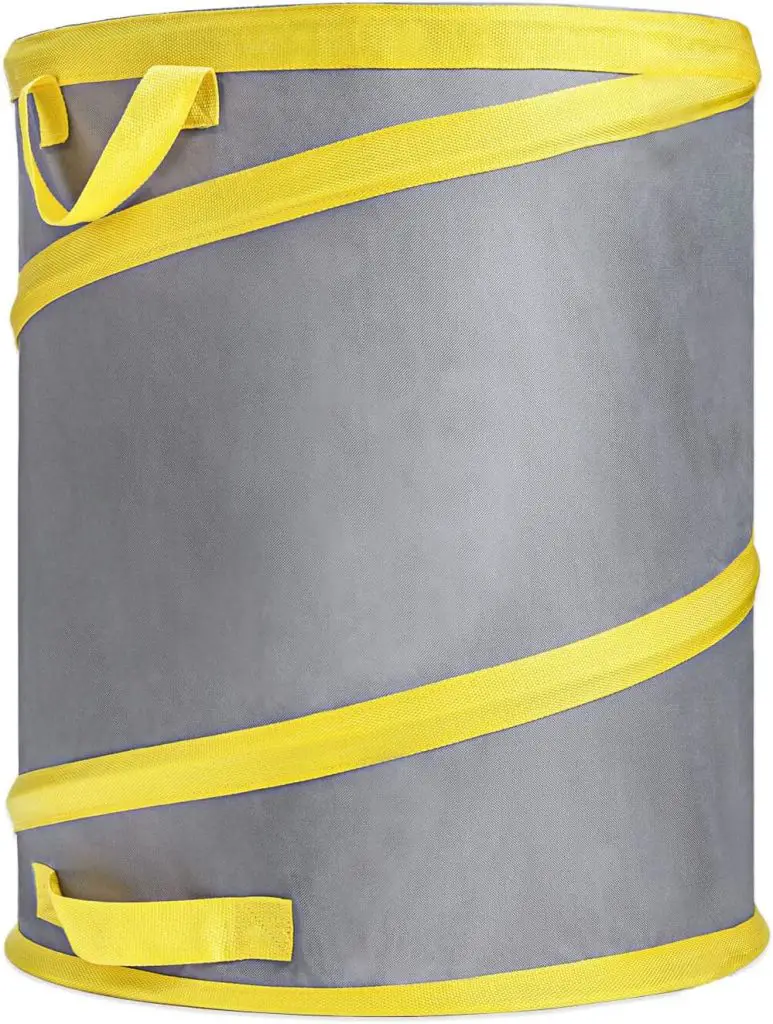 The Jardineer has the most durable fabric out of the most compost bags options. These compost bags are made from sturdy, water-resistant polyester fabric and spring steel wire, which has anti-tear durability. PVC on the interior increases its load-carrying capacity. 
Features: 
30 Gallons
Load Bearing to 110 Pounds
Durable Oxford Canvas
Smart Pop-Up Design
Waterproof PVC Coating
Biodegradable Waste Bags That Can be Composted
BioBag (USA), The Original Compostable Bag
These bags are great for collecting food waste in your kitchen and then tossing them into a bigger compost bin to go about their biodegrading business. They help keep things smell-free and tidy in the kitchen while also doing their part for the earth. 
Features
3 gallons
100 count
100% biodegradable
Made from plants
GreFusion Compostable Trash Bags
These green heroes are American and European compost certified, which is great for your food scraps and the organisms in your compost bin. 
Features: 
2.6 Gallons
100 Count
Countertop Bin Certified
Leak Proof
Moonygreen Compost Bags
We love that these are ultra thick. Goodness knows the last thing we need in our kitchen is tomato juice dripping everywhere! Food scraps can get heavy, and this ensures you won't have a medley of food scrap juices on your countertop. 
Features: 
3 Gallon
100 Count
Extra Thick
Certified Compostable
Made From Plants
Reli. Compostable Trash Bags
These bags rate high in the smell department; that is to say, there is not much odor! They also come in two sizes giving extra versatility. The downside is that not as many plant materials are employed in their makeup, but they are still rated 100% compostable.
Features: 
4 Gallons (Large)
2 Gallons (Small) 
180 Count
Made of 30% Plant Materials
Certified Compostable
Tear Resistant
Leak Proof
Composting Made Easy
Switching to compostable bags is an easy way to help the environment. They decompose quickly and leave no harmful chemicals behind, making them a much better choice than regular plastic bags.
Using a lawn bag to compost outside is also a great alternative to a composting bin. Less commitment but still a step forward for a smaller carbon footprint.  If everyone made the switch, we could make a huge difference in the amount of pollution in our landfills and oceans.