This Vegan Angel Food Cake is light, fluffy, and perfectly sweetened. It contains no dairy, eggs, or refined sugar. Eat it plain, or top it with silky coconut milk whipped cream, and berries. Either way, you have a winning combination! 
Working with vegan ingredients requires creativity, especially when creating an angel food cake without egg whites. This recipe has a secret ingredient that whips up exactly like egg whites. You have to see it to believe it! 
Vegan Angel Food Cake Hacks
Vegan Angel Food Cake can be finicky, but a couple of tips will help your recipe come out perfect every time. 
Be sure to process the coconut sugar until it's as fine as powder. To test, rub a pinch between your fingers. If you still feel granules, keep blending. 
Do not overmix the cake batter, or it will not fluff up. The key is keeping air pockets inside the cake where they belong! 
While this cake is fluffy, it will only fill part of the pan. You can always use a smaller pan or double the recipe if you want a larger cake. If doubling, bake in two separate angel food cake pans. 
Decorating this cake is a breeze if you use a rotating lazy susan or cake stand. 
Silicone baking pans are a lifesaver. They create a beautiful design and keep your kitchen low waste as you're not disposing of parchment paper or tin foil. Plus, your Vegan Angel Food Cake will fall right out of the pan. 
I recommend cutting your cake with a bread knife. This helps it stay airy and creates smooth, even cuts. 
Ingredients
This special occasion cake may use a few ingredients you're not familiar with. No worries, I've created a "cheat sheet" to keep you updated. Here's what you need to add to your shopping cart. 
Aquafaba. If this ingredient sounds weird, it's not just you. Aquafaba is the liquid from a can of chickpeas and the egg white substitute.  When whipped with a few other ingredients, it creates stiff peaks. Aquafaba is key to a fluffy Vegan Angel Food Cake. 
Though it seems simple, aquafaba is a fabulous way to go zero-waste in the kitchen. Save the chickpeas for another delicious recipe, like hummus or a salad. 
Cream of Tartar. Just like cream of tartar keeps egg whites stable, it also helps aquafaba retain its shape. Your aquafaba wouldn't be nearly as full without it! The small amount used in the cake doesn't affect the flavor but enhances the texture.
Apple Cider Vinegar. Many people don't want to spend all day at the mixer, and I agree. A dash of vinegar helps the whipping process go faster. Many recipes using aquafaba require you to whip the liquid for 15 minutes. With a combination of cream of tartar and ACV, your egg substitute will whip up in half the time. 
Extracts. Pure vanilla extract is a classic addition to any recipe, so this Vegan Angel Food Cake includes a dash or two. I also added pure almond extract to give it a bakery-style taste. This is also an awesome hack for sugar cookies. It takes them to a whole new level. 
Coconut Sugar. My sweetener of choice is coconut sugar. This unrefined sweetener has a dark, mysterious taste and shines in simple recipes. I finely ground the coconut sugar in the food processor until it resembled powdered sugar. 
Coconut sugar is minimally processed and is from coconut sap. It's like maple syrup in many ways! The one caveat about coconut sugar is that it turns your baked goods darker. 
If you don't want to use coconut sugar, you can also use powdered sugar. The goal is to avoid heavy sweeteners that will weigh the cake down. 
Chickpea Flour. Another ingredient that keeps the aquafaba lifted. If you plan on using this egg white substitute often, you'll usually need a tablespoon of chickpea flour. You can also use chickpea flour in other baking recipes in place of regular flour. It's a great source of protein! 
Gluten-Free Flour. I chose to make this vegan dessert gluten-free as well as vegan. Bob's Red Mill has the best flour, consistently producing excellent baking results. You can use regular flour if you're not gluten-free; the outcome will be the same. 
Toppings: My favorite way to enjoy Vegan Angel Food Cake is shortcake style. Top it with some whipped cream and strawberries. You can sometimes find vegan whipped cream at grocery stores, but you can easily make your own. 
Refrigerate one can of coconut cream overnight, and in the morning, drain the liquid. Then, whip until light and fluffy, add honey or maple syrup, and whip again. Delicious! 
How to Make Vegan Angel Food Cake
Within less than two hours, you'll have a delicious dessert ready to impress! One of the best things about this cake is how you can decorate it. Let us know what creations you come up with. 
Step One: Whip the Aquafaba
Preheat the oven to 330℉. Open the can of chickpeas and drain the liquid into a large mixing bowl. Reserve the chickpeas for hummus or another fun recipe. 
Add the cream of tartar and vinegar. Begin whipping until soft peaks form. Add the almond and vanilla extract. Beat for 1 more minute. 
Step Two: Add Sweetener
Add the sweetener and continue whipping until stiff peaks form. Add the chickpea flour and beat for another minute. Using a spatula, fold the flour and baking powder until combined. 
Step Three: Bake
Pour into desired baking pan and spread evenly. Bake for 45 minutes or until a knife inserted comes out clean. Let the angel food cake cool in the pan, then turn it over. 
Step Four: Decorate and Serve
Top with vegan whipped cream and sliced strawberries if desired. Slice and serve. Enjoy! 
Ways to Use Leftovers
If you have only a serving or two left, you can make a trifle by cubing the cake and layer pudding or whipped cream on top. 
You can cut the cake in half and add a scoop of dairy-free ice cream to the center for a vegan ice cream sandwich.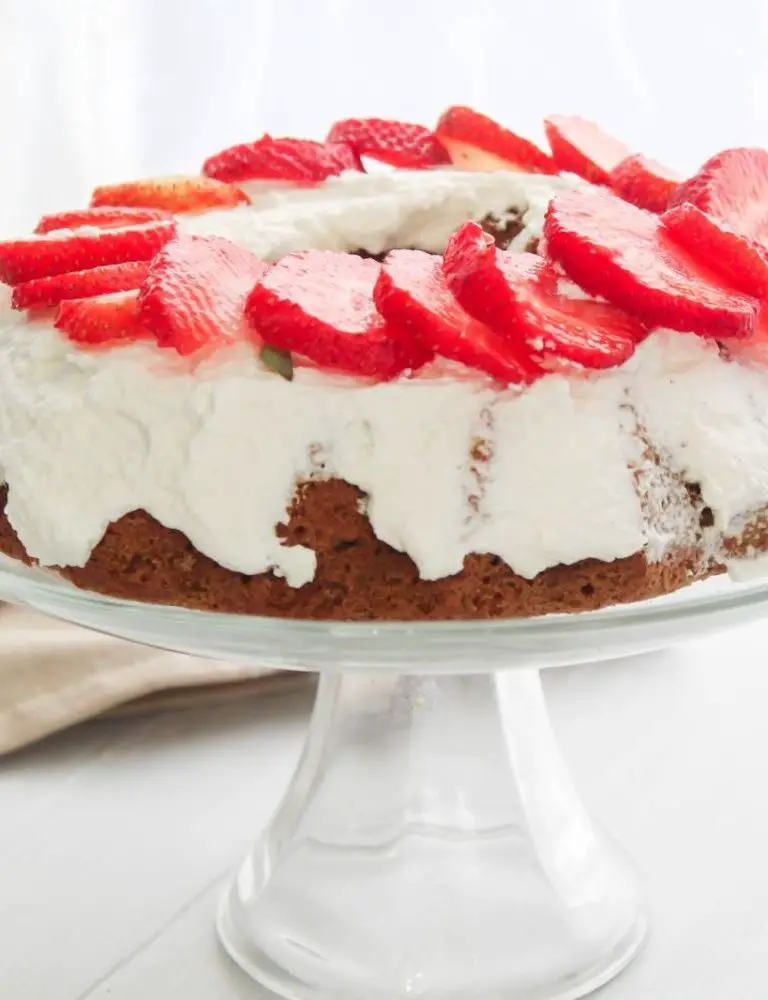 Vegan Angel Food Cake
Instructions
2 teaspoons pure vanilla extract
1 cup coconut sugar, finely ground
3 tablespoons chickpea flour
1 ¼ cup gluten-free all-purpose flour
Vegan whipped cream to garnish
Strawberries, to garnish