If you're on the heavier side, bidets are lifesavers in the bathroom. But finding one that can accommodate larger users is tricky.
The majority of bidets have a weight limit of 320 lbs.
Not going to work for you?
Don't worry.
I've done the hard work (i.e. hours of research and testing – thank me later) for you and collated the best bidets for heavy people.
The seats come with all the luxuries a 'normal' bidet has as well as:
High weight limits (at least 400 lbs)
Wider seating areas
Strong water pressure (plus enema spray mode)
Detached or easy to reach controls
They'll wash your worries away (see what I did there?) and make using the toilet an enjoyable experience again.
The best bidet for larger users is the BioBidet BB-2000. It has the highest weight capacity on the market at 450lbs and one of the strongest water pressures going. The seat comes with a remote rather than a control panel, meaning you'll never have trouble reaching it.
Premium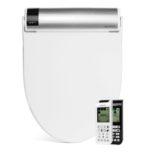 BioBidet Bliss BB-2000
This luxury bidet can accommodate up to 450lbs and has a water spray that's 15-20% stronger than average.
Mid-Range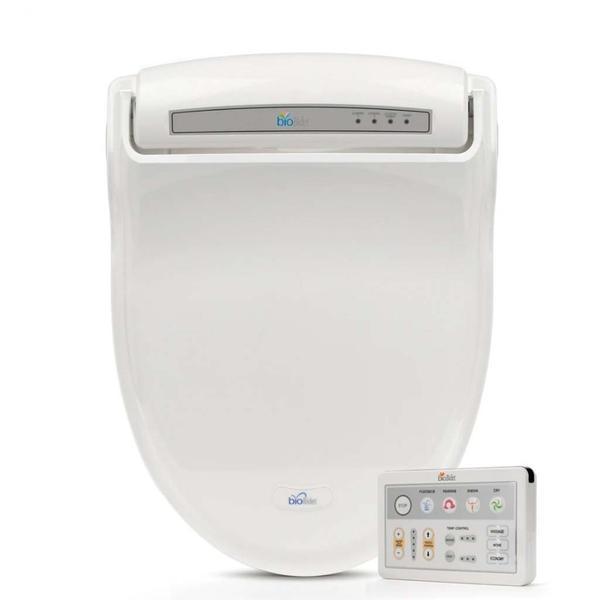 BioBidet Supreme BB-1000
The BB-1000 offers fantastic value for money and the most powerful vortex spray mode on the market.
Budget
SmartBidet SB-110
Despite the affordable price tag this seat has a maximum weight rating of 330lbs, plus added extras like a heated seat and air dryer.
Bariatric Bidet Reviews
BioBidet is the best bidet brand for heavy users. All BioBidet seats have a weight limit of at least 400lbs, with some accommodating up to 450lbs (the BB-2000).
Well-known rivals Kohler and Toto seats can take a maximum load of around 300lbs. 
That's why I mainly repping Biobidet in the following reviews. 
All the seats I've featured offer a comfortable experience for larger users without compromising on quality. Don't blame me when you find yourself making excuses to use the bathroom more often!
BioBidet Bliss BB2000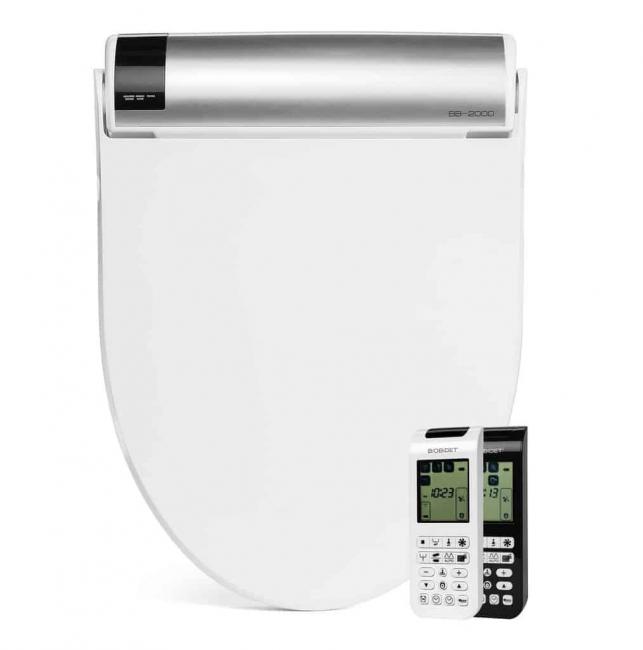 Weight capacity – 450lbs
The BioBidet Bliss BB-2000 is one of the most popular and best-reviewed electric bidets seats you can get. 
It also happens to have an extremely high weight capacity (450 lbs) because it's made with polypropylene (a durable, ductile plastic). 
Finally! 
A luxury bidet seat that can accommodate heavier users. No quality compromises. 
Let's explore what it has to offer.
BioBidet is famed for producing bidets with strong water pressures. They're in a league of their own and the BB-2000 is no exception. 
The seat boasts a spray that's 15-20% stronger than average and a wide-angle spray that produces 40% more volume than competitors. 
This ensures a strong spray with full coverage (great for you too, ladies). 
Softer sprays might struggle to clean you thoroughly. 
Butt (I couldn't not) nothing will be able to hide from the BB-2000's water jet, especially if you engage the enema spray mode. It will seek out every last speck of dirt and GET RID. 
The enema mode also helps loosen stubborn stools.
You'll be clean in no time. 
Does the extra weight capacity make the seat bulky?
Thankfully, no. 
Heavy-duty doesn't have to mean bulky. 
The BB-2000 is 25% slimmer than previous models. And let's face it, space is at a premium on toilet bowls. The less room the bidet takes up, the more room for your bum and the more comfortable the experience.
The BB-2000 is so slim because it uses a hybrid water heating system that eliminates the need for a substantial water tank.
This system also means there's unlimited hot water. You can get as invested as you like in that Reddit thread and still have a toasty bum (reading true crime threads is my guilty pleasure)
The last thing I want to mention is the touch-screen remote control. A wireless remote makes life for the larger user SO MUCH EASIER.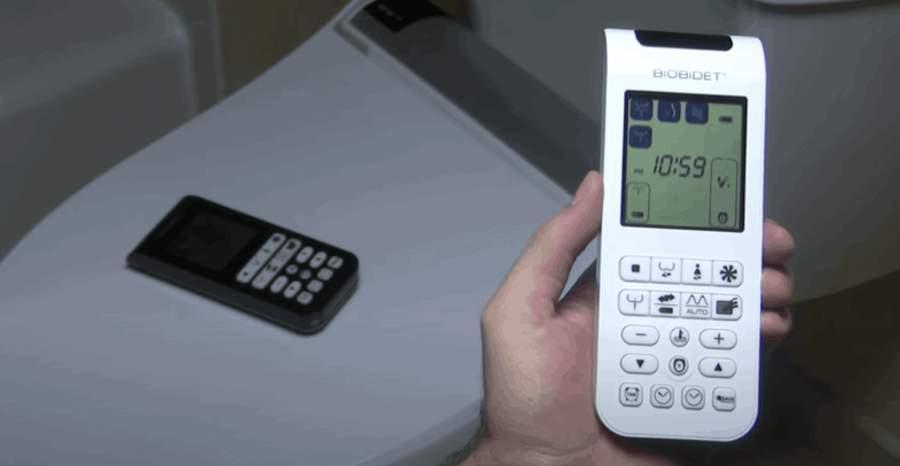 Side panels can be covered up or hidden by overspill. 
Remotes have no such problems. You'll never have to become a contortionist on the toilet again.
The BB-2000 doesn't come cheap,  but it's totally worth it. It will revolutionize your bathroom experience.
Other features include:
Stainless steel 3-in-1 nozzle, auto wash mode, aerated water stream, motorized self-cleaning nozzles, night light, one-touch nozzle replacement, heated seat, are deodorizer, warm air dryer, seat sensor, quick release, power-saving mode
BioBidet Supreme BB-1000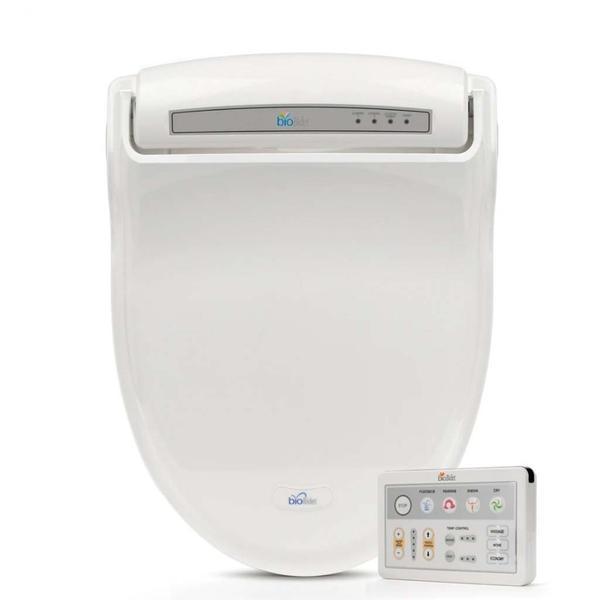 Weight capacity – 400lbs
The BioBidet Supreme BB-1000  is the best value for money bidet for overweight users.
It's an older model released in 2010 (feel old?) but still holds its own against the newer machines. That's how good it is.  
There are two stand-out features for larger users:
The plus-size remote control
The unbeatable water pressure
Let's talk about the unbeatable water pressure.
No other bidet can beat the pressure and cleansing ability of this seat. I repeat… you CANNOT beat it (though the BB-2000 I mentioned above is a close second).
This is indispensable for larger users. 
The strong spray ensures the water can blast through your butt cheeks, giving an effective clean every time.
For particularly messy days, you can deploy the BB-1000's secret weapon – the vortex spray. The vortex spray is basically like using a pressure washer on your ass (okay, maybe it's not that hard, but you get the idea). It will stimulate bowel movements and leave you clean and confident 100% of the time.
How is the spray so powerful?
The BioBidet 1000 holds its water in a tank reservoir. In the tank, there's a motor that turbo-charges the spray. Simple, but very effective.
You don't have endless hot water. But to make up for this, you have INSTANT hot water.
Think of it like having a water dispenser that automatically gives you boiling water. No more waiting for the kettle to boil to make a cup of tea. 
No more cold shocks at 6 in the morning when there's snow outside (yikes, my bum feels cold just thinking about it).
What's so good about the remote control?
First, it's wireless. This means there's no need to awkwardly shift around the seat until you can reach the side panel buttons.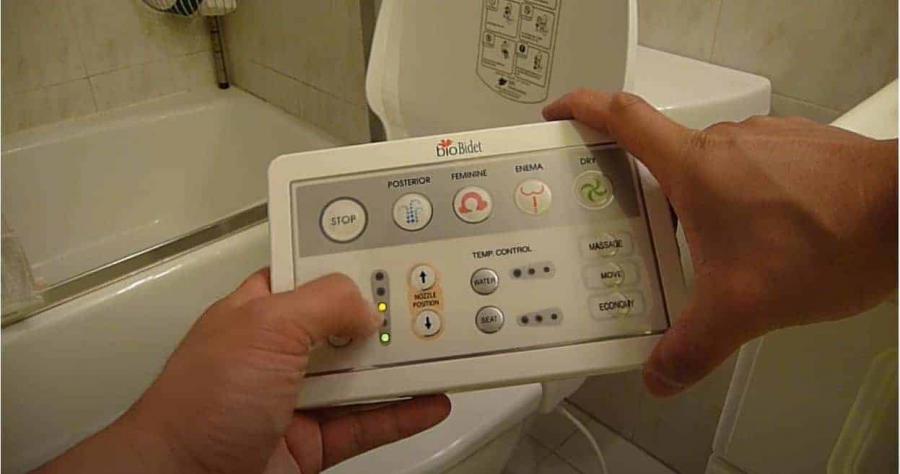 It's also the largest on the market with prominent, easy to press buttons. No more frustration from accidentally pressing the wrong button on small fiddly remotes.
Imagine getting splashed with cold water when you meant to turn on the dryer… NO THANK YOU!
The easy-to-use remote and powerful spray hasn't got you hooked? 
Other features include:
3-in-1 nozzle design, aerated water stream, self-cleaning nozzles, heated seat, air deodorizer, seat sensors, warm air dryer, quick release, power save mode
SmartBidet SB-110
Weight capacity – 330 lbs
Looking for a budget option? Look no further.
The SmartBidet SB-110 is the most affordable bidet for overweight people.
But don't let the price tag fool you. This bidet packs one hell of a punch.
The self-cleaning wand (why don't I have self-cleaning everything?!) has several different settings, including a turbo setting.
The turbo setting is perfect for when you need a little bit more oomph.  It'll leave you squeaky clean, and you can walk out of the bathroom feeling like A BOSS.
There is one catch (there has to be at this price) – there's a side control panel instead of a remote.
Depending on your exact size, this is a potential downside. The more girth you have, the more likely it is that you'll cover the controls when you sit down.
However, if you can live without a remote, the Smart Bidet 110 is a solid choice.
Other features include:
Heated seat, warm air dryer, child wash mode, energy-saving mode
If you're dead set on having a wireless remote, the Bio Bidet Slim Two Smart Toilet Seat is a good alternative. It has a weight capacity of up to 400 lbs, but you'll have to sacrifice the dryer.
Can I use a bidet attachment as a larger user?
On a really tight budget?
Don't want to replace your toilet seat?
Then yes it's worth considering a bidet attachment (link to amazon). They won't break the bank, and you can retrofit them to your current toilet seat. The benefit of this being you don't have to worry about breaking the bidet.
Most are cold water only and come with minimal bells and whistles. But they don't disappoint when it comes to the important things – having a strong and adjustable water pressure.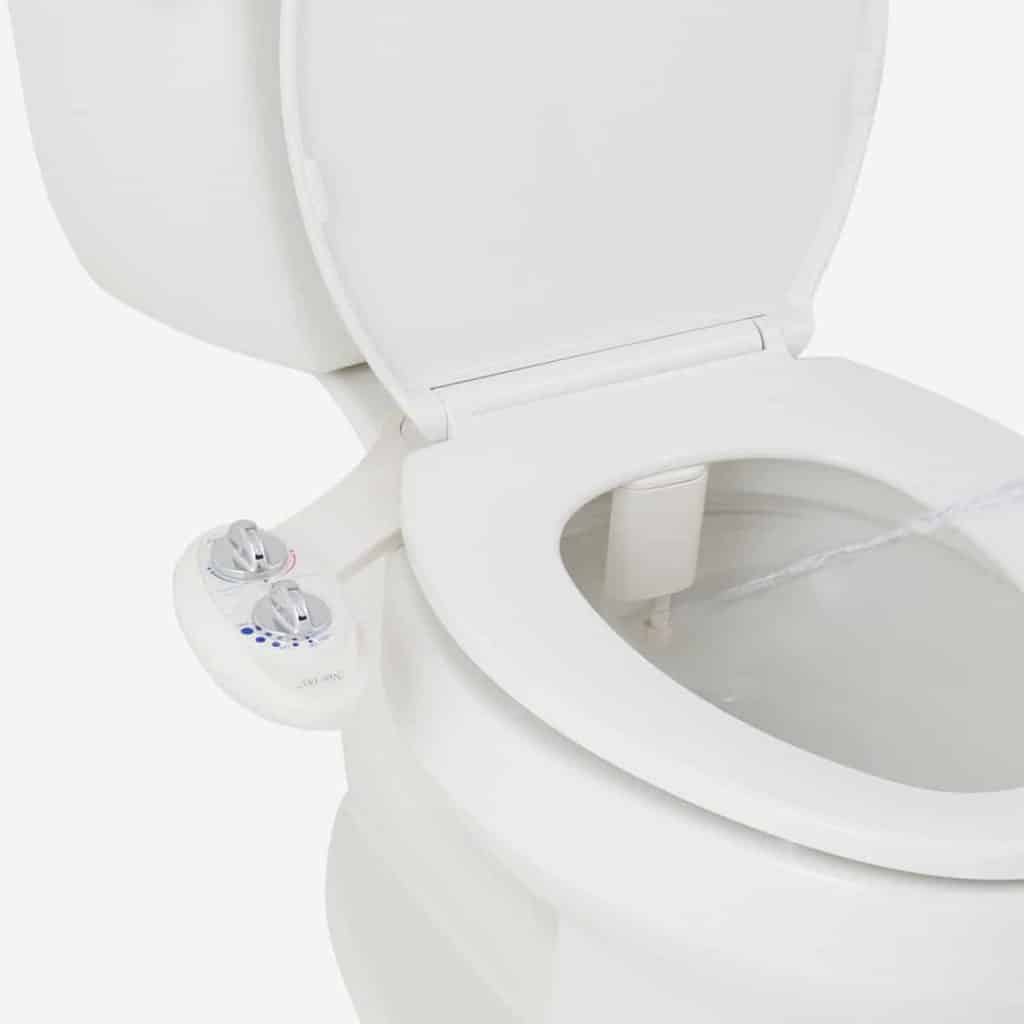 The controls stick out the side of your toilet seat, around 4-5 inches. This is something to consider if you're very wide.
You don't want to install it only to find the controls are completely covered when you sit down. (*facepalm*)
Installing a bidet attachment can sometimes create a small gap between the seat and the bowl leaving the seat liable to crack. To prevent this get some 'bumpers' (link to amazon) to fill the gap.
Will a bidet attachment fit under my heavy-duty toilet seat?
Not all bidet attachments are compatible with larger toilet seats like the Big John toilet seats. You'll need to check the exact measurements of your toilet seat and the attachment you're looking at to be sure.
I recommend checking out the Brondell Spa Thinline first. 
It has the thinnest fitting of any bidet attachment and is, therefore, the most likely to be compatible. Thicker options won't fit under the toilet seat.
Both users of Big John and Bath royale heavy-duty seats have said that this is the only bidet attachment that works with their seats.
How To Choose A Bidet For The Larger User
Features like the build quality and strong water pressure are non-negotiable for larger users. 
Extra attributes like the built-in air dryers offer luxury, but aren't essential.
Let's go one by one.
What's the best type of bidet for a heavy user?
I'll keep this nice and simple.
The best type of bidet for an overweight user is an electric bidet seat. 
Non-electric seats and bidet attachments offer strong water pressure but have hard to reach controls
Bidet sprayers are easy to reach but can be difficult and awkward to use if you're on the larger side. You need to be able to point the thing at your butt hole.
Portable bidets are great for on the go and travel but don't produce a strong enough spray to ensure efficient cleaning every time.
Build quality and weight capacity
Most bidets on the market today offer a 320lb maximum load, but a select few have ratings that go up to 450lbs.
Make sure you're looking at the SEAT weight capacity and not the lid. Manufacturers often list both on the specs.
However, it's not just the weight capacity you should worry about. You also need to think about overall build quality. 
Premium bidet seats are made from polypropylene, a strong, ductile material. It can bend with you, so you'll never hear that dreaded 'CRACK' when you sit down.
Cheaper seats might use ABS. ABS is also strong and durable. But if you sit on the seat in the wrong way, it could crack and spell disaster.
Large seating area
A big bum and a small toilet seat just isn't going to work.
If you can, go for an elongated seat. 
Elongated seats have wider openings (so you can fit all your junk) and more support at the back.
If this isn't possible, check out my guide to the best bidets for round toilets where I reveal the ones that give you the most space.
Wireless Remote Control
Bidet seats either have an attached side control panel or a separate remote.
An attached panel can be challenging to reach for someone with a wider girth. Ever lost the TV remote because someone was sitting on it? Well, you get the idea…
I recommend electric bidets with wireless remotes.
Strong Water Pressure
High water pressure is crucial for larger people. You need a spray that's going to be able to push through your butt cheeks and get to the dirt.
Look for a bidet that has a strong pressure AND multiple moving spray settings. 
A turbo mode is useful for those days you need an extra bit of help or if you're struggling with constipation
Oscillation modes move the spray backwards and forward to give full coverage 
Massaging modes do exactly what they say on the tin – turn your toilet into a spa
If you're a larger lady, many bidets also feature a more gentle feminine wash. This milder, front-facing spray helps to clean frontal areas and reduces itchiness and sweating.
Air Dryer
An air dryer isn't essential for heavier users, but it can reduce the need to wipe EVEN MORE. 
If you're eco-conscious, this also has the added benefit of lowering toilet paper use.
Warning: there's a 99% chance that once you experience the freshness and convenience of a warm air dryer after using the toilet, you'll never want to go back to just using TP again.
Check out my guide to the best bidets with dryers here.
Benefits of Bidets For Overweight Users
It can be hard to feel thoroughly clean if your size means you can't wipe properly without a lot of effort.
Toileting aids try to help. But in reality, it's just awkward. 
A bidet toilet seat will INSTANTLY improve your downstairs hygiene. Water is nature's best cleaning device. It doesn't smear your poop around like toilet paper does. 
Water rinses away the dirt with one quick spray.
Your private regions will feel fresh, clean and free from irritation. 
Disclaimer: side effects of a bidet include over-confidence, strutting, and in rare cases, addiction.