Virtually all mid-range to high-end bidets come with built-in air dryers. There are several benefits to this, but the main one is that you (in theory) no longer need to wipe yourself dry. But which bidets are the best bidets with dryers?
However, I'm going to be totally honest from the outset here and say that, by design, warm air dryers on bidets are gentle.
It's commonplace for them to take up to 4 minutes to dry you fully. But that doesn't mean there aren't good options out there that also come with a whole host of other exciting features.
So, what bidet has the best warm air dryer? The best bidet with a dryer is the Toto s550e. It's a high-end bidet featuring a self-sterilizing spray wand, an air deodorizer, and a dryer. The dryer blows air at a rate of 10.24 ft3/min and heats up to a maximum of 140 degrees.
Premium
Toto Washlet S550e
This is a high-end bidet that has a top-notch dryer and an automatic opening and closing lid.
Overall
Toto Washlet K300
The Toto K300 is one of the best value for money bidets you can buy, and it has a powerful dryer.
Budget
Bio Bidet BB600
The BioBidets dryer offers 5 temperature settings from room temperature up to 140 degrees.
Best Bidets With Dryers
The bidets I have chosen to highlight here are all-round great bidets that include a dryer.
As I said above, no dryer is going to blow you away. But if a dryer is important to you, these are the best options.
Toto Washlet s550e
TOTO washlets are well-built, high-quality bidets, and the s550e is the most luxurious one in the range.
It comes with a whole host of features, including a nightlight, an automatic opening and closing lid, and eWater+. eWater+ is electrolyzed water that's a proven disinfectant. It's what TOTO uses to clean the spray wands and toilet bowl – meaning you don't have to.
If you're after the best bidet money can buy – go for the Toto S550e. And as you'd expect from such a highly rated bidet, it has a top-notch dryer.
The dryer has 5 temperature options to pick from, ranging from 95 – 140 ºF, and blows out air at a rate of 10.24 ft3/min (the best I've seen for a bidet).
This should be enough to dry you in around a minute and a half at the higher temperatures.
If you prefer the cooler temperature, the process might take two to three minutes, which is still a very good time for bidet drying.
The mid-range TOTO options (C100 and C200) have a less powerful dryer. They have a lower airflow volume of 9.53ft3 /min. Therefore, if you're after a powerful dryer, it's best to skip these models.
Toto K300
If you're on a lower budget, take a look at the Toto K300, which I think offers excellent value for money.
The K300 is the newest offering from TOTO and so comes with the same powerful dryer as the more expensive s550e.
It has the same airflow of 10.24 ft3/min and the same temperature range of 95-140. There is one difference and that's that there are only 3 temperature setting options rather than 5.
The K300 also shares many other features with the Toto s550e such as tankless water heating, a wide front cleanse, and energy time-saving.
For a more in-depth comparison between the S550e and the K300 take a look at my guide to Toto washlets.
Bio Bidet BB600
The BioBidet 600 is an entry-level bidet that comes with an air dryer. It has dual motor-powered nozzles, which allow for precise positioning. And you can pick from a range of modes, including oscillating, massage, kids, and auto mode.
The motor infuses air bubbles into the water spray. This means less water is used, but you still get the same great cleansing effect.
The dryer in the BB-600 runs at 250 watts and has 5 temperature settings ranging from room temperature up to 140 degrees, the same as the TOTO washlets.
Compare this to the dryers on the higher-end BioBidet models, the BB-1000 and the BB-2000, which also run at 250 watts but only heat up to a maximum of 113 degrees.
The warmer air on the BB600 means faster drying times. The BB600 will get you dry in around 2-3 minutes on the warmest water setting, while the BB1000 and the BB2000 will take slightly longer.
The BB600 dryer has two speed settings. Make sure you're running the dryer on the highest speed setting for maximum power. The dryer will run for a total of 3 minutes, which should be enough to get to 99% dry.
Another entry-level bidet worth looking at is the Smart Bidet 1000. It also has a 250W dryer with 5 temperature settings. But the maximum temperature is slightly lower at 131 degrees.
One defining feature of the Smart Bidet is that it has a remote control rather than a side panel.
Brondell Swash 1400
The Brondell Swash 1400 is a great candidate for the best bidets with dryers because it has a warm dryer.
The seat has two stainless steel nozzles with 7 different positions and a wide spray setting. The wide spray is perfect for any females using the bidet. The nozzles are sterilized after each use with nanotechnology. 
The Swash 1400 is tankless, so the water is heated as and when needed. This is much more energy-efficient than having a constantly heated reservoir, which means more energy is available to power the dryer.
The dryer isn't as strong as the options above, but because the bidet is jam-packed with other features I still wanted to include it. When I tested the dryer out, it took over 3 minutes to sufficiently dry me.
It's pretty hard to find good information about a bidets dryer's actual strength, but I've scoured the internet and contacted the manufacturers directly to find out what is available.
I reached out to several bidet companies to see if they could give me any more information, and while most of them couldn't they did comment that their bidets are, by design, gentle.
A BioBidet representative told me:
"The dryers are not designed to provide complete drying, they are to assist in using less toilet paper than usual."

Bio Bidet Representative
Why aren't bidets dryers more powerful?
Many people are left feeling disappointed by their bidet dryers because they expect them to be more powerful. Which can make it tough to know which are the best bidets with dryers.
The dryers we're used to, such as hair and hand dryers, use much more energy than a bidet dryer.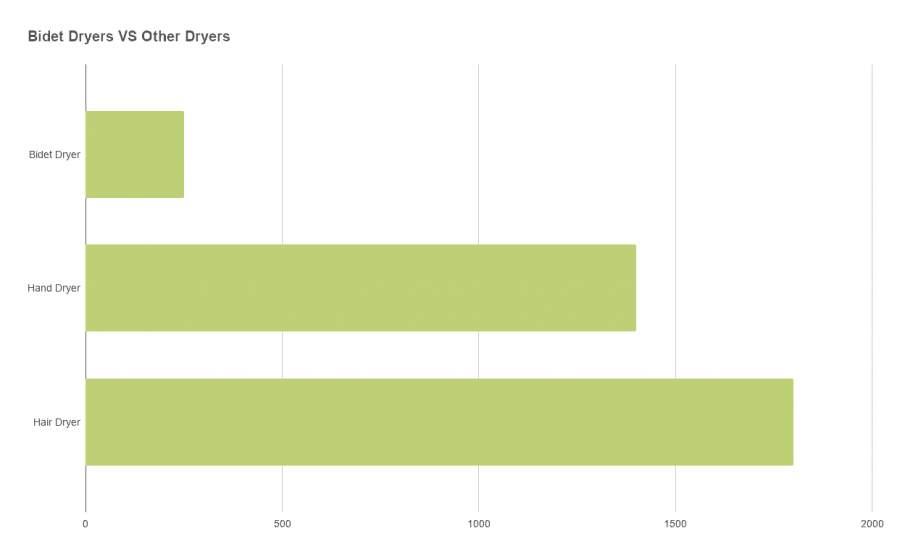 So why are bidet dryers weaker than other types of dryers? There are two things at play here.
The first is which body part the bidet is drying.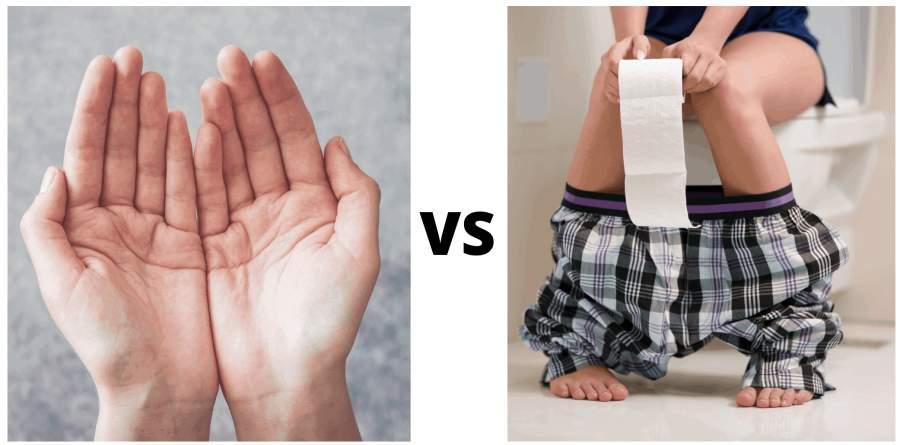 A hand dryer is for our hands, while a bidet dryer is for a much more sensitive area. A wide range of people use bidets including postpartum mums and also people who've just had surgery meaning they're even more sensitive than normal down there.
The bidet manufacturers need to take this into account when they're designing the features, and if they made the dryer too powerful there's a risk that it could hurt or burn some users. That's the last thing anyone wants. 
The second consideration is where the air dryer is pointing.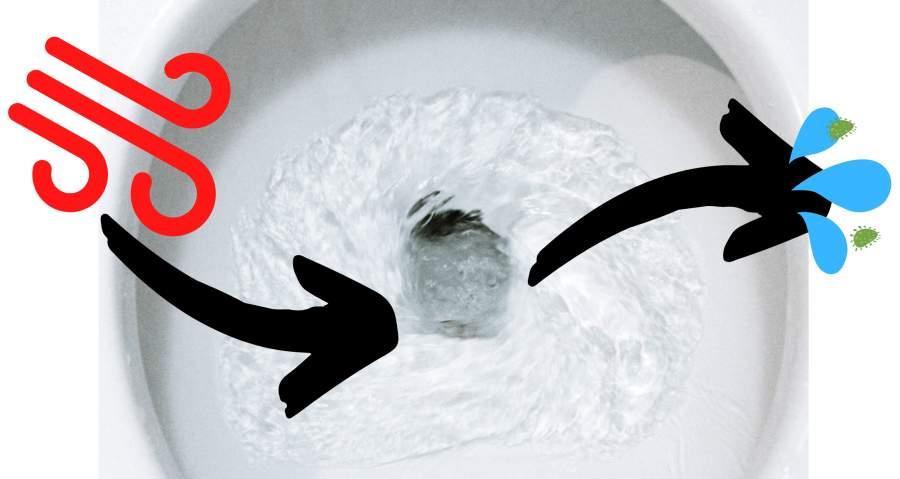 As the bidet dryer is in such close proximity to excrement and other nasties inside the toilet, consideration needs to be taken to ensure that any germs aren't accidentally spread through its operation.
A study by David L. Johnson showed that even the simple act of flushing the toilet can cause germs to be released. 
To avoid this, manufacturers avoid super powerful dryers. They'll still dry you but will take a matter of minutes rather than seconds. 
A representative from Alpha Bidet told me this:
"I apologize but unfortunately I do not have that detailed information regarding the warm air dryers.

Although what I can say is, by design, warm air dryers are gentle.

A study recently published shows that the simple act of flushing your toilet releases micro bacteria into your restroom's atmosphere.

Because of this it's typical for warm air dryers to take up to 4min to dry.

Even a high end $1000+ TOTO will take up to 1.5min to fully dry."

Alpha Bidet Representative
Do bidet dryers work for women?
Most bidets these days are designed with women in mind in the fact that they come with front and rear nozzles that work well for both men and women. Unfortunately, this technology has yet to make it to the dryers.
Bidet dryers are located at the back of the bidet and aim themselves towards your bottom. Since the flow rate is quite weak, most of the air doesn't make it to the front.  Hopefully, this will change in the future. But for now, the women amongst us will have to stick to (eco-friendly) toilet paper.