Composting in cold climates is considerably slower than composting when it's warm. Compost needs heat to work, and this is lacking during the winter months.
But it's far from impossible to compost in the winter. You just need to make sure your compost bin is well equipped to deal with harsher conditions and know some good tricks for heating up compost.
I've picked out the 5 best compost bins for a colder climate, allowing you to compost safe in the knowledge that you have the best equipment for the job.
Best Overall
Jora Composter Tumbler JK270
Compost tumblers are great for composting in the cold because they're so easy to turn, and this one has a 2-inch layer of insulation.
Best Continuous
Exaco Trading Co. Aerobin 400 Exaco Insulated Composter
This winter-worthy composter has a double-layer base. This means the compost doesn't lose heat to the ground, and you can collect compost tea.
Best Indoors
Urban Worm Bag Worm Composting Bin
You can compost with worms indoors so it doesn't matter what the weather's like outside.
Best compost bins for cold climates
Here are our picks for the best compost bin for colder climates and winter.
Overall, the best compost bin for colder weather is the Jora Composter Tumbler JK270. The tumbler is insulated with a thick layer of polystyrene to keep heat in and ensure the composting process continues, no matter what the temperature is outside. The bin is also easy to turn so you don't need to worry about physically aerating the compost.
Jora Composter Tumbler JK270
The Jora compost tumbler is insulated with more than 2 inches of polyethylene plastic. This thick layer of insulation traps and maintains the heat that your compost generates, allowing you to get hot compost even with freezing temperatures outside.
The outside is made from galvanized steel with a powder coating to ensure durability. A must when the composter will be exposed to harsh weather.
The tumbler design also means it's really easy to turn the compost. Turning the compost regularly helps to generate heat so your compost should be steaming in no time.
Another plus to the tumbler design is that it's raised off the ground. This has two benefits:
Rodents cant access the compost
Heat isn't lost to the ground
As with many compost tumblers, there are dual chambers so one side can be left to mature while you start to fill the other side up.
The Jora tumbler comes in three different sizes: 33 gallons, 70 gallons, and 106 gallons. The 33-gallon model is great for a family of two while the 70-gallon model is better suited for a family of four.
Pros
Insulated
Easy to turn
Dual-chambered
Raised off the ground
Cons
The lid can become a little stiff after extended use
Exaco Juwel AeroQuick Compost Bin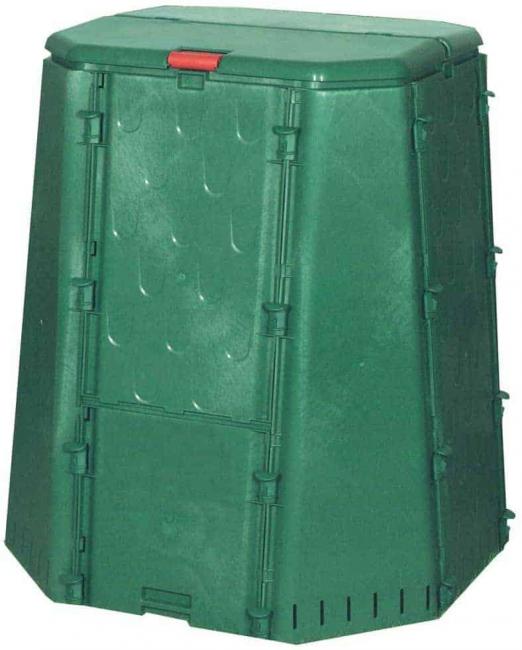 The Exaco Juwel isn't insulated but the walls are 5mm thick which is much thicker than the standard 2mm thickness.
The thick walls are combined with a unique active aeration system to increase airflow. Increased airflow means more microbial action, which means more heat generated to keep the compost warm even in colder temperatures.
The compost bin has an impressive 187-gallon capacity making it one of the largest compost bins on the market. The huge capacity means you won't have to worry about running out of room in the bin, but also provides an extra layer of cold weather protection.
One of the most common pieces of advice about how to heat up your compost pile in the winter is to simply make a bigger pile.
To protect against rodents, the bin comes with a really useful wire mesh that you can attach to the bottom. The mesh acts like a floor and stops pests being able to sneak their way in.
Pros
Made from recycled plastic
Huge capacity
Extra-thick walls
Unique aeration system for increased airflow
Exaco Trading Co. Aerobin 400 Exaco Insulated Composter
This 113-gallon continuous composter comes with double-walled insulation designed to protect against cold weather.
To make up for the fact that you can't turn the compost, Exaco has designed a 'lung' that carries air right into the center of the compost making sure it's well aerated.
As well as double layered side walls, the bottom of the composter is also double layered. The benefits of this are three-fold.
The composter is kept off the ground so heat can't escape through the bottom and rodents can't get in. Plus you can use the bottom to collect leachate for use as a liquid fertilizer.
Pros
Insulated
Leachate collection base
Self-aerating
Urban Worm Bag Worm Composting Bin
Vermicomposting is a great option for composting in cold climates.
The worm bin can be kept inside, making it immune to whatever the weather is outdoors. While the thought of keeping a bin full of worms inside might sound gross, as long as you don't overfeed the worms the bin won't smell or attract any pests.
The urban worm bag is my favorite worm composting system because the flow-through design makes it super easy to harvest the compost. You don't have to worry about stacking and unstacking trays like with some other worm bins.
The bag also features a specially designed breathable material, meaning that holes for aeration aren't needed and superior aeration is still achieved. You'll notice that because of this breathable technology, worm leachate won't build-up, potentially being a source of unwanted leaks (especially indoors).
If you're still on the fence, why not check out my hands-on review of the Urban Worm Bag?
Pros
Can be kept inside
Easy to harvest the compost
Easy to control moisture levels
All Seasons Indoor Bokashi Composter
The clue is in the name here – you can use a bokashi composter in every season, even winter.
Bokashi is a new type of composting that can be done indoors, so just like vermicomposting, it doesn't matter how cold it is outside.
It's commonly referred to as composting but is actually a fermentation process. You leave the food waste in the bucket with some specialized anaerobic microbes for two weeks, and you get out whats called bokashi pre-compost.
The pre-compost then needs to be buried for a further 2-4 weeks to convert it into a useable soil amendment. This step will take longer in the winter (+2/4 weeks) but is still perfectly possible. Alternatively, you can store the pre-compost in an airtight container where it will keep until the spring.
If you're interested in learning more, make sure to check out my ultimate guide to getting started with bokashi. It's packed with loads of useful tips and beginner FAQs.
I recommend the All Seasons Bokashi composter because it's a bdget option but comes with all the same features. Plus you get some bokashi bran included so you can get started right away.
Most people end up getting two bins so that when one is fermenting they can start filling the other one up.
Pros
Airtight system so no smells or pests
Quick
Can be done indoors
Cons
Need to convert the pre-compost to make it usable
Tips for composting in the winter
As well as having a suitable bin, here are a few other ways you can make sure that your compost bin keeps on giving when the weather gets colder.
Stock up on carbon while you can
For successful composting, you need a good balance of carbon to nitrogen in your bin. Nitrogen-rich materials like food scraps are easy to come across all year round. But carbon-rich materials like dried leaves become harder to find in the winter.
Stock up on any dry organic waste you can find during fall and store it throughout winter so you have some when it's needed most.
Add extra insulation
Even if your bin is insulated, having extra insulation is always a good thing. You can cover your bin with tarp, or surround it with hay bales to protect it from harsh winds.
Some people even suggest putting hot water bottles in with your compost to give it a bit of a boost when it's really cold (only for the super dedicated!).
Check out my guide on how to insulate a compost bin for more information.
Keep an eye on moisture levels
As well as cold, rain can present a problem for composters in the winter. If your pile becomes overly moist, the microbes can effectively drown and any activity will come to a halt.
With contained bins similar to the ones I suggest above, this is unlikely to happen. But if you have a big open pile you'll need to add some sort of rain protection.
Rain can also be soaked up from the ground leading to a soggy pile. If you think this is happening, try digging a trench around your compost pile. This will encourage the water to drain away from your pile instead of into it.
Adding more carbon to a soggy pile will help soak up excess moisture.
Comparison Table
| Composter | Type | Indoor/Outdoor | Dimensions | Thickness | Check Price |
| --- | --- | --- | --- | --- | --- |
| Jora Composter Tumbler JK270 | Compost tumbler | Outdoor | 44 x 28 x 52 inches | tbc | Check Price On Amazon |
| Exaco Trading Co. Aerobin 400 Exaco Insulated Composter | Continuous composter | Outdoor | 29 x 29 x 47 inches | 1.5 inch | Check Price On Amazon |
| Urban Worm Bag Worm Composting Bin | Worm composter | Indoor | 27 x 27 x 32 inches | N/A | Check Price On Amazo |
| Exaco Juwel AeroQuick Compost Bin | Continuous composter | Outdoor | 37 x 37 x 43 inches | 0.2 inches | Check Price On Amazon |
| All Seasons Indoor Bokashi Composter | Bokashi bin | Indoor | 12 x 12 x 18 inches | 2.25 inches | Check Price On Amazon |
Summary
So there you have it. There's actually a surprising number of options for cold climate composting.
You can use a traditional bin with extra insulation, or you can move away from the usual methods and try something different like worm composting or bokashi.
Still undecided? Check out my picks for the best worms bins.