Continuous composters allow you to turn your waste into nutritional compost. They're popular because they require less work than other composting methods and don't have the problem of clumpy compost which plagues compost tumblers.
All you have to do is put your waste in the top, wait for it to break down and then open the bottom of the bin to collect your finished compost. They're called continuous bins because you can continuously put new scraps in the top without disturbing the decomposing waste underneath.
If you keep putting scraps in, you'll have a constant stream of compost to use around your yard. Sound good?
I've rounded up the best continuous composters on the market right now.
All Year Round
Worm Factory 360 Indoor Composter
This composter can be used indoors or outdoors and will produce compost all year round, even in the winter.
Overall

Algreen Products Soil Saver Classic Compost bin
This continuous computer is made in Canada and has a self-watering lid.
Budget
Redmon Since 1883 8000 Compost Bin
Redmons 60 gallon continuous composter is made from UV stabilized, BPA free plastic and has air holes to keep the pile aerated.
Best continuous composters reviewed
Continuous composters tend to be enclosed bins with an opening at the bottom. The best options will have built-in aeration systems and features to help keep pests out.
I've also included a few other options that don't resemble the regular bins but still provide you with a constant stream of compost, such as bokashi composting.
Here are our top 7 picks for the best continuous composters you can buy today.
Algreen Products Soil Saver Classic Compost bin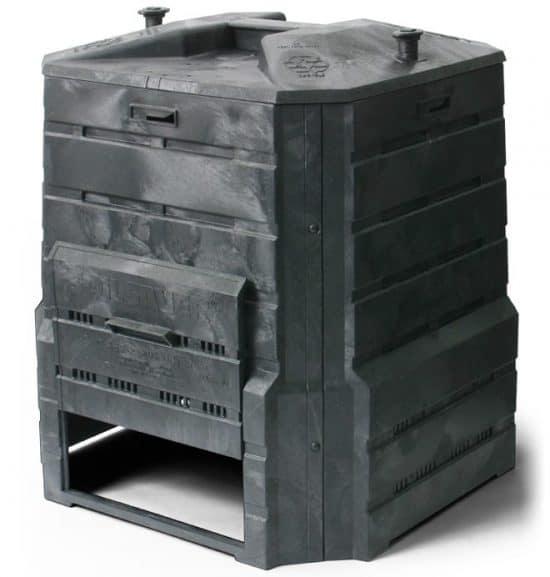 Algreen's soil saver continuous composter represents excellent value for money. Its pricing is mid-range but it's well constructed and durable. The walls are made using BPA-free recycled plastics and at 0.2 inches thick. The thick walls help to keep rodents out, but heat in which speeds up the composting process. 
To harvest the compost, you use the two large openings at the bottom of the bin.
One unique feature of the bin is the self-watering lid. This is great for the summer when the sun can easily dry your compost out and slow decomposition. The lid also locks in place and has air holes to aid in aeration. 
A family company in Canada manufactures the bin. They believe so strongly that their products will stand the test of time, they offer a 20-year guarantee on all the parts.
Pros
self-watering lid
100% recycled post-consumer waste materials
made in Canada
20-year warranty
FCMP Outdoor Tumbling Composter
Best dual-chambered compost tumbler
This 37 gallon capacity compost tumbler has a dual-chamber design which means you can use it as a continuous composter. When one side is full, you can leave it to compost while starting a new pile in the second chamber.
The chambers are quick and easy to turn, and inside the bin, the walls are lined with spikes that help mix the compost. The aeration holes on the outside of the bin keep oxygen flowing, making the composting process very efficient. Compost tumblers give you quicker results than stationary bins. If conditions are favourable, you could have finished compost from your kitchen waste in as little as two weeks.
The bin is made using 100% post-consumer recycled polypropylene, is BPA free and UV stabilized, so you can leave it out in the sun without worrying. Also, because the bin's lifted off the ground with galvanized steel legs, it won't attract any rodents. Some users have reported that the tumbler was difficult to assemble, but once it was done, it felt very sturdy.
Miracle-gro also has a pretty nifty dual chamber compost tumbler that comes in a few different sizes.
Pros
rodent safe
produces compost fast
easy to use
easy to turn
BPA free, UV stabilized, recycled plastic
Cons
smaller capacity
difficult to assemble
Exaco AeroQuick Continuous Composter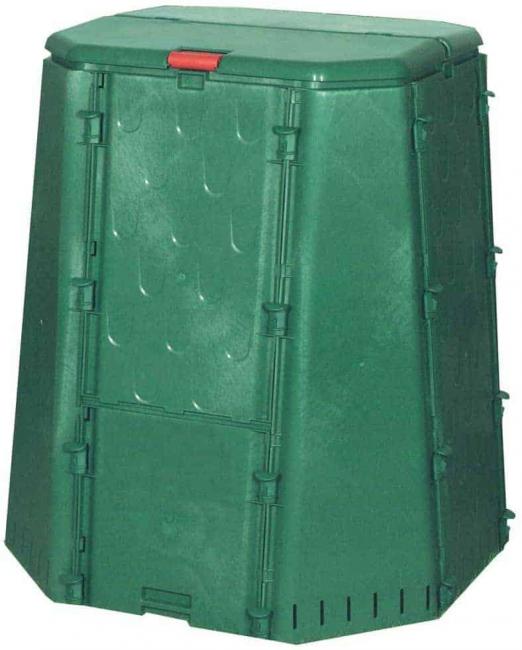 Most durable continuous composter
The walls of this compost bin are 5 mm thick and made from heavy-duty plastics. Most standard compost bins are only 2-3 mm thick. The manufacturer claims the walls are strong enough to stand on, and most reviewers comment on the high-quality design.
The composter has one of the largest capacities on the market at 187 gallons, although there are smaller options. Inside, the walls are lined with a unique design to allow for constant upwards airflow. This helps to keep the compost well aerated.
One downside to a lot of continuous composters is that they aren't rodent proof. The Exaco composter solves this problem in two ways.
The hinged lid has a unique sliding lock mechanism that even the cleverest rodent can't open.
The bin comes with a rodent screen for the bottom. The grid keeps unwanted creatures out but still lets beneficial critters like worms in. Also, the integrated aerating system means there's less need for big aeration holes on the outside of the bin. These holes can sometimes attract rodents that chew through them.
All these benefits do come with an increased price tag. But when you consider the bin will last you up to 20 years, it's well worth it.
Pros
lasts up to 20 years
5 mm thick walls
large capacity
self aerating
rodent-proof
Worm Factory 360 Worm Composting Bin
Best compost bin for an apartment
Vermicomposting is the scientific name for composting with worms. Worm composting can be done inside or outside and is quicker than traditional composting methods.
The worms work constantly, eating your kitchen scraps, digesting them and then pooing them out in the form of worm castings – a ready to use compost. Worm farms like the 360 worm bin have stackable designs with each tray being a sort of mini compost bin. As one tray gets filled up with worm castings, the worms move up the bin into the next tray and start working there. This leaves the finished bottom tray free for you to harvest.
This process works year-round. Depending on how many worms you have, you should be able to harvest some compost at least once a month. You can also collect what's known as worm tea. This is the liquid runoff from the bins and you can use it as an organic foliar spray.
The bin I've featured comes with four trays, but you can expand it up to 8 if you want, and several accessories such as a 'what can red wigglers eat' fridge magnet. You also get a digital instruction manual and some bedding materials to get you started. The worms aren't included. I recommend you get uncle Jims red worms. I've always used his worms and never had a problem.
You can also just buy the worm farm without all the accessories here. Other worm bins to consider are the Urban Worm Bag or the Hungry Bin. I have a separate review of the urban worm bag here.
Pros
can be used indoors
produces compost fast
can collect worm tea
works year-round
easy compost collection
made in the USA
10-year warranty
no turning needed
Garden Composter Bin by D.F Omer
Best large capacity composter
This is the best continuous composter for large families or individuals who find they have a lot of waste. It's budget-friendly and has an impressive 110 gallon capacity. The compost bin also comes with the option to increase this even further to 165 gallons.
It's made from BPA-free recycled plastic, and the black color helps it to retain heat, so the composting process is faster. The outside has a ridged design that lets oxygen into the bin but doesn't attract pests by letting smells out. The holes also allow rainwater into the container to keep the compost moist.
The hinged lid opens from the middle, which is another smart way of keeping pests out of the compost bin. Users have noted that the doors at the bottom of the composter are a little tricky to install. But once you've assembled them, they give you easy access to the compost.
If you do have any problems, then you're covered by a 2-year warranty and have access to a dedicated support team who will answer any questions you might have.
Pros
budget-friendly
large capacity
2-year warranty
BPA free, UV stabilized, recycled plastic
Cons
hard to assemble
requires tools
Exaco Trading Co. Aerobin 400
Best composter for colder climates
If you live somewhere colder, or just want an outdoor composter that you can continue to use throughout the winter, then the Exaco Aerobin 400 is an excellent choice for you. The 400 refers to its capacity of 400 liters (105 gallons).
It's double-walled and insulated with polystyrene to keep heat in. This ensures the composting process keeps going no matter what the temperature is outside.
Through the middle of the composter, there's a 'lung' which acts as a self aeration system. the lung means you don't need to open the bin and turn the compost, letting heat out in the process.
Unlike other continuous composters, this one has a base to lift it off the floor. The benefits of this are two-fold.
It helps with the insulation
It means you can collect the leachate (or compost tea as it's commonly known). The base has a little tap that makes it easy to empty the liquid reservoir and use it.
A simple thing I love about this compost bin is the extra-large door at the bottom. The large opening makes it really quick to collect the finished compost.
If you like the idea of having such a well-insulated bin then you should also look at my roundup of the best insulated compost bins.  I recommend this bin along with the Jora dual-chambered compost tumbler and more.
Pros
insulated
self aerating
liquid collection base for compost tea
extra large opening at the bottom
rodent-safe
works year-round
Redmon Since 1883 Continuous Composter
Best continuous composter for those on a budget
This affordable option from Redmon is slightly smaller than the other compost bins I've featured but still holds up to 60 gallons of food waste, which is more than enough for a small family.
The smaller capacity means this continuous composter also has a smaller footprint so won't take up much room if you're limited on space. Once assembled the bin measures 26″ x 26″ x 30.75″.
It's made from UV stabilized, BPA free plastic and uses 80% post-consumer waste. The aeration holes all around the composter allow air to flow through your compost. And there are four different access doors. This means you can access the compost from all sides, making it easier to collect once it's finished.
The lid on this model is a snap-on style lid that some users have reported can blow away in the wind if you don't make sure to secure it fully.
Pros
cheap
small footprint
BPA free, UV stabilized
4 access doors
Cons
lid design needs improving
How to use a continuous composter?
Using a continuous composter is easy. You simply start filling it up with scraps, remembering to keep a balance of green and brown materials. Whenever you've got more stuff to compost you can just open the lid and throw it in.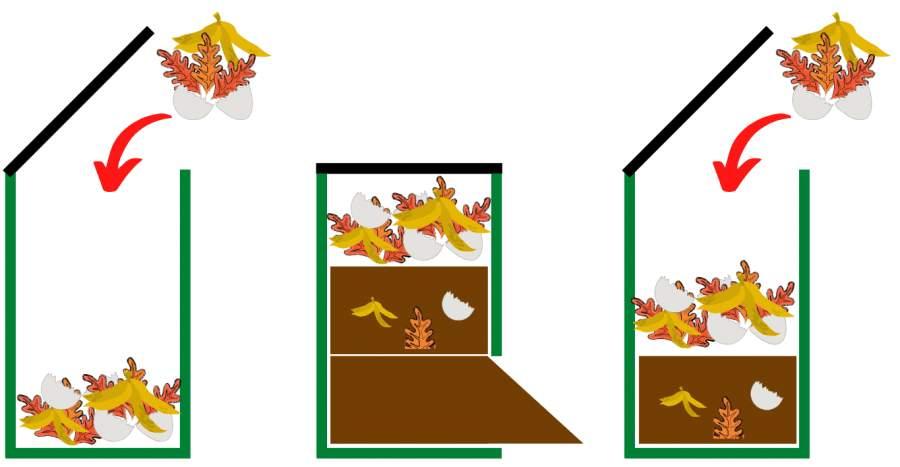 The matter will decompose over time, and soon, the first lot of scraps you put in will be rich, nutritional compost. To collect the compost, you can open the bottom of the bin and shovel it out. This will create room at the top for you to keep filling it up and continuing the process.
Some people like to aerate their piles using thin crank handles. This speeds up the composting process slightly but isn't necessary
Continuous vs batch composting
Batch composting is the opposite of continuous composting. It requires you to create a pile and then leave this pile alone until the whole thing has decomposed. You can't just dip in and take compost whenever you want.
Batch composting can be quicker because you're more able to turn the pile and plan for the exact green:brown ratio you need to make the process as speedy as possible. Batch composting almost always involves 'hot composting' which can be very efficient. Harvesting of the compost is also very easy since the whole heap turns into compost at the same time.
Batch composting requires more work and more planning. You might need to stockpile materials before you can start your pile, which can be inconvenient if you don't have space.
Continuous composters are more manageable. You can add materials to the bin as and when you need without worrying about having to store them. This tends to be more practical for the average homeowner.
Another advantage of continuous composting is that you can scale it to a size that suits you. You can even do it indoors if you use worm bins.
Continuous Composter Comparison Table
| Name | Type | Capacity | Footprint (WxLxH) | Material | Check Price |
| --- | --- | --- | --- | --- | --- |
| Redmon Since 1883 8000 Compost Bin | Bin | 65 gallons | 26″ x 26″ x 31″ | 80% recycled plastic | Check Price On Amazon |
| Algreen Products Soil Saver Classic Compost bin | Bin | 94 gallons | 28″ x 28″ x 32″ | 100% recycled plastic | Check Price On Amazon |
| FCMP Outdoor IM4000 Tumbling Composter | Dual-Chambered Tumbler | 37 gallons | 36″ x 30″ x 28″ | 100% recycled plastic | Check Price On Amazon |
| Garden Composter Bin Made from Recycled Plastic, 110 Gallon | Bin | 110 gallons | 31″ x 35″ x 35″ | Recycled Plastics | Check Price On Amazon |
| Worm Factory 360 Worm Composting Bin | Worm Bin | Expandable | 18″ x 18″ x 28″ | High-quality recycled materials | Check Price On Amazon |
| Exaco Trading Co. AQ187 Exaco Juwel AeroQuick Austrian Compost Bin | Bin | 187 gallons | 37″ x 37″ x 42″ | 5 mm thick heavy duty plastics | Check Price On Amazon |
| SCD Probiotics All Seasons Indoor Composter | Bokashi | 5 gallons | 10" x 10" x 16″ | Plastic (black recycled soda bottles) | Check Price On Amazon |
| Exaco Trading Co. Aerobin 400 Exaco Insulated Composter and Self Aeration System | Bin | 187 gallons | 29″ x 29″ x 47″ | Recycled 1.5-inch-thick plastic | Check Price On Amazon |
| Compost Bin by GEOBIN – 216 Gallon | Bin | 216 gallons | 29″ x 29″ x 47″ | 50% recycled plastic content | Check Price On Amazon |
| Urban Worm Bag Worm Composting Bin | Worm Bin | 25 gallons | 26″ x 26″ x 30″ | 900D Oxford canvas | Check Price On Amazon |
| Jora Composter Tumbler JK270 | Dual-Chambered Tumbler | 70 gallons | 45″ x 28″ x 50″ | galvanized steel | Check Price On Amazon |
Capacity
The size of your composter is an important consideration for two reasons:
You want to make sure that it's going to fit in whatever space you have chosen for it
You want to choose one that's appropriate for the amount of waste you produce
There's no hard and fast rule about how big a compost bin needs to be. The two main factors that affect how much capacity you need are how much waste you have and how quickly the bin can process that waste.
If you live somewhere hot and don't generate that much waste, you'll get away with a smaller bin than someone who lives in a colder climate. Composting slows down as it gets colder. If you have a big family that loves vegetables, you'll need a pretty big bin.
If you're not sure about what capacity you'll need, you can always buy a bin that's expandable in case you end up needing extra room.
Type
There are a few different types of composters that produce compost continuously. You can decide which type suits you best. 
If you want a passive compost bin where all you need to do is throw your food waste in and wait, then a traditional open bottom bin is for you.
If you're in a hurry for your compost, then a dual-chambered tumbler might be a better option.
If you have limited space but still have a lot of waste to process, then you might find something less traditional like a worm bin or a bokashi bin suits you best.
Construction
The construction of your bin refers to the materials it's made of and how thick they are. Other things to look out for include aeration systems and insulation.
If you live in a place where your bin is going to be exposed to a lot of harsh weather, then you want to make sure it's durable enough to last. If the weather gets particularly cold, good insulation becomes essential to make sure you can continue to compost all year round. 
Aeration is an integral part of any composting system. If oxygen can't flow, the bin can start to smell bad. One way of ensuring the compost stays well aerated is to have holes in the container. But if your garden is home to a lot of rodents, you might find they chew through the holes.
Other bins use more sophisticated methods like 'self-aerating lungs' that are more rodent-proof.
Summary
That's it for my roundup of the best continuous composters.
You can pick between a traditional outdoor compost bin, a compost tumbler, and even a worm bin!