If you're in the market for a new eco-friendly bath mat, it can be a tricky task finding one that's sustainable as well as functional and stylish.
I've rounded up the best organic, jute and bamboo bath mats to name just a few. If you're after a non-stick bath mat that goes inside the bath, skip straight to the right section here.
Why not also check out my picks for the best eco-friendly bath towels as well?
Best Bamboo
Bambusi Foldable Bamboo Bath Mat
Bambusi's modern design is crafted using eco-friendly Moso bamboo. A luxurious and durable choice.
Best Overall
Grund Puro 100% Organic Cotton Bath Rug
This 100% organic cotton bath rug from Grund is luxurious, sustainable and ethical. And to top it all off, it's GOTS certified and comes with a 5 year warranty.
Anti-Slip
HEVEA Natural Rubber Bath Mat
Natural rubber is biodegradable and can even be composted in your home compost pile. The bath mat is chemical-free and comes in cardboard packaging.
Best Eco Friendly Bath Mats and Rugs
My picks for the eight best sustainable, eco-friendly bath rugs.
Natural Diatomaceous Earth Bath Mat
Diatomaceous Earth is a naturally occurring material with a neutral pH and excellent adsorption properties.
The eco-friendly bath mat has millions of micropores that can absorb water within MINUTES. The mat also has air purifying properties and can absorb smells keeping your bathroom fresh.
The bath mat itself isn't fluffy like cotton mats and feels hard underfoot. But it's super easy to clean by just wiping with a cloth, and it's anti-skid so there's no chance of slipping.
The minimalistic design comes in 5 neutral colors that will complement any bathroom. Marbrasse (featured) only offers one size (23 x 15 inches), but another brand DXY offers a smaller size (16 x 12 inches) for those of you with less space.
Pros
quick drying
natural, chemical-free
easy to clean
anti-skid
durable
Grund Puro 100% Organic Cotton Bath Rug
This 100% organic cotton bath rug from Grund is luxurious, sustainable, and ethical.
The soft and absorbent cotton is GOTS certified. This means it's produced following the ethical and environmental guidelines set out by the Global Organic Textile Standard.
The GOTS regulates everything from farming to shipping.
The reversible bath mat has no non-slip backing, but it's 60% thicker than other bathroom rugs. The extra weight keeps it in place.
The ethical bath mat is available in a range of different sizes up to 24×60″ (a great size bath mat for double sinks).
Pros
GOTS certified organic cotton
reversible
5 year warranty
multiple colours, sizes and shapes available
ethically made in India
Bambusi Foldable 100% Bamboo Bath Mat
Bambusi has a whole collection of bamboo bathroom accessories. Their modern designs aim to bring a touch of nature into your bathroom.
They use mosa bamboo, which is a sustainable, durable material. As with any bamboo mat, it shouldn't be exposed to moisture for extended periods because this can lead to mold.
Cleaning the bath mat regularly, especially in between the slats, will help it last longer.
The mat is foldable, so it's a great eco-friendly bath mat for small bathrooms.
I also really liked this bamboo bath mat from Mosa, which is a slightly different size if Bambusi's bath mat doesn't work for you. Gobam is another brand that offers sustainable bamboo bath mats – they have a range of sizes and colors to pick from.
Pros
foldable
stylish design
slip-resistant
Turkish Cotton Sustainable Bath Mats
Turkish cotton is considered to be one of the highest quality textiles around. The extra-long fibers make it super soft while also being absorbent and quick drying.
The cotton is grown organically and is often picked entirely by hand. As a brand, Salbakos is committed to sustainable practices and treats its workers fairly. They also donate a portion of their profits to charity.
As well as being organic, the eco-friendly bath mats contain NO toxic chemicals. And the lack of heavy machinery used in the manufacturing process massively reduces the overall carbon footprint.
Pros
budget-friendly
OEKO-TEX certified
ISO 9001 certified
multiple color choices
ethically made
100% Jute Ethical Bath Mat
If this jute bath mat is looking strangely familiar, it might be because you saw it on my roundup of the best eco-friendly doormats.
Jute is a soft but resilient material, so it's suitable for use indoors and outdoors.
The ethical bath mat has been hand made by artisans and is reversible, which doubles its life.
Jute is compostable, so when the bath mat reaches the end of its life, you can chuck it in your garden compost bin.
One downside to this bath mat is that you might experience some shedding because it's made of natural fibers.
Pros
reversible
durable
budget-friendly
hand-made
Eco-Friendly Bamboo Shower Mat
Another bamboo option, this one is made using smaller slats so you can roll the bath mat up for convenient storage.
The eco-friendly shower mat has a waterproof coating, but the manufacturer still recommends leaving it to dry between uses to help prolong its life.
Like the other bamboo bath mats, this one also has anti-slip feet.
Pros
rollable for easy storage
waterproof coating
anti-slip
Sustainable Cork Bath Mat
This biodegradable shower mat is straightforward in design, but this takes nothing away from the functionality.
Cork is a fantastically diverse material. It's water and rot-resistant. It's also naturally anti-slip, so the bath mat doesn't need any rubber backing.
Furthermore, it's a natural insulator, so will feel slightly warm to the touch when you get out of the shower. No more nasty cold surprises!
If you want to learn more about corks eco-friendly credentials, why not read my guide to cork and its sustainability.
Pros
low maintenance
naturally slip-resistant
biodegradable
Best Eco-Friendly Non-Slip Bath Mats (For In The Bath)
Here are my top 3 picks for the best eco-friendly non-slip bath mats to use in the bath or shower.
HEVEA Natural Rubber Bath Mat
The Hevea bath mat has 200 suction cups to keep it in place while you shower. It's great for children sitting in the bath, as well as any adults who need a little extra help keeping their balance.
The natural rubber is made from the sap of rubber trees and is completely compostable. The packaging is made of cardboard, making this a zero-waste bath mat.
The material is non-toxic and free of chemicals, including BPA. It also won't shred microplastics when you use it.
Hevea also sells natural rubber bath toys.
Pros
plant-based rubber
eco-friendly packaging
non-toxic
compostable
won't shed microplastics
TPE Non-Slip Bathtub and Shower Mat
This sustainable bath mat is made from TPE. TPE material is synthetic but considered sustainable because it uses less energy to produce than materials with comparable properties.
The bath mat is recyclable and free of BPA, latex, and phthalate.
The large drainage holes help water circulate and stops the surface of the mat from becoming slippy. There's a range of colors to pick from, all of which will help brighten up your bathroom.
Pros
drainage holes
range of colors
non-toxic
budget-friendly
Salinka Natural Rubber Bath Mat
Salinka's eco-friendly bath mat has a textured surface for extra anti-slip protection. The additional grip help to massively reduce the risk of injury in the bath.
Natural rubber is latex, phthalate, BPA, and PVC free (plus compostable!!). There are small drainage holes around the outside which help residual water to drain away but don't detract from the simple design.
Pros
textured surface
budget-friendly
drainage holes
natural material
DIY Bath Mat Ideas
Towel Bath Mat
A neat idea to reuse any old towels you have lying around is to turn them into a recycled bath mat.
Watch the youtube video below to see how it's done.
The resultant bath mats are fun, colorful, and easy to make.
Pebble Bath Mat
This one requires a little more effort but can look very stylish.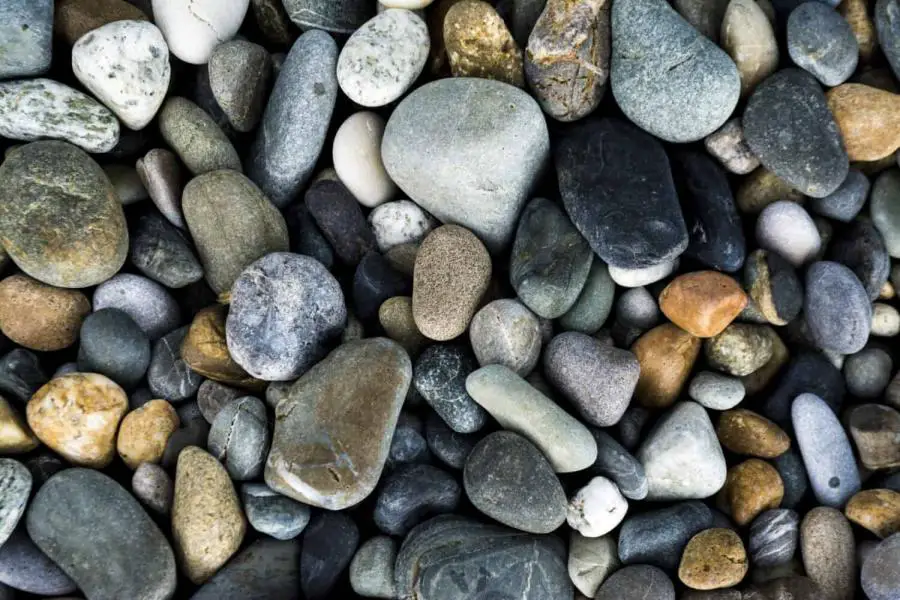 You'll need to source some small pebbles – if you live near a beach, this should be easy. Make sure they're smooth enough to stand on comfortably.
You can also try your local gardening store or buy the pebbles online.
Next, you'll need a shallow tray or frame to hold the pebbles.
This can be anything you want, as long as it's waterproof.
Once you have both these things, put the pebbles in the tray, and your shower mat is ready to go.
Wine Cork Bath Mat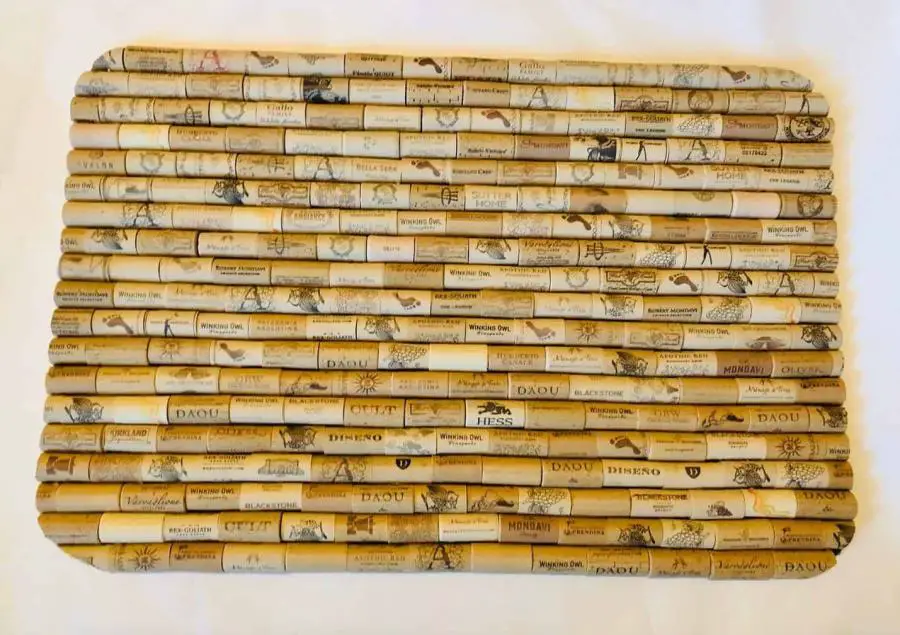 Wine drinkers rejoice – there's finally a use for all your leftover wine corks!
Once you have enough corks, simply stick them together with some strong super glue, and you'll have a homemade bath mat.
If you like this idea but don't like DIY, you can also buy wine cork bath mats online.