The non electric bidet toilet seat is a toilet seat that has no electrical component. Instead, it uses water pressure to provide a bidet's cleaning and sanitizing capabilities. This can be very handy in certain situations, such as when you don't have access to electricity, or you need to cleanse yourself after using the restroom.
There's no need for batteries or electricity to operate this system—you just turn it on and go! And because there's no electricity involved in running these systems, they're also considered "green" and environmentally friendly. They have less impact on your environment than an electric bidet would have.
Non electric bidets are also generally less expensive than their counterparts. They're perfect for those who want to renovate but have a limited budget or even those while building their new homes.
If you're thinking about investing in a non electric bidet, here are our top picks to help you decide:
Best Overall: Brondell Swash Ecoseat Non Electric Bidet Toilet Seat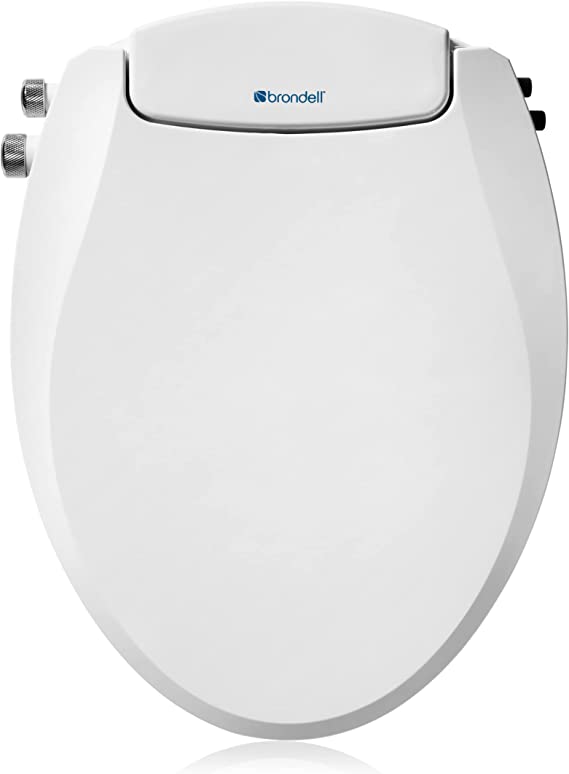 This non electric bidet toilet seat is our number 1 pick because it offers heated seats and a warm water wash. You can adjust the temperature, nozzle position, and pressure of your washes. Like others, it also uses water jets when you wash from its retractable dual nozzles, which are perfect for the front (feminine) or rear (posterior) washes. The nozzles also self-clean when you change between modes. 
With its thin profile, Brondell Swash fits most toilets and is both ergonomic and sturdy. It also features a slow closing seat and lid. It is also easy to install with no need for any special tools.
After trying out the Brondell Swash seat, we've discovered that even if you have inconsistent water pressure at home, this toilet seat will still turn that inconsistency into a powerful jet. However, the water spray is a tad too powerful. The mist reaches every part inside the seat, which then calls for more time and toilet paper to dry yourself off. Sometimes, it even reaches the bathroom floor.
Apart from that, there is no label on the two control knobs on the left (water pressure) and right (temperature) of your Brondell bidet toilet seat. This can be confusing for guests and can cause accidents. If you're considering purchasing this bidet, remember to remind your guests which knob to turn to use this bidet toilet seat properly!
Pros
● can have hot or cold water
● self-cleaning, retractable nozzles
● dual nozzles (front and rear)
● soft close seat
● thin profile
Cons
● hot water supply means the toilet has to be near a sink
● no labels on the control knobs
Best Adjustment Feature: Kohler Puretide K-5724 Elongated Manual Bidet Toilet Seat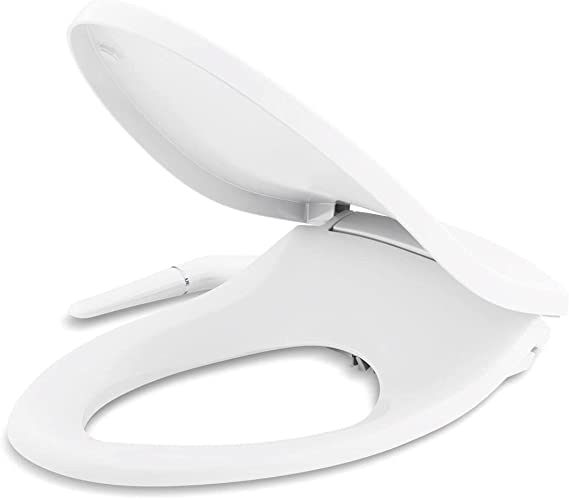 Kohler's Puretide K-5724 Bidet is an easy way to provide a high-quality toilet seat that is comfortable, convenient, and hassle-free. This bidet can be attached to your existing toilet using the Quick-Attach hardware, providing you with a comfortable toilet seat that is easy to clean and offers an enhanced experience.
Adjusting the spray of your wash is also made easy with a convenient side handle. The water that comes out has an ambient temperature, and its singular nozzle self-cleans after each use.
Installing the Puretide K-5724 is a breeze—even older people can easily install it within minutes! There's no need for any special tools or plumbing knowledge to attach this bidet to your toilet.
One thing most people keep on complaining about this device is leaks, particularly with the T-adaptor. If you encounter this issue, you may have to purchase a new T-adaptor or use Teflon.
Pros
● unique function control handle
● automatic self-cleaning nozzle
● retractable nozzle
● quick release hinges
● pulsating mode
Cons
● single nozzle design
● not slim-line
● no t-adaptor shut-off valve
Best for Quick Cleaning: American Standard Aqua Wash Non Electric Bidet Seat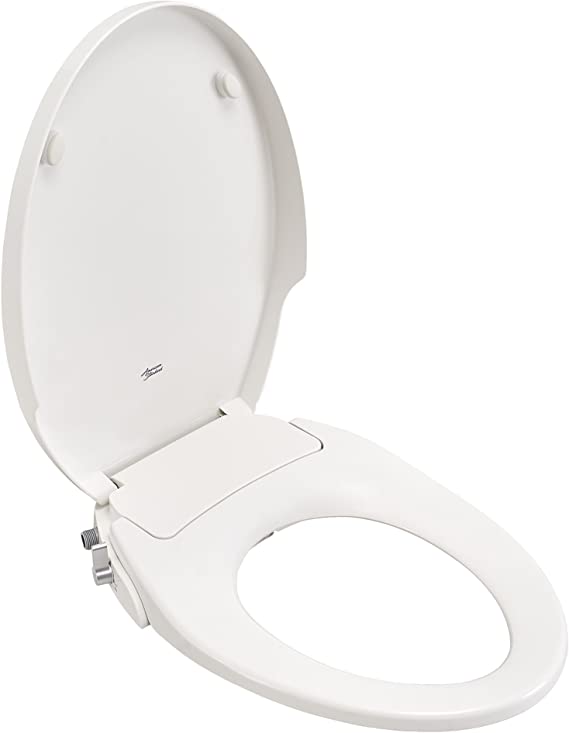 This water pressured bidet seat features dual, self-cleansing nozzles for independent front and back cleansing. Having a reasonable price, it's a great choice for those looking to add a bidet to their bathroom without spending an arm and a leg.
Aqua Wash is the best for quick cleaning as it comes with one button which you can easily press to lift off the seat. It also features slow-close hinges to prevent damage to your toilet and the seat from being slammed.
You can also easily install the toilet seat as it has a top mount installation, so there's no need for any additional fuss when upgrading your home or going green!
Unlike other non-electric bidet toilet seats, the inserts for this one are of higher-quality rubber, which ensures a snug fit on your toilet. The seat won't wiggle when you try to position yourself for the water spray.
However, the lever mechanism and symbols seem to be a bit counterintuitive. Turning the lever backward is for the feminine spray, and forward is for the rear spray. Again this can be confusing for guests, but it's not a problem if you don't mind this minor issue.
Pros
● detachable nozzles
● several different spray patterns
● slow close seat
● quick release button
Cons
● no round option
● no t-adaptor shut-off valve
Best Spray Pattern: GenieBidet Non Electric Bidet Seat
GenieBidet is a bidet seat that delivers all the benefits of a traditional electric bidet without the hassle. With GenieBidet, you don't need to worry about wiring or electricity—it's entirely self-contained.
The GenieBidet is an easy-to-install bidet seat that both men and women can use. It has a modern design with a low profile, so it looks great anywhere you install it. It uses ambient water temperature spray to help keep you feeling clean and has dual retractable self-cleaning nozzles that ensure perfect daily hygiene.
The only thing that might become an issue later on is the clips and other securements included are made of plastic, which is not as durable as metal. If you're a large person, these plastic fittings may break easier, prompting you to buy new fittings.
Pros
● two size options
● slow close the seat and lid
● aerated ambient temperature spray
● two retractable self-cleaning nozzles
Cons
● plastic hose
● plastic fittings
Best Compact: Bio Bidet Slim Non Electric Bidet Toilet Seat
The Bio Bidet Slim Non Electric Toilet Seat is an all-in-one bidet toilet seat that fits most toilets. It has a dual nozzle, which provides two different spray settings, allowing you to adjust the water pressure to your preference. The adjustable water pressure lets you control how much water comes out of the nozzle. This makes it ideal for people with sensitive skin or those who have trouble controlling the amount of water they use in the bathroom.
The Bio Bidet Slim Non Electric Bidet Toilet Seat comes equipped with a night light for added ease of use and slow closing seat and lid so you can ensure the seat and lid won't get destroyed from slammed!
After testing it out, we think that the opening of this toilet seat is a little small. This can be uncomfortable for some people but is not a major problem. And also, because of its slimness, you might think that the product is "flimsy"—although it's not. This slim design is meant to be a sleek alternative if you don't like the appearance of bulky bidets.
Pros
● slim design
● dual nozzle design
● night light
● slow closing lid and seat
Cons
● only one size option
Best Slim: Alpha Bidet One V2 Manual Bidet Seat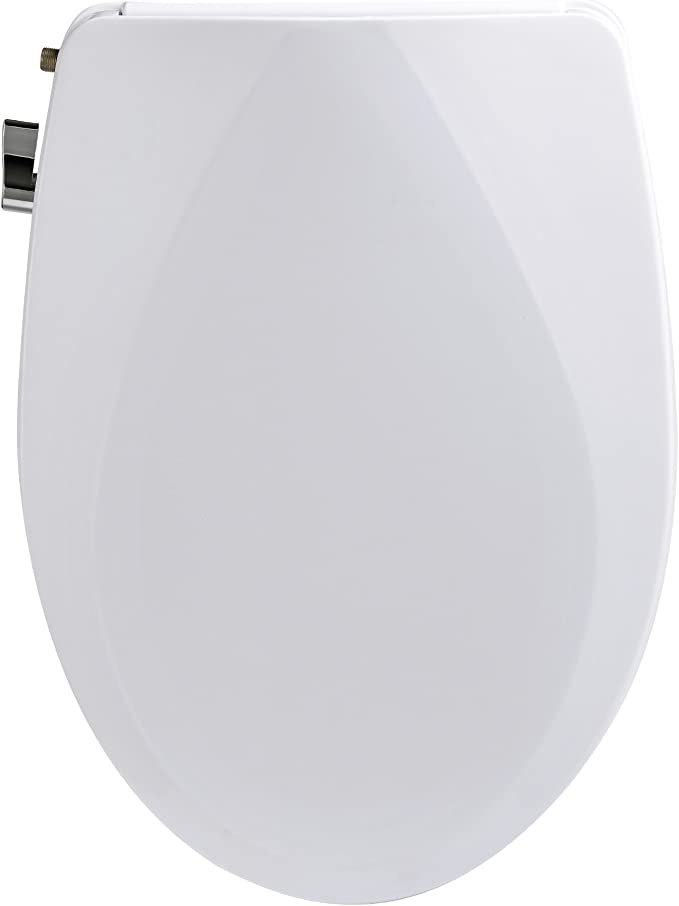 The Alpha Bidet One V2 Manual Bidet Seat is a powerful bidet seat with many features. The rear wash is powerful and effective, and the front feminine wash is gentle and soothing. The dual self-cleaning nozzles are great for keeping your toilet clean, and the LED nightlight offers additional convenience. The lid is sturdy and slow to close, which means your new toilet seat will last long.
This product comes with all-metal plumbing fittings, which make it durable and easy to clean up after. The overall design is ultra slim, making it perfect for those who want something lightweight but still functional.
This product comes with a one-year warranty and has been designed to fit any bathroom space without too much space.
Some people find the seat's shape a little "weird." This is because the way the Alpha One V2 is designed is different from standard elongated seats—it has a high, contoured back that slopes rapidly toward the front.
The nozzles' design makes them close to your behind, which can be uncomfortable. You have to position yourself a certain way, so the wands don't get in contact with you. I think it would be better if the toilet seat had a nozzle position adjustment, but overall, this bidet toilet seat is still one of our great finds.
Pros 
● self-cleaning retractable nozzles
● front and rear wash settings
● night light
● intuitive controls
● slim
● durable
Cons
● the seat has a blue tinge
Best Budget: Luxe Bidet Neo 120 Bidet Attachment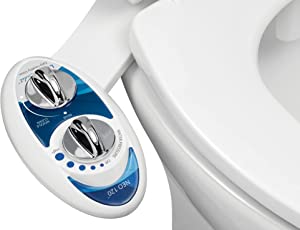 While this one is not a toilet seat, the Neo 120 is still worth adding to our list as it is a freshwater mechanical bidet attachment that allows you to experience the comfort and convenience of a bidet without the fuss or mess.
It's easy to use—just press the mode and water pressure control knobs to activate your bidet and then adjust the water temperature with the dial.
During use, the nozzle extends below the guard gate, and after use, it retracts into its housing. 
The self-cleaning mode rinses the nozzle with fresh water, so you'll never have to worry about molding or bacteria buildup again!
Despite being budget-friendly, the Neo 120 is of excellent quality. The plastic material neither looks nor feels cheap. Even the metal braided hoses are of high quality. So if you're looking for a way to have a bidet on a limited budget, finally, the Neo 120 is a great option!
Pros
● 18-month warranty
● retractable, self-cleaning nozzle
● guard gate
● budget-friendly
● different models available
● easy to use controls
Cons
● only one nozzle (on this model)
Best Self-Cleaning: Hibbent Non Electric Bidet Seat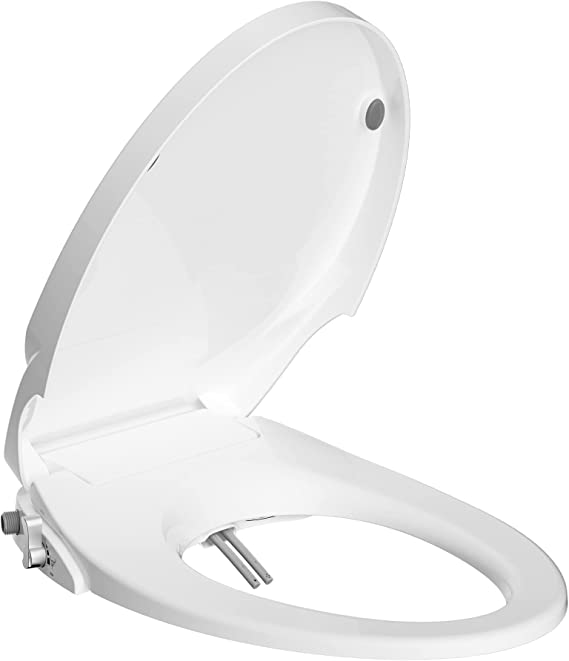 View on Amazon | $79.99
Looking for a bidet that's easy to use but still gives you the power to adjust the spray to your specific needs? Look no further than Hibbent.
This seat features comfort adjustable spray and a control knob on the right. The nozzle retracts automatically when you turn it off and can be extended by turning the knob on the right. A button on the left lets you turn on the self-cleaning mode of the nozzles, where you control how long you want it to clean itself—ensuring it's always clean and hygienic every time you use it.
However, this toilet seat has counterintuitive controls too. You have to push the switch forward for rear cleaning and backward for front cleaning, which can be confusing for guests!
Pros
● self-cleaning, retractable nozzles
● dual nozzles (front and rear)
● soft close seat
● two size options
Cons
● unintuitive controls
Best in Simplicity: Astor Bidet Non Electric Bidet
Looking for a way to upgrade your toilet without spending a fortune? You're in luck! This handy device will make your bathroom experience better than ever.
The Astor Bidet Non Electric Bidet Toilet Seat is an affordable way to improve your bathroom and works with any toilet style. It installs in 10 minutes with only a screwdriver, and once it's installed, you can adjust the water spray to your preference by turning the knob.
And even if there's only one nozzle, people who have used this product have reported that merely changing your position on the toilet seat works well enough.
Apart from that, all of the internal valves used are made with 100% brass ensuring high quality and long-lasting durability.
Your toilet will never be the same after you try this product!
Pros
● 12-month warranty
● 100% brass valves, so very durable
● budget-friendly
Cons
● only one nozzle
● no self-cleaning mode
Final verdict
Our top pick for a non electric bidet toilet seat is Brondell Swash Ecoseat, for all its unique features at a reasonable price. If you're on a budget, you won't go wrong with Luxe Bidet Neo 120 Bidet Attachment.
Who should buy non electric bidet toilet seats?
Non electric bidets are perfect for those on a budget but want the convenience of sitting on a toilet and being cleaned with only the push of a button or a pull of a lever.
They're also perfect for those who don't have the luxury of electrical outlets near their toilets or if you want a bidet on your mobile home.
Kids also tend to quickly understand how non-electric bidets work because of their simplicity, so these types of bidets are perfect for families.
If you're also trying to go green, non electric bidet toilet seats are the perfect way to go! You'll be able to help reduce the amount of toilet paper waste in the world!
Features to consider when buying non electric bidet toilet seats
Here are the features you should look out for when updating your regular toilet seat to a non electric bidet:
Size
The most important thing when purchasing a new non electric bidet is the size of your toilet. It is crucial that the toilet seat you're buying fits perfectly with your toilet.
You should know that there are two types of toilets—one is round, and the other is elongated. Some bidet seats offer both options, while others let you fit only either of those.
Make sure you measure your toilet's dimensions against the bidet toilet seat you're thinking of buying to ensure a snug fit. Here's a good guide on bidets for round toilets if you have a round toilet.
One more thing to consider when choosing a toilet seat is the bulkiness or slimness of one. If you select a bidet toilet seat with more features, it tends to be on the bulkier side.
Handle Design
If children or older people will be using the bidet seat, it is also important to consider the design of the handle for ease of use.
Most non electric bidet seats have a basic rotating switch on the side of the toilet. This switch controls both the spray functions and the water pressure.
Others have more unique designs. Some have upright controls so you can see what you're doing, and others have long handles, which can be easier to grip for some people.
Nozzles / Spray patterns
The nozzles are a central working part of any bidet seat. The seats will either come with one or two nozzles.
Two-nozzle bidet seats are the best choice for women because they have a dedicated feminine wash spray wand and the standard rear wash wand.
The nozzles tend to have different spray patterns and pressures, which are catered to their intended use.
Seats with one nozzle can be less suited for women because they don't all have a dedicated front wash setting.
However, some nozzle designs have different nozzle heads or adjustable wands, which can be moved to suit feminine washing.
Extra Features
Some bidets offer extra things like night lights or hot water supply. These bonus features will make your next bathroom visit both comfortable and easy, so check out each toilet seat thoroughly and watch them.
Frequently Asked Questions
How do you install a bidet?
Installing a non electric bidet toilet seat is pretty simple, and you probably already own the necessary tools. If not, you can easily find them at your local hardware store.
First, remove your toilet seat by unbolting it from the base and sliding it up or down as necessary. You can do this by loosening or tightening the bolts holding it in place, depending on whether you'd like to move it higher or lower.
Next, locate where you want to install your new bidet toilet seat—there's usually a space near the back of the toilet bowl where you can position it. Mark this location with masking tape, so you don't accidentally get too close to pipes or other obstructions when installing it later.
You'll also want to be sure to mark where each of your bolts will go before drilling holes for them so that they're aligned properly when you're done!
How does a non electric bidet work?
A non electric bidet toilet seat is a toilet seat that uses water pressure to eject water from its nozzle.
Most non electric bidet seats are installed on toilets that have a tankless system. This means the tankless system doesn't have to be refilled with water to use them. You can think of it as a built-in cartridge or reservoir designed to store the water at the end of your cycle and then spray it out when you press down on it.
You'll notice that non electric bidet seats usually have a smaller opening than electric ones because they don't need as much water for each use. They don't waste time or energy by having long streams of water spraying out into the air instead of coming out directly onto your body as quickly as possible!
Many prefer these seats because they're easier to clean, don't require batteries or electricity, and don't require installation work. Just make sure you buy one with enough power that it sprays out plenty of water in one go!
Why trust us?
We want to help our readers get the best products to help them improve their living conditions. To pick our top products, we test and research everything thoroughly, ensuring they're the best concerning affordability, features, and ease of use. 
Read next: Clear Rear Bidet | The Ultimate Review 2022