Vegan Moccasins can be hard to come by with suede and leather dominating the shelves.
Luckily, I've done the hard work for you and found 15 options to satisfy your vegan needs.
To make things easier, I've split the shoes between men and women, with a bonus pair of vegan baby moccasins to finish.
Women's
Jenn Ardor Women's Vegan Driving Moccasins
These stylish moccasins come in six different colors and won't break the bank.
Men's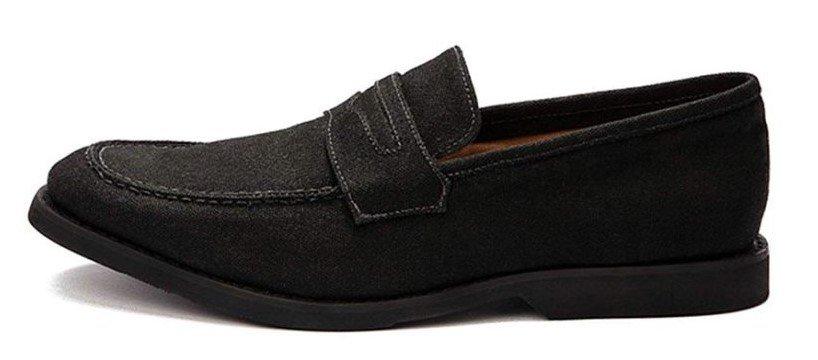 Ahimsa Men's Vegan Moccasin Style Shoe
These sleek moccasins feature a comfortable and eco-friendly cork sole.
Also Great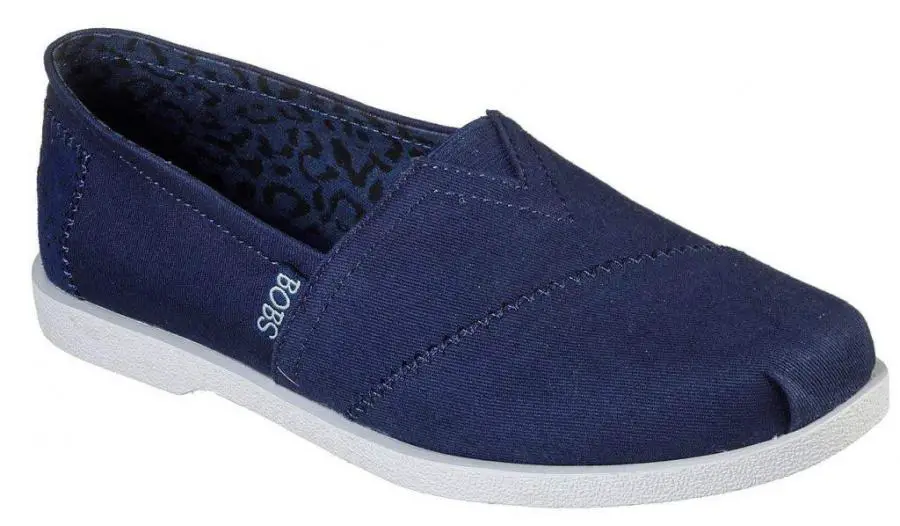 BOBS from Skechers Vegan Moccasins
These vegan moccasin-style slip ons have a memory foam insole for maximum support and comfort.
Women's Vegan Moccasins
My favorite brands that stock women's moccasins include SiamTip, an independent artisanal business all the way from Bangkok, Thailand.
If you're looking for a more renowned brand, check out the BOBs eco-friendly moccasins or TOMS.
Holy Cow Waterproof Vegan Moccasins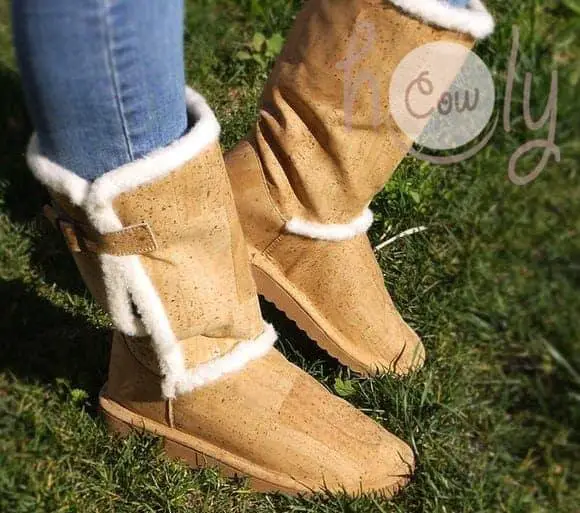 Holy Cow offers so many beautiful moccasins I couldn't pick one to feature, so I featured them twice!
These eco-friendly moccasin boots are made from the bark of a cork tree.
The fake fur lining makes them perfect for keeping warm on cold days, and you don't have to worry if it rains because they're waterproof.
Cork is a fantastic vegan material because it's lightweight, rot-resistant, and non-toxic.
It's also very easy to clean with just soap and water so your shoes will always look brand new.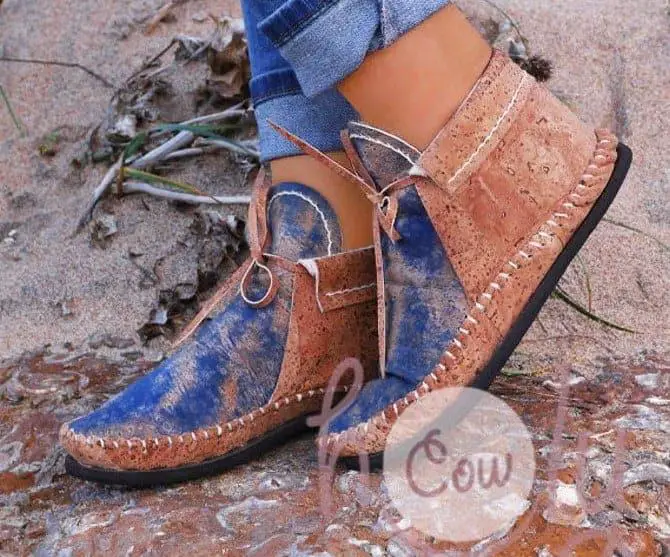 They also have ankle-height waterproof moccasins. These boots are lined with felt, which is great for slightly warmer weather.
Both these shoes are hand-stitched to fit your exact measurements.
How cool is that?!
Expect a snug fit and don't be surprised if there are a few imperfections.
Holy Cow Tribal Moccasins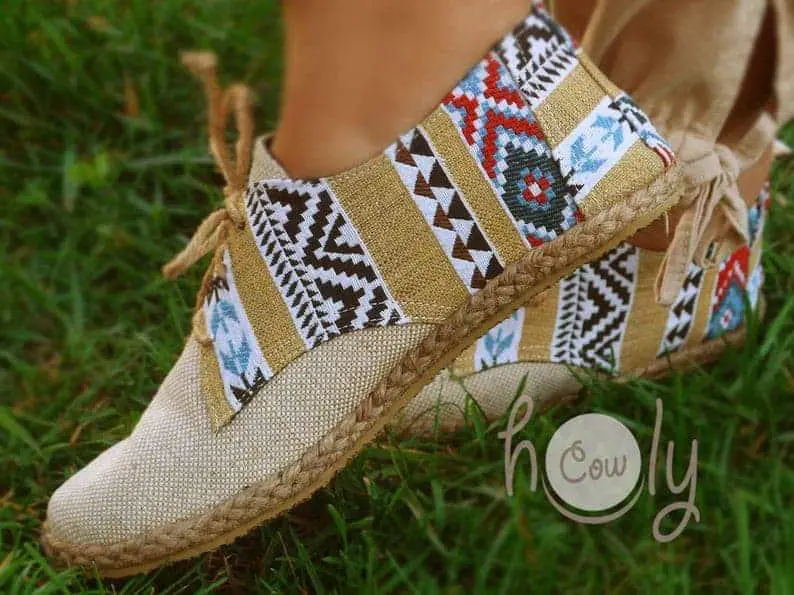 The second feature for Holy Cow are these gypsy style moccasins.
They're made using rubber (for the sole) and cotton. They're also extremely lightweight, so useful to have for things like festivals.
The tribal patterns are inspired by the makers' time living in Thailand. You can also get similar looking designs for ankle boots and mid-length boots on Holy Cows Etsy shop.
Jen Ador Women's Vegan Driving Moccasins
These cheap and cheerful eco-friendly moccasins can be dressed up or down. They're a smart vegan shoe that you can wear to work or after-work drinks.
They have a non-slip rubber sole and are made of vegan leather. The shoe comes in six different colors, ranging from black to pink.
Pair them with a vegan leather laptop bag for a stylish, sustainable work outfit.
The shoes run pretty small, so if you're in-between sizes, I recommend going for the larger size.
Ahimsa Faux Leather Women's Moccasins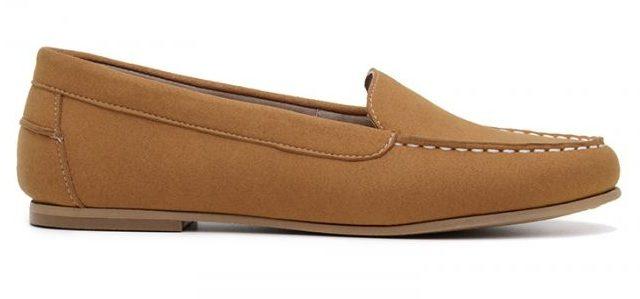 You'd be forgiven for mistaking these moccasins for real leather.
Made with vegan leather, these shoes are very breathable, making them ideal for a summer day.
The simple design is practical and comfortable, yet stylish at the same time. Ahimsa is known for making high-quality shoes so expect these to last.
Available in six different colors, this shoe is sure to become a staple in your wardrobe.
Twisted X Recycled Moccasins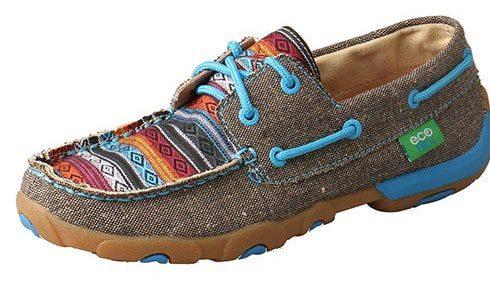 These vegan driving moccasins come in both plain and patterned material. Twisted X promises excellent and long-lasting quality from all their shoes.
The material is made from recycled plastic bottles, so great for the environment!
Each pair of shoes uses up to 13 recycled plastic bottles.
The antibacterial insole is removable and machine washable, so you can keep the shoes smelling fresh.
In terms of fit, the shoes tend to run large in size. If you're between sizes, pick the smaller one.
Chintamani's Moccasin Style Vegan Boots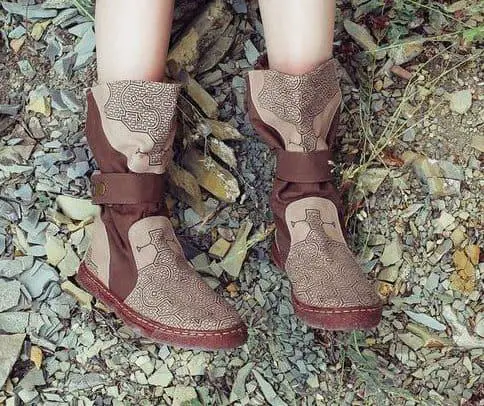 If boho chic is more your style, then you'll love these intricately designed moccasin style boots. They'll go with pants, skirts, and dresses so will brighten up any outfit.
The Chintamani shop makes hand made garments from mainly organic and natural materials.
The vegan moccasins are made from cotton canvas, brass feathers, rubber soles, and plant-based screen prints. They come in a variety of different colors and patterns.
The boots should last you a few years and can be hand-washed if they get a bit grubby.
BUnique Vegan Leather Moccasins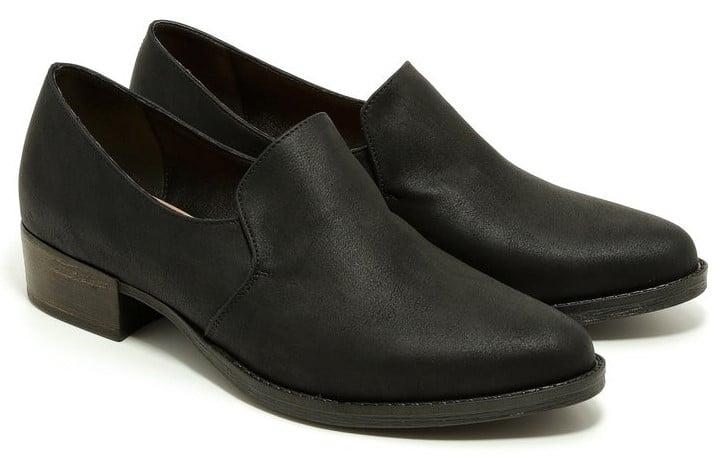 These moccasins are perfect for wearing to work.
They are super stylish while still being practical, and most importantly, comfortable.
You can pick from three different colors: black, grey, or snakeskin green. The handcrafted shoes are made with thermo rubber soles and vegan leather.
Visit the BeUnique store on Etsy for more vegan shoes.
SiamTip Boho Moccasins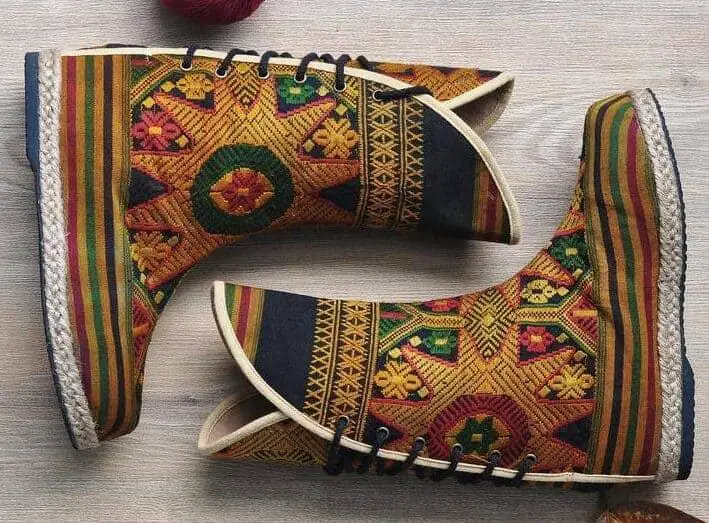 Offering truly unique designs, SiamTip makes sustainable moccasin boots. The shop sells ankle, midi, and knee-high boots, so be sure to check out the whole offering.
The bohemian style moccasins are made from a range of vegan materials, including cotton, naga tribal textile, and natural hemp. They have rubber soles.
Handmade by locals in the countryside of Northern Thailand, buying a pair of these shoes helps support rural communities.
BOBS from Skechers Vegan Moccasins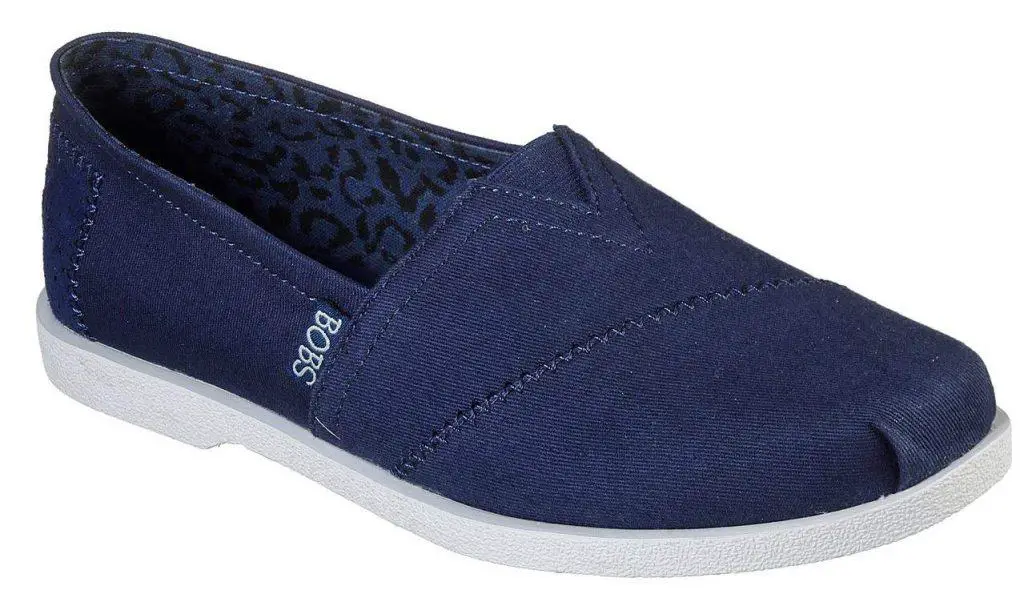 Made from 100% synthetic material, these moccasin-style slip ons have a memory foam insole for maximum support and comfort.
There's also an adjustable lace at the back of the shoe that you can use to create the perfect fit.
The vegan shoes have been designed for multipurpose use, and there are lots of basic styles to choose from, so you'll definitely find one you like.
If you fancy being a bit more adventurous, they also have a vegan range of patterned moccasin-style shoes. My personal favorite is the pug pattern.
Men's Vegan Moccasins
I've listed 5 of my favorite sustainable moccasin shoes available to buy today.
Will's Men's Vegan Suede Moccasin Boots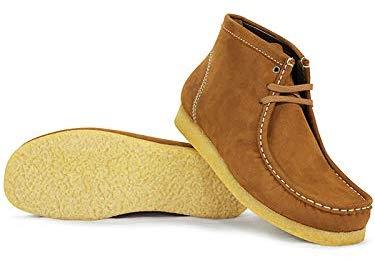 All the materials used to make these stylish men's vegan boots are sustainably sourced.
For example, the linings are made with materials sourced from organic cereal crops in a carbon-neutral process.
The vegan suede is breathable and water-resistant to keep your feet cool and dry, and the recycled, non-compact rubber soles provide comfort that will not fade over time.
The shoes are available in two shades of brown.
Men's Hemp Moccasins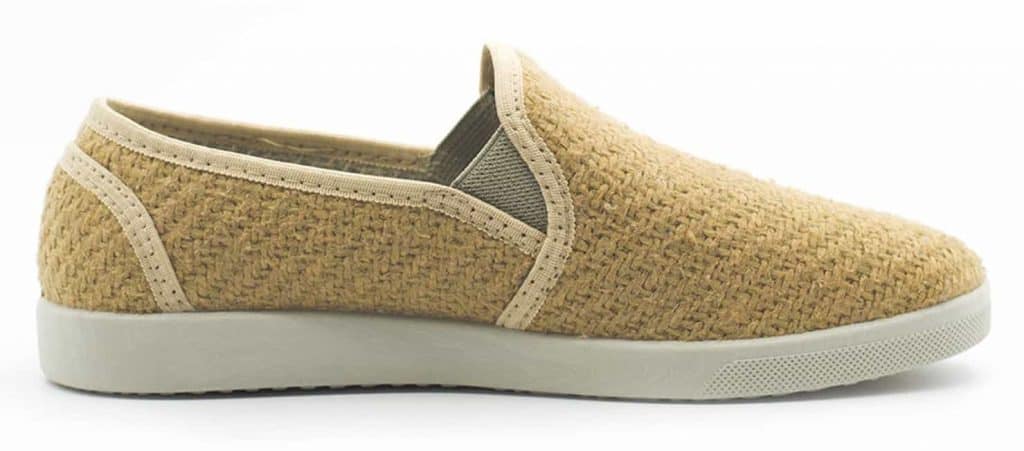 Made from 100% hemp, these moccasins are:
Natural
Antibacterial and anti-allergy
Durable
Comfortable
Cool (shoes will absorb moisture and prevent sweating)
The simple design will go with any outfit, meaning you can wear these shoes every day, and you'll want to when you see how comfortable they are!
There are two colors available, cream and blue. The Etsy shop also has women's shoes made from hemp.
Ahimsa Men's Vegan Moccasin Style Shoe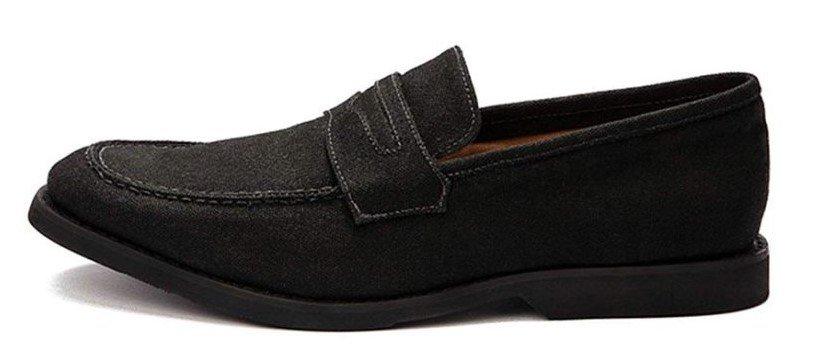 For a smart occasion, Ahimsa's moccasin-style shoes will fit the bill. In my opinion, they are also one of the best vegan shoes for work.
The shoe is made from cotton that's been coated in a sustainable water repellent coating. The water base means the coating is non-toxic.
The sole is made from cork, so the shoes will be comfortable to wear all day.
Black and brown versions are available.
London Fog Men's Belmont Chukka Boot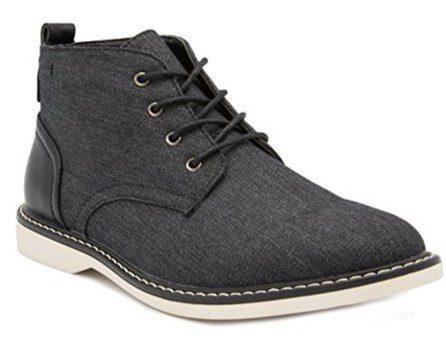 These moccasin style boots are a great all year round vegan shoe.
The denim-look fabric gives the shoe a fashionable feel. Pair this with the all-day comfort a memory foam insole provides, and you have an unbeatable shoe.
The boots are available in five different colors, including brown and blue.
Men's Eco Vegan Driving Moccasins
Twisted X offers both men's and women's versions of their eco-friendly moccasins.
Made from recycled water bottles, these are the ultimate sustainable shoes.
The composite insole boasts unrivaled support and stability. Furthermore, it's removable and machine washable, so very easy to clean.
The shoes are available in various colors and styles, but make sure you check the materials because not all the options are vegan. Look for the canvas ones. You can also get lace-up versions.
Bonus Baby Moccasins
Bebila Cute Baby Moccasins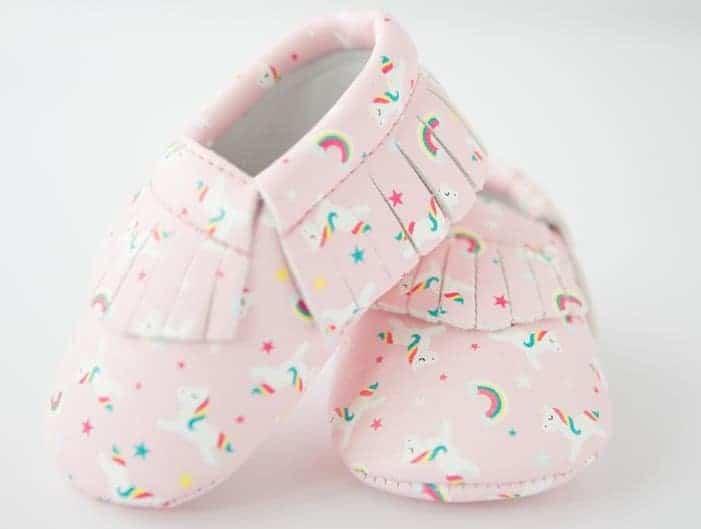 Possibly the cutest vegan shoes ever made! These are a perfect vegan baby shower gift, or just as a treat for your baby.
The shoes are lightweight and flexible, which helps to promote natural foot movement and development.
Furthermore, they're designed to be easy to take on and off but at the same time stay on your baby's feet whatever they get up to.
There are loads of patterns for both girls and boys. Some of my favorites include the dinosaur and strawberry prints.
Summary
I've looked at 15 different pairs of vegan-friendly shoes. What's your favourite?
Find more vegan shoe options in my roundup of vegan clogs and eco-friendly flip flops.