A wallet is an essential accessory for most people.
It's also one of the most popular gifts to buy the man in your life. But, the marketplace is dominated by leather wallets which can make it hard to find a good vegan option.
To give you a hand I've rounded up the best vegan wallets and discussed the eco-friendly merits of the brands who produce them.
When choosing a wallet there a few things to consider. Keep these in mind as you browse the options:
Wallet size
Wallet capacity (e.g number of card slots)
Does the wallet have RFID blocking technology
Look of the wallet
Materials used
Ethics of the brand
Environmental impact of the wallet
Extra features such as an ID window
Highest Rated
Travando Money Clip Vegan Wallet
This wallet is made from a vegan carbon based leather and has been independently tested to ensure it's durability.
Most Eco-Friendly
Dash Eco Friendly Wallets
This recyclable wallet is made without and chemicals or oil based adhesives.
Best Minimalist
Herschel Unisex Vegan Wallet
This high quality vegan card holder from Hershel is just 0.3 inches thick.
Vegan Wallets
Vegan leather can come in many forms. The most popular material is synthetic leather, which is what vegan leather shoes tend to be made from. However, there are also options derived from sustainable materials like cork, leaves, bananas, and even paper.
Some of these brands just have vegan versions of their traditional leather wallets. While others are entirely cruelty-free, and also strive to be eco friendly and follow fair trade practices.
For example, Leaf Leather and Green Banana Tree both use plant-based materials that have a minimal environmental impact and are ethically farmed.
Travando Vegan Leather Wallet
Highest rated vegan wallet
The Rio is Travando's best selling wallet. It has 7 RFID secure card slots, and the outside slot has a small thumb opening that makes it easy for you to slide the card out.
The minimalist wallets are made from carbon leather and have a metal money clip to help keep any loose notes secure.
The German company uses a third-party quality control testing institute to verify the strength and security of all its products.
There's a range of other colors and designs to check out. For example, the Austin wallet, which has 11 different card slots and an ID window.
Mighty's Sustainable Wallets
Best recyclable wallet
Mighty wallets have an array of really fun patterned wallets. They're definitely conversation starters.
The brand was launched in 2005 and was the first brand to start using Tyvek to manufacture wallets. Tyvek uses thousands of strands of plastic that come together to form an ultra-thin but very strong material.
Best of all, the wallets can be recycled. If you can't recycle it locally to you can send the wallet back to Mighty, and they'll recycle it for you.
Inside there are 2 expandable card slots, 2 cash pockets, and 2 quick-access slots.
Since Mighty's launch, other brands such as Paperwallet and Fritzvold have seen the value in Tyvek as a material and also offer recyclable paper leather wallets.
Kinzd Slim Vegan Card Holder
Best slim vegan wallets
Kindz slim have a few different vegan wallets to pick from. The ones pictured here are made from wine cork leather and carbon fiber leather.
Turning wine corks into wallets is an ingenious idea if you ask me!
Despite the ultra-slim design, there's still plenty of space. 6 RFID blocking card slots, an ID window, and a cash pocket.
If you need more (or less) room Kindz slim have other styles including a zipper wallet and a money clip wallet.
Be careful when browsing alternative colors because, unfortunately, not all of them are vegan.
Dash Eco Friendly Wallets
Best eco-friendly wallet
Dash is a cool brand that was started on Kickstarter a few years ago. They aim to make sustainable, minimalist wallets at affordable prices.
Throughout the whole manufacturing process Dash look to reduce their carbon footprint by saving resources and reducing waste. For example, they don't use chemicals or oil-based adhesive, so the process produces no toxic waste-waters.
And if you still need convincing – the canvas leather material is completely recyclable.
The featured wallet has a clever 3 compartment system that will hold up to 8 cards and cash while still staying thin and lightweight.
Dash also has other wallets that can hold up to 15 cards. Plus some more traditional folding wallets.
Access Denied Cruelty Free Wallet
Best cruelty-free wallet
Access Denied use cruelty-free vegan leather in their hand made wallets. They claim the wallet will last you for years and back this with a lifetime guarantee.
The bifold wallet has RFID protection and will fit 9 cards. There are also 2 cash pockets, an ID window, and 2 slip pockets.
If you're after something a bit more traditional, take a look at their trifold wallet.
Leaf Leather Natural Card Holders
Most sustainable wallet
These wallets are made from teak tree leaves. The large leaves are only harvested once they've fallen from the tree to maximize the sustainability of the process.
You can still see the leaves fingerprint in the final product, which gives the wallets a unique look.
Inside the slim card-holder, there's room for 3 cards. But there's also a bifold option that can hold up to 6 cards, as well as larger women's purses.
Tree tribe partners with a small family business in Thailand to make the wallets. They ensure that all their partners share their passion for ethically made, eco-friendly products.
Furthermore, for every sale, Tree Tribe plants a tree somewhere around the world.
Corkor Cork Wallet for Men
Best cork wallet
If you're into vegan products, you may have heard of Corkor before. They make everything from bean bags to aprons – all with cork.
Their wallets use FSC certified cork and are also PETA approved, which means these wallets are 100% animal-free.
The featured wallet has 6 card slots and 2 slip pockets. It's the largest of their wallets. If you want something even more slimline check out the rest of the range.
Corkor also has a selection of women's wallets, and I featured their laptop bags in my roundup of vegan laptop bags.
Two other cork brands I think are worth mentioning are Money Smart and Boshibo. Boshibo has an excellent selection for women, and also sells cork coin pouches.
Tri-fold Hemp Wallet
Best hemp wallet
Hempmania's fair trade wallets are made ethically in sweatshop-free environments.
Hemp is a fantastically diverse material and very eco-friendly since it can be grown without the need for chemical pesticides and fertilizers. It's extremely strong and has even been used to make vegan boots.
The wallet has 3 different sections and 2 zippered compartments. It also features a velcro strip to ensure a secure closure.
If you like the hemp material but want a bifold wallet then take a look at hempy's wallets. They're made in the USA so have a smaller carbon footprint than wallets produced abroad.
Mens Slim Front Vegan Leather Wallet
Best cheap vegan wallet
Hissimo wallets are made from a premium synthetic leather that has been formulated to ensure durability. They say you can hardly tell the difference between their leather and real leather.
Inside there are 3 RDFI protected card slots, an ID slot, and a cash pocket. This is less than some of the other wallets I've featured, but the budget price makes up for it.
There are different colors to pick from, including some bright colors such as red or hot pink for those after something a bit more adventurous.
Not all the wallets are vegan, so make sure to double-check before you buy.
Another cheap brand for vegan wallets is Travelbambo that has a few carbon fiber options.
Herschel Unisex Vegan Wallet
Best value for money vegan wallet
Hershel is a well-known fashion brand and has a whole range of vegan wallets. This minimalist card holder is their best selling style.
It's made from 100% polyester and has 4 card slots. There's also a middle pocket with RFID protection where you can keep another card and some cash.
When you buy a Hershel product you know you're getting quality and so should expect this wallet to last you a long time.
SlimFold's Minimalist Wallet
Best waterproof vegan wallet
This fair trade wallet is made in the USA from a durable microfiber material.
It's waterproof, abrasion-resistant, and helps protect your cards from fading.
Slimfold carefully considered every detail of the wallet, including the material for the see-through ID window which uses Mylar. Mylar is less sticky than the vinyl material that other brands use, so your ID card won't get stuck.
The wallets are also eco friendly. All the chemicals used in the manufacturing process have been approved by bluesign, which means they have a low environmental impact.
Huskk is another brand I like that makes microfiber wallets.
Couch Cork Biofold Wallets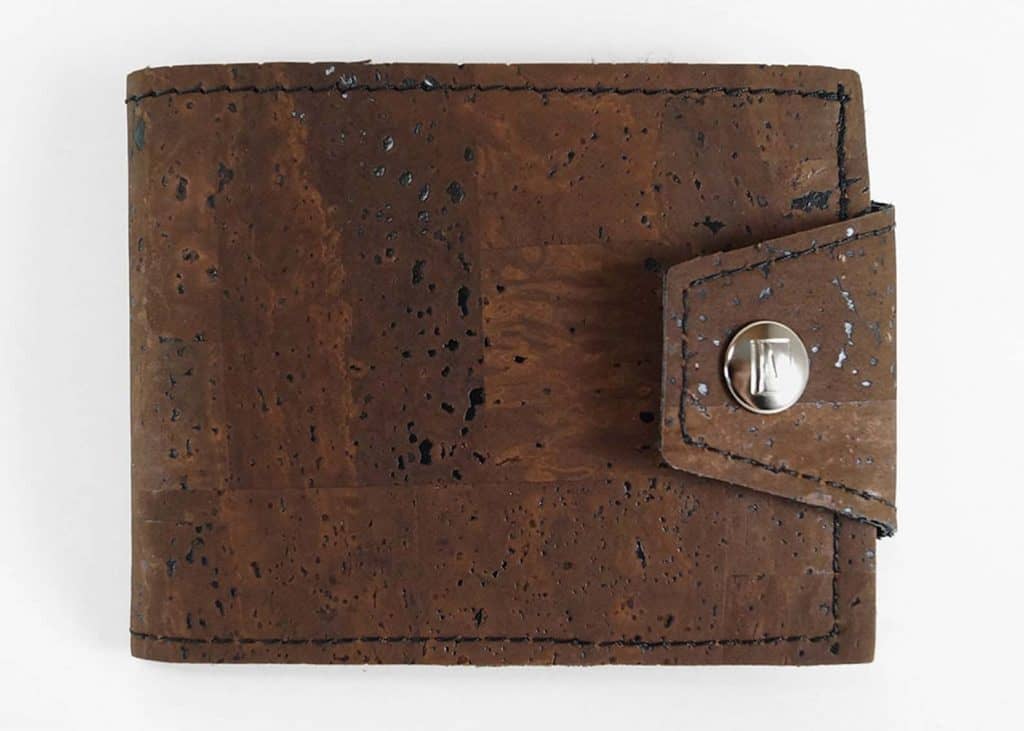 Best vegan wallets made in the USA
Couch is famous for making guitar straps. But did you know they also make wallets?
These cork wallets are handmade in the USA and go straight from the factory to your door. This helps minimize the transportation required and therefore lowers the product's carbon footprint.
Furthermore, the wallets are made to order to cut down on unnecessary waste. This also means they're more customizable and as you checkout, you can opt to remove certain features like the snap closure.
There are 5 card slots, two of which are low cut for ease of access, and a money slot.
Timberland Vegan Trifold Wallet
Highest quality wallet
Timberland is another well-known brand, so you can be sure of the quality of the wallet. Their trifold wallet is made using Cordura, a resilient material that won't scratch or tear easily.
Despite being a slim fit in design, the wallet boasts a very impressive 13 RFID secure card-holders as well as an ID window and a notes pocket.
It comes in blue, black, and green, and there's the option not to have the RFDI protection included.
Personalised Vegan Cork Wallet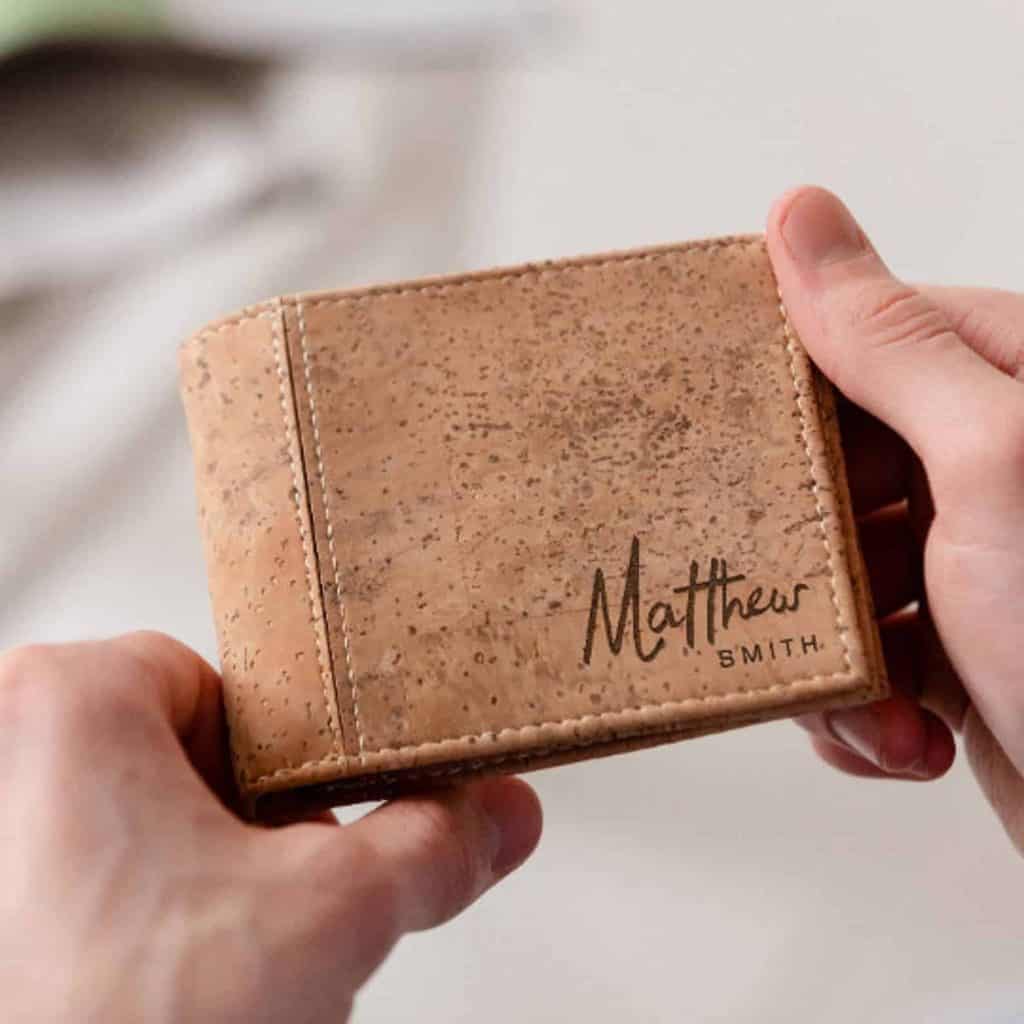 Best personalized wallet
Another cork wallet but this one stands out because you can personalize it, making it the ideal gift for any vegans in your life.
You can pick to have the inscription on the front or the inside of the wallet (or both), and there are two different color options: classic cork or dark grey.
The wallet has 9 card slots, a notes compartment and a coin purse which is secured by a metal popper.
If you're after a personalized wallet but don't fancy cork, then Emenar offers personalized vegan leather wallets.
Stewart/Stand Stainless Steel Wallet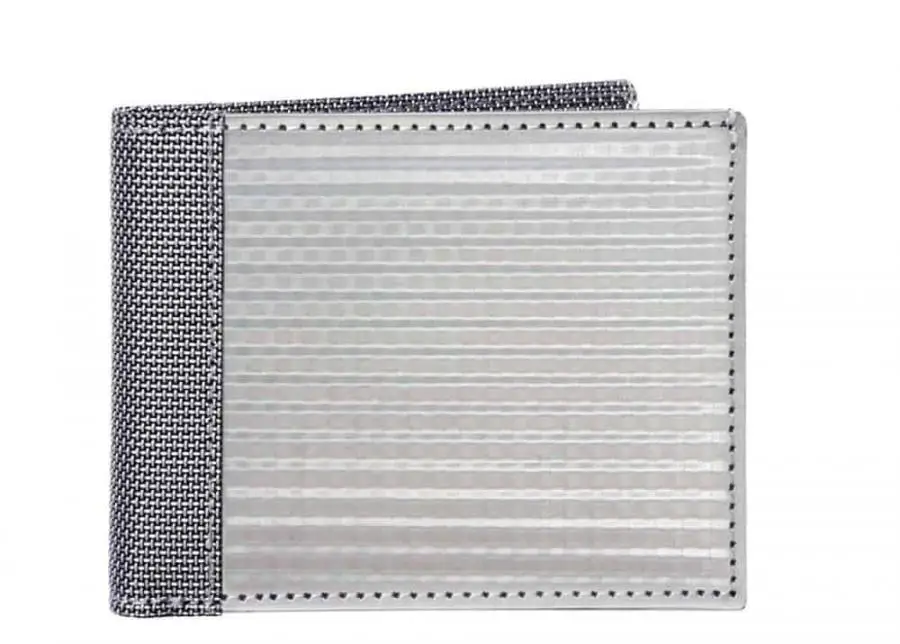 Best metal wallet
What's a material you thought would never be used to make a wallet? Stainless steel.
Stewart/Sand claims their patented design is the first security wallet ever created. Thousands of stainless steel threads are weaved together to create a material that's extremely strong but also soft to touch.
The stainless steel thread is so thin that the wallet is only 0.2″ thick, but can still fit 8 cards, and cash notes. The whole thing is RFID secure.
What I really like about this wallet is that it uses 95% post-consumer recycled content. And once you've finished using it, you can recycle it again.
Doshi Vegan Wallet With Coin Pocket
Best luxury vegan wallet
Doshi is a high-end vegan brand who use microfiber leather to make their products. They aim to make their wallets last as long as possible, so they don't have to use new resources to create new wallets.
They also give back and have a target of donating 5% of their profits to charities that benefit people, animals, and the environment.
Their products are classic and traditional in look, with both men's and women's ranges.
Infinity's Ultra Slim Vegan Card Holder
Best minimalist vegan wallet
The infinity wallet is a no-fuss design that only has the necessary features to help you simplify your life.
It's made using elastic nylon to help keep everything inside secured, and there's an innovative 'thru pocket' in the middle of the two card slots which you can use to hide cash away.
You can carry up to 10 cards in the wallet, but as there are only two slots be aware it might be difficult getting out the correct one. I recommend this wallet for people who only have 3 or 4 cards they regularly carry around.
Men's Vegan Biodegradable Wallets
Best plant-based wallet
Green Banana Plants use banana fibers that would otherwise have been discarded to make their wallets.
They're hand made on a small island called Kosrae which is halfway between Australia and Hawaii. The factory provides much-needed jobs for the locals who live on the island.
Every part of the wallet is made with the environment in mind. For example, rainwater is collected and used in any parts of the process that require water. And any waste plant materials are reused as a soil amendment in the banana plant farm.
As it's plant-based, this wallet is biodegradable, and won't leave a lasting impact on the earth.
The wallet comes packaged in a small pouch made of the same material which can be repurposed into a vegan coin pouch to go with your new wallet.
The Vegan Collection's Fair Trade Wallets
Best plant-based wallet
Green Banana Plants use banana fibres that would otherwise have been discarded to make their wallets.
They're hand made on a small island called Kosrae which is halfway between Australia and Hawaii. The factory provides much-needed jobs for the locals who live on the island.
Every part of the wallet is made with the environment in mind. For example, rainwater is collected and used in any parts of the process that require water. And any waste plant materials are reused as a soil amendment in the banana plant farm.
As it's plant-based, this wallet is biodegradable, and won't leave a lasting impact on the earth.
The wallet comes packaged in a small pouch made of the same material which can be repurposed into a vegan coin pouch to go with your new wallet.
The Vegan Collection's Fair Trade Wallets
Best vegan card holder
Thread wallets are a unisex brand that is trying the revolutionize the wallet scene.
Their elastic cardholder is vegan and very minimalist. It's essentially a tight rubber band that holds all your cards securely in place.
There's also a key ring so you can attach the card holder to your keys.
The elastic band comes in loads of different designs. Thread claims there's one to suit every personality.
Women's Vegan Wallets
Lots of the brands I've mentioned above have options for women. But I wanted to give a special mention to the following brands who make women's vegan wallets their focus.
Bungalow 360 Cotton Canvas Wallet
Best women's vegan wallet
Bungalow 360 has loads of fun designs to pick from. Their wallets are made from 100% cotton canvas and printed using non-toxic water-based inks.
Inside you'll find 4 card holders, an ID slot, and a zippered coin pouch. They have a few different styles of wallets and also sell bags and coin purses.
A proportion of each sale goes towards helping animal charities such as the gentle barn which is an animal recuse and rehabilitation center.
Out of Print Zipper Pouch
Most charitable wallet brand
Out of Print is an exciting brand. With each sale, they help fund literacy programs and give book donations to communities in need.
The vegan coin pouches are made in the USA from cotton canvas, and they have a zipper closure to keep your change safe.
The pouches are quite large compared to most of the wallets I've featured at 9 inches wide and 6 inches tall, so there's plenty of room for a lipstick or two.
Mohops Vegan Leather Wallet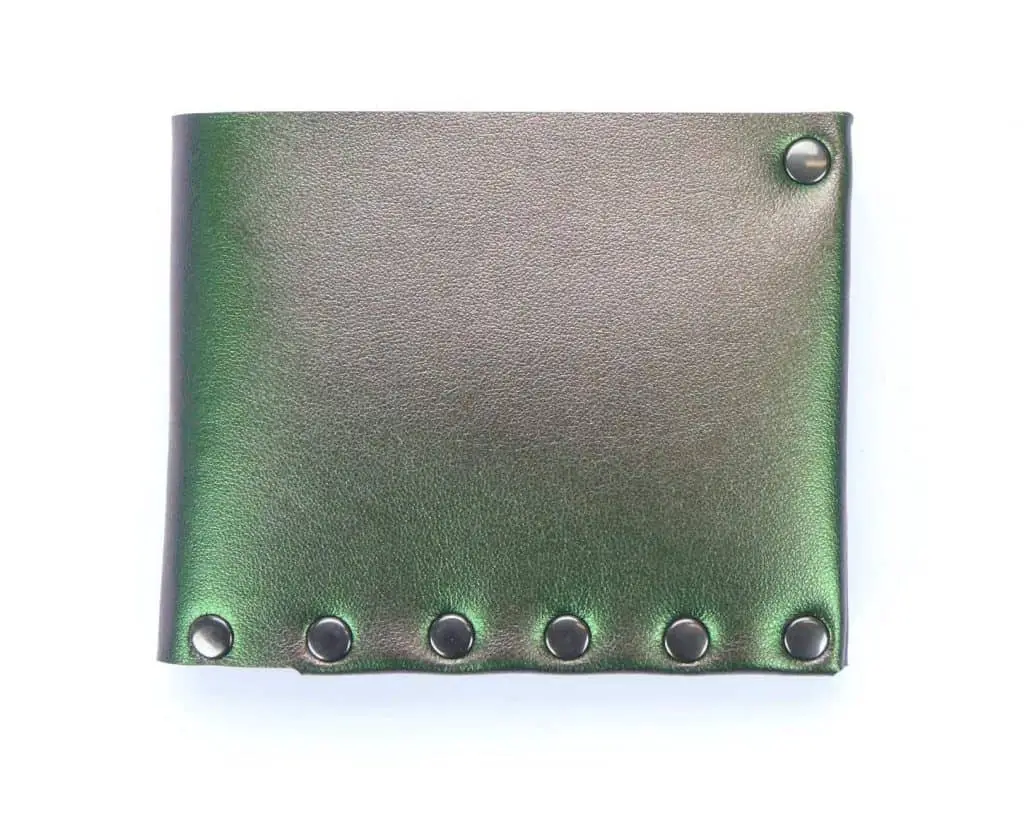 Funkiest vegan wallet
Mohops funky wallets are made to order in the USA. I really like the iridescent materials – you won't find another wallet like this.
The materials used are vegan leather and vegan suede, and the team uses 3D laser printing to create the wallets. They claim the no-stitch design increases the durability of the wallet.
This wallet is bi-folding, but they also have slim wallets and a vegan coin purse in the shape of a cat!
Matt & Nat Vegan Purses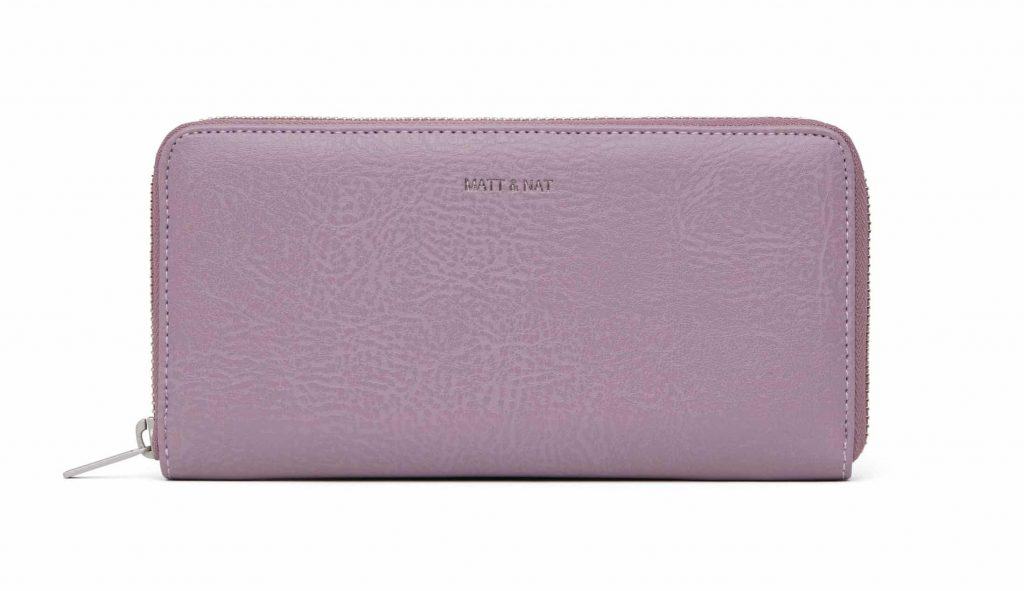 Best luxury women's vegan wallet
Matt and Nat is short for material and nature. Their vegan leather range takes inspiration from the beauty of the landscape which surrounds us, and the brand is committed to utilizing sustainable materials.
For example, since 2007, all the linings in their products have been made from 100% recycled plastic bottles, and their head office in Canada is officially a cruelty-free space.
Furthermore, the fashionable wallets are made in factories which abide by fair trade practices and pay staff a good wage.
Matt & Nat wallets have space for 13 cards, a passport or a phone, and plenty of cash secured in a zipper pocket.
Some other luxury brands that offer vegan wallets include LaBante, Kate Spade, and Stella McCartney.
Travelambo Womens Vegan Wallet
Best budget women's vegan wallet
Travelbambo's vegan wallets come in 42 different colors, and all of them are made from high-quality PU leather.
The bifold design has an impressive capacity. There's space for 18 different cards in RFID blocking slots, and two zipper pockets to hold things like your phone and cash.
If you are after something cheap and cheerful, then this is the wallet for you.
CHALA Vegan Zip Wallet
Cutest vegan wallet
Chala's vegan wallets are perfect for animal lovers and made from vegan leather. They all come with cute pictures embroidered on the front.
They also have subtle detailing on the zip. Each one matches the animal. For example, in the featured wallet, the zip is a starfish.
Inside there are 12 card slots and one bigger slot to keep money or receipts. There's also a zip pocket on the back of the wallet.
If you like the unique bohemian style this wallet offers, then I also recommend the PETA-approved Lavishy wallets and coin purses, and Loveshe. Both of these brands have colorful patterned designs that will help you stand out from the crowd.
Womens Vegan Card Holder
Best women's vegan card holder
Men's wallets are becoming more and more minimalist in design, but this is rarer amongst women's brands.
Serman has created these card holders to fill the gap. They're slim, but still functional. They're made from synthetic leather and even have a keyring to which you can attach your keys.
The credit card slots are RFID secure, and there's a zipper pocket to hold any loose change.
Hot Cool is another brand that makes vegan card holders. They have a range of glittery faux leather options if you want to add a bit of sparkle to your handbag.
Summary
I know there's a lot of choices out there when it comes to wallets, and it can be overwhelming.
I hope this list of the best vegan wallets has helped you in your search for the perfect wallet!
If you're looking to make some more eco-friendly swaps, why not check out my guides to recycled flip flops and sustainable swimwear.