When thinking about sustainable products for your home, a doormat may not be the first thing that springs to mind.
However, with so many recycled, biodegradable, and eco-friendly options on the market, there's no excuse for using a doormat made of petroleum-based or synthetic materials.
The best eco-friendly doormat is the Kempf Natural Coco Coir Doormat. It's made from a sustainable material (coconut husks), and unlike other coco coir doormats, this one has no PVC backing. The mat is 100% natural and biodegradable. If you have a home compost pile, you can chuck it in there when you're done with it.
Recycled
Recycled Tire Doormat
These durable, recycled doormats will last years and require very little maintenance.
Overall
Kempf Natural Coco Coir Doormat
A heavy-duty mat with no PVC backing, so 100% biodegradable and compostable.
Budget
Iron Gate Handspun Jute Mat
Made from soft but very resilient materials, this doormat is great for indoor and outdoor use.
Best Eco-Friendly Doormats
Here are my picks for the best eco-friendly, biodegradable, and recycled doormats you can buy today.
Scroll down to the buyer's guide to learn more about the different materials.
Kempf Natural Coco Coir Doormat
100% coconut fibers
Kempf's eco-friendly doormat is a biodegradable but heavy-duty mat that's good for year-round use.
Unlike most doormats that use coconut, there's no PVC bottom on this mat, so it's 100% biodegradable. No PVC backing also has the added benefit of easy water drainage and cleaning.
The mats are available in multiple sizes. And as they're plain, you can even paint your own design on them if you want.
Recycled Tire Doormat
Tires
The Durable Co-corporation Store makes doormats out of old tires.
Tire rubber is one of the toughest and longest-lasting anti-fatigue materials available today. The doormats will last for years and require little maintenance.
The eco-friendly doormats have an open weave construction to let water and dirt easily fall through. They're also easy to roll up and store.
Check out their store on Amazon to see the full range of styles and sizes.
Iron Gate Handspun Jute Doormat
100% Jute yarns
This jute doormat from Iron Gate is one of the lighter options on my list.
The material is soft and comfortable to walk on barefoot, so suitable for indoor use. Iron Gate recommends placing a grip pad underneath the mat if you use it on a slippery surface.
This can also double as an eco-friendly bath mat!
Iron Gate Biodegradable Coir Doormat
100% coco coir
Unlike the traditional square doormat design, this one from Iron Gate handcrafts the natural fibers into an interwoven rope design.
The material is uncomfortable for bare feet, but the ribbed texture makes it very easy to scrape shoes clean. Once the dirt is dry, it's easy to shake off.
Recycled Wetsuit Doormat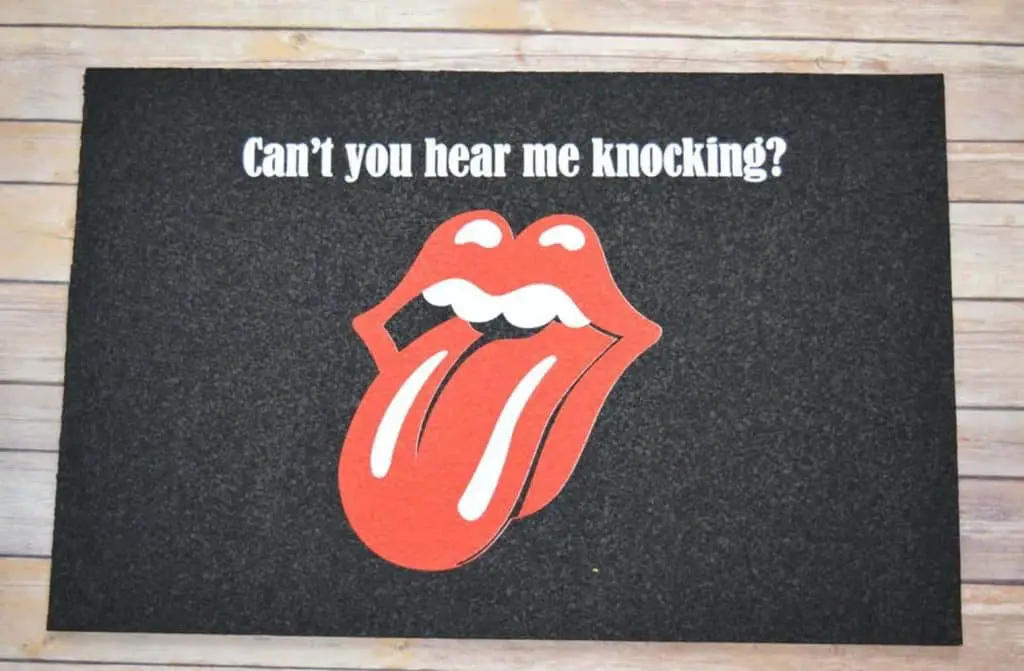 100% neoprene and wetsuit materials
NJ East Coasters shop on Etsy sells various funny doormats made from old neoprene and wetsuits. They even offer personalized mats.
According to the seller, each doormat saves around 2.5lbs of material from being sent to landfills and 28 ounces of crude oil from being used.
Recycled Lobster Rope Doormat
Lobster rope
Each one of these doormats is handmade in Maine using recycled Maine fishing rope. Fishing rope is a robust and weather-resistant material, so great for doormats. Also, the eco-friendly doormats are fully reversible, so you'll get twice the wear.
They'll all be multicolored and unique, but you won't see the actual design until the doormat arrives in the post. Fun right?!
Watch out for lobster rope doormats made of new rope – this isn't so eco-friendly.
Entryways Ethical Doormat
100% natural coir
This biodegradable doormat from Entryways is excellent if you're after a more ethical option. The mat is handwoven in India and helps to support local small artisans.
It's worth noting that the mat is extra thick (1.5″), so it might not be suitable for all doorways. That said, the heavier weight helps keep it in place without needing a rubber back.
Green Breeze Abaca Sustainable Doormat
Abaca fibers (manila hemp)
These ethical doormats are hand-made in the Philippines, where around 87% of Abaca fibers are produced. This reduces the carbon footprint of the doormat.
The doormat is 1 inch thick and doesn't shed. It's also resistant to water damage. Great for high-traffic areas.
Eco-Friendly Jute Doormat
100% jute
This biodegradable doormat is handwoven using sailor knots. The seller claims this design makes the material highly rot and abrasion-resistant, so it'll survive well outdoors in any climate.
It's 1 inch thick, so pretty heavy. This helps keep it in place without a rubber back.
Recycled Flip Flop Doormat
Recycled flip flops
These flip-flop doormats offer fun, colorful designs. If you're after something truly unique, then this is the product to buy.
Flip-flops are generally made from waterproof materials, so you'll have no issue leaving this mat out in the rain.
Eco-friendly doormat material options
Eco-friendly doormats come in a range of shapes and sizes, as well as a variety of materials. I take you through the different material options so you can pick which one you like the sound of.
Coco Coir (coconut)
If you're searching for a biodegradable doormat, most options you come across will probably be made using coco coir.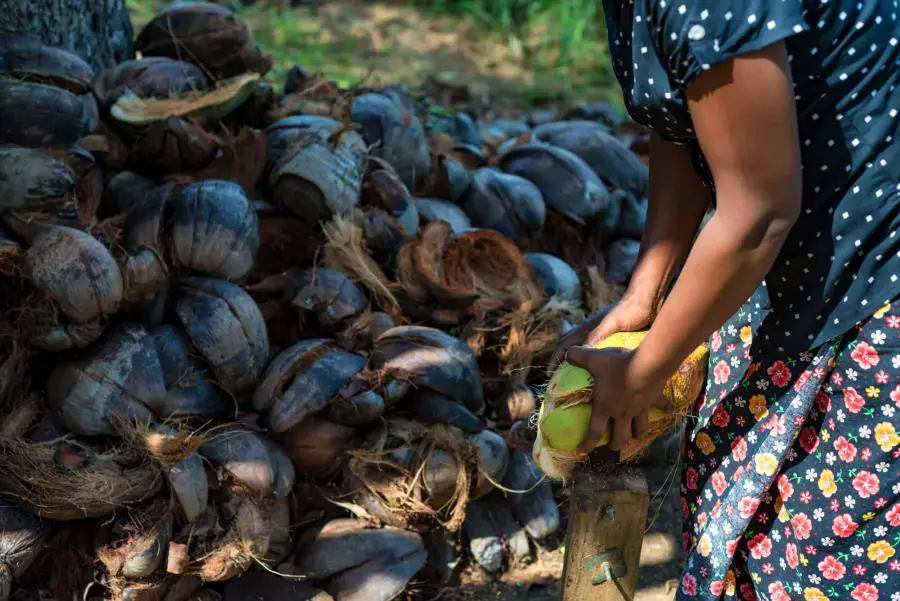 Coco coir is a sustainable, natural fiber made from coconut husks that would otherwise be sent to landfill.
The benefits of using coco coir include:
The bristled texture of the fiber helps scrape mud and dirt off easily.
It's a naturally strong and durable material. Some manufacturers claim their products have a lifespan of up to 10 years.
The fibers allow water to seep through, meaning the mat will be rot and mildew resistant.
One downside to the material is that it tends to shed more than synthetic materials.
However, if you give the mat a quick shake every so often, this should minimize any shedding.
Also, as the mats aren't chemically treated, they can disintegrate if left in very wet areas. The doormats can be rained on, but you should make sure they're able to dry off afterwards.
Once you're finished with the doormat, you can compost it, use it as mulch, or throw it away safe in the knowledge that it's biodegradable.
How To Clean Coco Coir Doormats?
Another advantage of coco coir doormats is how easy they are to clean. Just follow these simple steps:
Scrape off any dirt or mud with a metal garden tool or a stiff brush
Shake the mat to remove any smaller bits of dirt. You can do this by hand or hang it up and hit it with a broom handle to knock the dirt out. A quick vacuum can also work.
Sweep the area under the mat
Abaca
Abaca is a biodegradable, renewable material.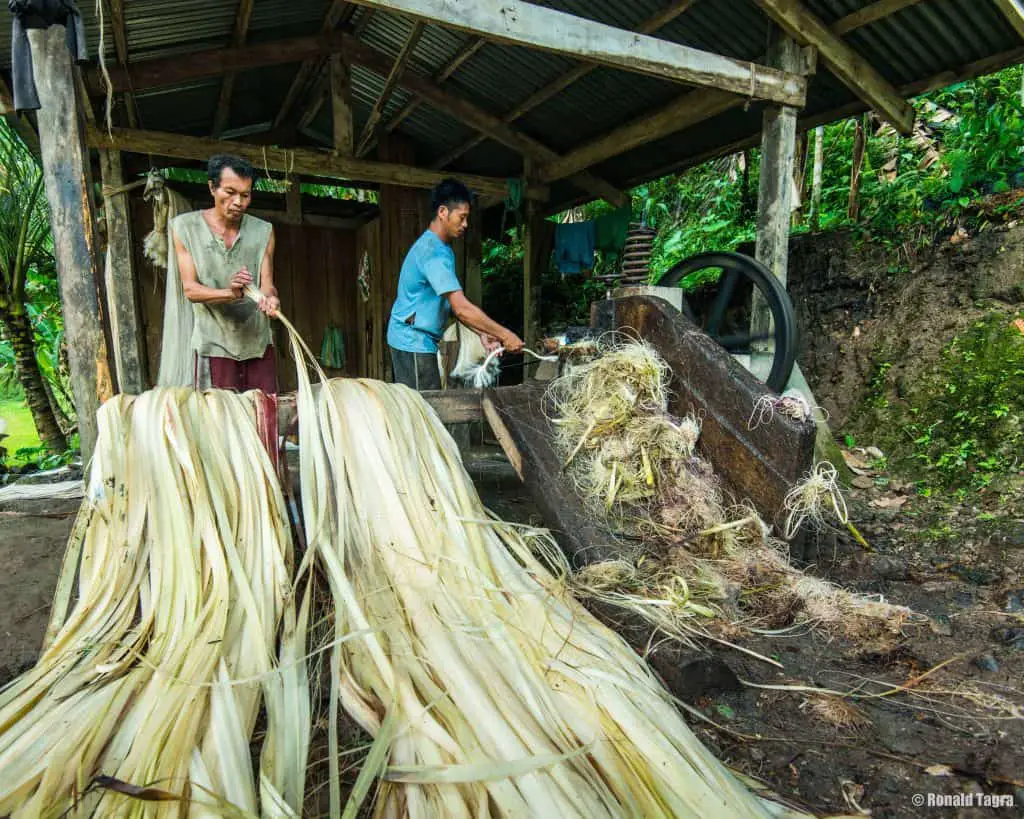 It comes from a species of inedible banana native to the Philippines that can be harvested up to 3 times a year. This makes the material very sustainable.
Production of the fiber is energy-efficient and only results in minimal CO2 emissions.
Companies that use Abaca claim it's the strongest available natural plant fiber, so the doormats are considered extremely durable and are able to withstand heavy use.
The material is also resistant to water damage and doesn't shed, unlike the coco coir.
Jute
Jute is a fast-growing, renewable and biodegradable natural fiber.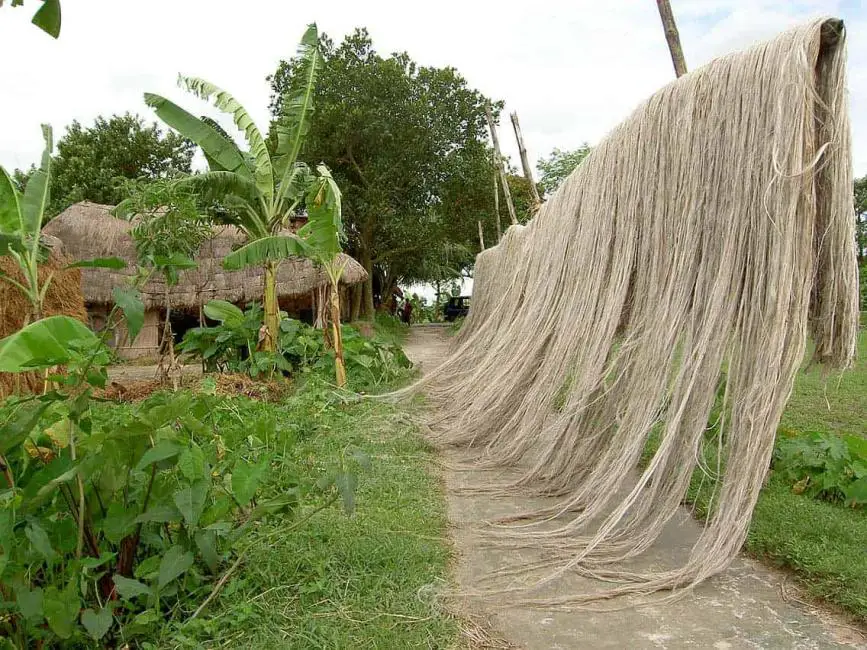 The plant jute is harvested from can be grown using only water from natural rainfall and without fertilizers or pesticides.
Furthermore, jute absorbs CO2 and releases oxygen much faster than trees.
As jute is a natural fiber, it doesn't last as long as synthetic materials in wet conditions. Therefore it should be kept in a dry place such as under a porch cover.
However, if kept in the right conditions, jute is durable and will effectively keep dirt out of your house.
Recycled Doormats
Another type of eco-friendly doormat is a recycled doormat.
These are made from materials that aren't necessarily biodegradable but have been given a second life and re-purposed into a doormat.
Rubber Tires
Rubber is one of the most reliable and versatile materials around. Rubber doormats can withstand even the harshest of climates.
Well-made recycled rubber doormats have the potential to last an entire lifetime.
Fishing Rope
Fishing rope is an ideal doormat material. It's completely water-resistant and has a coarse texture to help remove dirt.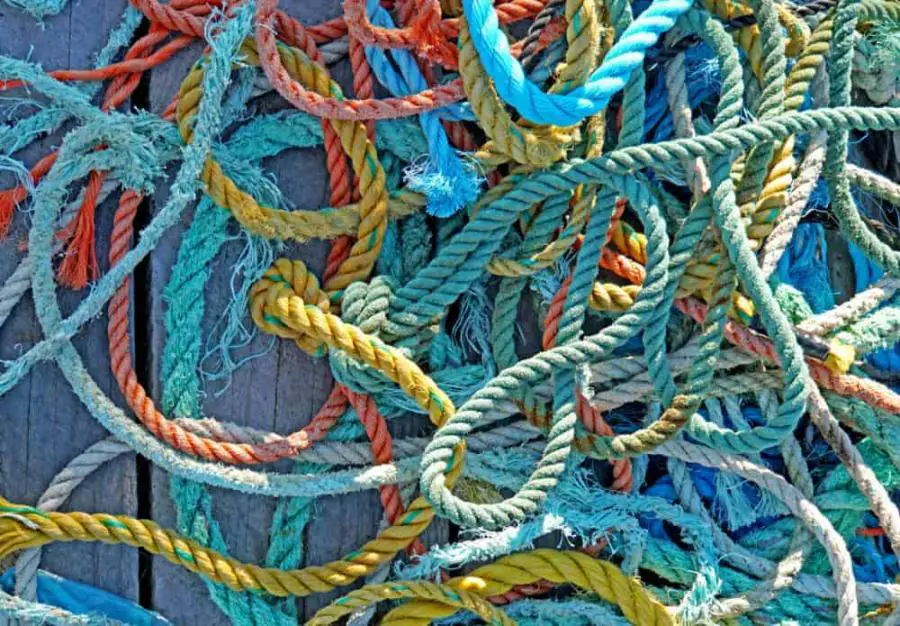 The ropes come in all colors, so the mats tend to be multicolored and patterned.
There are a few lobster rope doormats out there, but check that the rope has been recycled before you buy it. Virgin lobster rope doormats aren't so great for the environment!
Flip Flops
Flip Flops are made of plastic foam or rubber, both of which are suitable materials for a doormat.
Again, due to the texture of flip-flops, these doormats are best for households with lighter usage.
Read my article on sustainable flip-flops to discover other ways to upcycle flip-flops.