Composting toilets are an ingenious way of dealing with human waste in a safe and environmentally friendly way. But they can put quite a dent in your wallet.
Is the cost of a modern composting toilet putting you off?
Don't worry – we're going to provide you with the inspiration and tools you need to create a great cheap composting toilet.
There's really one main option when it comes to budget-friendly composting toilets and that's to make a bucket toilet. These come in lots of different forms which I discuss below.
I take you through:
the best buckets for a cheap composting toilet
the best toilet seats for a 5-gallon bucket
a homemade cheap composting toilet
Best Overall
Reliance Luggable Loo
This bucket toilet is extremely durable and backed by a 5-year warranty.
Also Great
STANSPORT Portable Camp Toilet
This super sturdy portable toilet from STANSPORT most resembles a normal toilet, while also supporting users up to 350lbs.
Don't Forget
Humanure Handbook – DIY Composting Plans & More
Considering building your own composting toilet? This book contains detailed plans to help you build your own from scratch. Available for free when you sign up for a Kindle Unlimited Trial.
How do bucket toilets work?
Bucket toilets are a great option if you're looking for a portable composting toilet. But you can also use them at home as an affordable alternative to the more expensive composting toilets.
The idea behind them is simple. You go to the toilet on the bucket where the waste is collected and stored until it's ready to be composted. It's very similar to modern systems but with no extra features like fans or heaters.
Instead, you use what's called a covering material to avoid odors. I have a different article explaining what makes a good cover material if you're interested.
To get started with a bucket toilet you'll need: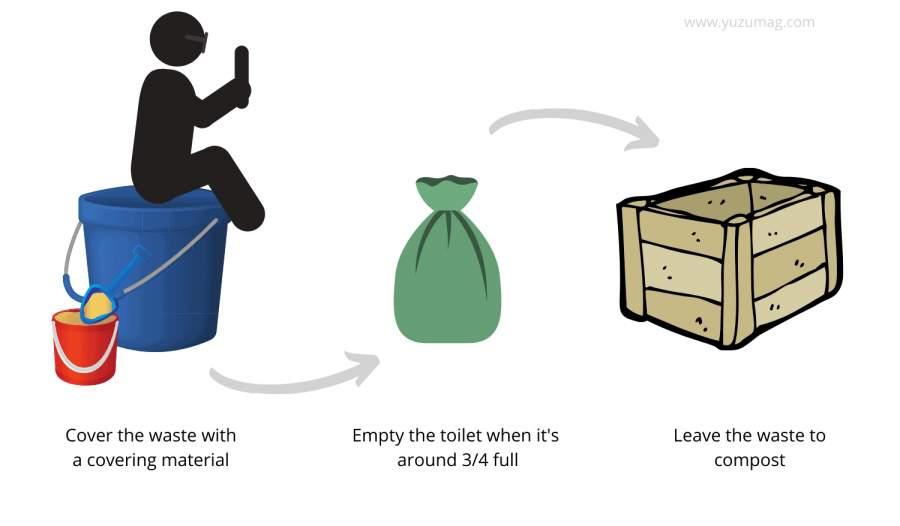 Once you have everything, line your bucket with a compostable trash bag and place the toilet seat on top. Before you use it, make sure to put some compostable covering material at the bottom of the bag. Because these toilets aren't urine-diverting you need something to absorb any excess moisture.
I tend to use coco coir. It's really easy to store because it comes in compressed bricks, and I've never had any problems with odors.
Once it's all set up, you can use it as you would a regular toilet. You can use toilet paper with your bucket toilet – some people even use bidets with their composting toilets!
However, instead of flushing, you need to cover your business with a good layer of the covering material. Make sure it's fully covered each time, and you shouldn't have any bad smells. I keep a smaller bucket filled with the composting material within reaching distance of my toilet.
After about 2/3 days, depending on how much use the toilet has had, you'll need to empty the bucket. Because it's lined with a compostable bag, this is pretty straightforward. Take the bag out, throw it in your dedicated compost pile, and leave it to compost. You can also use the bucket without any bags. This just means a bit of extra cleaning up each time you empty it.
Washing the pail out with a hose and then rinsing with vinegar will get it nice and clean.
Best buckets for composting toilets
If you're starting from scratch and don't have any spare pails, then you can buy a ready-made bucket toilet complete with a fitted toilet seat.
The best options are:
Reliance Luggable Loo
Camco 5 Gallon Bucket Toilet
STANSPORT Portable Camp Toilet
Reliance Luggable Loo
This 5-gallon bucket toilet is extremely light at only 3 lbs, but is still extremely durable. Reliance are so sure of its quality that the bucket comes with a five-year warranty.
The toilet seat uses a simple click-on mechanism so it's easy to remove but will keep the bag nice and secure while in use. The lid snaps shut but not so tight that it's hard to open when you need to use the toilet.
The stated weight capacity of the toilet is 300 lbs. However, I've seen heavier users saying they've had no problems using the loo.
Pros
the seat is very secure
large capacity
5-year warranty
Camco 5 Gallon Bucket Toilet
The lid on this bucket toilet has a very secure lock which is useful if you're worried about a rouge child or pet knocking the toilet over and creating a mess.
It comes with three bag liners. However, these aren't compostable, so I don't recommend using them in your composting toilet. They're good to have as backups though!
Pros
large capacity
very secure lid lock
secure seat
some bags included
STANSPORT Portable Camp Toilet
This portable loo from Stansport is the one that most resembles an actual toilet.
The seat is full-sized so will be comfortable to sit on no matter how long your trip to the bathroom is. The sturdy structure has a 350 lbs weight capacity which is slightly higher than the original bucket toilets above.
However, the waste container is smaller than the other options, so this loo is more suited to singular users.
Pros
stable
full-sized toilet seat
good looking (for a toilet)
Avoid Folding Toilets
Folding toilets, like the one pictured above, may be tempting if you're planning a camping trip. But unless saving space is a top priority, I'd steer clear of these options.
They act as a compact folding alternative to a bucket with a seat on. Instead of the bag pictured you can put a bucket there to collect the waste.
However, these seats aren't the most reliable at keeping in smells because the setup can be gappy. It's also worth bearing in mind that they're typically too short to fit the standard 5-gallon sized bucket.
If you're dead set on a folding chair set up then the best option is a medical chair because they're height adjustable.
They might be a bit unsightly, but they can be very comfortable!
Pros
very portable as can fold up
Cons
no lid to close the toilet
need to buy a smaller bucket
more smelly than other options
Best toilet seat for 5-gallon bucket
If you already have a 5-gallon pail, then there's no need to buy a whole new bucket. You can just purchase a toilet seat to put on top of said bucket.
Honey Bucket Emergency Toilet Seat
This seat will fit most sized buckets, but it might be a little stiff at first so you'll have to push quite hard to fit it.
Once you've used it a few times, the plastic becomes a lot less rigid, and the seat will be easier to snap on and off. The lid also locks to keep it shut when you're not using it.
Pros
fits 3, 5, and 6-gallon pails
lid lock
Luggable Loo Snap-on Toilet Seat for 5-Gallon Bucket
This is a replacement seat for the luggable loo I spoke about above, but you can use it with any 5-gallon bucket.
The snap-on rim design means it'll always stay securely in place and will stop the bag from slipping down.
As with their complete bucket toilet, the lid comes with a five-year warranty.
Camco Bucket Toilet Seat
This seat is easy to attach and uses the standard clip-on method to keep it in place. The lid also has a very secure locking method, so there's no chance of spillage if your pail gets knocked over.
It comes with some waste bags, but they're not biodegradable so not suitable if you want to compost the waste.
Pros
comes with bags
secure lid lock
Pool Noodle Toilet Seat
This is a creative idea for the more adventurous amongst you.
You can make a homemade toilet seat by cutting a slit in a pool noodle and then threading it around the top of your container. The noodle doesn't come with a lid, so this is probably not the best idea if you're planning to use the toilet long term.
If you prefer less color, then go for these black pool noodles.
Cheap DIY composting toilet
If you want a more permanent solution, then you can build your own composting toilet. These are much more comfortable than the buckets because you can use a standard toilet seat. They also look better and are a lot sturdier.
If you're installing the toilet in a small space, then I recommend going for a seat with a soft close lid. That way, if someone goes to the bathroom in the middle of the night, they won't wake everyone else up.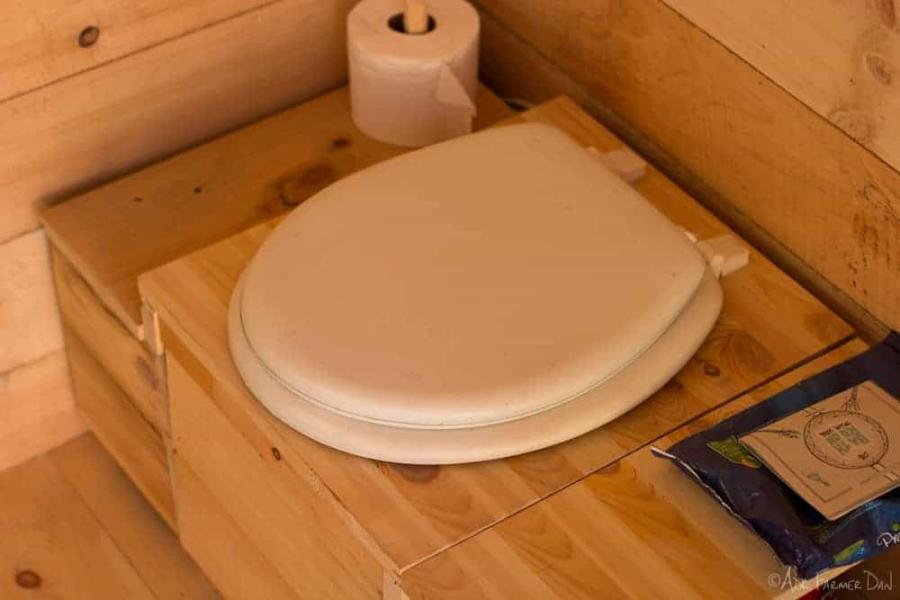 There are multiple different ways to go about building your toilet but most start with the same basic idea – to build a box around your bucket.
A plastic bucket is the easiest and most reliable way to store human waste before you take it to the compost pile, so they're still heavily utilized even in DIY versions. Therefore, the way you use these toilets is very similar to the bucket method I outlined above. They're just a bit more jazzed up.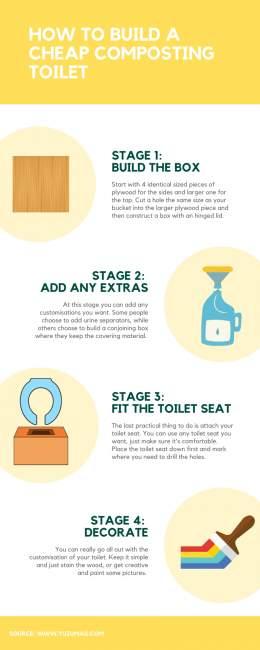 The best thing about building something yourself is that you can customize the final product as much as you want, for example, adding in a urine diverter. This will solve any problems you have with the waste becoming too wet, and reduce the amount of covering material you need to use.
Creating a urine diverter can be as simple as attaching a piece of plastic to the underside of the toilet lid, which leads the liquid waste into a different container. Because you're collecting the urine separately, this allows you to make use of it as a fertilizer.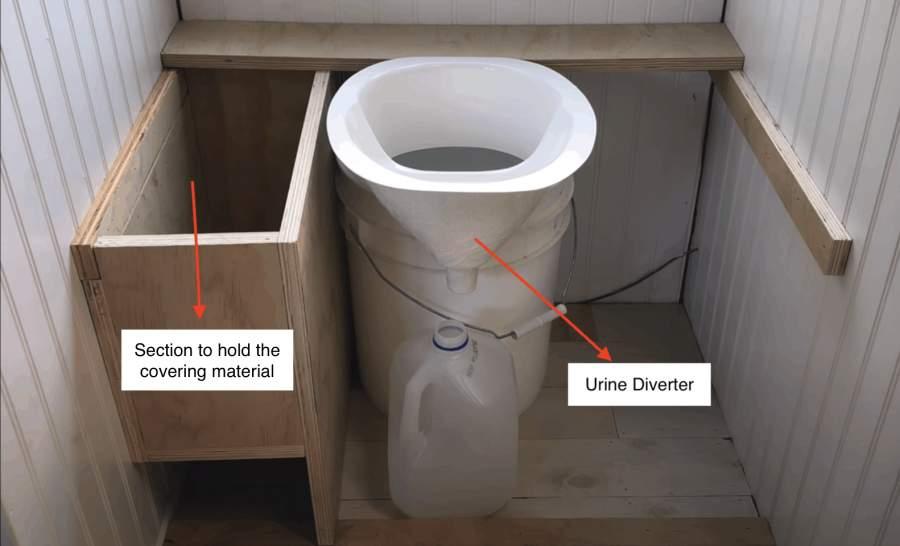 Some people also have two different loo's side by side. They use one until it's full and then switch to the next one to give the waste some time to start composting before they empty it. Or you can just use the second bucket to store the covering material you're using.
If you enjoy a good DIY project, then you could even try building a ventilation system with a fan to make doubly sure that your toilet doesn't emit any bad smells.
Resources for making a cheap composting toilet
If you're serious about creating your own composting toilet, I highly recommend reading Humanure Handbook by Joseph Jenkins. The book is an absolute goldmine of useful information about everything imaginable to do with composting toilets. More specifically, Joseph includes detailed plans for crafting your very own composting toilet.
If you want to skip all of the guesswork and potentially unwanted sticky situations, I recommend signing up for a completely free trial of Amazon Kindle Unlimited where the book is available without charge.
If you're able to digest the book in less than a month, you can cancel your trial without any further costs. Win-win.
The more expensive option
Okay… this isn't that cheap, but if after reading this article you've decided that the alternative options aren't for you, this is my pick for the best commercially available waterless toilet.
Nature's Head Self Contained Composting Toilet
Natures head composting toilet is a separating toilet, so collects the solids and liquids in separate containers.
The solids compartment has a fan ventilation system and a crank handle so you can churn the mixture and make sure it's got enough oxygen to compost efficiently. What's great about this loo is that you don't have to worry too much about emptying it that often.
It's been designed to hold a lot of waste while also being compact enough to fit in tiny spaces. Because the composting goes on inside the toilet, the amount of material is constantly shrinking, which increases the capacity.
You can read more about this toilet in my round-up of the best indoor composting toilets.
Pros
composts inside the toilet
urine diverting
small and compact
ventilation system
Cons
not the cheapest
not portable
Summary
So there you have it, my top tips on how to make a cheap composting toilet.
Once you've installed and started using your toilet, if you need any help with how to compost, including hot composting methods, or how to use the compost, don't forget to come back and check out my guides.