Flip flops are the perfect summer shoe, but for a lot of people, they only ever last one summer before being tossed in the trash. The materials used to make most flip flops are low quality and toxic to the environment.
Eco-friendly flip flops are here to change all that. Made using materials like:
natural, biodegradable materials like hemp, natural rubber or cork
recycled materials like old tires and plastic
Flip flops made from natural materials are more comfortable and longer-lasting than their synthetic counterparts. Read on for my picks of the best sustainable, vegan and recycled flip flops available to buy right now.
Men's
Indosole Men's ESSNTLS Vegan Flip Flops
These durable flip flops are made using natural rubber and an ENVRO fiber strap. The outer sole is made from recycled tires.
Women's
Indosole Women's ESSNTLS Vegan Flip Flops
Also made from recycled tires, these cruelty-free women's flip flops look great and do great too.
Also Great
Feelgoodz Slimz Flip Flops
These 100 % natural, consciously-sourced flip flops feature a natural rubber sole that molds to the shape of your feet.
The 21 Best Eco Friendly, Recycled Flip Flops
As promised, here is the list of the best sustainable flip flops on the market today.
As well as creating great flip-flops, these brands also help the environment in a variety of other ways from organizing beach cleans to providing work in developing countries. Buying a pair of these flip flops will be great for the world, and for your conscience.
Gumbies Islander Recycled Flip Flops
Gumbies surfer inspired recycled flip flop range is made entirely from upcycled materials.
The sole is made from recycled rubber covered with a recycled cotton insole. The strap is also made out of salvaged cotton.
Designed with adventure in mind, the sole follows the contours of your foot to ensure lasting comfort.
There are men's, women's, unisex, and slider ranges, all with a variety of colors to pick from. Gumbies also have a range of eco-friendly cork flip flops if these are more your style.
HUGGOES Biodegradable Flip Flops
You'll be spoilt for choice with the different color combinations offered by HUGGOES.
HUGGOES biodegradable flip flops are made from 100% pant-based rubber. The resulting flip flop is lightweight, soft, and flexible.
You can wear these waterproof flip flops to the beach, or just wear them when you want to run your daily errands in comfort.
Eco-Friendly Cork Flip Flops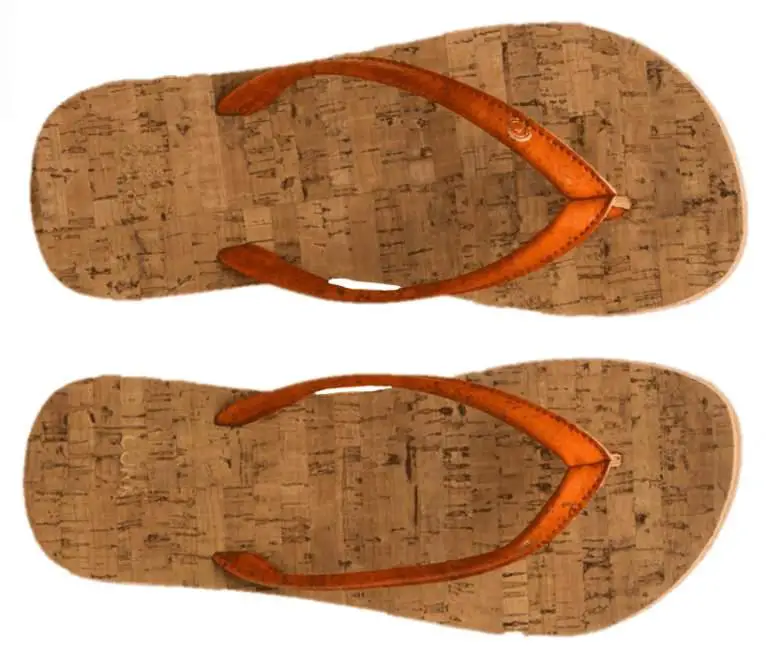 Cork is a biodegradable material made from the outer bark of oak trees. The cork will regenerate after harvesting, so no trees are ever cut down. Cork forests also support a wide range of biodiversity, one of the highest seen in forest environments.
It's the perfect material for flip flops because it's
Water-resistant
Flexible
Light
Hypoallergenic
Comfortable
Durable
Sustainable
There is no compromise on style either; these sustainable flip flops were featured in Vogue!
The sandals come in 7 different colors.
Indosole Recycled Tire Flip Flops
Indosole offers men's and women's versions of their recycled flip flops, both featuring arch support for extra comfort.
The durable flip flops are made using natural rubber and an ENVRO fiber strap. The outer sole is made from recycled tires.
In keeping with Indosole's mission to become the most responsible footwear brand in the world, the vegan flip flops are manufactured without using fuel-powered machinery.
They also make recycled slides and toddlers flip flops using the same materials.
Himalayan Pure Hemp Flip Flop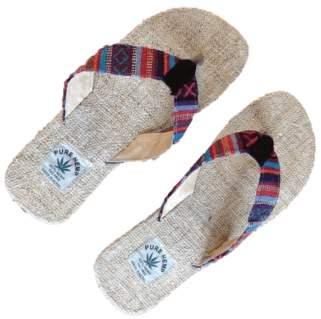 These flip flops are made using hemp from Nepal.
Hemp plants only need a small amount of water to grow and are naturally pest-resistant, so don't require the use of pesticides. They also absorb more CO2 than most other plants.
The fabric itself is strong, durable, and insulating making for a long-lasting, sturdy flip flop.
OLLI Fair Trade Flip Flops
OLLI flip flops are made from natural rubber sourced in Sri Lanka.
The company is a member of the Fair Rubber Association. Every pair of flip flops sold helps provide education and safe working conditions for the workers.
The unique blend of natural components automatically molds to the shape of your feet providing support where you need it most. The material is also super durable and will last for years.
The eco friendly flip flops are available for both men and women.
Bumpers Massage Zero Waste Flip Flops
Bumpers flip flops have a unique footbed featuring small massaging bumps. Just wearing them will improve your circulation, reducing pain and swelling in your legs and ankles.
It also keeps your feet free from sweat by allowing air to flow.
Best of all, the flip flops are made from natural and recycled rubber in a zero-waste process.
Bumpers offer a range of colors in men's, women's and children's sizes.
SOLE Recycled Flip Flops
SOLE has wear-moldable orthopaedic shaped flip flops. The cushioned sole is clinically proven to equalize pressure distribution, improve posture, and reduce plantar fascia strain. Not bad for a recycled flip flop.
One material they use is made from recycled wine corks, increasing the lifetime of this already incredibly eco-friendly material.
They also have flip flops made from Bloom Algae Foam which is a sustainable alternative to petroleum-based foams.
Through planting cork trees, harvesting their bark, recycling wine corks and purchasing carbon offsets SOLE has a negative carbon footprint.
You can shop the entire range, including sandals on amazon.
Musewear Unisex Brazilian Rubber Flip Flops
I love these quirky flip flops from Musewear. They're
100% soft Brazilian rubber
100% original artwork
100% ethically made
100% recyclable
100% happiness guaranteed
The designs feature inspiring quotes from famous figures including Bob Marley and Gandhi, or there is one for each zodiac sign.
Rider Recycled Flip Flops
Rider flip flops are designed and produced in Brazil.
They are made using 15-30% recycled materials. Furthermore, 99% of the waste produced during production is reused or recycled.
The shoes have been made to last, even if you have an active lifestyle like most people in Brazil do! Rider prides itself on being stylish and supportive at the same time.
This is one of the few brands on my list to offer recycled sliders if they're more your style.
They have ranges for men, women and kids.
Planet Flops Eco Friendly Flip Flops
Planet Flops flip flops are made with natural rubber harvested in Brazil. The shoes are also made in Brazil providing work to local people.
The harvesting process is sustainable and does not harm the tree. Furthermore, for every pair sold a tree is planted in the Brazilian rainforest.
Kids sizes are available, and they are sure to love the bright colors.
Chaco Ecotread Recycled Flip Flops
Chaco uses 25% recycled rubber in the outsoles of their Ecotread flip flops.
The shoes are durable and provide all-day comfort with textured soles that provide clinically proven support.
These recycled flip flops are easy on your feet and the environment.
Chaco also has a range of Ecotred sandals that I highly recommend.
Rainbow Sandals Hemp Flip Flops
These flip flops are made from 100% natural hemp fiber, a sustainable plant that is very easy to grow.
As hemp is plant-based, it is biodegradable, so these flip flops won't end up in landfill.
Rainbow guarantees the shoe for the life of the sole and the flip flops are comfortable, have good arch support and are environmentally friendly. What more could you want?
There are hemp options for both men and women.
Waves Eco Friendly Flip Flops
The Waves brand is inspired by the ocean, and they want to ensure their products have no negative impacts on it.
The rubber used to make these recyclable flip flops is tapped from trees in Sri Lanka by workers who receive fair wages and good working conditions.
The natural rubber soles take on the shape of your feet and provide targeted support.
With plenty of cool patterns to pick from, these flip flops will add some color to your summer wardrobe.
Okabashi Recycled Flip Flops
Did you know that less than 1% of shoes worn in America were made in America? Okabashi manufactures their recycled flip flips in Georgia, preventing 10,000 miles worth of carbon emissions.
They also operate a closed-loop production line. You can send your flip flops back to them once you're finished wearing them, and Okabashi will use them to make another pair of flip flops. Your new flip flops could be made using your old flip flops!
Each new pair contains around 25% recycled material and the other materials are bio-based.
They have a lot of different styles, all designed with comfort in mind. They even have vegan clogs.
Aurorae Yoga Mat Flip Flops
Made from Eva Foam yoga mats with a vegan leather strap these flip flops are eco-friendly and toxin-free.
The material is plant-based, so the flips flops are biodegradable and recyclable. The sole includes cork components which are naturally antimicrobial and will keep your shoes fresh.
The natural rubber outer sole is anti-slip so suitable for wearing in all terrains.
Feelgoodz Fair Trade Flip Flops
Feelgoodz flip flops have a double padded sole for unbeatable comfort. Their mission is to create a zero-waste flip flop world.
The natural rubber used to make the biodegradable flip flops is harvested in Thailand then processed into the highest quality rubber on the market. It's then colored with natural inks to create the simply designed flip flops.
Feelgoodz also offers sandals made out of the same rubber and vegan leather.
Sanuk Recycled Yoga Mat Flip Flops
Sanuk recycled flip flops are made of real yoga mat cut-offs. The leather-look straps are made out of natural leather.
The yoga mat sole is thick and cushioned. Over time it will take on the shape of your foot. You'll hardly notice you're wearing shoes in these vegan flip flops.
Sanuk offers a wide variety of yoga mat flip flops, be sure to browse the whole range.
Flipper Natural Rubber Flip Flops
Flipper unisex flip flops are made using natural rubber. The simple designs are made to be comfortable whatever you do when you wear them.
The fully biodegradable flip flops have built-in antibacterial properties to help keep your feet feeling fresh.
It's not only the flip flops that are sustainable. Flipper's packaging is made from 100% recycled material and is reusable.
Flipper is another brand that offers a recycling program. They are currently working hard to find partners willing to take the flip flops for recycling, but until then you can take a photo of yourself recycling the flip flops, and you'll get 25% off your next order.
Atinga Recycled Tire Sandals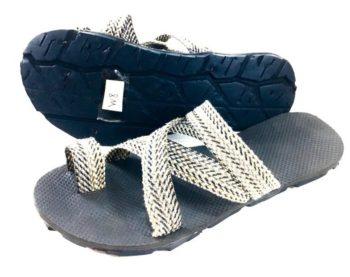 While not strictly a flip flop, these sandals were too good to leave out.
The shoes are hand made to fit the exact measurements of your feet. They are made to an extremely high standard, and you can tell every pair is built to last.
The sole of these recycled sandals is made from old car and motorbike tires from Africa. The strap is made using a traditional Tanzanian fabric known for its strength.
Reef Vegan Flip Flops
These flip flops are PVC-free and made with an Eco-One additive that means they are biodegradable.
REEF is the founder of the Better Beach Alliance. They are dedicated to reducing plastic pollution in the oceans. So far they have organized 970 beach clean-ups and removed over 300,000 pounds of trash.
Check out the different options for both men and women.
4 Ways To Recycle Flip Flops
Do you find yourself wondering how to recycle flip flops? Here are 4 ways to make sure your old flip flops don't go to waste.
What Can I Do With Old Flip Flops?
Once your flip flops have reached the end of their life as a shoe, they can start a new life as something else. You can recycle them (see above), or you can repurpose them yourself. Here are a few ideas for how to reuse old flip flops.
Shred them and use the strips as stuffing for a pillow or a chew toy for your pet. You can also use the strips to replace bubble wrap
Create floating toys for your kids to play with in the bath. If you have enough, you could even make a ball
Use them as door stoppers
Place them under noisy washing machines to stop them from vibrating against the floor
Use them as rubber grips on tables and chairs to stop them from scratching the floor
Get creative and make colorful coasters, or floating cup holders for a summer pool party
Make some flip flop art
Anything else you can think of
Which Eco Flop Flop Material Is Best For Me?
There are 4 eco-friendly materials flip flops tend to be made from. Each one comes with its own unique benefits both for the environment and for the user.
Recycled Rubber
Recycled flip flops generally use rubber that's been repurposed from tires, or old flip flops. This is great because it is reusing materials that would otherwise have gone to landfill. Because these shoes are made by companies that care, recycled flip flops tend to be of very high quality.
Natural Rubber
Collected from trees in a way that doesn't harm the tree. It is easily recycled and biodegradable. It also makes for a more comfortable flip flop because it will mold to fit the shape of your feet.
Hemp
Sustainable plant that doesn't require much space to grow, or the use of pesticides and absorbs a lot of CO2. The hemp fibre is biodegradable and much more durable than other fibres. It's being used to make everything from wallets to shoes.
Cork
A biodegradable material that although not widely used is fantastic for the environment. Harvesting cork does not damage the tree and encourages more CO2 consumption. Cork trees absorb 3-5 times more CO2 than non-harvested trees. As a material cork is naturally antimicrobial so will keep your flip flops smelling fresher for longer.
Summary
There is no shortage of eco-friendly or recycled flip flops to buy, I hope this has helped you find the perfect pair.
Why not take a look at my roundups of the best vegan moccasins or clogs next?