Bidets, whether they're portable, hoses or replacement toilet seats, are known for being hygienic and saving toilet paper. But there's a lot more to them than that.
They're a must-have for any luxurious bathroom and will elevate your toilet experience from being just a necessity.
Kohler is famous for its fancy toilets. But they also make some pretty amazing electric bidet seats that rival the TOTO washlets you may have come across before.
In this article, I review the best Kohler bidet toilet seats available to buy today.
Premium
KOHLER K-4108-0 C3 230
This luxury bidet comes jam-packed with features, including touch screen wireless controls and anti-microbial materials.
Overall
KOHLER Novita BH90-N0 Bidet Toilet Seat
This is the only Kohler seat to come equipped with an automatic opening and closing lid.
Budget-Friendly
Kohler Bn330-N0 Novita Bidet Toilet Seat
This bidet comes with high-end features like a seat sensor and energy save mode, without the high-end price tag.
Best Kohler bidet toilet seat reviews
Read on for my in-depth reviews of what I think are the best Kohler bidet seats. I've looked at options for every budget and picked out the ones that represent the best value for money.
Most Kohler seats are made for elongated toilets – but a few, like the Novita BH90-N0, do have a round toilet option. I have a different article looking at the best bidet seats for round toilets.
All of them are easy to install, and you can do so without calling a plumber.
The following reviews are for electric seats. If you want a manual option, I've discussed the Kohler Puretide, along with a few other manual options, in my review of non-electric bidets.
NOVITA BH90-N0 Bidet Seat
Novita is a sub-brand of Kohler bidet toilet seats but offers the same high-quality design. There are a few different bidet seats in the range, but I've chosen to feature the BH90-N0 because it has an automatic opening and closing lid which none of the other options have.
The lid can sense when you're near and will open, then close again as you walk away. This, combined with the warm air dryer, creates a totally hands-free experience.
The hybrid heating system supplies instant and unlimited warm water which you can adjust for temperature and pressure. There are two self-cleaning, stainless steel nozzles for posterior and anterior cleansing which have oscillating, turbo and air bubble spray modes.
The water is sterilized using silver nano-technology so is guaranteed to keep both you and the wand clean. The air deodorizer then takes care of the rest of the bathroom.
The heated seat has a power-saving mode which will lower the seat temperature after long periods of no use. The seat also comes with an infrared sensor that can tell when someone is sitting on the toilet, and only then are the functions active.
To operate the BH90-NO, you use a touch-screen LCD remote control. There's a special button that'll run a sequence of preset settings suitable for children or older adults who might find all the options confusing. I found this to be very useful for guests too.
Pros
automatic open and close lid
energy save function
seat sensor
touch screen controls
child friendly mode
Cons
no personalised user setting
not slimline
KOHLER K-8298-0 C3 155
This is one of the best Kholer bidet seats in terms of value for money.
The heated seat has five temperature settings, and you can adjust the speed and temperature of the warm air dryer, as well as the water temperature and pressure. It's worth noting that the heated seat will turn off if there's no light – a feature to help save energy, but this could be annoying if you find yourself frequently going to the toilet in the middle of the night.
If you do take night time visits, then there's a nightlight that illuminates the toilet bowl and saves you from turning on the bathroom light. There's only one setting here though. If it's too bright for you, as some users have reported, there's no way to dim it.
The single spray wand has two modes for front and rear cleansing, and you can also choose to use a pulsating or oscillating spray. These modes are useful when you need some extra cleaning power.
With this bidet toilet seat, instead of just rinsing with water to clean the wand, the seat also uses UV-light sanitization. The stainless steel wand automatically releases UV-light after use which will kill any lurking germs. Pretty nifty!
Another feature to help keep the seat clean is the automatic carbon filter air deodorizer, which will stop any nasty smells from lurking in your bathroom.
You can control all of this using the side panel that's attached to the seat. The large pictorial buttons have been designed to be easy to use.
If you prefer wireless controls, then the C3 455 is the same as this model except has a remote, which allows you to save two user presets.
Pros
good value for money
5 water temperature settings rather than 3
large clear side panel buttons
KOHLER K-4108-0 C3 230 Bidet Toilet Seat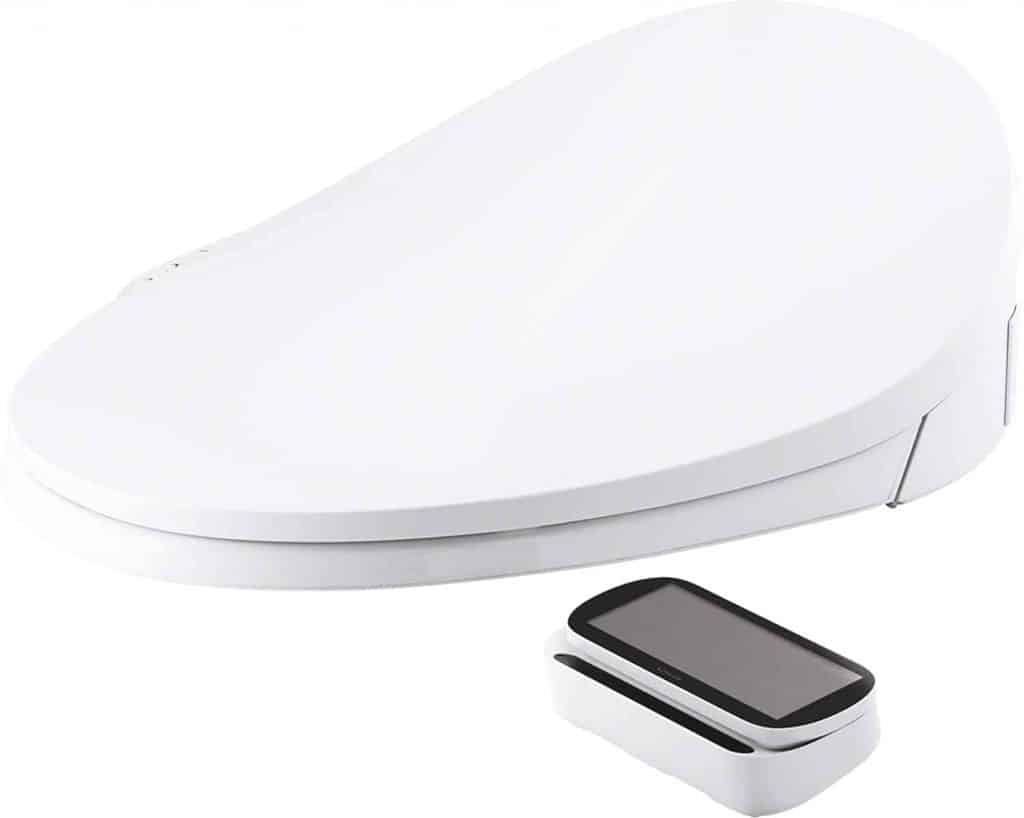 This is the best luxury Kohler bidet toilet seat and comes with a whole host of exciting features.
The thing that sets it apart from the rest of the seats is the touch screen controls. The remote allows you to save up to 2 different user presets, so you don't have to keep adjusting things like the wand position each time you use the toilet.
As well as the wireless controls, there's also a side-mounted control panel. Perfect for those times you find someone has moved the remote.
The seat uses a hybrid method to heat the water, so there's an unlimited supply. You can change the temperature settings of the water, seat and dryer until they're perfect for you, and adjust the air and water pressure.
The heated seat is made using an anti-microbial agent that's resistant to staining bacteria, mold and mildew. Both the front and rear wands are made from stainless steel and use UV-light sanitization to clean themselves. And there's an air deodorizer to stop smells from escaping into your bathroom.
The UV light doubles as a nightlight which is useful if you often use the toilet in the dark. However, the lights can be quite bright. If you have an ensuite where you can see the bathroom from your bed, you might find yourself having to keep the door closed as the toilet can automatically clean itself during the night.
If you don't like the idea of having two different types of controls, the C3 200 model comes with all the same features but lacks the attached side control panel. This model also has the added benefits of a seat sensor, energy save mode, and a slimmer design.
Pros
touch screen remote control and side panel controls
anti-microbial material
personalised presets
Cons
not as slimline as other models
no energy-saving mode
KOHLER K-27142-CR-0 C3-430
This is one of the more budget-friendly Kohler bidets you can buy that also comes with a remote control. Bidet toilet seats with wireless controls tend to be quite a bit more expensive than the side panel options, so this is a bargain if you're set on a bidet with a remote but don't have an unlimited budget.
The controls allow you to set up two different user settings, so the most frequent users won't have to change things like their preferred water pressure settings each time.
The wand is made from stainless steel and uses UV light for self sanitization. It's adjustable so can be used for front and rear washing, and you can pick the water temperature and pressure. The warm water is heated in a hybrid tank, so is continuous and instant.
It has a heated seat with LED lights that illuminate the bowl in the dark. But you'll have to forgo the dryer, which will means drying yourself with toilet paper instead.
Pros
an affordable model with wireless controls
slimline
personal presets
NOVITA Bn330-N0 Bidet Toilet Seat
This is Kholer bidet is is excellent value for money. It's pretty similar to the Toto C100 or the Toto C200 if you're familiar with them.
Being part of the Novita range, it has the signature silver nano-technology water sterilization that's used to clean both you and the wands. The air deodorizer is chemical-free and uses a carbon filter to capture any odors.
There's a good amount of customization, with three temperature settings for the heated seat and warm air dryer. Note that the dryer on this model is not the strongest, so it will take some time to dry you completely. The warm water is heated in real-time using a hybrid heater, which means it won't run out. Useful if you live somewhere where the tap water is particularly cold.
You can also adjust the nozzle positions, and play with the water temperature and pressure. As with the other Novita toilets, there are three different spray modes.
The seat has a side-mounted control panel which is pretty small compared to some other control panels I've seen. This can be useful if you have a smaller bathroom, or just prefer a more slimline look. But it can mean the toilet is harder to operate because the buttons are closer together.
One cool feature with this bidet toilet seat is the infrared seat sensor that's used to activate the features when someone is sitting on the toilet. Using infrared rather than weight makes the seat more child friendly, because sometimes children are too light for other seats to register.
Pros
good value for money
slimline
energy save
seat sensor
sittable lid
KOHLER K-18751-0 C3 050 Bidet
This is one of the most affordable electric bidets that Kohler offer, so the best bidet seat for those of you on a tight budget.
The bidet seat has a warm water spray with adjustable pressure and temperature settings. The water's heated using a hybrid heater which provides a continuous stream of warm water that won't run out.
As with every Kohler bidet, this one has a quiet close seat and lid, and quick release hinges. The seat has a low profile design and is one of Kohler's slimmest bidets measuring just 4.75 inches at its tallest point.
The C3 050 is a basic model and lacks some of the exciting features the more expensive bidet toilet seats have, but will still do a stellar job of cleaning you up. That said, if you can afford to spend a few extra dollars, I think it's worth it in this case. The mid-range options have a lot more to offer and do offer excellent value for money.
Pros
budget-friendly
slimline
continuous warm water
Cons
lacks a lot of features such a heated seat
Remotes vs side control panels
Bidet toilet seats are a significant investment and should be a considered purchase. The biggest question to ask is…
Do I want a remote control or an attached side panel?
The wireless options are more expensive, but I often hear people say that in retrospect they wish they'd gone for it.
Side panels are not hard to use, especially after a few months when you'll have memorized where the buttons are. But you do sometimes have to twist around to reach them. This can be at best annoying, and at worst impossible if you suffer from reduced mobility or are a bariatric user.
The downside to remotes is that they can be moved and dropped. Also, because they're battery operated, you have the added cost of buying batteries, and run the risk of them running out mid-session!
Why buy a Kohler bidet toilet seat?
The Kohler name has been around since 1873 and since then has grown to be one of the best recognized brands in the toilet industry. They're consistently coming up with exciting and innovative designs such as voice-activated showers and self-flushing toilets.
And their bidets are no exception. They come equipped with the latest technologies such as UV-light sanitizing wands and infrared sensors.
If you have a Kohler toilet, then you'll know the quality standard Kohler strive for and shouldn't settle for less with your new electric bidet toilet seat.
Summary
I've come to the end of my round-up of the best Kohler bidet toilet seats.
Hopefully, this guide has helped you decide on the best one for your needs. If you need something a little more robust, I've also looked at the top bidets for heavier users. Or perhaps you're a renter and need something a little less permanent.