When buying a bidet, the first thing you need to work out is what type of toilet you have. Round toilets are shorter and circular in shape, while elongated toilets are longer and oval in shape.
Shopping for a round bidet is slightly more tricky than shopping for an elongated bidet because not all manufacturers offer both sizes.
The best bidet for a round toilet is the Brondell Swash 1400. It's a high-end seat designed with the American consumer in mind. It has a user-programmable remote and the lid is strong enough to sit on. Useful if your round toilet is in a small bathroom.
Premium
Brondell Swash 1400 Round Bidet Seat
The Brondell Swash 1400 features user presets and high-performance nanotechnology cleaning power.
Mid-Range
Alpha JX Round Bidet Seat
The Alpha JX is jam-packed with exciting features including an LED nightlight. It's made with high-grade polypropylene resin to ensure durability.
Budget
Smart Bidet SB1000 Electric Bidet
The SB1000 offers customizable water temperature, a heated seat, and a warm air dryer.
Best Bidet Seats For Round Toilet
These are my picks for the best bidets for round people. I've considered how good the bidet is in general, as well as how suited it is to around toilet.
I've included a range of price options, from a budget non-electric option to a top-of-the-range bidet.
Because of the shorter toilet bowl on a round toilet, having a bidet that doesn't make the toilet bowl even smaller is essential. The bidets I have listed all have reasonably sized openings and small slopes, so you aren't pushed towards the front of the seat.
Brondell Swash Non-Electric Bidet Toilet Seat
If you're after a non-electric bidet for your round toilet, the Brondell Swash would be my pick. 
Round toilets already have a small opening, so you don't want your bidet to make this even smaller. Of all the non-electric options I looked at, the Brondell Swash had the longest opening.
One of my main gripes with non-electric bidets is that they only offer a cold water wash. But with the Brondell Swash, you can have cold and warm water.
The bidet comes with a hot water flex pipe that you can connect to a nearby faucet water supply. This means you can divert the hot water that flows to your sink into your bidet. Perfect for anyone like me who doesn't appreciate cold shocks.
However, it does mean the toilet needs to be positioned pretty close to the sink to avoid creating a trip hazard. If you aren't fussed about the warm water, you can opt for the slightly cheaper option that doesn't come with the hot water pipe (linked here). 
Both options come with dual nozzles, one for front washing, and one for the rear. Also, the water pressure is adjustable, and the seat is soft-closing to prevent unwanted slamming.
Interested in learning more about non-electric bidets? Check out my guide to the best non-electric bidet seats.
Brondell Swash 1400 Round Bidet Seat
The Swash 1400 is the newest offering from Brondell and results from over 2 years of research on what North Americans want from a bidet. It's fully customizable and comes with many features – too many to list here, so I'll just point out the best ones.
One of the things that stands out to me most is the sittable lid. This might not seem that important at first, but when you have a small bathroom, as lots of people with round toilets do, it's handy to be able to sit on the toilet without worrying about breaking your bidet. It's not a given with most bidets that the lid will support your weight.
A more exciting feature is the programmable remote control. The remote can remember two different user presets, meaning you don't have to adjust the settings every time you use the toilet.
Also, the remote uses words rather than symbols. This means it's easier for guests, children, and older adults to understand.
The Swash 1400 is tankless, which means the water is heated only when you need it. This is much more energy-efficient than having a tank of water to keep warm. However, it does mean there will be a 1-2 second lag while you wait for the water to get up to temperature.
This is the second Brondell Swash I have included in my list, and I really recommend the brand overall. They have a few other bidets that you can check out on their Amazon Shop.
Smart Bidet SB1000 Electric Bidet
The smart bidet is a great entry-level bidet. It has all the features you'd expect from an electric bidet, including heated water, an air dryer, and a heated seat.
There's only one spray nozzle. But you can adjust its position, and it has three different spray modes: a front, rear, and turbo wash. The nozzle is made of antibacterial material and self-cleans before and after each use.
The reason I'm recommending the smart bidet for a round toilet is because of the bowl length. The hole in the bidet seat is 10.6" in length. This is on the longer side for openings in an electric bidet.
Another cool feature worth mentioning is the seat sensor. The bidet will only operate when someone is sitting on the seat so no one can accidentally spray water all over your bathroom.
I've linked the remote control version (SB1000) because remote controls are easier to use and take up less space. But if you'd like a side panel, then go for the SB2000 model. The SB2000 is identical, except the remote is swapped for an attached side panel.
Alpha JX Round Bidet Seat
The Alpha JX is a great value for money bidet. It's got a mid-range price point but comes jam-packed with features, some of which are normally reserved for more luxury bidets. It's also pretty sleek looking for a bidet, so if you're worried about aesthetics this is a great pick.
One feature usually reserved for high-end bidets is the LED nightlight. The light senses the room's lighting conditions and automatically illuminates the bowl with a cool blue light when it's dark. This means you don't have to fully wake yourself up by turning the main lights on.
The bidet is made with high-grade polypropylene resin that's been vibration welded making it extra strong and durable. The lid has been made with the same material so is strong enough to sit on. A sturdy lid can really come in useful if you have a small bathroom.
The spray nozzle is also made with a unique material – aluminum with a special coating that promotes sterility. Not that cleanliness should be an issue – as the nozzle self cleans before and after each use.
A final feature I like is the one-touch wash and the easy wash options. The one-touch options make the bidet equally accessible for everyone: guests, children, elderly, and disabled people alike.
Bio Bidet BB2000
The bio bidet BB2000 is the go-to bidet if water pressure is your primary concern. This bidet has one of the strongest water pressures on the market (only the BB1000 model has stronger). The spray the BB2000 offers is about 15-20% stronger than the average for an electric Bidet.
That's just one of the reasons I recommend it in my article on the best bidets for overweight people.
The water is heated using the hybrid method. The hybrid method combines the best of having a tank with the best of tankless heating. A small water reservoir is pre-heated, so you don't have any initial delay in the hot water supply. Any extra water you need is heated on the go.
There's only a single nozzle, but it has three different modes. The standard feminine and posterior wash, and a third unique vortex wash. This is a super powerful stream of aerated water that provides a really deep clean.
I mentioned the BB1000 above. This is the predecessor to the BB2000 but still a very good bidet if you're looking for more of a mid-range option. It uses tank heating, so it has a limited supply of hot water. But in the tank is a motor used to superpower the water pressure. This motor is why the BB1000 takes the ultimate top spot in terms of water pressure.
Can you put an elongated bidet on a round toilet?
Technically you can install an elongated bidet on a round toilet, but I don't recommend it. The bidet will function as normal, but the front of the bidet will overhang the edge of the toilet and create a gap. This gap is not only unsightly but also has practical implications.
Round bidets and elongated bidets are identical in terms of how they function and how they attach to the toilet. The back end measurements are the same. The only difference is the length of the toilet seat.
Elongated bidets are on average 20.75 inches long, while a round toilet is only 18-19.5 inches long in total. This leaves you with a potential overhang of around 2 inches. Pretty sizeable, and definitely noticeable.
The overhang causes three main problems which I've outlined below:
It doesn't look good. You might find yourself having to explain to guests that your toilet isn't broken; it's just that the bidet doesn't fit very well. I'd avoid that if I could!
The extended bidet seat can give the illusion that the bowl is bigger than it is. This could lead to you sitting too far forward on the seat. At best, this will be uncomfortable for the males. At worst, you could find yourself accidentally peeing in the gap.
The front of the bidet no longer has any support underneath it. If excess pressure is put on the front of the bidet seat, it could lead to damage.
The only time I would suggest buying an elongated bidet seat for a round toilet is if you're planning on getting a new toilet soon. Otherwise, stick to the correct size for your toilet.
Also, if your primary concern is space and you don't mind the issues I talked about above then an elongated seat will work. But it might also be worth upgrading your toilet as well.
Can I put a bidet attachment on a round toilet?
If you decide that having a bidet seat on your round toilet will take up too much space, you don't have to give up on the idea of having a bidet entirely. You can get a bidet attachment instead.
Attachments fit under your current toilet seat. It doesn't matter if your toilet is round or elongated because they fit the same. You get to keep your current toilet seat and don't lose any space. 
Attachments are non-electric, so don't require a power source. But they lack some of the more exciting features an electric seat can offer like a dryer or a deodorizer. 
For me, the best bidet attachment is the Luxe Neo 185. It's cheap but does the job extremely well. The 185 has dual self-cleaning nozzles that retract behind a guard gate when not in use. There's one nozzle for feminine washing and one for rear washing.
You can adjust the water pressure, but the 185 only offers cold water. If you want hot water, then go for the 320, which comes with a hot water connection.
What's the difference between a round and elongated toilet?
The main difference between round and elongated toilets is the size and shape of the toilet bowl. Round toilets are circular in shape and are shorter than elongated toilets, so they're better for smaller spaces. Elongated toilets are oval-shaped and are considered more comfortable.

To determine what type of toilet you have, measure from the middle of the bolt holes to the outside edge of the toilet bowl. 
In round toilets, the measurement will be around 16.5 inches. For an elongated toilet, the measurement will be around 18.5 inches. Anything over 17.75 inches should be considered elongated.
Elongated toilets are the more popular of the two styles today. The elongated toilet offers a more spacious bowl that's generally considered more comfortable. They're also more aesthetically pleasing with an oval shape compared to the round toilets circle appearance.
Round toilets are more traditional and have been around longer than elongated toilets, but they've lost popularity over the years. However, they're still used in small bathrooms where space is limited. 
Another type of toilet you should be aware of is the compact elongated toilet. 
Compact elongated toilets fit an elongated shaped seat into the same space as a round toilet. They aim to combine the space-saving merits of the round toilet with the comfort of an elongated one. A popular example is the Kohler Santa Rose, sold on amazon.
What size bidet is best for a compact elongated toilet?
When it comes to fitting a bidet to a compact elongated toilet, there's no perfect option. No manufacturer has yet created a compact elongated bidet. The only options are round or elongated.
As the toilet is the same size as a round toilet, a round bidet will fit the bowl best. But fitting a round bidet on the toilet means you'll lose the extra seating space the elongated style gives you, defeating the purpose of the elongated shape. 
If you fit an elongated bidet on the toilet, you'll have an overhang which comes with the same problems discussed above. It will look strange, meaning there's less support for the front of the bidet, and creating a splash risk. 
According to Bidet king, the best bidets for a compact elongated toilet are the Alpha JX, and the Blooming NB-R1063. Opting for the elongated versions of these will leave around one inch of overhang. The Blooming NB-R1063 is also a great option for one-piece toilets.
Overall there is no perfect answer. Both bidets will work, so it's up to the user what they don't mind compromising on. A round bidet will fit better but be less comfortable. An elongated bidet will be too big but allow you to retain the extra space of the oval shape.
Round bidet buyers guide
When you're looking for a bidet for your round toilet, here are a few things you should consider before you buy. 
Size
The main thing is the size. Does the bidet you're looking at offer a round option? If it does, then you can go ahead and buy it. Just triple check before you buy that you've selected the right one. 
It's surprisingly easy to accidentally buy the elongated version.
Opening Size
For round toilets, space within the toilet is already at a premium, and adding a bidet to that mix can make the hole even smaller. 
The hole size is a significant factor for some people, especially for males when they're sitting on the loo. Check the dimensions of the opening before you purchase the bidet if this is a big concern for you.
On average, a round bidet's opening will be 10 inches long and 8 inches wide.
Bidet Height
Another thing that affects how big or small the bidet feels is the slope on the back of the bidet.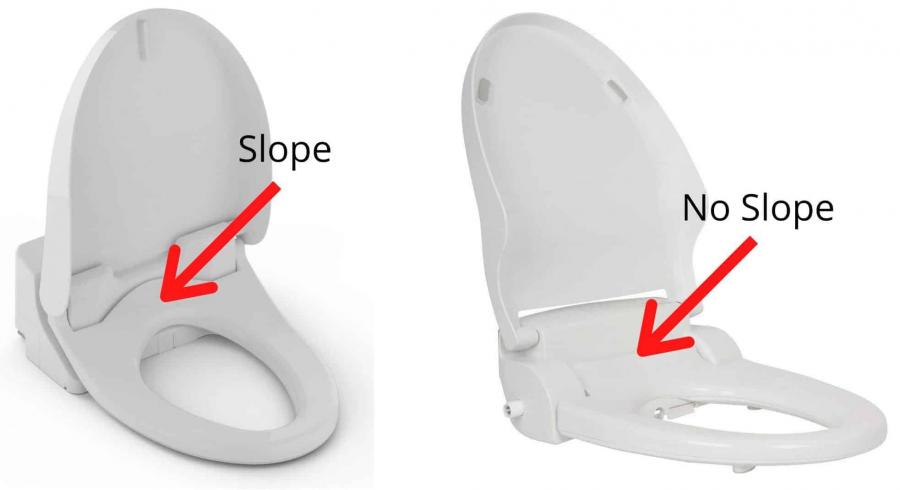 The more of a slope there is the further forward you will have to sit on the seat. And this makes the seat smaller, even if the opening is technically bigger.
Take a look at the pictures of the bidet before you purchase it. You should be able to see if there is a big slope or not.
Non-negotiable features
The next thing to consider is any non-negotiable features you have. For example, do you definitely want a remote rather than side panel controls? Or is a dryer an essential feature?
For me, I really like having a nightlight in my bidet, so that would be on my list of must-have features. Not every bidet offers this, so it helps me narrow down my list quite a lot.
Some examples of other features you might want as standard include air deodorizers, stainless steel rather than plastic spray wands, the ability to save user presets, never-ending hot water, or a sittable lid.
Price
Lastly, you need to decide on a budget. Bidets can vary widely in price. The more expensive the bidet, the more features you can expect. 
Bidets are something that you'll use every day, several times a day. And they should last you a good number of years before you need a replacement. Therefore, I always suggest not being too conservative with your budget.
If there's a feature you really want, but it's a few dollars out of your price range, I say go for it. The amount of use the bidet gets will make it more than worthwhile. You don't want to feel disappointed that your bidet doesn't have a dryer every time you use the toilet.
Why aren't there any Toto washlets on the list?
Toto washlets are the original bidets. They're well known for their high-quality build and unique features you won't find on other bidets. So you might be surprised one hasn't made it onto my list of the best bidets for round toilets.
But there's a good reason for this. The opening of a TOTO bidet is about the same as other electric bidets, but the back of the toilet is higher than normal. This creates a slope that forces the user to sit further forward on the toilet seat, making the bidet feel smaller. Not ideal if you have a round toilet.
For example, the Toto C200 has a maximum height of 7.4 inches, compared to the Alpha JX bidet with a height of 5.8 inches. This is almost two inches difference compared to less than an inch difference in the size of the opening.
You could opt for the Toto s300e or the Toto s350e. These are super luxurious options and have a much smaller maximum height of only 3.9 inches. They come with features such as an automatic opening and closing lid and eWater+. But they've been discontinued by TOTO. You can still get your hands on one now, but once the stock has run out they won't be making a comeback.