It's estimated that over 470 million pairs of leather shoes were sold in the US in 2019 alone. This is the equivalent of a staggering 43 million cows.
Today most clogs are still made from leather or suede, making it difficult to find cruelty free options.
I've done the hard work for you and rounded up my picks for the best vegan clogs you can buy right now.
While you're here why not take a look at my finds for the best vegan wallets too?
Cork Sole
Birkenstock Amsterdam Vegan Clogs​
These stylish Birkenstock clogs feature a grey synthetic upper and a cork sole.
Classic
Crocs Classic Clogs
No article on vegan clogs would be complete without a pair of classic Crocs.
Premium
Sanita Women's Original Vegan Valera Clogs
The Sanita brand has been producing stylish and robust clogs for over 110 years.
Birkenstock Amsterdam Vegan Clogs​
Birkenstock is famous for its traditional clogs made from leather and other non-vegan materials. However, in recent years the company has made positive efforts to introduce many vegan shoes to their range.
I think the Birkenstock Amsterdam Clogs (pictured) look amazing. All whilst having the famous cork sole.
If the synthetic grey upper isn't quite to your taste, Birkenstock also offers super durable polyurethane clogs which are featured below.
Birkenstock Profi Birki Durable Clogs​
If you're looking for clogs that will last you a long time, these hard-wearing shoes will do just the trick.
Birkenstock currently offer these shoes in three colors: blue, brown and black.
Because these clogs are formed from polyurethane, they can even be put in the dishwasher!
Crocs Classic Clogs
No article on vegan clogs would be complete without featuring the polarising and world famous original Crocs.
You may not realise that Crocs are made from a proprietary material called Croslite. Croslite is a resin which is neither plastic or rubber, having a number of unique properties.
Crocs officially claim the resin to be:
Odor resistant
Shock absorbing
Ergonomic
Anti-microbial
Extremely lightweight
With over 20 different colors available in the original range alone, there's a pair of Crocs for everyone.
Clarks Women's Step Flow Clog
Clarks, another big shoe brand, has a few exceptional vegan options. These slick faux-wool clogs come in a variety of colors, including navy felt (pictured), gray and black.
These clogs are made for comfort, with a specially made foam inlay that helps to absorb the impact when walking.
Sanita Women's Original Vegan Valera Clogs
SANITA has been making clogs for over 110 years. Focused solely on women's clogs, the brand has a long heritage in producing extremely well made and durable products.
It's worth noting that these clogs tend to have a more narrow fit than other brands, so double check measurements if you do decide to buy online.
Skechers Vegan Clogs
Skechers is another very well known brand, and one for all the sporty people out there.
They have rubber non-slip, flex sloes which will move with your feet and prevent the shoe from slipping off.
The clogs also have memory foam insoles for an added layer of comfort.
There are a few different styles to pick from, all sticking with the sporty theme.
OOFOS Unisex Active Recovery OOCloogs
If you're recovering from a foot injury, these are the clogs for you.
Specially made to reduce impact by up to 37% compared to other materials, these clogs mean business. They're designed to minimize stress on your feet, knees and lower back.
Vegan options are available in matte black, brown and graphite.
Amoji Unisex Vegan Garden Clogs
Despite officially being called 'garden clogs', these shoes are perfect for relaxing at home, walking the dog and so much more.
You can even use these to go swimming as they're fully waterproof, pair them with a recycled swimsuit for a sustainable trip to the beach.
The clogs weigh in at a little over 100g, making them super lightweight and breathable.
Amoji makes breathable clogs in over 10 colors, including army green, khaki, and navy.
Okabashi Copenhagen Vegan Clogs
Okabashi is a family-owned shoe company based out of a small town called Buford in Georgia. The brand prides itself on its locally made, quality shoes.
These Copenhagen closed-toe clogs come in Toffee, Brown, Black, and Olive. Despite being made from plastic, these shoes are durable, soft, and comfortable for everyday use.
JBU by Jambu Women's Blakely Flat
These clogs will provide warmth and comfort.
They're made using felt and vegan versions of leather and wool. In fact, the whole Jambu range is free from animal products.
The rubber sole is lined with a memory foam insole which will mold to the shape of your foot and provide support.
These clogs also have ankle support making them more suitable for a long day on your feet.
StickyPRO Vegan Work Shoes
There are my pick for the best vegan clogs for work.
The sole and the exterior material are vegan, and waterproof so you don't have to worry about getting the shoes wet.
Furthermore, the sole is made of an adsorbent material that will soak up any sweat keeping your feet feeling fresh and dry all day.
This brand is aimed at women. I'd recommend these anti-slip work clogs for men.
UIN Blossom Canvas Slip-On Clogs
These funky vegan clogs come in a variety of different patterns. The patterns are inspired by the owners' two passions: travel and art. They want their clogs to inspire you to live life as if it was one big adventure.
The clogs are a breeze to wear as they weigh only 14 oz per pair, and the RPS cushioned insoles are soft and flexible. The shoe is lined with microfiber suede, and the upper pattern is painted on canvas.
Make sure you check out all the patterns!
Crocs Women's Neria Pro II Vegan Clogs
Another entry from Crocs. These Neria Pro II clogs are perfect for work.
The sole is slip-resistant, the toe area is thicker to provide enhanced protection. The heel is designed to adhere to workplace standards.
The synthetic exterior is easy to clean with just soap and water. And the footbed is removable so you can put it in the washing machine.
Merrell Women's Encore Q2 Breeze Clog
These crocs have a mesh material upper that is great for adventuring. Your feet can get a little sweaty and you won't even notice.
The heel has a unique air cushion to absorb any shocks from heavy footfall. It also helps to make the shoes comfortable enough to wear all day long.
Merrel has a range of other great vegan croc styles you can also take a look at on their Amazon Store.
MBclogs Women's Natural Cork Clogs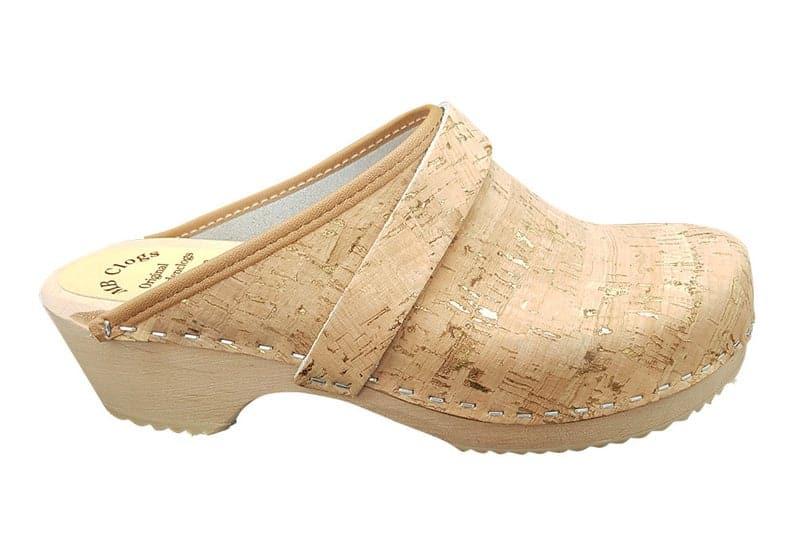 I adore these natural cork clogs. They feature a unique and eye-catching hand sewed stitched cork upper, and a solid wooden heeled base.
If you love the natural cork look, make sure to check out these cork sandals, also made by the same seller, or these cork flip flops.
Cork is widely hailed as a very eco-friendly material, and its properties make it suitable for more than just clogs and sandals.
I've seen it used to make everything from eco-friendly boots to vegan briefcases.
Summary
Hopefully this list has provided you with some inspiration for your pair of vegan clogs.
If you're still searching for the right shoes for you, don't forget to also check out my guides on vegan moccasins and eco-friendly and recycled flip-flops.