Few things can be totally controlled in parenthood, but what we feed our babies is one of the most crucial choices we make. If you're interested in a vegan baby formula, you're on the right page!
When starting a family, you may have a plan to exclusively use baby formula or find an unexpected need to supplement. If the baby formula has become an essential part of your parenthood journey, you'll use lots of it and want to know the product intimately. 
Vegan Formula 101
Baby formula is essentially a manufactured food developed and sold to feed babies and infants below 12 months of age. Typically, baby formula consists of a  milk-based powder, fortified with all essential nutrients, that can be mixed with water and given through bottle feeds. 
Unfortunately, not all baby formulas are created equal. Many involve fillers and artificial ingredients that don't serve your baby's nutrition and growth needs beneficially.
The modern version of baby formula evolved from an 1865 invention by chemist Justus von Liebig. The first commercial version was a liquid but was eventually converted to powder to accommodate a longer shelf life. The primary ingredients that were considered the ideal balance for infant food at the time: were powdered cow's milk, wheat, malt flour, and potassium bicarbonate.
Through time, manufacturers began adding corn syrup, vegetable oils, and GMO soy to bulk out the product making something that is decidedly not as healthy as natural breastmilk. 
Many families opt for a plant-based formula for various reasons we will discuss below. Arming yourself with information will help you make the most educated choice on your baby formula. 
Why Vegan Formula 
Choosing a vegan formula is not always about a vegan diet. Some consumers consider a vegan baby formula a more natural, safe, and healthy option and more eco-friendly. 
Standard baby formulas have evolved over time to include various sweeteners, GMO-derived ingredients, heavy metals, and other toxins that slip by food regulators. Vegan formulas are thought to be "cleaner" and go through a more stringent formulation process that involves more wholesome, quality ingredients that provide nutrients. 
Disadvantages of Vegan Formula
Some nutrients readily available in dairy-based products, like iron, calcium, and vitamin D, may come up short in vegan formulas. In addition, a great number of plant-based baby formulas can contain processed soy, which some experts believe may not be ideal for infants.
There are a few formula ingredients that should be avoided in ALL baby formulas, such as: 
Sugar additives
corn syrup
GMOs (soy especially) 
Phytin
Phytic acid is commonly found in cereal grains as an additive and is considered an "anti-nutrient" because it blocks the absorption of important nutrients. 
Vegan Baby Formula in the United States: The Vitamin D Conundrum
Most plant-based baby formulas found in the United States are not 100% vegan. In fact, only two of the formulas qualify from our list below, and only one of those is from the United States. This is because the FDA requires all baby formulas to be fortified with vitamin D3, an essential vitamin for calcium absorption and bone development in babies. 
Vitamin D3 is typically sourced from lanolin, a compound found in sheep's wool, making it a non-vegan additive. The alternative is to source vitamin D3 through one of the only non-animal origins: lichen. The short answer to what lichens are is that they comprise a fungus living in a symbiotic relationship with an alga.
This is a vastly more expensive way to source vitamin D3, and not a cost that most baby formula companies want to take on, opting instead to make plant-based versions with the conventional vitamin D3 from lanolin. 
Our Six Favorite Vegan Baby Formulas
Our kids are our most precious asset, and their health and nutrition are not things you want to sacrifice for poor quality. The following brands are all plant-based, with two being certified 100% vegan.
Sprout Organics Plant-Based Infant Formula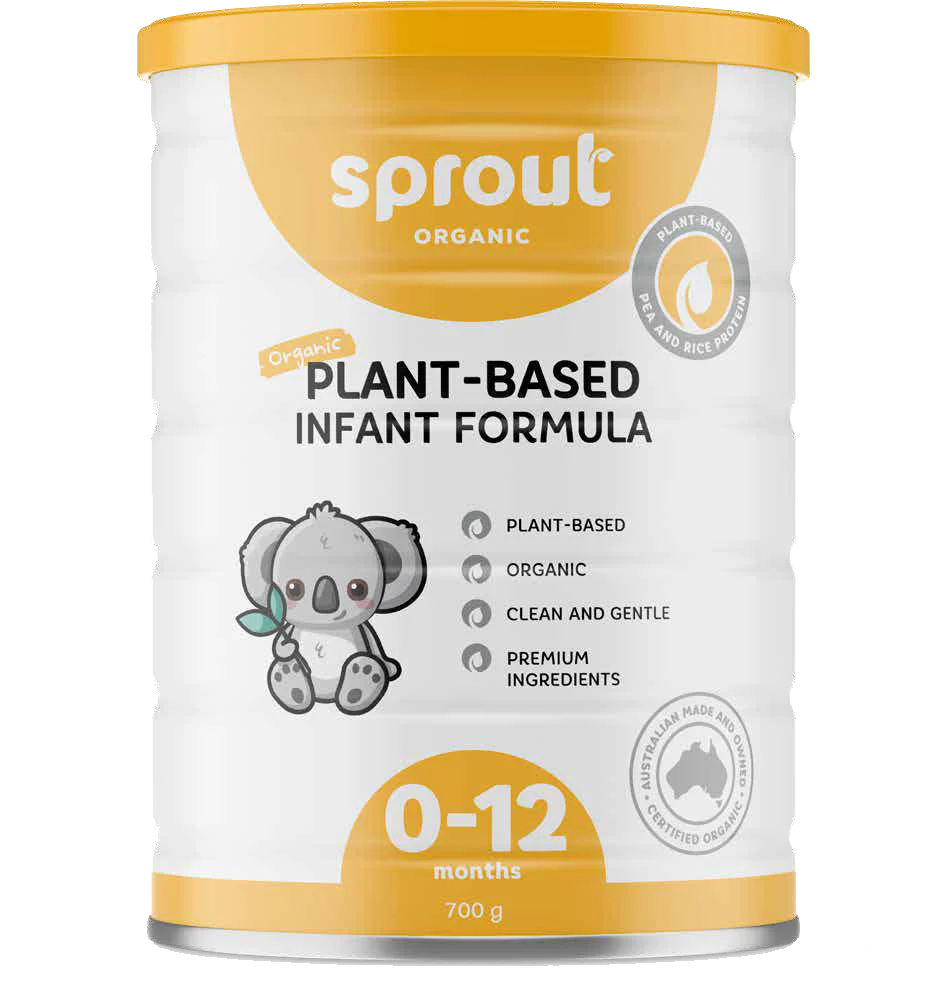 Sprout Organic's Infant Formula is made with the goodness of organic plants, which are a natural source of proteins and antioxidants. It's the world's first certified plant-based organic baby formula and includes pea and rice proteins. It is organic, devoid of GMO ingredients, and with no added sugar. My baby loved this formula as, at one point, it was the only fully vegan option available. 
Who It's For
It is recommended for infants to twelve months. 
Pros
This is one of two 100% vegan-certified baby formulas on our list. 
This formula is manufactured in Australia which Australia, which has some of the highest standards worldwide regarding baby formulas. For this reason, Australian baby formulas are some of the most sought-after worldwide. Sprout Organic's infant formula meets the high bar of FSANZ standards. 
In addition, the company goes the extra mile to package in a sustainable, BPA-free, fully recyclable tub. 
Sprouts Organics has been one of the go-to plant-based options for vegan baby formulas. It has also launched on Amazon, making it more accessible than ever and a great option. 
Cons
It is not recommended to make an immediate switch to Sprout Infant Formula from another formula or breastmilk. Sprout Organics recommends a gradual transition so that your baby can get used to the difference in taste and texture. This will also give time for their digestive system to adjust. This may mean using two different formulas for a period of time. 
Furthermore, this formula needs to be imported, making the product more expensive. 
Else Toddler Omega Plant-Based Formula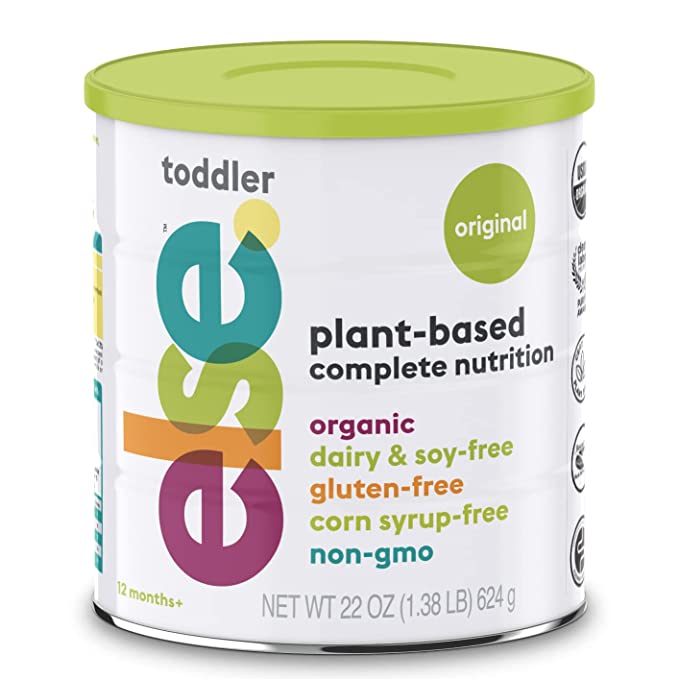 Else Nutrition launched the first ever 100% vegan-certified baby formula in the United States in 2022.  Beyond making the costly switch to the vegan vitamin D3 in the formula, they are also a certified Clean Label company safe from heavy metals, corn syrup, GMOs, and the absence of gluten. This is a great American-made alternative if you don't want to worry about importing. 
Who It's For
Due to a complicated regulation structure, Else's formula is made to be suitable for toddlers from twelve months and above. 
Pros
While some formulas lock down one aspect of a plant-based formulation, they aren't able to tick all boxes. Else Toddler Omega Plant Based Formula also goes the extra mile to source highly traceable ingredients and uses real whole foods that are minimally (less than 80%) processed. Finally, it is the first toddler product to have added Omega 3 and Omega 6 to its formulation, both of which are important to brain development. 
You would think the only US-based company with both a Clean Label and fully Vegan certification would be too expensive. Still, it is modestly priced compared to similar options, making it accessible. 
One of the things we like best about this formula is its wide availability – no more specialty health stores! This formula is available in Walmart, Amazon, iHerb, as well as grocers Thrive and Sprouts Farmers Market. 
Cons
Unfortunately, the United States baby formula regulations make it difficult to have a fully vegan formula for infants – so this can only be used for toddlers. 
Babys Only, Protein Pea Plant-Based Formula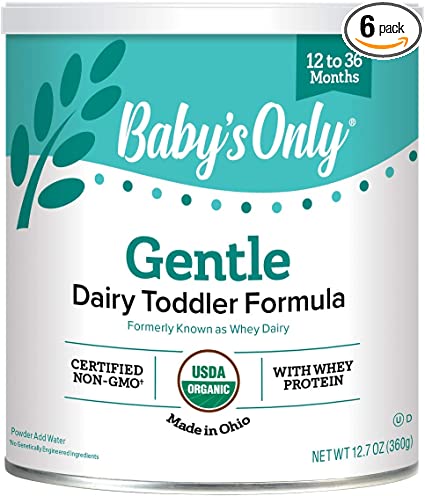 Babys Only has made a Protein Pea Plant-Based Formula that is dairy, soy protein, and gluten-free. It offers a great option for families who prefer a diet free of soy proteins or for children with food allergies or intolerances to dairy, soy, wheat, gluten, tree nut, or corn proteins. The pea protein ingredient is made with non-GMO ingredients and is the only formula of its kind on the market today. 
Who It's For
Toddlers twelve months and above. 
Pros
This formula doesn't contain the typical corn syrups or palm oils that can be found in mainstream dairy options. It is also the only Pea Protein-based option on the market, which is rich in iron and amino acids needed to support muscle growth. 
The peas themselves are sourced from organic family farms, making them free of chemical pesticides and fertilizers. 
Lastly, the company packages all its products in 100% recyclable cardboard boxes with formula canisters that a produced with 100% recyclable composite cardboard. This measure makes this brand sustainable, saving the earth from carbon emissions using recycled materials instead of virgin materials.
Cons
Although Baby's Only Formula meets the nutrient composition requirements for formula as defined by the U.S. Infant Formula Act and the American Academy of Pediatrics guidelines, a pea protein-based formula has not yet been commercialized for infant formula feeding.
This means the current formula is unsuitable for infants by FDA standards and only for toddlers over twelve months. 
Enfamil ProSobee Plant-Based Infant Formula Liquid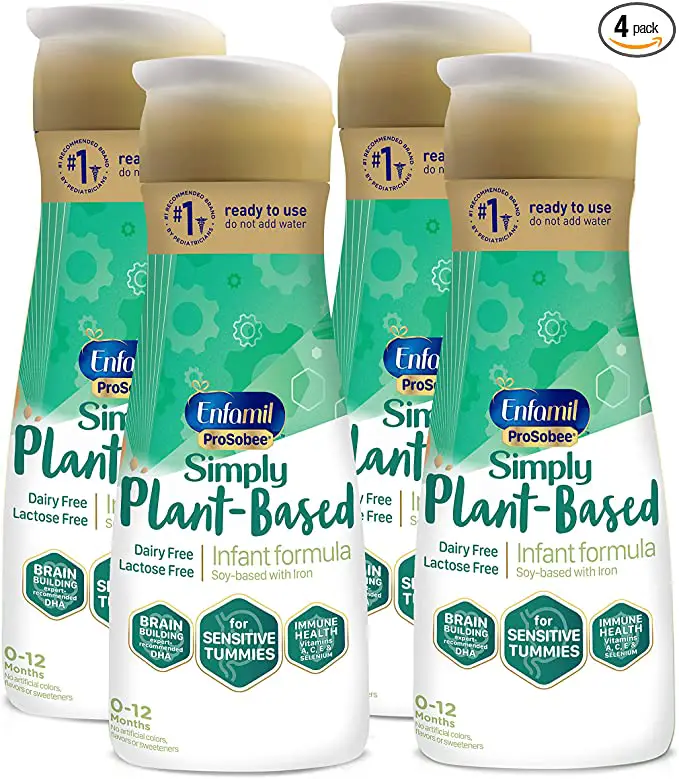 Enfamil's ProSobee Plant-Based Infant Formula Liquid is a soy-based formula fortified with iron. It also contains an expert-recommended amount of DHA. Although it is not certifiably vegan or plant-based, it is said to be 'the closest FDA-approved formula to a vegan' version on the nutrient and ingredient charts. This formula was easy to find in a variety of big box stores, making it a go-to for my baby. 
Who It's For
Infants to 12 months. 
Pros
It is available in a multitude of forms, including powder, concentrate, or liquid. In addition, it is naturally easy on sensitive tummies, suitable for infants with lactose intolerance, and a dairy-free alternative to milk-based formula, perfect for families with special dietary needs. Unlike fully vegan options available in the US, this is plant-based but can be used for infants. 
Cons
This formula is not fully vegan as it contains animal-derived vitamin D3. It also has a soy-based formula that is not certified.
Earth's Best Non-GMO Plant-Based Soy Baby Formula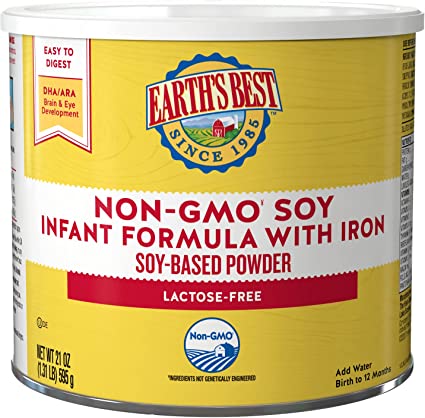 Earth's Best Plant-Based formula is non-GMO soy-based. It satisfies a dairy-free requirement for lactose intolerant babies and has complete nutrition for an infant's first twelve months. The formulation contains high-quality soy protein with easily digestible carbohydrates as macronutrients as well as a good dose of micronutrients such as vitamins, minerals & essential fatty acids.
Who It's For
Infants to 12 months. 
Pros
The formula is fortified with Omega-3 DHA and Omega-6 ARA, fatty acids in natural breast milk. These play an important role in brain and eye development. The Earth's Best formula is also fortified with iron for healthy red blood cell development.
In addition, this product can easily be found in most places where the baby formula is purchased, making it easily accessible. 
Cons
It is a soy-based formula that may be a concern for parents who avoid that ingredient. It also has corn syrup as an ingredient which is used to sweeten the taste. 
Gerber Good Start- Baby Formula Powder
Gerber's Good Start- Baby Formula Powder, Gentle, Stage 1 is the only formula with HMO (Human Milk Oligosaccharides) and probiotics. Adding HMOs helps support digestive health and an infant's developing immune system. Probiotics were specially picked in the formulation that improves the good bacteria in tummies and is similar to probiotics found in breast milk. 
Who It's For
Infants to 12 months.
Pros
The formula is modeled after natural breast milk with matching types of probiotics found there. Although the product is soy-based, they use GMO-free ingredients. In addition, the product contains both probiotics and prebiotics. Is it also fortified with choline, DHA, calcium, and vitamin D.
Cons
This formula contains soy which may be a concern for parents trying to avoid it as an ingredient. In addition, the nutritional content notes a high amount of lactose which may be difficult to digest for babies with sensitive tummies. 
Final Words On Vegan Baby Formula
While feeding our babies is of paramount importance, remember that it may take trial and error to find the best product that suits your baby's needs and taste. Consult with your doctor to look for nutrition that is specific to your baby's requirements. 
Additionally, if you can't find the perfect formula or a plant-based version isn't working, try to find the best formula possible with organic, transparently sourced ingredients.