Bidets are the self-care accessory that every bathroom deserves. Whether you are a long-standing (or sitting!) user or a newcomer, knowing the ins and outs of your bidet will help you get the best value for your purchase. 
When it comes to choosing one, you'll need to pick a brand that carries the specifications that suit you best. Let's look at Alpha Bidet and three of its top-performing models. 
Why Alpha Bidets Are Consistent Top Sellers
Alpha Bidet prides itself on producing sleek modern bidets with a wealth of adjustable features at a range of accessible price points. Adjustable features such as water pressure, seat shape, and temperature range ensure that you can perfectly customize the user experience.
While each model has features that vary, all three of the Alpha Bidet models we are reviewing come with these capabilities:
Rear Wash
Front Feminine Wash
Heated Seat 
Soft Close Lid
Self Cleaning Nozzle
Adjustable Spray Pressure
Nozzle Oscillation 
Below I recount my experience, pros, and cons with three of the top-performing Alpha Bidet models: Alpha Bidet JX Bidet, Alpha Bidet | GX Wave Bidet, and Alpha Bidet | iX Hybrid Bidet. 
Alpha Bidet | JX Bidet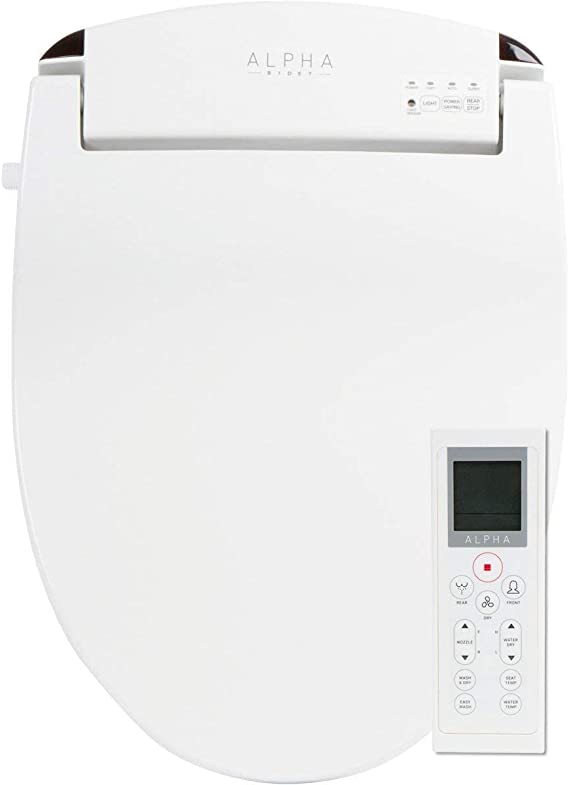 Size: Elongated or Round  | Color: White or Beige | Weight 9 lbs
View On Amazon $369.00
View On Alpha Bidet
View On Home Depot
Alpha Bidet's bestseller and most awarded model is the JX. The features that set it apart from Alpha's other models include the following;
Cleansing spray flow:  0.185gal/min (0.7L/min)
A tankless design
Endless warm water
One-button wash and dry mode
Wireless remote control
It is the only model that can potentially fit french curve toilets
Higher weight capacity on sturdy sittable lid at 320 lbs. 
Three-year warranty
Pros: 
First of all, this model comes with all the bells and whistles of a luxury bidet but in a modest price range. A pro tip regarding the price; if you opt for Bidet King's open box special, where they may have some minor scuffs, you can see up to a $100 discount. The units are tested and 100% fully operational. 
The pressure on the JX model is solid at a max of 0.185 gal/min (0.7L/min) – twice the output of a TOTO bidet. The JX has proven to be the best in the market in this category, with CNN's Underscore ranking it Best Bidet Seat over TOTO and Tushy brands. 
I  also loved this model's adjustable and consistent water temperature with settings from 93ºF – 104ºF. It has an instant and constant flow of warm water as opposed to tankless models that only run out of steam in under a minute. 
The design of this model also blended into my bathroom decor – it has a sleek bulk-less look that doesn't protrude too much. The downward slope makes a comfortable and chic fit with the toilet unit. 
Cons
The air dryer on this model is average and takes a few minutes to do the job thoroughly. It required a lot of shifting around to get all the area dried. 
In addition, like all of Alpha's models, it does have a nozzle oscillation mode. However, it lacks a pulse setting to help with a thorough cleaning. 
The Bottom Line: Alpha's Best Overall Model
Alpha Bidet | GX Wave Bidet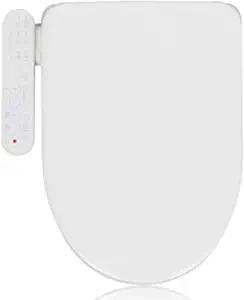 Size: Elongated or Round  | Color: White | Weight 9.9 lbs
View On Amazon $174.06
View On Alpha Bidet 
View On Home Depot
The most economical of Alpha's three top models is the GX Wave Bidet. It is one of the best entry-level bidets we've tried on the market, with an excellent range of features balanced with a sturdy ergonomic design. (Note: The GXR model costs slightly more; the only difference is that it includes a remote.) 
The GX's outstanding features, other than the core included in all of Alpha's models, include the following:
Cleansing spray flow: 0.26 gal/min (1L/min)
Attached Side Controls
Child Mode
Pulse Mode
Supports up to 200lbs on a sittable lid
One year warranty
Pros
First, we love the usable design with a sittable lid and slim, low-profile fit to the toilet unit. It provides great functionality with a nightlight and a slow-close seat as well. 
The spray pressure was consistent (although not as strong as the iX model) with a good overall flow of 0.26 gal/min (1L/min) which is higher than the JX. We were also surprisingly pleased with the warm air dryer, not usually found in economy models. 
In addition, the cleansing mode offers an aerated stream, making for a comfortable and softer experience that, as a bonus, saves water making it more energy efficient. 
Lastly, it does have a child mode, which makes it family-friendly. It does take a learning curve to learn in this setting, but it makes it convenient for young children. 
Cons
As mentioned above, there is a child setting. However, rather than being able to make full cleaning adjustments (a la the iX model), it only allows the bidet to be operated by a child by overriding the sensor for lighter users. The iX model does better in this department. 
Additionally, there is no remote control for the base unit (unlike the GXR variation), and the side controls are mounted, so it can be difficult to see what you are pushing. 
The Bottom Line: The Best Economy Model
Alpha Bidet | iX Hybrid Bidet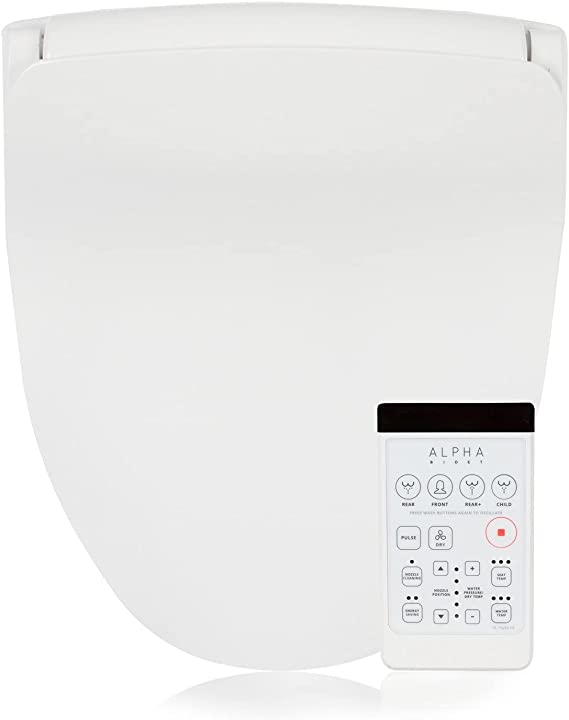 Size: Elongated or Round  | Color: White | Weight 10.5 lbs
View On Amazon $228.20
View On Alpha Bidet
View On Home Depot
The iX Hybrid bidet is Alpha's only model that has a hybrid water heater. In addition, other outstanding features beyond the core ones mentioned for all Alpha models include: 
Cleansing spray flow: 0.21gal/min (0.8L/min) 
Child Mode
Pulse Mode
Enema Function
Supports up to 200lbs on sittable lid
One year warranty
Pros
This model is a solid mid-level bidet with all the bells and whistles you need and none of the ones you don't. It also comes with the convenience of a remote and nightlight like the other models (the light in this one is blue rather than white, which gives it a more mellow ambiance). 
One of the biggest pros to the Hybrid model is that its water tank is the most energy-efficient of all three. Although Alpha models come with an "eco-mode," the settings often revert with each user, and it can take up to five minutes to change the heat of the water. The hybrid model uses a ceramic core heater to create continuous warm water in a heated reservoir. 
In addition, the child mode on this model is improved from the GX. The child mode consists of a gentle rear wash with a drying cycle. 
Possibly the place that this model scored the most points with us was the continuous stream of warm water with solid pressure at 0.21gal/min (0.8L/min) – although it didn't have a feminine wash mode, it can effectively do the job at it's gentlest setting. It also has an enema mode that can create a concentrated stream for rear hygiene. 
Cons
The iX model lacks a few settings, although you wouldn't miss them unless you had previously experienced the convenience of features like an antimicrobial self-cleaning wand, one-button wash and dry, and auto-closing lid. 
It also misses the other Alpha models' instantaneous/endless warm water. While it runs warm for several minutes, it seems to lose steam after that. 
Lastly, this model has a bulkier lid, and we preferred the GX in this department aesthetically. It's a slight difference but essential if you are considering the overall look. 
The Bottom Line: The Best Value 
Why trust us?
We offer to show only the best options there are in the market. We give our thoughts based on the thorough research we have gone through to help readers pick what is right for them. We give them guides that could help with what they could consider upon buying these products. We give them plenty of options, which we all assure are the best.
Read next: Bio Bidet Review 2022: Is BioBidet a Great Choice For You?