You never know how much you need a smart toilet until you have one. What is a smart toilet? It's essentially that piece of bathroom furniture you use every day but with built-in technology that lets you interact with it in helpful ways. Smart features can provide added comfort, functionality, or even entertainment. 
Let's take a look at the best smart toilets for 2023. 
The Top Six Best Smart Toilets for 2023
I tried out several of the top smart toilets and their features this year, and here are my six favorite options to upgrade your bathroom. 
If you're interested in browsing the best smart bidet toilet seats, I've compiled a list of my favorites that you can find here: The 5 Best Smart Bidet Toilet Seats.
ALPHA BIDET | UXT Pearl Bidet Toilet Combination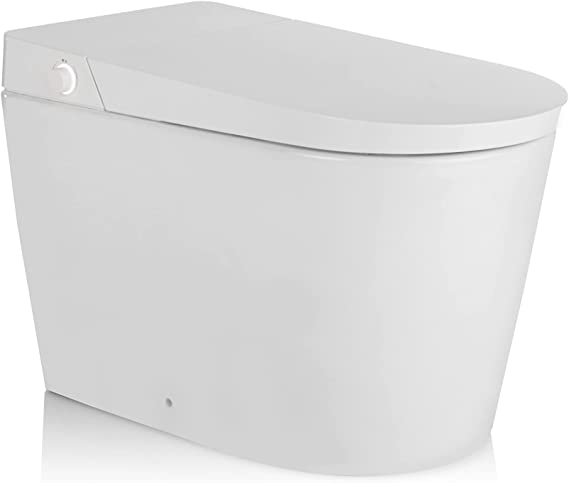 Shop On Amazon
Shop On Alpha Bidet
Shop On Bidet King
Features: 
Automatic Seat and Lid
Automatic Flushing
Multi-Function Foot Sensor
Rear Wash
Wireless Remote Control w/ Wall Mount
Nozzle Oscillation
Warm Air Dryer
Heated Seat 
LED Night Light
Pros
I love that the Alpha Bidet UXT has all the bells and whistles of a top-performing bidet, but also includes some extras like a heated seat and a nightlight. Small additions are super functional for late nights when you're stumbling around in the dark and don't want to sit on a cold seat. The elongated seat is also a great design feature that brings added comfort. It also has customizable presets for every user. 
Cons
A top-of-the-line bidet also commands a top-of-the-line price. While it comes on the more expensive side of smart toilet price points if you don't need all the extra features. 
Woodbridge | B0980S Intelligent Smart Toilet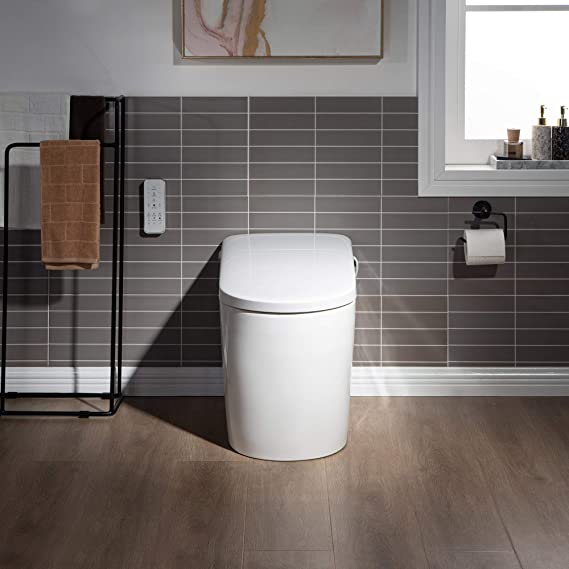 Shop On Amazon
Shop On Woodbridge Bath
Shop On Wayfair
Features:
Automatic Open & Close
Automatic Flush
Heated Seat
Integrated Multi-Function Remote Control
Rear Wash
High-Efficiency Flush
Pros
The Woodbridge Intelligent Smart Toilet offers excellent value for a reasonable price compared to other smart toilets in its field. I loved this smart toilet for its sleek design that instantly modernizes any bathroom rebuild or update. 
Cons
The bidet spray direction needs adjustment for maximum effectiveness and comfort. In addition, the heated seat is not automatic and takes some time to get to a comfortable level of warmth. 
EUROTO | Luxury Smart Bidet Toilet Seat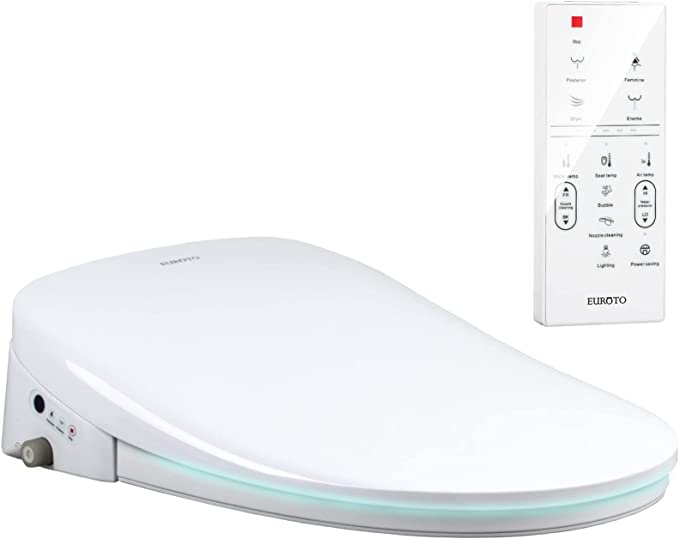 Shop On Amazon
Shop On Euroto
Shop On Wayfair
Features:
Rear wash
Feminine wash
Heated water and seat
Remote control
Warm air dryer
Automatic LED night light, Self-cleaning nozzle,
Soft-closing lid and seat
Elongated front
Pros
The Euroto got a lot of love in 2022, and one use will help you understand why. Its sleek design with elongated heated seat gives it a modern luxurious feel. It is also the first model on the market to utilize a foot sensor to open the lid and seat. The tankless design also helps reduce the flushing noise, which is a great feature for partners who are light sleepers. 
Cons
This is the seat only, so I had to do a little legwork to ensure it would fit my existing toilet properly. The buttons on the side are a bit difficult to access, but the remote comes in handy enough that you won't need them.
VOVO STYLEMENT | Smart Bidet Toilet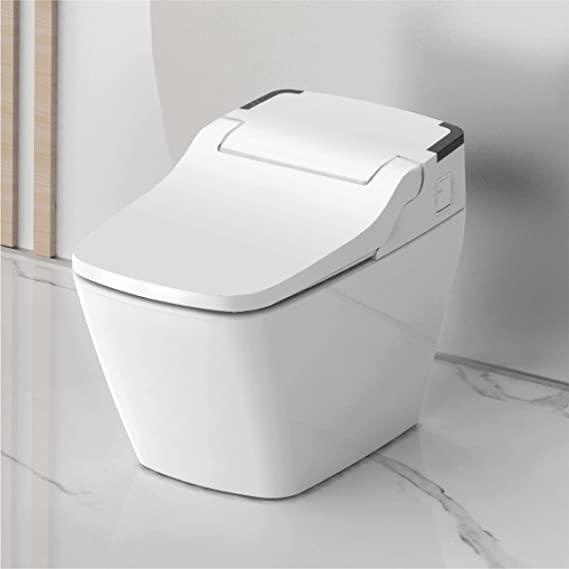 Shop On Amazon
Shop On Vovo
Shop On US Bath Store
Features:
Automatic lid
Automatic Flush
Heated seat
Warm air dryer
Self-cleaning and auto deodorization
Remote control
Eco-friendly design with minimal water use
Pros
Vovo is one of the oldest smart toilet brands on the market, with twenty years of experience. One of the water-saving features is truly very smart. The Vovo uses the time the person used the toilet to calculate the flush volume, saving water when needed. I also love that it has a tankless system, meaning you don't have to wait for it to refill. 
Cons
This is a small complaint, but the LED light is purple and too faint to really be useful. In addition, compared to other top-ranking smart toilets, the warm air blower on this one is not as powerful, taking longer to do the same job. 
Trone | Aquatina III Smart OnePiece Electronic Bidet Toilet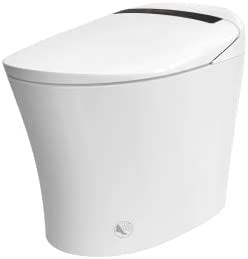 Shop On Amazon
Shop On Capital One
Shop On PlumbersStock
Features:
Digital display
Concealed toe touch
Automatic open and close
Nightlight
Adjustable seat and water temperature
Automatic flush
Remote control 
Eco Mode
Pros
The Trone Aquatina III has one of the most modern looks with a low-profile lid and sweeping curves. I also loved the digital display and the fact that it cleans itself and does the job well. It was easy to install, and our whole family has been able to use it with ease. 
Cons
This model is also on the market's pricier side of smart toilets. It has fewer features than the Alpha Bidet but runs in a similar price range. 
Tushy | Warm Water Spa Bidet Attachment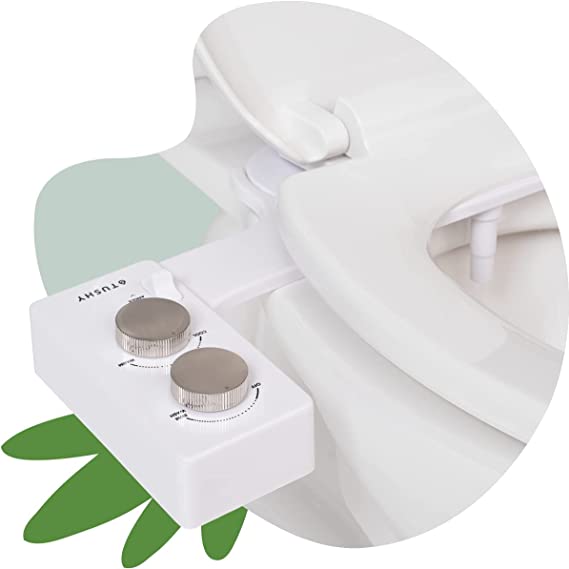 Shop On Amazon
Shop On Hello Tushy
Features:
100% Bamboo
Adjustable temperature control
Self-cleaning SmartSpray nozzle 
Easy install 
Universal fit on almost any toilet 
Precision nozzle adjuster 
Pros
The Tushy Warm Water Spa Bidet is a great entry-level smart toilet addition to the market. This is a great way to try a smart toilet feature without having to invest in an entire toilet unit. I did the installation of the bidet attachment in under ten minutes. In addition, all the nozzles were completely adjustable, making it a customized experience. It's versatile and can fit almost any toilet with a quick switch. 
Cons
This unit will obviously lack some of the bells and whistles of a complete smart toilet. In addition, although it has a heated water feature, it needs to run for a few seconds to get to a comfortable temperature. 
That's a wrap on the best smart toilets of 2022. You don't know what you are missing if you haven't experienced all the extra features this bathroom addition brings.! If you're not ready to make the investment in a full smart toilet, bidet seats and attachments are a good entry point.