Hey, are you looking for the best bidet toilet seat on the market? If so, you are in the right place! We will check out the top five picks that the market currently has. You know it's important to find the best one based on your needs, considering the price and specs of these bidet toilet seats. Don't worry. We got your back on this one!
We will take a glimpse of each bidet toilet seat's key features and benefits, so you'll know which one stands out as your best option. To help you find the best possible choice, we will also put together a buyer's guide to make everything easier for you.
What we are to show you aren't just completely researched, but we put together some user's experience and recommendations. It is best to put whatever you read in mind, for it could help you sort and decide on the perfect bidet for you.
Without further ado, please keep on reading and let us help you to find the right smart bidet toilet seat for you.
Top 5 Smart BIDET Toilet Seats
TOP 5 SMART BIDET TOILET SEATS IN THE MARKET (VERY AFFORDABLE)
Best for Newbies in Bidet Toilet Seat World: SmartBidet SB-1000 Electric Bidet Seat ($299.99)
Best Bidet for Family Use: Lotus Smart Bidet ATS-500 Electric Heated Toilet Seat ($299.00)
Best Bidet for the Elderly: Toto Washlet KC2 Electronic Bidet Toilet Seat ($610.00)
Best Bidet with Extra Features: EZWash E3 Smart Electronic Bidet Toilet Seat ($275.00)
Best Bidet for all ages: Ivyel J-2R Smart Electric Bidet ($299.00)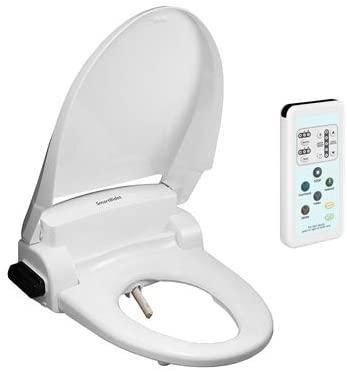 Manufacturer: Smart Bidet
Product Weight: 10.4 lbs (pounds)
Product Dimensions: 20.6(L) x 17.95(W) x 7.28(H) inches
SmartBidet: $299.99
Amazon: $249.99 (for round), $191.99 (for elongated)
Many Bidet: $299.00
If you are looking for a money-worth bidet toilet seat that offers you great comfort, look no further, as SmartBidet SB-1000 is just for you. This product provides excellent features at a price that is impossible to beat, and It also comes with a wireless remote, which is also user-friendly.
This bidet seat has a multi-wash function. More specifically, it's a 3-in-1 self-cleaning nozzle that cleans before and after each wash and before and after the nozzle extends for a wash. This is to ensure that every user enjoys the product without compromising their safety regarding hygiene.
Also, this product has five different levels of adjustable water pressure. They make sure of this so it could satisfy you based on your comfort level and liking. But that's not all, it also has three different water temperatures, up to five levels of dryer temperature to choose from, which makes you no longer need toilet paper to dry, and five nozzle positions to work with. It all sounds great, right? SmartBidet's SB-1000 never fails to give you the comfort you need by providing plenty of great adjustments in one smart bidet toilet seat based on your satisfaction.
Some claim this product can last up to 5 years or more, depending on how well you take care of it. Issues you are currently experiencing can be called through their friendly customer service. It's just that it requires unit replacement if some parts of it got broken, which is not available in the market.
This bidet is best for people new to the bidet toilet seat world. This product is also inexpensive considering how great, and plenty of its features have. For an elongated size, it can be purchased cheaper on Amazon for only $191.99.
Self-cleaning and oscillating nozzle
Five levels of dryer that removes the need for toilet paper
Multiple Water Pressure Settings
Has Energy Saving Function
It has five nozzle positions
Temperature settings for both dryer, washes, and seat
Pros
Available in two sizes, Round and Elongated
Great Oscillation
Most users claimed that the product lasts up to 5 years
Easy to Install
Offers 1-year Warranty
Cons
It fast cracks due to hallow seats
Need unit replacement when its broken as some parts of it is unavailable in the market
Manufacturer: Lotus Hygiene Systems
Material: Stainless Steel
Product Weight: 13.27 lbs (pounds)
Product Dimensions: 20(L) x 17.3(W) x 6.06(H) inches
Lotus: $299.00
Amazon: $239.99
eBay: $259.99
Next on our list is the Lotus Smart Bidet ATS-500 Electric Heated Toilet Seat. This might be your go-to option if you are looking for a smart bidet toilet seat for you and your family; like any other bidet that we'll look through, this also has many features you'll definitely like.
This bidet toilet seat has different wash modes, such as warm water, feminine, turbo, and child wash. All you need to do is to choose the type of wash depending on which you are comfortable with.
As an added info for this product, this is the best-selling unit of Lotus way back in 2017. The nozzles are self-cleaning, too, and adjustable to ensure comfort and a clean experience. It has an energy save mode that minimizes electricity use and an air dryer that lessens the use of toilet paper, which is suitable for sustaining the environment.
This brand might be lesser known. Some users have had this product for many years without a problem. While this product claims that it never runs out of heated water, you might feel that a regular wash is sufficient to make you feel clean. No one claimed that they needed it to run long enough to test what the product claims.
This product is available in two styles, one with a built-in control panel and one with provided wireless remote controller. Lotus Smart Bidet ATS-500 is also affordable and can be bought for a lower price at eBay for only $259.99.
Specs and Features
Four different wash modes
Air dryer and heated seat with temperature control
Soft closing seat cover
Eco-friendly by its energy-saving mode feature
Pros
Available in two styles, Built-in Control Panel and Wireless Remote
The heated seat is at its perfect temperature
The style is elongated but also works on round toilets
Provided with a 2-year warranty
Easy to install
Cons
Limited warm/hot water each wash (about 40-50 seconds only)
Has Leaking Issues over time
Water pressure is not adjustable
Self-repair is not available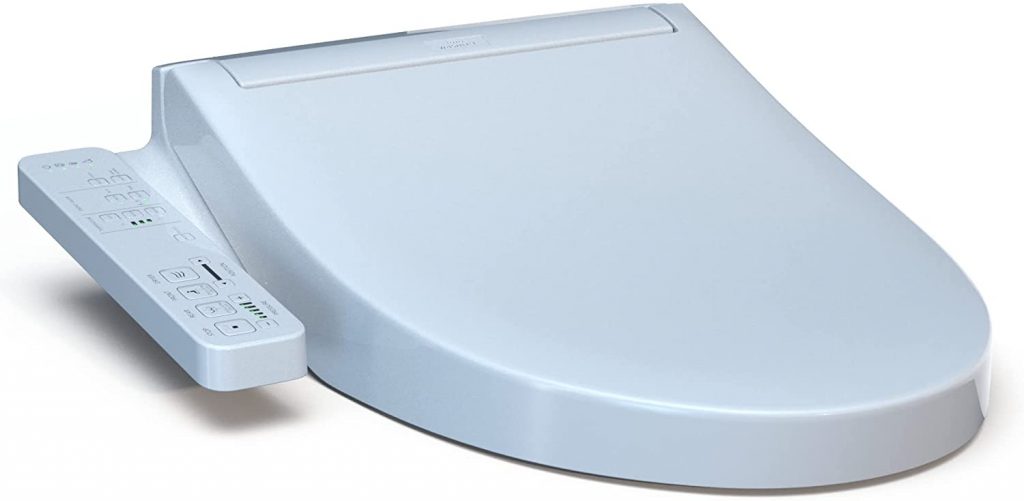 Manufacturer: TOTO USA
Material: Plastic
Product Weight: 14.65 pounds (elongated), 15 pounds (round)
Product Dimensions: 20.88(L) x 18.56(W) x 0.99(H) inches, 19(L) x 18.56(W) x 5.81(H) inches
TOTO: $610.00
Amazon: $359.50 (Elongated), $497.82 (Round)
Wayfair: $314.80 (Elongated)
Want to step into a lavish standard of living? The Toto Washlet KC Electronic Smart Bidet Toilet seat may be the closest thing to get you that luxury. This bidet toilet seat is specially contoured to give you that maximum comfort. From its comfortable heated seats to its dual-action nozzle spray. You will be cleaned and refreshed each time you head out of your restroom. Considering these features, what's not to love about it, right?
No more slamming of toilet seat covers as this product has a slow-closing cover technology. The nozzles also self-clean inside and outside before and after each use to repel any bacteria to ensure hygiene and maximum cleanliness.
As the product is made by one of the top manufacturers of bidet products, you can be guaranteed everyday excellence of experience from this high-quality product that could last long.
Don't hesitate to buy this bidet. The experience of having one of these is life-changing. You can notice yourself spending more time in the bathroom comfortably.
Compared with the first two mentioned products, this product is of higher price. It originally costs $610.00 on the Toto website but can be purchased cheaper for $314.80 in Mayfair. The product price here is a steal, as some eCommerce platforms sell it for $1000.00! This product might not have a blower, but you will be blown away by its features and by your experience.
Specs and Features
Adjustable warm water and pressure settings
Heated Seat and Dryer
Quick-release for easy cleaning
Pulsating and Oscillating cleaning wand
Universal design that could fit most toilets
Pros
Available in two sizes, Round and Elongated
Good-quality product
Easy to Install (Less than 10 minutes for some users)
Fits on many-sized toilet seats
Great for the elderly and physically disabled
Cons
The panel is difficult to reach, inconvenient for left-handed people
Plumbing connection can be a bit of a challenge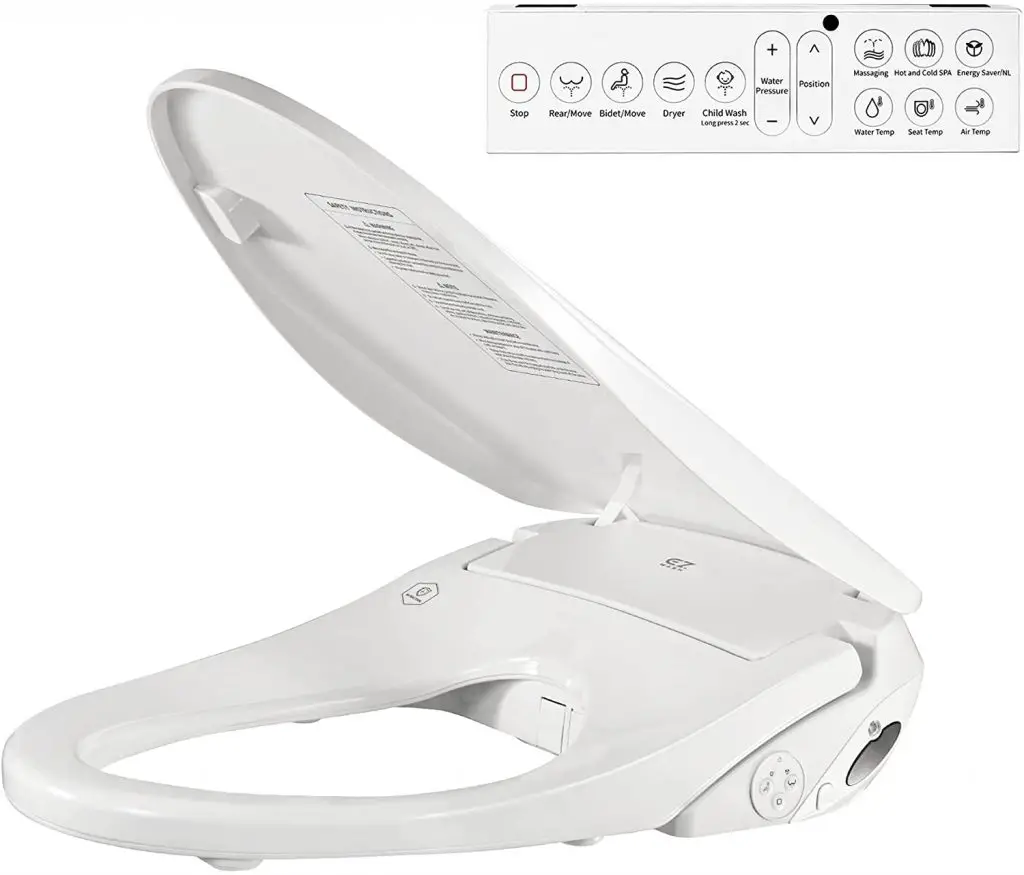 Manufacturer: Zheijiang Xingxing Banjiebao Co., LTD
Product Weight: 11.28 pounds
Product Dimensions: 22.56(L) x 18.03(W) x 7.8(H) inches
eBay: $399.99
Brookpad: $273.00
If you are looking for a feature like deodorization and a bidet that includes a LED light for night use, the EZWash E3 Smart Electronic Bidet Toilet Seat is just for you. This bidet can be operated using a remote controller, which makes it easier. You have to click, and you're good to go. Who wouldn't love the LED light for those midnight bathroom visits? This can be very helpful to everyone to avoid turning on bright lights in the middle of the night when you're half asleep.
This product has a self-cleaning nozzle, too, before and after each wash. It also provides a special feature cleaning mode for women's menstrual period. It also has Anti-leakage protection that is very helpful in later times and automatically cut-off power supply during emergencies to ensure the safety of electricity use.
Make sure you measure your toilet seat first before purchasing, as this bidet doesn't seem to fit most toilets. Let it be known that this bidet is relatively easy to install. It also completely revolutionizes your bathroom experience and could make you feel fancy when owning one. This will ensure you feel clean after use without using toilet paper. This bidet gets that job done and ensures you will never return to dry paper.
EZWash E3 Smart Electronic Bidet Toilet Seat is very affordable too. It's an easy and fancy bathroom upgrade. It can be bought for a lower price in Brookpad for only $273.00. Buy this, and you will fight to the death to keep it.
Specs and Features
Four levels of warm air dryer
Deodorizing Feature
LED lighting
Adjustable water temperature, seat temperature, water pressure, and more.
Has Anti-leakage protection
Has electric safety features during emergencies
Pros
Plenty of controls for customization
Very comfortable
Eco-friendly
It has a special cleaning mode for women's menstrual period
Safe and Easy Installation
Cons
It doesn't fit all toilets
Deodorizer noise can be annoying
Manufacturer: Ivyel
Material: Stainless Steel
Product Weight: 16.12 pounds
Product Dimensions: 21(L) x 15.9(W) x 5.7(H) inches
Ivyel: $299.00
Amazon: $279.25 (Elongated w/ panel)
                $299.25 (Elongated w/ remote)
                $289.25 (Round w/ panel)
                $309.25 (Round w/ remote)
Walmart: $279.00
Do you want to enjoy luxury at an affordable price? You can get it with the Ivyel J-2R Smart Electric Bidet Toilet Seat. It offers excellent features that most high-end bidets have. It provides not only luxurious features but also comfort. All people of all ages can enjoy the product.
This bidet comes with a child feature designed with more air bubbles to be softer on the skin. This feature can be great for those sensitive users. The nozzle is made up of the highest quality stainless steel to ensure durability and self-cleaning to ensure hygiene. Wash functions can be used with massage and oscillating modes. It also has an advanced hybrid heating technology that allows the bidet to provide water for much longer. The water temperature, pressure, and air dryer are adjustable based on your liking and comfort level. It is also equipped with a LED Night Light, so you can conveniently find the toilet seat at night without turning on the lights. These lights aren't automatic. If you want to turn them off, you could turn them off. 
Ivyel J-2R Smart Electric Bidet is an excellent bidet in terms of features and what bathroom experience it will give you. It also has A+ customer service. This can be proven through the plenty of reviews about this product. Purchasing this will not make you regret it as it's built with quality and will work well for long years as it did on the first day. This bidet is a smart buy and highly recommended, and its features are perfect for those cold winter nights.
This bidet is available in two sizes, round and elongated, and in two styles, with a built-in control panel and a remote controller. Based on the researched prices, the style with a remote controller is highly valued compared with the one with a built-in controller. Ivyel J-2R Smart Electric Bidet can be purchased at a lower cost in Walmart for $279.00. But all-in-all, whatever style you buy, it is guaranteed that this bidet works well, and you'll surely love your bathroom experience!
Specs and Features
Child function and adjustability
Slow closing seat cover
LED Lighting
Built with high-quality and durable stainless steel nozzles
Pros
Available in two sizes and styles, round and elongated, built-in control panel and remote controller
Has child features
Great for sensitive users
Bright LED Lights
Has Wet and Dry spray
Adjustable water pressure and temperature
Easy to Install
Cons
Some users claimed that the seat is too small and does not remain upright.
Water pressure can be better.
Final verdict
Given all these five bidets, we hope you now have something in mind that you want. One of these may be your best option. There are a wide variety of smart bidet toilet seats in the market, but these 5 are the top ones that are best in terms of features and budget.
Of course, we can't pick specifically what bidet toilet is for you as picking will depend on your needs and likings. We can only help you sort the best ones; from there, it is your turn to pick what your heart desires most.
You can turn your toilet into a smart one upon installing these bidets. Your toilet can surely catch up with the advancing technology upon acquiring these. You'll be able to completely control your hygiene and keep yourself clean. Also, help save the environment but avoid using toilet paper, as waste clogs up your plumbing system at home.
If you'd like to explore more bidet options, check out our other articles below. We're sure our articles can help you have more options to pick from.
Best 6 Heated Bidet Toilet Seats in 2022
Luxe Bidet: Top 4 Popular Models and Reviews
Buyer's Guide
Now that you have an idea of what most smart bidet toilet seats are in the market, what they have, and what makes them special, let's look at the buyer's guide to help you fully decide on the best possible option for you. Below is the list of things that you have to consider upon buying one:
Adjustable Controls
Of course, you want something that you are in control of, right? A bidet toilet seat with adjustable control makes it more convenient and comfortable. It's the comfort that you are after with these controls. You need to adjust the pressure based on your comfort level and how much water you want to clean yourself. Adjustment of temperature depending on the weather and how hot or cold you might want to rinse your "down there." The more adjustable the features are, the better the bidet is.
Installation
Most bidets in the market don't need a professional to be installed in your home. It just needs some basic DIY skills. Some of them are easy to install, and some are a bit challenging. You might also want to consider looking for something easier to install for your convenience.
Nozzle Settings
Bidets have many options for cleaning. There are nozzle settings for feminine use and also for children. You need to look out for these settings. If you are many in a household with children, looking for this feature might be of help. As some nozzle settings are standard, they cannot be adjusted to the user's comfort.
Budget
Lastly, what most people think of first, is the Price! Put in mind that not all toilet seats are going to be cheap. It depends on what feature they could offer you. The more the feature it has, expect it to be more pricey. The better the material they used, the price could be high too. As you may have noticed, those of guaranteed quality cost diamonds. This is because of the exciting features it has as well as its overall durability.
Nevertheless, you need to find something within your budget without compromising the quality of what you will buy.
Why trust us?
We offer to show only the best options there are in the market. We give our thoughts based on the thorough research we have gone through to help readers pick what is right for them. We give them guides that could help with what they could consider upon buying these products. We give them plenty of options, which we all assure are the best.
Read next: Bio Bidet Review 2022: Is BioBidet a Great Choice For You?