Are you considering a bidet for your bathroom in 2023? If so, the Brondell bidet may be the answer to your "toilet paperless" dreams. 
Bidets offer improved hygiene and convenience compared to the traditional toilet paper method. Using a combination of adjustable water pressure, spray angles, temperature control, oscillation patterns, and customizable features, all designed with comfort, a bidet is the hottest new bathroom fixture. 
The Brondell bidet might be just what you need for optimal cleanliness as you enter into your bidet journey. Let's discuss why you should switch from toilet paper to a bidet and if the Brondell Bidet and its various models pass the test. 
Why You Need a Bidet in Your Bathroom
Having a bidet in your bathroom can make all the difference for numerous reasons. First, using a bidet can help improve personal hygiene. By using water to cleanse your bottom after using the restroom, you avoid using irritating wipes or toilet paper that may not always get the job done. 
Second, bidets provide a more earth-friendly option compared to toilet paper. With a bidet, there is no need to worry about constantly buying large rolls of tissue and running the risk of environmental damage due to excessive waste production. While there are perfectly good environmentally friendly toilet papers, it's always great to find ways to minimize the spending in your life. 
Finally, it's about the ultimate source of comfort. We spend a lot of time with our toilets Convenient features like heated toilet seats and other attachments with temperature control can offer additional comfort when it comes time to clean up. These features alone make it worth investing in a bidet for your bathroom space.
A Review of the Brondell Bidet
For those looking for a superior cleaning experience, the Brondell Bidet is an ideal choice. As a brand, they "design products that remove the unwanted from daily living, for example, contaminants, pollutants, and viruses, while protecting our planet's essential resources. With more of what you want (and less of what you don't), you're open to a happier, healthier existence, one day at a time."
We can get behind that. (Pun intended.)
They offer several models of bidet seats, each with accompanying specifications that you may or may not need or thought you didn't need until you actually experienced a warm air dryer, and now you know you do, in fact, need. Let's take a look at Brondell's offerings below. 
Brondell S1400-RW Swash 1400 Luxury Bidet Toilet Seat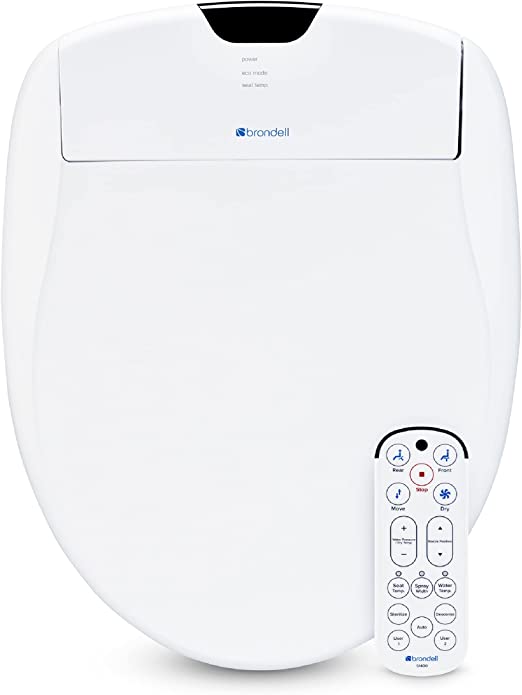 Features:
Nightlight
Remote
Multiple warming options
Carbon block deodorizer
Dual stainless steel spray nozzles
Designed for easy installation
Fully customizable wash settings
First of all, when it comes to bidets, no size or function fits all. A fully customizable option is the way to go, and Brondell does this well. The seat fits perfectly on my toilet (check your toilet first to decide if you need a round or elongated bidet seat). Sometimes the lid can move around if it doesn't fit well, but this one sat right where it should with no shifting. 
The warming options were great and easily adjustable. As with any bidet, this is a highlight function for the whole family, so I appreciate that there was some customization available in this setting. 
The downside of this model was partly in installation. The water connection is a bit recessed and more difficult to install than some of the other models I have used in retrofits. In addition, the warm water setting can get really hot! This might be a function of my plumbing, but beware! 
Brondell LE89 Swash Electronic Bidet Seat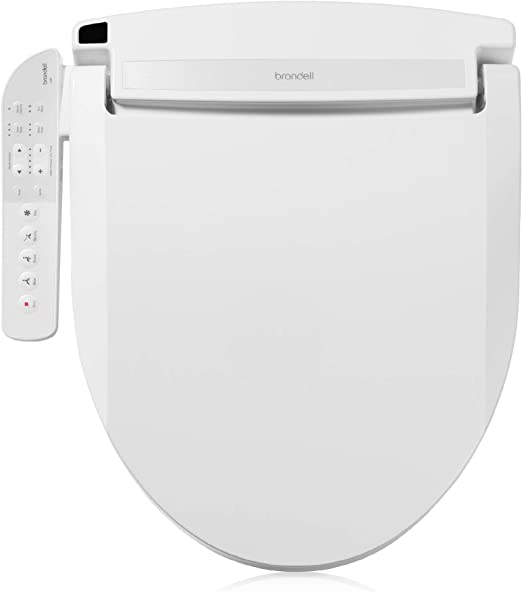 Features: 
Illuminating LED nightlight with on/off feature
A hybrid heating system provides warm water wash
Heated seat and adjustable warm air dryer
Intuitive side-arm control panel
Gentle-close, sit-upon lid
Quick-release seat removal
Sizes: elongated or round bidet toilet seat
Five adjustable nozzle positions
Aerated water cleans gently and effectively
Strong wash, massage, and pulse settings
Fully adjustable water pressure
This may not seem important to some, but when you know, you know. The sprayer nozzle on this model retracts between uses for sanitation reasons, but this was also a great aesthetic design perk for me. I would rather not look over to see a mechanical arm dangling in the toilet! The LE89 Swash model is quite a bit less expensive than its SE600 counterpart but doesn't lack much in function or power, in my opinion. 
It's a bummer that this one doesn't come with a wireless remote, but I found the side panel perfectly fine for the most part and easier for the kids to use. 
The main difference between this model and the more expensive Swash SE600 is that this one lacks the carbon deodorizer and one-touch auto mode but comes with a side arm control panel and a pulse mode. So it really comes down to which settings you want to prioritize. 
Brondell Swash SE600 Bidet Toilet Seat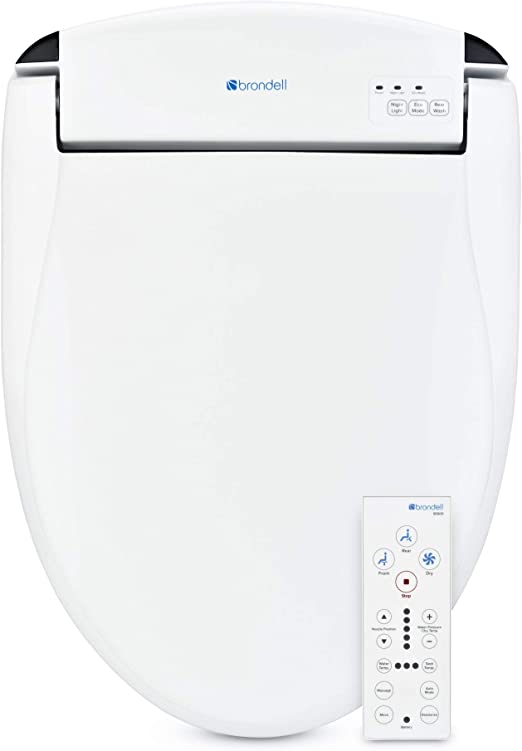 Features:
Illuminating LED night light with an on/off feature
Tank heating system provides warm water wash
Heated seat and adjustable warm air dryer
Built-in carbon deodorizer
Wireless remote control
Gentle-close, sit-upon seat, and lid
Sizes: elongated or round seat
Five adjustable nozzle positions
Aerated water cleans gently and effectively
Massage and oscillation wash settings
Fully adjustable water pressure
The Swash SE600 bidet seat model is full of bells and whistles. This seat is for the user who loves a fully customizable experience or one that likes everything done for them – which is where the "one touch auto mode" comes in. This seat had all the advanced modes of the higher-end bidets but at a fraction of the price. It is a great economic choice for the options that come with it. 
It was super easy to install compared to some other units I have worked with and was up and running in under an hour. No plumber is needed. 
In my opinion, the two biggest drawbacks of this model were its less-than-robust air dryer and the water sprayer temperature seeming to fluctuate. However, this model is still a reasonable buy if you can deal with those two things. 
Choosing a Brondell Bidet
There's a Brondell bidet seat for every user!
There are many bidet options on the market, but Brondell has committed itself to making models that span different price points, fits, and functions. I love that they have prioritized sustainability as a brand – they are part of the One Percent for The Planet initiative. They donate part of their proceeds back to environmental causes. This goes hand in hand with a product that makes your bathroom experience more efficient and saves water in the process.