Who gives a crap? We do, and you should too. Who Gives a Crap toilet paper is Australia's crowdfunded, earth-friendly answer to toilet paper. 
Toilet paper is an essential of life. It's often the underrated answer to:
 "If you could only bring three things to an island, what would they be?" 
No one remembers the toilet paper…until after they're stranded on the beach and have consumed too many coconuts.
Speaking of beaches and toilet paper, did you know that because the basic component of TP comes from trees, it involves a process that includes harvesting, pulping, and processing and can have a significant environmental impact? This includes deforestation, habitat loss, and water pollution. And don't get us started on the single-roll plastic packaging that often comes with it. 
Can Who Gives a Crap toilet paper save our bums and the planet? Here is our honest review of both dilemmas. 
The Who Gives a Crap Mission
This bathroom essential is a common denominator for our daily habits that add up to our greater environmental impact. Who Gives a Crap promises to use more sustainable raw materials in their products, and more crucial to their mission, they donate 50% of profits to building toilets and improving sanitation in the developing world. They also bolster initiatives to battle gastro diseases related to poor sanitation. 
The latter point came from the fact that nearly 40% or 2 billion people don't have access to a toilet. In 2012 an Indie Go Go campaign raised it's first $50,000, allowing them to start what is now production in Australia, China, the United States, the UK, and Europe. 
They've now expanded to producing more than just toilet paper and have donated over $1,000,000 to their bespoke causes. 
B Corp
Who Gives a Crap toilet paper isn't just talk they are B Corp stamped – that's a third-party nod of approval that verifies they meet the highest standards and social and environmental impact. 
The Products
Currently, Who Gives a Crap has six products. We will break down what each of them is and our honest take. Let's get down to bathroom business with Who Gives a Crap toilet paper.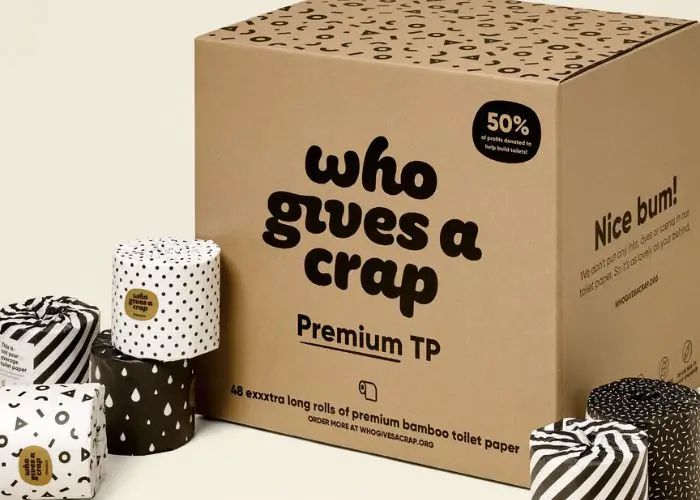 48 double-length rolls
370 sheets per roll
Extra cushy three-ply
100% renewable and sustainable bamboo
Biodegradable and plays well with most septic tanks
There are a few things that scream "heaven for the eyes" right off the bat. I didn't know that I needed toilet paper wrapped in pattered paper so much until I opened this box. The texture of Who Gives a Crap toilet paper is softer than most bamboo toilet paper and the extra long rolls mean I don't have to search for the next one with my pants around the ankles. 
Obviously, all toilet paper is degradable, but we love Who Gives a Crap toilet paper because it is made out of renewable resources, whereas a bamboo crop only takes 2-4 years to regenerate, and a traditionally harvested tree crop can take 30 years or more. 
Where we winning with softness and aesthetics, we are losing slightly with the enormous box. If you have a small living space, be prepared to tuck these babies into any available cabinet. Unless you have a storage space, it can feel like there are too many rolls to contend with. However, we understand in the name of our carbon imprint that, shipping less, in the long run, is more.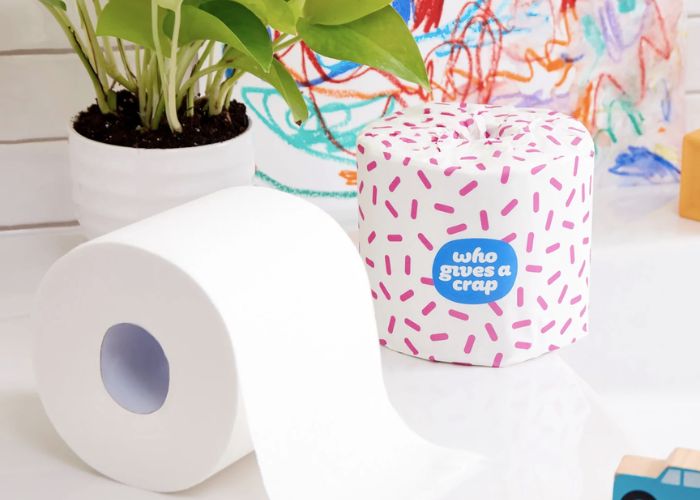 Double-length rolls; 385 sheets
Super comfy two-ply
100% recycled paper (no virgin trees used!)
Biodegradable and plays well with most septic tanks
The Who Gives a Crap website lists these as soft and scunchable, a concern that comes up when you think of "recycled toilet paper." We'd have to agree. While not as super soft as a traditional role with problematic sourcing, these babies do the trick and give a comfortable experience. 
As with the bamboo rolls, these too came in colorful wrapped, and the last few in the box even say "Emergency!" which is an excellent reminder to order more. We love when a product participates in the shopping list! 
No complaints with this product, as long as you aren't a primadonna about having angel-soft paper to do your business.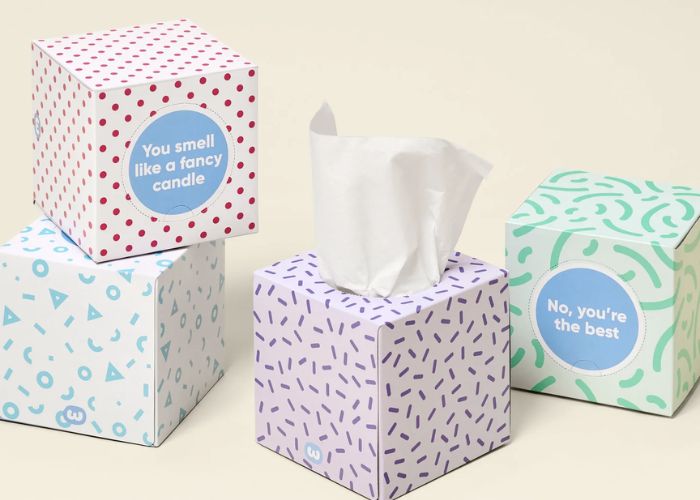 Each box has 65 tissues
Tissues are 7.7″ x 8.5″ each
Three-ply strong
Biodegradable
No inks, dyes, or scents
These were surprisingly strong compared to other "earth-friendly" brands of tissue paper. Made out of 100% bamboo fibers, they take care of the sniffles without creating more impact on our earth. 
The only downside with this product is the pack of 12 – if you have a big space and want easy access, the bulk quantity will work great; however, if you live in a studio apartment, you may be using them as a computer stand until you can get through them all!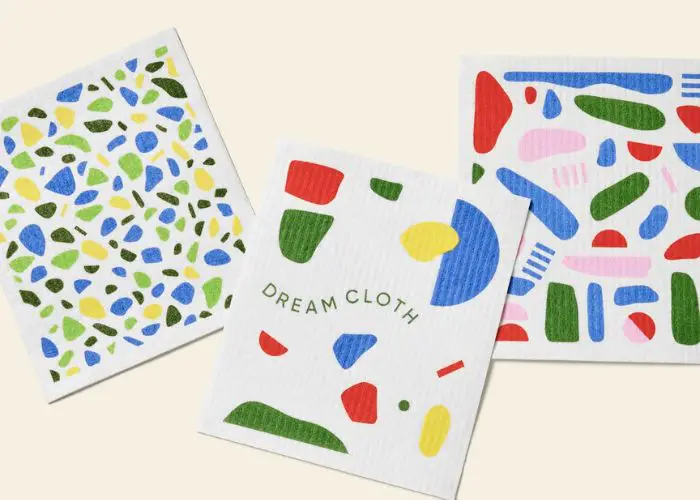 Set of 3 Dream Cloths
17 x 20cm
Made from 70% FSC-certified cellulose and 30% repurposed cotton.
These Forestry Stewardship Council-certified Dream Cloths are the perfect answer to a sustainable version of the poplar all-in-one Swedish dishcloths. We love the cute modern art motif and the fact that they honor a circular economy where we don't have to throw away everything we encounter. 
Part sponge, part cloth, and fully washable means we can finally stop buying traditional sponges. Most sponges contain plastic materials and can't be recycled. No complaints about these little guys; they will now be a constant staple in my kitchen!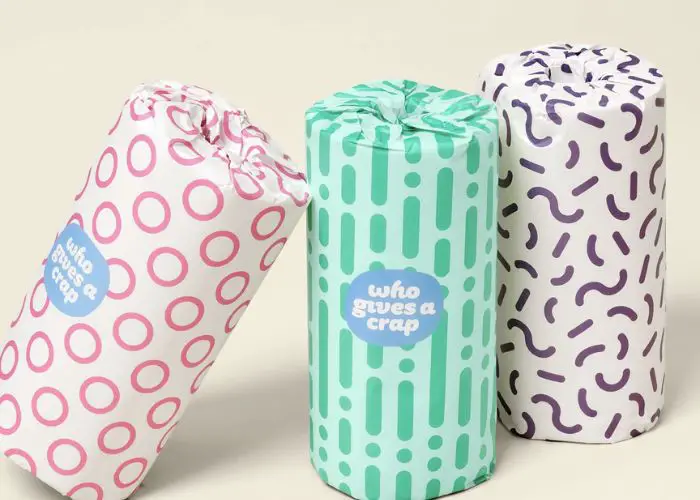 Six double-length rolls
Each roll has 120 sheets
Sheets are 22.8cm (9″) x 22.5cm (8.9″)
Two-ply biodegradable
No inks, dyes, or scents
Two-ply and devoid of the inks and dyes that cause unnecessary environmental damage? Yes, please! Sometimes, a Dream Cloth just can't do the trick. Perhaps you have a puppy and know what I'm talking about? Or maybe you don't want to get your Dream Cloths all greased up as you tackle oven cleaning? Then these Forest Friendly Paper Towels are the perfect remedy. 
It turns out bamboo and sugarcane make for pretty good cleaning components in a paper towel. They withstood the wet test, and double length means less thinking about swapping out an empty roll. 
They do feel a bit shorter than a standard paper towel, but it turns out this is for good reason. They apparently fit the shipping boxes better, minimizing waste and both your and the company's carbon footprint. 
We also love reusable paper towels for reducing unnecessary waste!
The Shipping
Who Gives a Crap supplies your bathroom basics, all packaged to max funkiness, with carbon-neutral shipping to boot – meaning the miles and emissions that are created in getting your bathroom stocked are offset.
For orders in the US, we love that shipping is FREE, leaving us more money to buy more toilet paper or donate to other environmental causes. 
The overall verdict? We give a crap! Definitely worth the separate purchase to satisfy your environmental impact goals and plus, they look great on the shelf.