Compost sifters are commonly used in small gardening as well as landscaping projects. They're a great way to turn your kitchen scraps and compost into rich soil because they allow air to flow through the material.
Some of the best compost sifter models on the market use vibration technology to process materials faster and easier than manual methods. However, with more than 700 models, it can be hard to decide which is right for you, so we've created this buyer's guide to help you find the perfect compost sifter for your needs and budget.
Our top picks are reviewed below, plus we've included a DIY option if you want to make your own compost sifter instead of buying one off the shelf. All set? Here we go!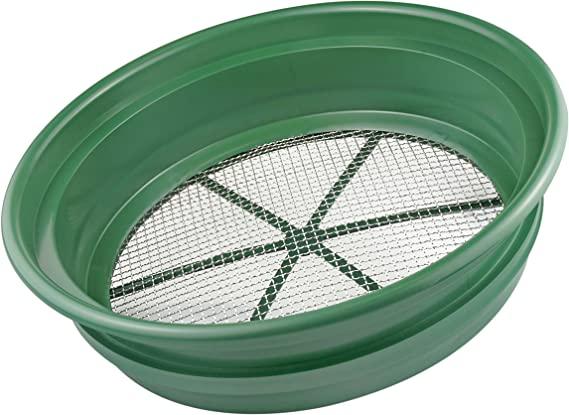 The SE Patented Mesh Sifting Pan is an excellent option for anyone who needs to compost their kitchen waste from indoor composting, or if you have a garden that needs some extra help with the decomposing matter. In addition, the compost sifter has a patented design that allows the user to easily empty the contents of the pan after filling it with compost.
In addition, the mesh is made from stainless steel wire, which makes it rust-resistant and lightweight. This design makes it easier for users to use this type of sifting pan than other composting bins. This particular sifter comes in multiple mesh sizes, so you can choose one that best fits your needs.
What We Love!
Easy to empty
Stainless steel wire
Lightweight
Multiple sized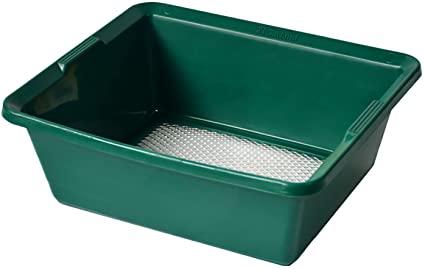 This sifting pan is one of the biggest compost sifters we've tested on the market. It's perfect for larger soil clumps and compost and is made from highly polypropylene plastic and galvanized woven wire. It's durable yet lightweight so that it can be moved easily from one area to another.
The two screens are easy to remove and separate and can be done in just a few minutes. In addition, this sifter has a capacity of 4 gallons, so it's perfect for mixing large batches of soil or compost.
What We Love
4-gallon capacity
Large but lightweight
Easy to remove screens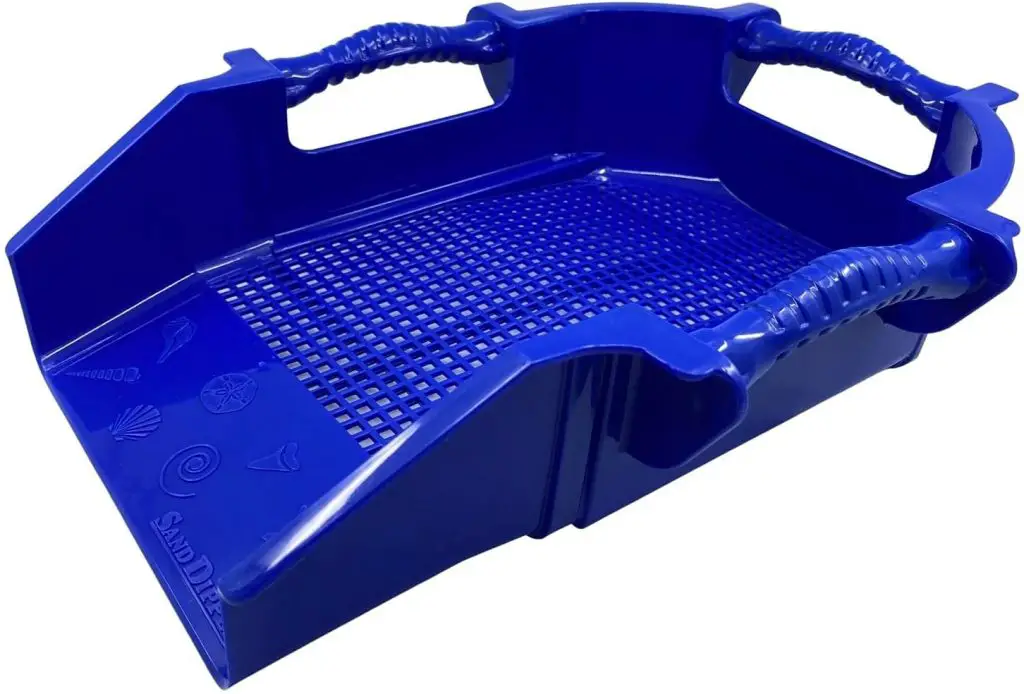 The treasure digger is another excellent compost sifter for your garden, patio, or yard. It's a tool that you can use for digging and sifting at the same time.
The Treasure Digger Sifter is made by a company called Sand Dipper. This tool is perfect for anyone who wants to use one tool for both digging and sifting.
It has a digging and sifting function, which allows you to remove all the organic material from your soil and sift through it so you can get rid of any stones or other items that would be a problem if you mixed them with the soil.
What We Love
Two-in-one tool (digging and sifting)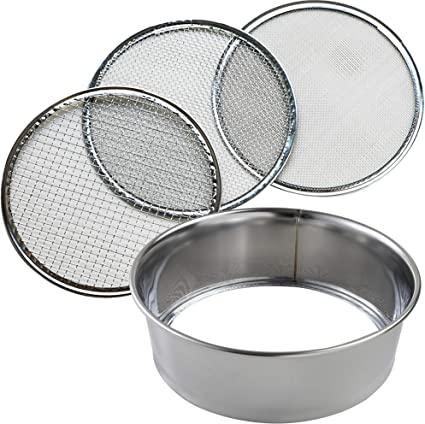 The Wazakura 3PCS Soil Sieve Set is an excellent choice for anyone who wants to make compost from the ground up. It's made from stainless steel, so you can use it to sift soil, sand, and other materials. It comes with three interchangeable sieves — one large mesh size (0.04 in), one medium-mesh size (0.11 in), and one small mesh size (0.19 in).
The Wazakura 3PCS Soil Sieve Set is designed to be used with a traditional tamping tool or a garden rake if you want to take it on the go. The unit is very lightweight, so it's easy to carry around and can easily be stored in a carrying case when not in use.
What We Love
Stainless steel – no rust
3 Interchangeable sieves for different uses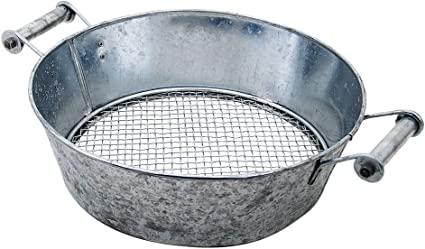 This handle-featuring compost sifter is the product for you if you want to make composting a little easier. The Achla Compost Sifter Screen with Handles is an excellent product for composting. It is also effortless to use, which makes it perfect for beginners who want to learn about composting.
This sifter from the Achla brand is made from 100% galvanized steel, meaning it won't rust or corrode. This design feature is important because it could ruin your compost pile if you aren't using a compost sifter. In addition, the handle is ergonomically designed to hold it so you can use it without any problems.
What We Love
Has an ergonomically designed handle
Easy to use
How to Build a DIY Wire Mesh Sifter
One of the best compost sifters you can make is a DIY wire mesh sifter. You can make your sifter from PVC pipe and wire mesh, and it's an excellent option for anyone looking to save money on buying a commercial compost sifter. It's also lightweight, so you won't end up with an awkward piece of equipment in your backyard that takes up space.
If you're ready to build your own DIY wire mesh sifter, follow these steps:
Step 1. Choose the Right Mesh Wire
You can use any type of wire mesh for this project, but I recommend using stainless steel wire mesh with a thickness of about 1/4 inch (6 millimeters). This thickness is the same size you'll find in most commercial sifters. The thicker the mesh, the less likely it will be that weeds and debris will get through and make it into your finished product.
Step 2. Cut the Mesh Wire to Size and Place It in a Frame
Once you have chosen your mesh wire, cut it to size using a wire cutter. You can also use scissors. Next, secure your cut pieces into a frame and secure them with pins or glue so that they stay in place while you work on your sifter frame.
Step 3. Close Up the Bases With Wooden or Metal Poles
Now you're ready to close up the bases. You can use small wooden poles or metal posts, depending on what you have lying around. You can also use a piece of pipe as long as it's tall enough to fit inside your sifter and still leave room for the wire mesh to be inserted.
Step 4. Attach a Handle/Lift
Now that you finally have your DIY wire mesh sifter, it's time to add some functionality to it! You can attach handles to either side of the base so that it's easy for you to pick up and put away after use. You'll want a handle for this so you can lift it without damaging it in any way—and so that you don't have to hold it for too long at a time.
Conclusion
While we ranked the top 5 choices, they are all great compost sifters. Any one of these could make a fine addition to your tool shed, so choosing just one of these should depend on your budget, storage space, and personal preferences. Moreover, you can quickly assemble it in just minutes with our DIY guide, so there's no excuse not to have it at this time of year.