When it comes to toilets, there's nothing quite like smart bidets. The OVE Toilet manufactures an interesting, smart bidet system with many benefits for anyone who wants them. Not only do they have some pretty cool functions, but it's also one of the most affordable options today.
Don't worry if you've never bought a bidet before, don't know how to install a bidet, or are not sure exactly how a smart bidet works. As we look at the OVE brand's three excitingly new smart bidets on the market, we'll explain everything you need to know. Who knows, you just might find one that's just the perfect fit for your needs!
What's So Special About OVE Toilet Smart Bidets?
OVE toilet smart bidets are designed to fit any toilet. Each model has a different shape and size, but they all work the same way. First, the water is heated through a nozzle that sits right next to your toilet. Then, it sprays warm water gentle enough for anyone to use.
The best part about these bidets is their ease of use. OVE's toilet smart bidets have a remote control that lets you adjust the spray strength, temperature, and sound level. You can also use these bidets on any sink in your home or office without messing with plumbing connections or pipes. Not into the installation? Try smart bidet toilet seats instead! They replace your toilet seat, so you don't have to replace your toilet.
Now that you know what to expect with these bidets, let's look at the three best options that stood out to us.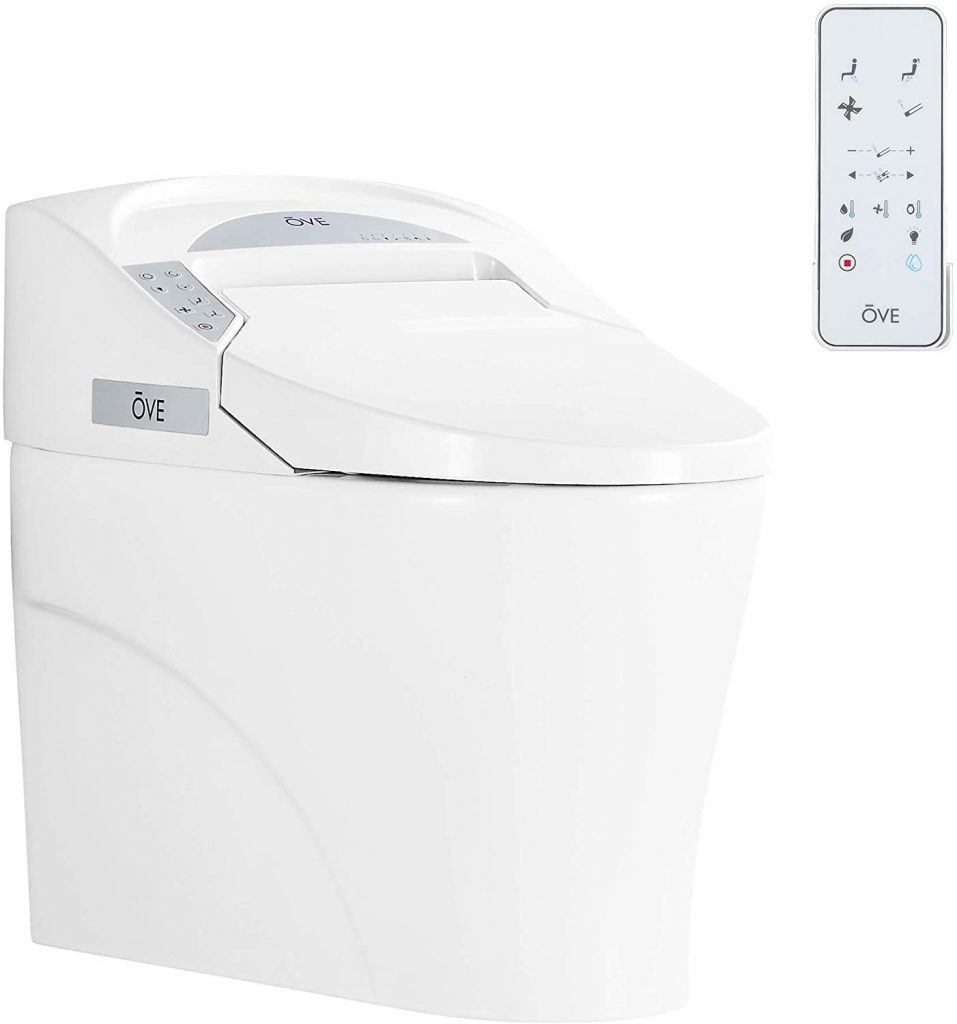 Features
Wireless remote control feature
Powerful single-flush design
Adjustable Nozzle
Adjustable temperature heated seats
What We Liked
The OVE DECOR Yosemite Smart Bidet Toilet is a high-end toilet with many features. It has an elongated anti-microbial heated seat with adjustable temperature settings, a powerful automatic single flush system with an 800 MaP rating, and a convenient soft close seat. The toilet also has an LED night light and an on/off remote control included.
The DECOR Yosemite OVE toilet has a modern white ceramic design with concealed tank and trap way. This design makes it look elegant and clean at the same time. The tank is made of stainless steel, and the trap way is made of stainless steel too. The lid can be easily opened using the touch sensor control panel on top of the tank. You can easily remove any waste from the toilet by pressing this button.
The seat has an elongated shape, which makes it comfortable to sit on. The product comes with an anti-microbial heated seat, which offers warmth and comfort when using this bidet. The LED night light will help you see what is going on in the bathroom at night.
The DECOR Yosemite OVE Toilet also has a powerful automatic single flush system with an 800 MaP rating. That means it can handle any amount of waste in your toilet without any problem whatsoever.
What We Didn't Like
In our opinion, the installation process wasn't that difficult, but we've seen some customers find it a bit challenging to pull off themselves. It takes some time to install the product as you need to get the right tools and ensure you have enough space in your bathroom. A professional can do this for you, but if you're not comfortable with this task, we recommend hiring someone who can help.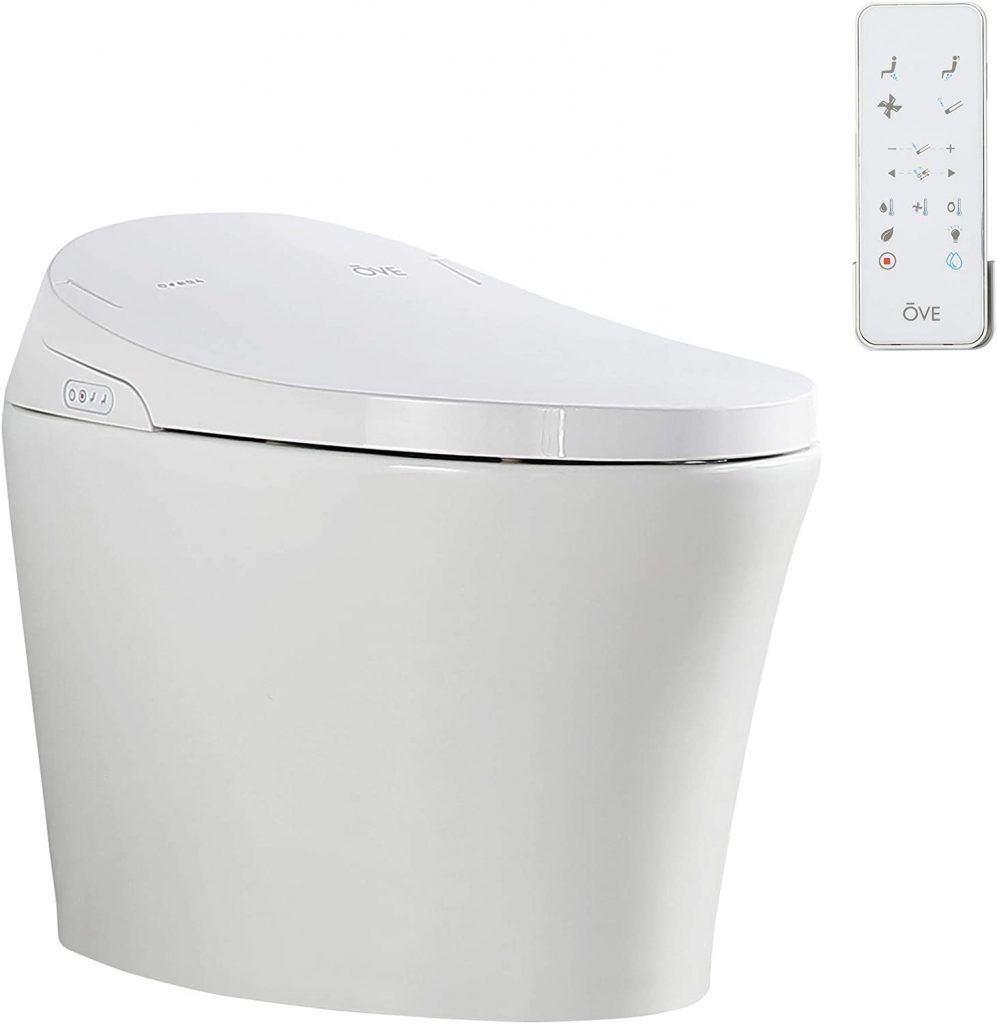 Features
Soft-close seat prevents slamming.
Sleek left mounted button with Chrome finish included.
Eco-friendly design
Remote control feature
What We Liked
We love this bidet. It's a great addition to any bathroom and does its job well. With its elongated bowl, you can sit on it for added comfort and use it as a seat when you're not using it to clean yourself.
The LENA smart bidet OVE toilet is powerful, efficient, and stylish for a bidet toilet. It comes with a fully glazed 1.69 in. (4.3 cm) large trapway and provides a nonporous smooth surface for a complete flush each time.
The LENA Smart Bidet OVE Toilet has an elongated bowl that offers added comfort and is made from CERAMIC with the WaterSense label to meet strict EPA flushing guidelines, including at least 20% less water than 1.6-gallon toilets. The toilet also meets the "low flow" standard of 0.8 gallons per flush (GPF).
The tankless design offers an ultra-slim look and means no waiting time between flushes. It also has an adjustable heated seat that activates when you sit on it to provide soothing warmth on your rear end. In addition, the concealed trapway offers a seamless look and makes cleaning more manageable because there's no protruding nozzle or buttons to get in the way while you wash yourself after using the toilet.
What We Didn't Like
The flushing system on this bidet seems to be a bit louder than other brand models. This difference could be because it uses a higher pressure water jet instead of the traditional pressure levels with the other. However, this is just a general observation, so you may find that the sound level is not that high.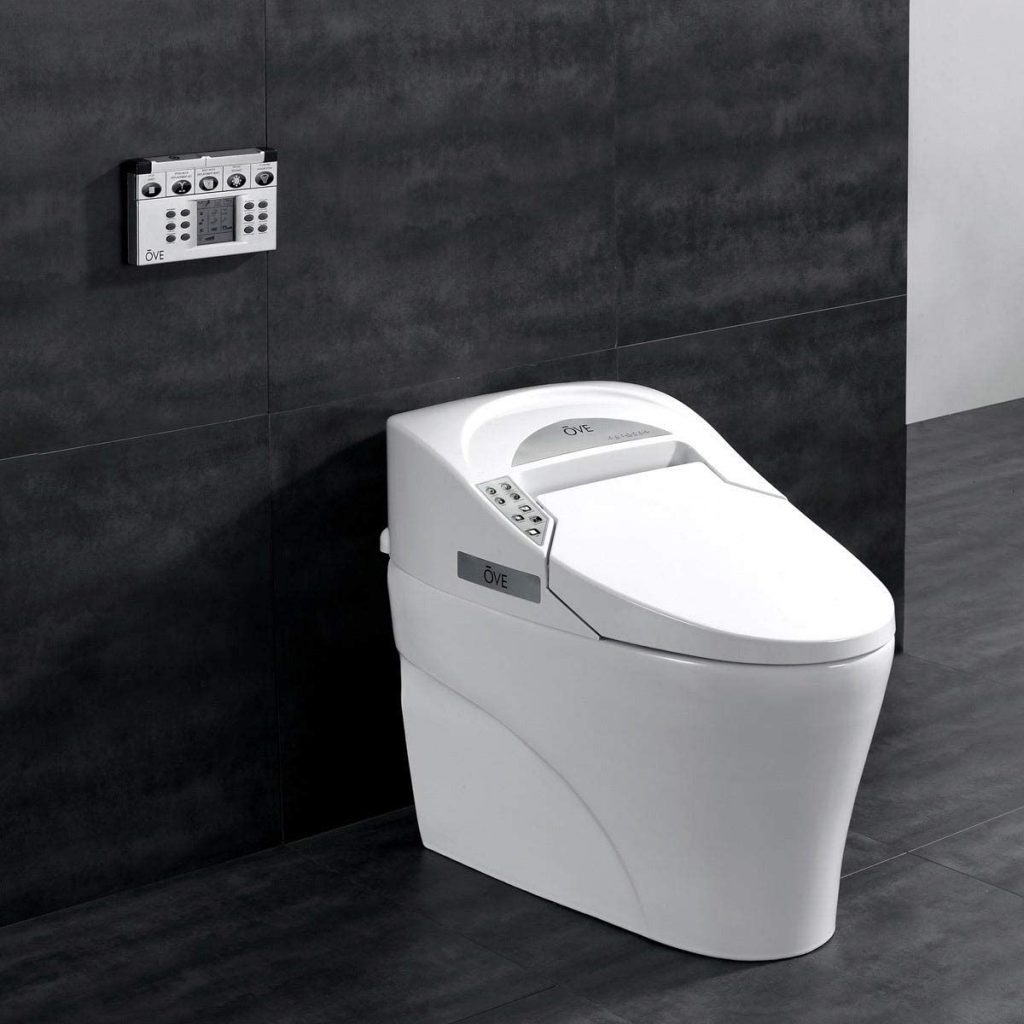 Features
Elongated bowl for added comfort
One-piece toilet design
Large fully glazed trapway
What We Like
The 735H Smart Bidet OVE Toilet is the ultimate in convenience and comfort. It's designed with a large bowl that provides a comfortable sit-down experience. The elongated bowl design also helps keep your back straight while you sit down, especially if you have a long-standing problem with your knees or hips.
The water-saving features of this toilet are impressive. It uses 1.6 GFP (gallons per flush) and only uses 5 gallons of water before flushing completely — that's roughly 20% less than 1.6-gallon toilets! It also meets strict EPA flushing guidelines, including at least 20% less water than 1.6-gallon toilets.
What We Didn't Like
The 735H is a great product that delivers on its promises, but it's not perfect. For instance, we did have some trouble with delivery time. If you order your product online, it takes longer than if you order in person at the store.
Conclusion
The bottom line is that a bidet is an excellent addition to your bathroom and one we think you'll love. You can install one in just a couple of hours and reap benefits for many years. So when you buy a bidet, don't settle for inferior products. Instead, go with these three excellent smart bidets OVE toilets today!