Are lint rollers an essential part of your daily routine?
Are you looking for a zero waste lint roller to replace your wasteful mainstream lint roller?
Then you're in the right place! Read on to discover my top eco-friendly options for fluff-free clothes.
You don't have to stop with lint rollers either. I've also got ideas for zero waste cat litter, as well as mouthwash recipes and a zero-waste way to wash your dishes.
Why are lint rollers bad for the environment?
Lint rollers are a great invention that help rid clothes and furniture of pet hair, dust and of course lint.
For those of you wondering exactly what lint is:
"Lint is the common name for visible accumulations of textile fibers and other materials, usually found on and around clothing."Wikipedia
Unfortunately, disposable lint rollers are the source of millions of plastic-coated sheets of sticky paper being tossed in the trash every year. 
Single-use lint roller sheets are not recyclable, and neither is the flimsy plastic frame holding them.
Zero waste lint rollers are just as effective as their disposable counterparts. You might even find the options below to be more effective.
Other benefits include:
They are reusable and don't require refills.
They are durable with most last several years.
They produce no waste.
They save you lots of money
Wooden Lint Brush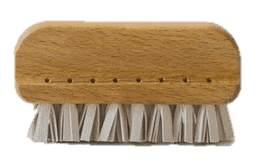 We think the best zero waste lint roller option is this wooden lint brush from The Minimalist. 
At a glance:
zero waste
plastic-free
effective on both clothes and furniture
reusable
durable
portable
The stylish roller is handmade in Germany from Beech-wood and natural rubber strips. They are bound together with copper wire.
Rubbing the rubber strips against fabric creates a static charge which attracts hair, lint and dust like a magnet.
Once you're done, you can remove the hair from the brush by hand, or run the brush under the tap for a deeper clean.
We love this option because the company use zero-waste packaging and guarantee plastic-free shipping materials. 
Moreover, it's small enough to use on-the-go for when you notice that pesky patch you missed in the morning
The OXO FurLifter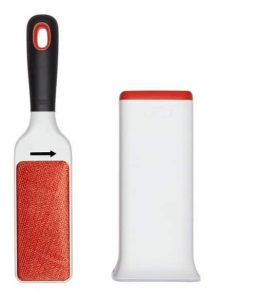 If you have several pets at home or just one that shreds some serious hair, then you might be looking for a more heavy-duty zero waste lint roller.
At a glance:
effective on both clothes and furniture
reusable
durable
varying sizes for every need
self-cleaning
Oxo offers four different sizes, from a small pocket size brush to a larger furniture sized brush.
The sticky fabric that features on all the brushes is great for collecting fur. An added bonus, they are self-cleaning.
Once you've removed all the pet hair from your jacket, put the brush back into its case. The case will automatically clean the brush. 
You can then open the bottom of the case and empty the hair into the trash. 
You never have to touch any of the dirt!
These products are made of plastic, but are reusable and will last you a long time so still a much better option than a disposable lint roller.
Portable Zero Waste Lint Brush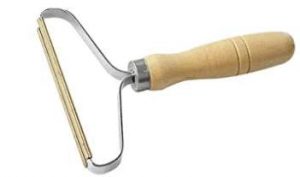 If you're looking for a no-frills option then this is the plastic free lint roller for you.
At a glance:
plastic-free
effective on both clothes and furniture
reusable
durable
portable
The product has a pure copper head attached to a wooden handle to ensure years of service. The cooper head easily removes pet hair, crumbs, lint and more without leaving a sticky residue behind.
The head can be removed for cleaning purposes.
Make sure the material is taut when using this lint brush otherwise it might snag
DIY lint roller ideas:
Fancy making a homemade lint roller?
Here are two makeshift ideas…
Rubber Gloves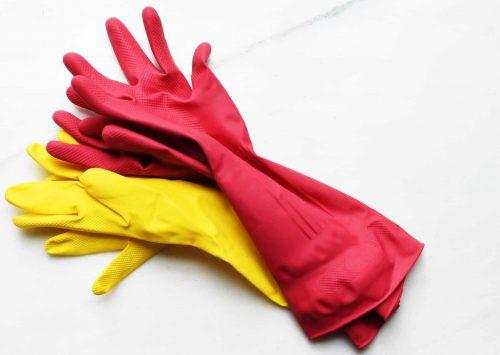 If you have a spare set of rubber gloves lying around, then it's time you put them to good use.
It works just like the rubber brush above. The rubber gloves become statically charged when rubbed against fabric, causing fur to roll up and clump together.
You can then pick the clumps off your clothes or furniture and throw them away.
Use a Damp Cloth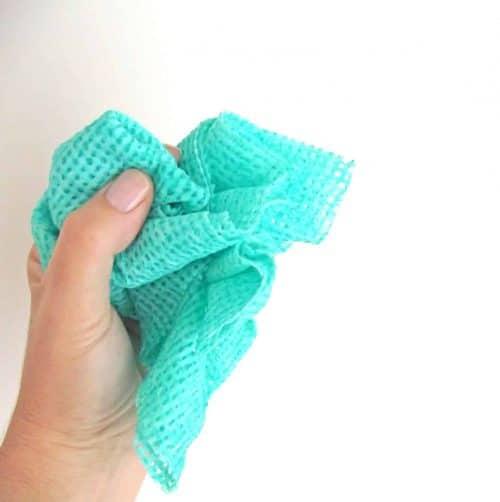 The dampness of the cloth helps to create extra friction between the cloth and the fabric. This friction creates a pretty effective makeshift lint brush.
As with the gloves just pick off the clumps when you're done.
Add a bit of soap, and you can remove other dirt such spilt drinks from your furniture at the same time!
Rubbing the gloves/cloth in one direction will be more effective at collecting hair.
Old Pantyhose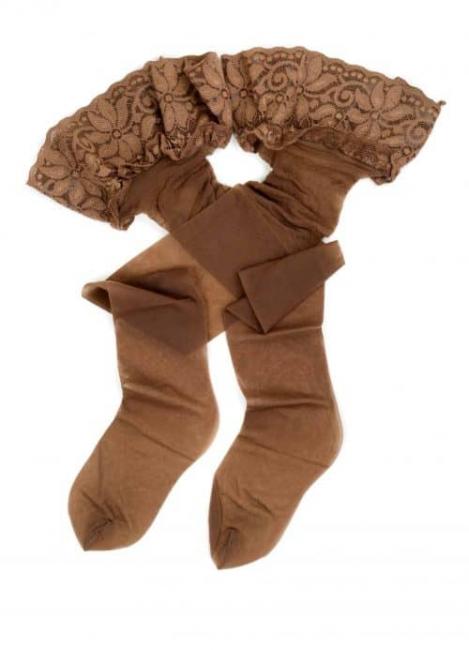 Don't have a pair of rubber gloves handy?
Old nlyon stockings will do the job as well. Slip them over your hand as if they were a glove, and rub down your sweater.
The lint and hair will stick to the tights and then you can just throw it away.
This is a great way to reuse worn out pantyhose.
Final thoughts
While there aren't loads of zero waste lint rollers on the market, there are definitely options out there and we hope this article has given you some ideas on how to ditch your disposable lint roller. 
If you know of a different sustainable option we have missed be sure to let us know.