Most people use mouthwash in the hope that it will leave their mouth feeling extra fresh and clean. In reality, it leaves your mouth stinging and can make your breath smell worse.
This is because the main ingredient in most mouthwash is alcohol. Alcohol is very abrasive and can dry your mouth out with long term use. Having a dry mouth makes bad breath worse, so alcohol is definitely an ingredient to steer clear of.
Our zero waste mouthwash alternatives use natural ingredients that are less harsh, but just as effective. They'll leave your mouth feeling clean and smelling great. Moreover, they eliminate the need to use any single-use plastic that would otherwise be thrown out.
Once you've swapped your mouthwash, why not try swapping to a more sustainable toothpaste option too?
I cover both homemade options and products you can buy.
Homemade zero waste mouthwash
Making mouthwash at home couldn't be easier. Just like our homemade toothpaste the recipe is super simple. You can buy most of the ingredients in bulk without packaging, creating a true zero waste mouthwash.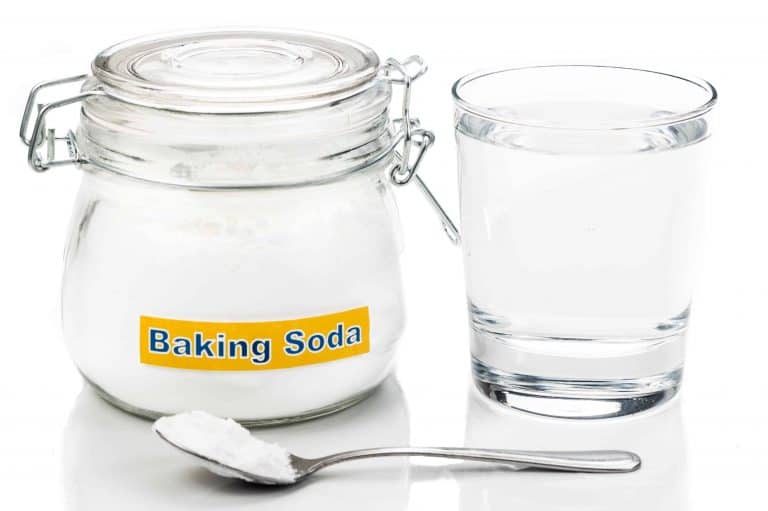 Baking Soda is a common ingredient in homemade mouthwash
The thing we love about homemade recipes is that you know exactly what's going into the end product and if there are any ingredients you don't like, you can simply leave them out.
Furthermore, you can tweak amounts and flavorings until you've found a unique blend that is perfect for you!
Basic Recipe
The following natural mouthwash recipe is a basic skeleton but still works perfectly well. If you're adding any optional ingredients (we list a few below), a few drops or a teaspoon will be enough.
Feel free to add a bit more or less of any ingredient based on your needs and tastes.
You need no more than 2-3 minutes.
Ingredients
1 cup of filtered water, boiled and then cooled down (distilled water is better if you can get hold of it)
1 tsp baking soda
5 drops of peppermint essential oil
Method
1) put all the ingredients in a glass jar or bottle and shake until everything is mixed. Give it another shake before each use.
Common ingredients and their benefits
The below ingredients are often found in homemade mouthwashes. They all have unique properties that make them suitable. You can add any of these to our basic recipe above.
Filtered Water
While not an active ingredient, water is needed to mix all of the ingredients together and create a liquid. Filtered water is best as tap water can get contaminated with harmful bacteria much more quickly.
Baking Soda
The main active ingredient in most natural mouthwash recipes, baking soda neutralizes acid in your mouth protecting your teeth from acid wear.
It's a mild abrasive so also helps remove plaque. Baking soda is a common ingredient in many homemade recipes, it can also be used to make tooth powders and eco-friendly washing up liquid.
Peppermint Essential Oil
Peppermint oil ensures that your breath is left minty fresh, and makes the mouthwash taste nice.
Tea Tree Essential Oil
This essential oil is well known for having antibacterial properties. You can also add other essential oils such as cinnamon, clove and wintergreen.
Xylitol
A natural sweetener which also has properties that help fight cavities.
Salt
Salt will help soothe your mouth, reducing any inflammation and healing sores. It also aids in the remineralization process of your teeth and stimulates saliva production to prevent dryness.
Aloe Vera
A readily available ingredient, studies show that Aleo Vera can reduce gingivitis and reduce plaque. It is a non-abrasive ingredient so good for people with sensitive teeth.
Coconut Oil
Known for its antibacterial and antimicrobial properties, coconut oil is common in many homemade mouthwash recipes.
Frequently asked questions
Should homemade mouthwash be refrigerated?
Yes, we recommend storing your DIY mouthwash in the fridge, so it lasts longer. If you prefer room temperature mouthwash, you can take a small amount out a few hours before use and leave to warm up.
How long does homemade mouthwash last?
Since this recipe doesn't have any preservatives in the mouthwash will only last around 7-14 days. Therefore, you should only make small batches and plan to make a new batch every other week.
Try not to drink straight from the container you are keeping the mouthwash in, as this will contaminate the mixture faster.
Is homemade mouthwash safe for children?
Yes, it is safe to give to children. The only thing to be careful of is the use of essential oils, some are not safe for younger children, and no one should swallow them.
If you are worried your child might accidentally swallow the mouthwash, you can remove essential oils from the recipe. Instead, you could infuse the water with fresh herbs or use peppermint extract.
Best sustainable mouthwash options to buy online
If making your own mouthwash doesn't sound very appealing, but you still want a zero waste mouthwash, read on for some great options you can buy.
Most come in the form of tablets that you dissolve in water just before use.
These tablets are super convenient for on-the-go use and are perfect for travelling. They also last much longer than any homemade version.
Georganics Natural Mouthwash Tablets
Georganics is an English based company that follows a zero-waste philosophy. They avoid single-use plastic, so they package all their products in either glass, recyclable aluminium or a compostable box.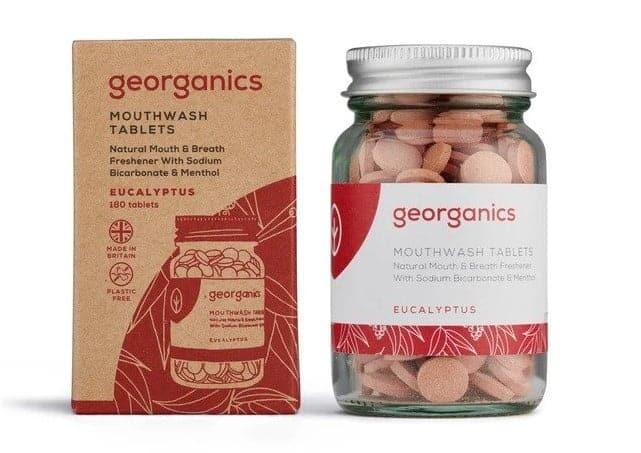 They offer eco-friendly mouthwash in the form of tablets. You can pick from a variety of flavors, from orange, which is great for kids to activated charcoal which can help whiten teeth.
The fluoride, glycerin, alcohol and SLS free formula helps to restore a healthy pH balance to your mouth, maintain good oral health and freshen your breath. All the ingredients used are natural, organic and vegan.
You can order up to 720 tablets at once (in a compostable box), that's a whole years supply.
By Humankind Mouthwash Tablets
n November 2019, by HumanKind became a carbon-neutral company. They offer a range of zero waste personal care products, including mouthwash.
Their all-natural formula is powered by tartaric acid, derived from grapes, which naturally balances your mouth's pH. It is vegan, alcohol and gluten-free, and always ethically-made.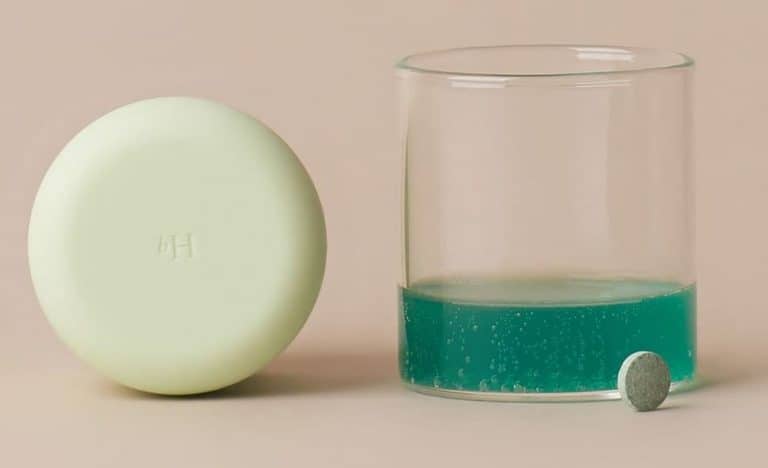 by HumanKind package the mouthwash in a glass container which they guarantee for life, but you can specify not to receive this.
Further refills are shipped in compostable packaging. They also have a subscription service with several frequency options which is great if you are a bit forgetful.
Like Georganics, the mouthwash is in tablet form. The container is designed to help you use precisely the right amount of water, and it has a removable silicone tablet holder for travel.
Best of all – they offer free shipping (USA), and they donate $1 from every first order to help clean up our oceans.