With so many zero waste dish soaps to choose from, how do you decide which one is best for you? This article looks at the plastic-free options, including solid bars, soap powders, dishwasher tablets, liquids, and DIY options.
Who knew that there could be so much to washing dishes?
Types of Zero Waste Dish Soaps
Solid bar soaps
The most popular and widely available are traditional solid bar soaps. 
These bars are typically unscented (some come with essential oils or natural scents) and last a few months with regular use. 
No Tox sells a 22.5 oz block of soap that could last you years (plus smaller sizes).
To use them you rub your sponge or brush against the soap until you have created sufficient lather, then use this to wash your dishes.
Soap bars should be kept dry between uses to help them last as long as possible. 
Consider getting a zero waste soap dish to ensure proper drainage (or DIY one yourself with a bowl and some stones).
Liquids
Liquids are arguably the most natural transition into a zero waste dish wash routine, but also the hardest to find zero waste alternatives for because they need to be packaged in a bottle.
Your best option if you want a liquid soap is to buy in bulk from a local shop, this way you can reuse containers you already have.
If you don't have any zero waste stores near you, then you can try out Frillaree's online refill subscription. Another option is to order large quantities from Amazon.
Dishwasher tablets / Detergent
People often think of dishwashers as environmental no-nos. 
However, several studies now show that newer dishwashers can be more economical than washing by hand. 
Just make sure you:
use eco mode
have a full load
use a zero waste dishwasher soap
Zero waste dishwasher detergent options will typically come in a cardboard box. 
These dishwasher tablets from ECO Store have been independently tested to ensure an effective clean.
DIY Dish Soap
There's always a sense of achievement in creating your own eco-products.
We had great success with our DIY eco-friendly toothpastes and sustainable mouthwash makeshift recipe, so we thought why not try out washing up soap as well. 
Creating most homemade dish soaps doesn't require a degree in Chemistry either, often just 3 or 4 ingredients are needed. 
More on this and some tried and tested recipes later in the article.
When using any natural soap, you will get better results if you apply the soap straight on your dishes rather than make a sink full of soapy water. Rinse your dishes, scrub them clean with soap and rinse again.
Zero Waste Dish Soap Commercial Options:
The makers of these dish soap's make every effort to be sustainable and create natural products. 
Bestowed Essentials Zero Waste Solid Dish Soap Bar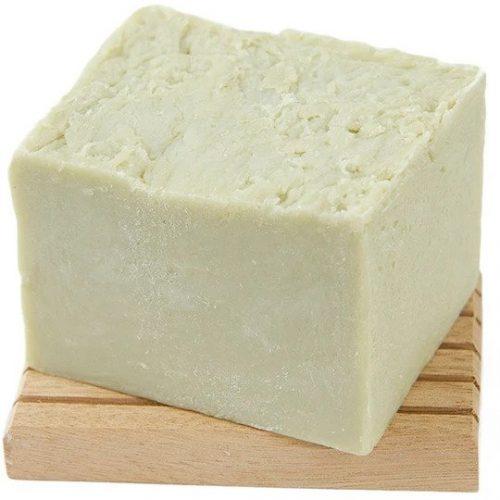 Sustainably sourced
Cruelty-free
Vegan
Organic
Palm oil free
Sustainable packaging
Bestowed Essentials Solid Dish Soap boasts a vegan and cruelty-free certification, as well as some serious grime fighting qualities. It is handmade by an all-female team in South Dakota and is shipped plastic-free.
The natural soap is completely free from artificial colors, preservatives, parabens, sulfates and fragrances, quite a mouthful!
We love this soap as a small amount goes a really long way. The soap suds up well and doesn't leave any residue or aftertaste.
It's worth noting that due to the lack of preservatives in the bar, you should keep it dry when not in use. Use a zero-waste soap dish to drain any excess liquid from the soap after use.
Bestowed Essentials recommend cutting off a small piece and dissolving it in hot water if you prefer the feeling of using liquid dishwashing soap.
Ingredients
olive oil, water, coconut oil, sodium hydroxide*, french green clay, pacific sea salt. *While sodium hydroxide is a necessary component of the soap-making process, none remains in the finished product.
No Tox Life Dish Block Zero Waste Dish Washing Bar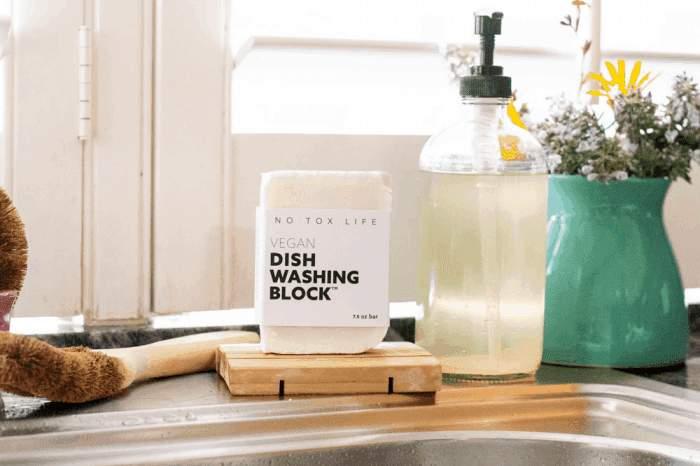 Sustainably sourced
Cruelty-free
Vegan
Organic
Palm oil free
Sustainable packaging
No Tox Life's dish soap is a compact but potent vegan and cruelty-free option. This zero-waste dish soap has added Aloe Vera to keep your hands feeling soft.
The biodegradable block can be used as a multipurpose cleaner and is safe for use porcelain, glass, stainless steel and stone. Test it on your oven or carpet and see its cleaning power for yourself.
The block is free from palm oil, phosphates, sulfates, parabens and fragrances.
We think this is one of the best zero waste dish soap options on the market. There are two sizes, 22.5 oz and 7.5 oz. The smaller size will last for about as long as one disposable bottle of dish soap.
Ingredients
Sodium Cocoyl Isethionate (plant-derived), Decyl Glucoside (plant-derived), Sodium Cocoate (plant-derived), Quillaja Saponaria (from the South American soap bark tree – organic), Glycerin (plant-derived), Aloe Vera Leaf (organic), Purified Water, Sodium Carbonate (mineral-derived).
Meliora Plastic-Free Dish Soap for Hand Washing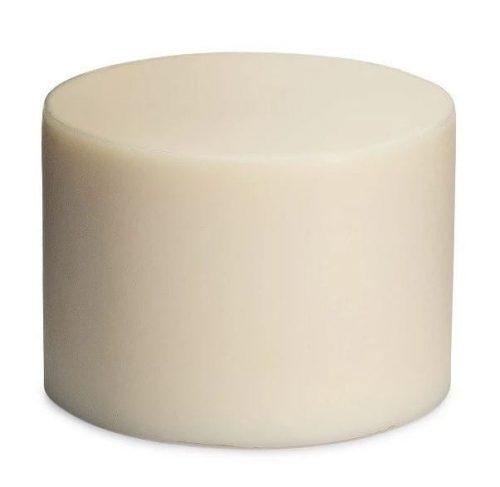 Sustainably sourced
Cruelty-free
Vegan
Organic
Palm oil free
Sustainable packaging
Meliora's zero waste dish soap is another great option. Free of dyes, fragrances, preservatives, and palm oil there are no nasty ingredients, and it's vegan.
The pucks come in two varieties (unscented and lemon). The lemon variety uses natural citrus limonum (lemon) peel oil to give it a subtle but pleasant fragrance.
The pucks are sold individually or in three packs (7oz each) for a slight discount. They are shipped in 100% plastic-free cardboard boxes, paper padding, and paper tape.
Ingredients (unscented variety)
Vegetable Soap [Sodium Cocoate, Sodium Sunflowerate, Glycerin, Water, Organic Cocos Nucifera (Coconut) Oil, Organic Helianthus Annuus (Sunflower) Seed Oil].
Cassia Organics Vegan Dish Soap Bar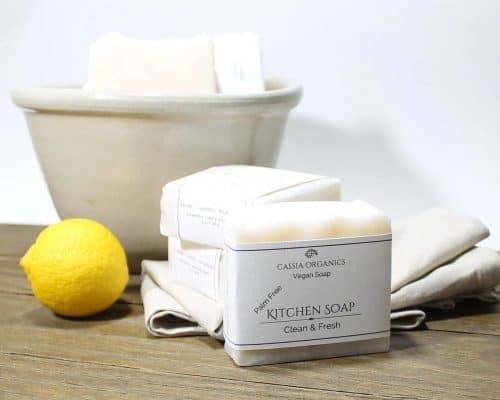 Sustainably sourced
Cruelty-free
Vegan
Organic
Palm oil free
Sustainable packaging
Cassia Organics' palm oil free, vegan dish soap uses a coconut oil base to cut through stubborn grime. The zero-waste soap bars are free from petroleum, chlorine bleach, ammonia, phosphate, dye, and SLS.
You can choose a regular unscented bar or one of their naturally scented options, including:
Cucumber Mint
Rosemary & Thyme
Rosemary Mint
Crisp Juniper
Cactus Flower
Lovely Lemon
The eco-friendly dish soap is simply packaged in compostable paper with a recycled cardboard label in keeping with the brand's sustainable ethos.
Ingredients (unscented variety)
Purified Water, Coconut Oil, HO Safflower Oil, Food Grade Sodium Hydroxide
Common Good Savon De Marseille Zero Waste Kitchen Soap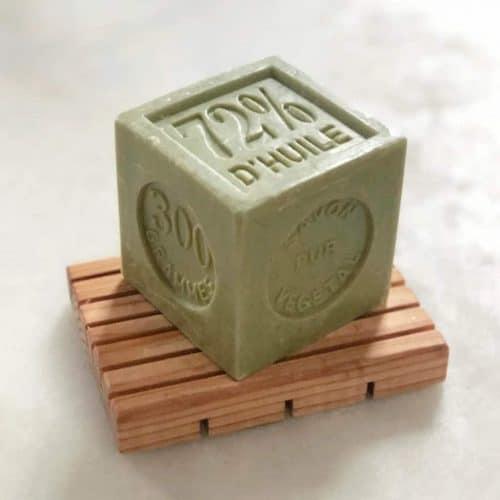 Sustainably sourced
Cruelty-free
Vegan
Organic
Palm oil free
Sustainable packaging
The common good sells blocks of Savon De Marseille Kitchen Soap. Originating from France, Savon De Marseille is a soap made from natural ingredients.
The soap's main ingredient (Olive Oil) has moisturizing properties and is an effective cleaner for all around the house, not just in the kitchen.
Common goods say all their raw materials are sustainably sourced, animal by-product free and biodegradable. 
The soaps are free from harsh chemicals and are concentrated to cut down on the carbon footprint of moving the product around.
They also stock a refillable liquid dish soap which is great on pots and pans but gentle on your hands. 
You can order 16 oz at a time, and although it comes in a plastic bottle you can take it to a local refill station, and they are working on an online refill program.
Ingredients
vegetable/olive oil, ash from sea plants, water, and sea salt (Savon De Marseille Kitchen Soap), water, decyl glucoside, cocamidopropylamine oxide, lauramine oxide, phenoxyethanol, ethylhexylglycerin (liquid dish soap)
Sea Witch Botanicals Canary Clean – All Purpose Natural Cleaner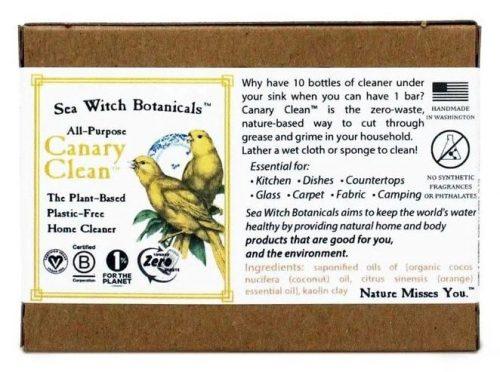 Sustainably sourced
Cruelty-free
Vegan
Organic
Palm oil free
Sustainable packaging
There's no need for a collection of chemicals in plastic bottles if you have an eco friendly all-purpose soap from Sea Witch Botanicals.  
Free from any chemical nasties this zero waste multipurpose cleaner does more than just keep the dishes clean. 
We've used ours to clean our surfaces and appliances with great success. You can also use the soap to clean stubborn grime from carpets and fabrics.
The soap block is lightly scented with orange essential oils and is packaged in fully compostable materials. The bar should last you around 1-2 months if properly stored.
Ingredients
Saponified Organic Coconut Oil (Cocos nucifera), Orange Essential Oil (Citrus sinensis), Kaolin Clay
Simple Passion Solid Dishwashing & Laundry Soap Bars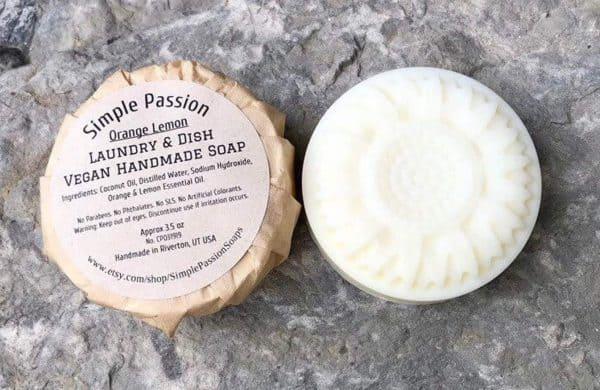 Sustainably sourced
Cruelty-free
Vegan
Organic
Palm oil free
Sustainable packaging
Simple passion soap bars are just that, simple.
Using minimal ingredients and paper packaging, the vegan soap bar is effective and eco-friendly. It works on everything from ceramic bowls to stainless steel silverware.
You can also use this zero waste soap bar as a stain remover stick for your clothes,
Available in three scents, you can choose to order two or twelve bars at a time. There is an option to receive the bars naked if you don't need the paper wrapping.
Ingredients
Coconut Oil, Distilled Water, Sodium Hydroxide, Essential Oil (for scented options)
Butter Me Up Organics Zero Waste Dishwasher Soap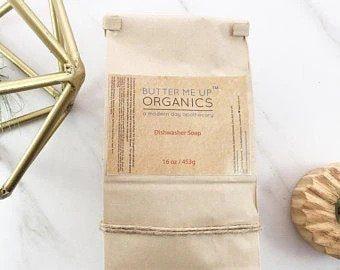 Sustainably sourced
Cruelty-free
Vegan
Organic
Palm oil free
Sustainable packaging
Butter me up organics is a zero-waste company, so you can guarantee their dishwasher soap is zero waste.
All their products are safe to eat, although they may not taste nice! Every ingredient is non-toxic and of the highest quality.
Packaged in a compostable bag, you will receive 1 lb of soap. Butter Be Up say for a standard load you only need 1 tsp of soap.
For a zero waste rinse aid add some white vinegar and your pots and pans will be sparkling.
Ingredients
Washing Soda, Kosher Salt, Sodium Borate, and Non-GMO Citric Acid
ECO Store Zero Waste Dishwasher Tablets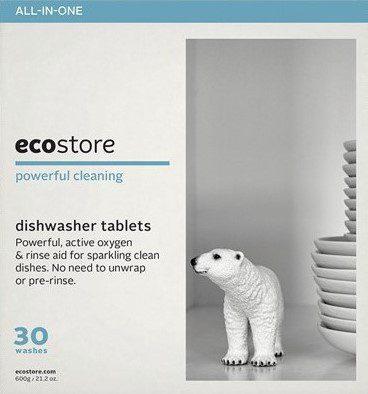 Sustainably sourced
Cruelty-free
Vegan
Sustainable packaging
If you're looking for sustainable dishwasher tabs, then the eco store has you covered.
The oxygen boosted formula uses readily biodegradable enzymes for cleaning power. The plant activated enzymes are efficient cleaners and will quickly break down any tough stains on your dishes.
The tablets also have built-in rinse aid, so no need for any added extras.
The ingredients list may look scary, but rest assured it is environmental choice-approved. The tabs are free of fragrance, phosphates and dyes.
Each tablet is wrapped in a biodegradable, dissolvable wrapper, so there's no need to touch it. The container is a compostable cardboard box.
Ingredients
Fatty Alcohol Alkoxylate, Glycerin, Sodium Bicarbonate, Sodium Carbonate, Sodium Carbonate Peroxide, Sodium Citrate, Sodium Polyaspartate, Sorbitol, Tetraacetyl Ethalinediamine, Trisodium Dicarboxymethyl Alaninate, Amylase, Sodium Silicate, Subtilisin, Tetrasodium Iminodisuccinate, Modified Fatty Alcohol Polyglycol Ether, Brassica Napus (Rapeseed) Seed Oil
Clean Plate Club Liquid Dish Soap via Fillaree
Sustainably sourced
Cruelty-free
Vegan
Organic
Palm oil free
Sustainable packaging
Not into the blocks of soap? Clean Plate offers an eco-friendly liquid dish soap with no sulfates, preservatives, or artificial fragrances.
You can buy this soap via Fillaree, which is a refill company. They offer refills in store if you live near one, but they also have an online refill model. This is the perfect option if you don't live near a shop that offers bulk refills.
When you have finished your first bottle of Clean Plate Club soap, send your container back with the pre-paid label. Fillaree will sanitize it, refill it and send it back to you in plastic free compostable materials. Rinse and repeat!
While not totally zero waste yet Fillaree are working on it. For example, the backing pre paid label is not recyclable, but they request that you send this back to them with the bottle so they can collect them and look for a solution.
Ingredients
Water, Saponified Coconut Oil, Sodium Carbonate, Sodium Borate, Hydroxyethylcellulose (a natural plant-derived thickener) 
Kind DISHLATHER Sheets by KindLather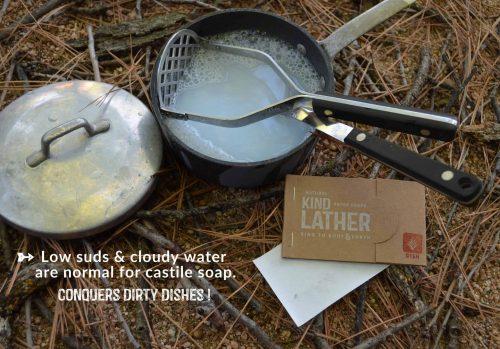 Sustainably sourced
Cruelty-free
Vegan
Organic
Sustainable packaging
A unique product, Kindlather, offers an innovative, zero waste way to wash your dishes on-the-go. The biodegradable sheets are organic, vegan and non-toxic.
The sheets dissolve in water to create a soapy mixture that will clean your dirty dishes. One sheet will wash one meal's worth of dishes, and you get 20 sheets in one envelope.
The packaging is made of recycled paper and stamped with certified non-toxic and eco-friendly earth pigment paint. Plus, for each sale, two trees are planted.
If you are into any sort of camping, these will be a lifesaver. The sheets save space and are acceptable for carry-on luggage if you are going on an outdoor adventure abroad.
Ingredients
Water, Organic Coconut Oil (Sustainably Grown & Certified Fair Trade), Organic Palm Kernel Oil (Sustainably Grown, RSPO Certified & Certified Fair Trade), Organic Olive Oil (Certified Fair Trade), Tea Tree Extract, Organic Hemp Oil, Organic Jojoba Oil, Citric Acid, Tocopherol (Vitamin E)
Bulk Castile Soap
Castille soap is what most zero waste dish wash soap options are based on, but you can also just buy pure castile soap.
The traditionally olive-oil based soap is biodegradable and non-toxic, making it the perfect natural ingredient. 
If diluted correctly, the soap is even suitable for use on the body. 
These days you'll find different variations made from a variety of different vegetable oils like coconut or hemp oil.
You can find it in both solid soap form and liquid form. 
For the liquid form, to keep packaging down, we suggest bulk buying a concentrated version, which you can then dilute with water based on your needs.
For dishwashing, we suggest a dilution ratio of 1 part of castile soap to 10 parts of water.
Castile soap has an alkaline pH so will react with anything acidic such as vinegar and lemon. This reaction will cancel out the cleaning properties of the soap and leave a white coating on your dishes.

Very hard water can produce the same effect so if you notice this happening, installing a water softener should fix the problem.Top Tip
Castile soap is so great because you can use it for a lot more than just washing your dishes, it has almost unlimited use around the house. 
It's cleansing properties make it useful for everything from cleaning your toilet to a bug spray for plants.
If you want to use your soap for other things, check out this super handy dilution cheat sheet.
Another benefit of Castile soap is the price tag, especially if buying in bulk. If you're looking for a cheap zero waste dish soap, then castile soap is the way to go.
If you're not able to find any bulk castile soap in your local stores, sustainable options online include:
Check the ingredients of any castile soap you find and make sure it doesn't contain products derived from animal fat, and that if it contains palm oil, it is from a sustainable source.
The Good Fill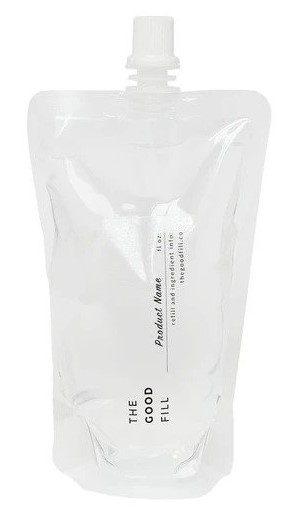 Sustainably sourced
Cruelty-free
Vegan
Organic
Palm oil free
Sustainable packaging
This one is our favourite place to buy castile soap in bulk because it uses the least plastic. 
The liquids are sent in a  BPA-free pouch made with 93% less plastic than a plastic bottle. 
Good Fill asks that you send these pouches back so they can be cleaned and reused, creating a zero-waste process.
They also sell all natural, zero waste dishwasher detergent and liquid dish soap refills.
Homemade Dish Soap Recipe
Homemade zero waste dish soap is easy to make and takes less than 5 minutes. 
Our recipe uses natural ingredients that will clean effectively while also being good for the environment. 
No harsh chemicals are used, so the dish soap will be gentle on your skin too.
Ingredients
1/3 cup of liquid castile soap (add more of this if you find the soap too weak)
1 – 2 tablespoons of baking soda (for really tough stains scrub with some baking soda first)
1 1/2 cups of hot water
A few drops of essential oil of your choice (optional)
If you don't have any liquid castile soap, you can substitute solid soap. 
Any bar soaps you have at home should work, but we suggest using one of the options above or looking for a traditional olive oil soap bar.
You will have to grate the soap (or mix it in a food blender), so you'll need to use a bit of elbow grease.
Method
mix the hot water and castile soap together / melt the grated soap into the hot water
leave to cool and mix in the baking soda while the mixture is still warm (add any essential oils here)
store in any container you have handy
shake well before use (if you have used a soap block with additives you might need to shake pretty vigorously as the soap can harden)
Homemade Dishwasher Detergent Recipe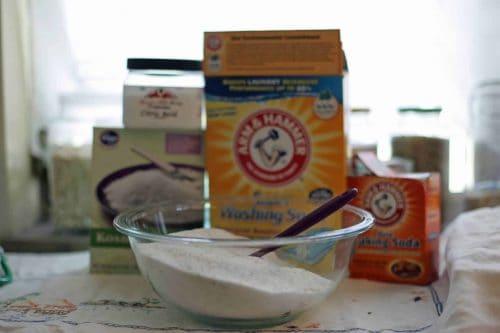 If you have a dishwasher, you can also make your own zero-waste dishwasher detergent. 
Our homemade detergent is much cheaper than the extortionately priced supermarket options. 
Not to mention better for you and the environment.
The amounts given here are just for guidance. You will need to experiment with the recipe as the exact quantities you'll need will vary on the type of water in your area, plus how dirty your dishes get.
In general, the harder your water, the stronger you should make your detergent. 
Adding more citric acid and using white vinegar as a rinse aid will help get rid of any cloudy residues. You can also try using hotter water or using less detergent.
Ingredients
1 cup washing soda (for cleaning)
1 cup baking soda (helps cut grease)
1 cup citric acid, or lemonade Kool-aid (antibacterial)
3/4 cup of salt (helps soften hard water and adds scrubbing power)
Method
mix all the ingredients together
store in an airtight container, in a cool, dry place
use 1 tbsp per load, for a rinse aid fill the compartment with white vinegar
If you find the mixture hardens after storage, try adding some rice to the mixture, an old pair of tights filled with rice will work and is reusable. 
This will suck moisture out of the mixture and prevent clumping.
To make dishwasher tablets, spoon the mixture into a silicone ice tray and leave out to harden.
Final Thoughts
There are LOTS of zero waste dish soap options out there. It might take you a few tries to find the perfect one for you, but one you have you wont be looking back.
Now you are washing your dishes with zero waste dish soap, why not try de-fluffing your clothes with a zero waste lint brush?