Hello Tushy Bidet is a brand that prioritizes environmental impact and sustainability. The company, founded in 2015, is dedicated to raising awareness of better sanitation and the benefits of using a bidet on the environment. Hello Tushy also contributes to a portion of its sales to villages in India that need functional and safe toilets.
If that sounds as good to you as it does to me, you might want to support their business and try out their bidets yourself. But before buying, it is essential to know what products they offer, how good they are, and if they suit your needs. To help you decide, I have reviewed the best Hello Tushy products and created this buying guide!
Keep reading to learn about Hello Tushy products and what to look for in a bidet!
The Rundown
Best for Travel: Tushy Travel
Best for Simplicity: Tushy Classic 2.0
Best for Smaller Bathrooms: Tushy Spa 3.0
Best Overall: Tushy Classic 3.0
Hello Tushy Bidet Reviews
Hello Tushy Bidet is a reasonably new brand, having launched in 2015. However, they work hard to produce quality bidets, help out those without proper access to safe bathrooms, and raise awareness about the environmental benefits of bidets.
One of the biggest differences and a major downside for many users is the lack of features Hello Tushy's bidets have. Since they are focused on environmental benefits, they primarily provide non-electric toilets. If you use their brand, you will miss out on many of the luxurious features bidets can provide. Hello Tushy bidets lack these features:
Built-in water heaters
Heated seats
Air drying
Deodoriser
Nightlights
Various spray types
However, if you get a Hello Tushy Bidet to help the environment and don't mind missing some of these more extensive features, you will likely not be disappointed. Most people rate the toilets highly on both Amazon and Google. The electric Hello Tushy bidet has minimal features compared to other electric seats.
Hello, Tushy has four bidets they sell. They are:
Best for Travel: Tushy Travel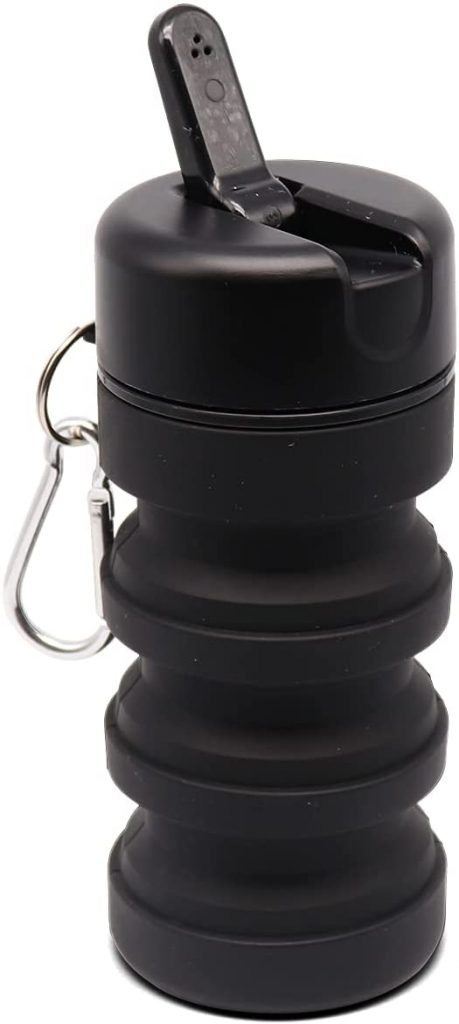 Having a portable toilet with you may sound ridiculous, but wait till you try this! Many people, especially bidet users like me, may find it hard to go to the loo anywhere but home. With this, you can take your bidet with you whenever you leave the house!
The Tushy Travel is a collapsible and expandable bottle made of BPA-free plastic; the bottle is easy to carry and can hold 11 ounces of water. It has a hinged nozzle with a three-point spout to clean quickly and easily anywhere, with a strong stream and spray pattern.
Best for Simplicity: Tushy Classic 2.0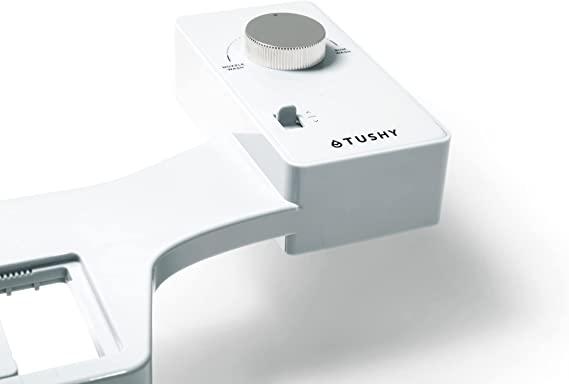 If you're a traditional, no-nonsense person who prefers to get straight into business and wants to reflect their personality in their choice of bidet (and who doesn't, right?) The Tushy Classic 2.0 is what you need.
The Classic 2.0 has a simple, clean, and timeless design and includes just a water nozzle that sprays water at the angle and pressure of your desire, leaving you clean and fresh. My favorite part of using the Classic 2.0 is that the nozzle is even retractable and self-cleaning. This retractable nozzle makes the Classic the perfect device for someone with mobility problems or disability who struggle to get themselves clean!
The Classic 2.0 provides a no-nonsense, state-of-the-art toilet experience for a fraction of the price of a regular bidet. This product is simply attached to your current toilet seat within 10 minutes, comes with all needed parts, and requires no extra plumbing work or electrical inputs, all with a one-year warranty.
Best for Smaller Bathrooms: Tushy Spa 3.0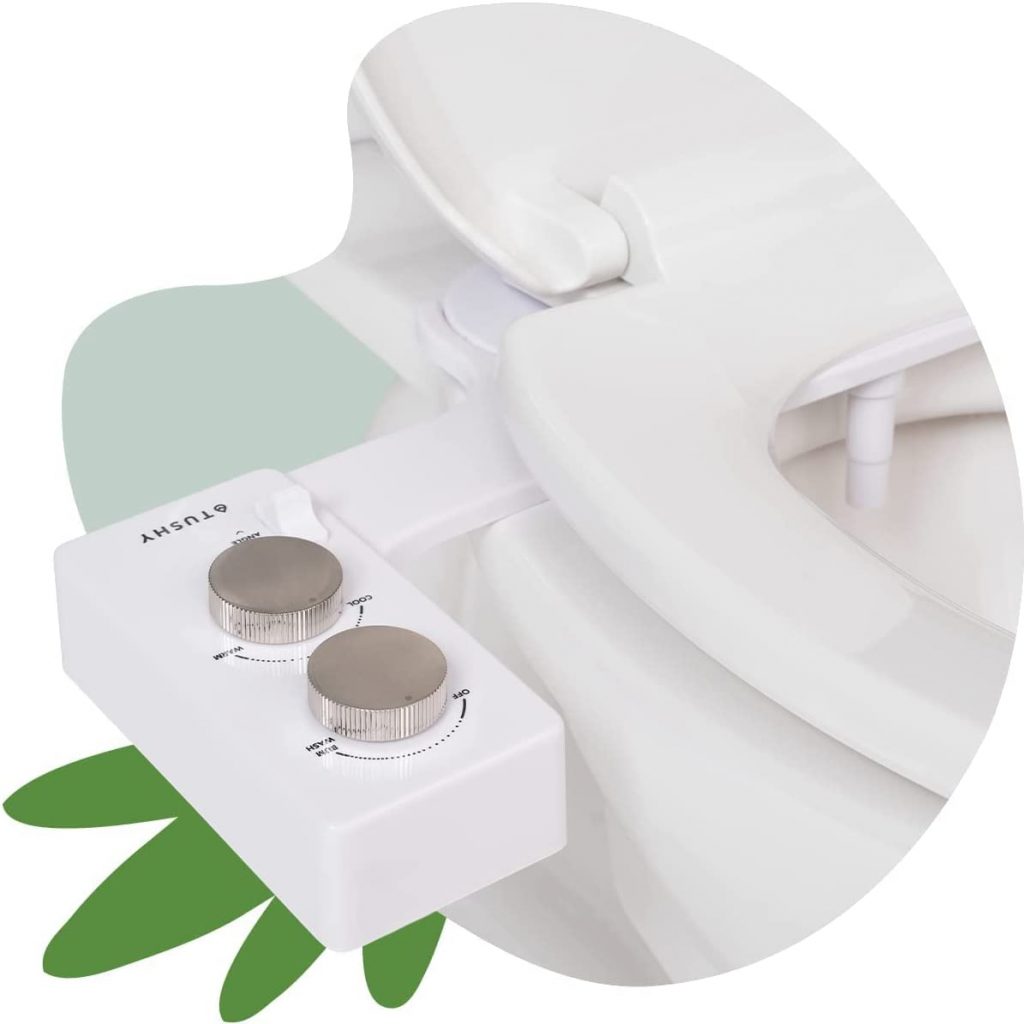 The Tushy Spa 3.0 adds sustainability with a hint of luxury to your toilet routine. The Spa 3.0 is made of 100% bamboo and has three controls for a luxurious experience. With this, you can control the temperature and pressure from a cool jet to a warm stream to get a perfect, comfortable clean every time.
The Spa 3.0 also has a switch to adjust the nozzle angle, which has SmartSpray technology to rinse itself before and after every use.
The one complaint I have about the Spa 3.0 is that, while it can fit easily on any toilet and has secure seat fasteners, it must be next to a sink to function. This restriction could be perfect for a smaller bathroom, but many bathrooms, like mine, do not have a sink next to the toilet, and most folks don't want a hose hanging in their bathroom. So keep this in mind when considering this model.
Best Overall: Tushy Classic 3.0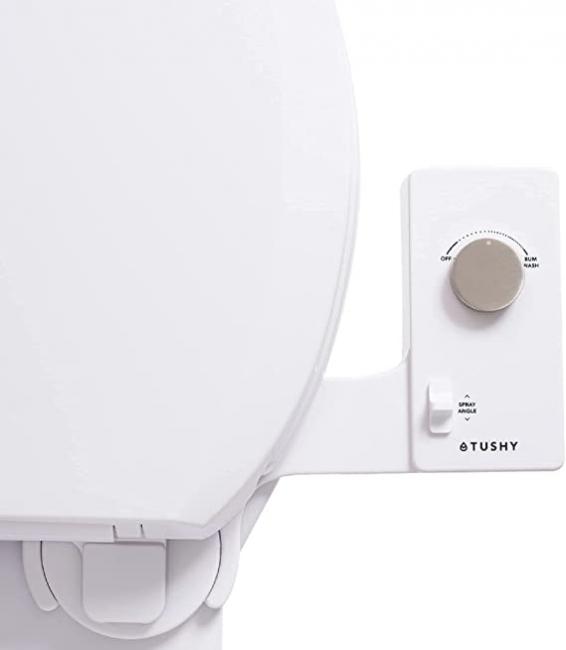 Care about the environment but also want to treat yourself to luxury in the bathroom? The Tushy Classic 3.0 is the one you have been looking for. The Classic 3.0 comes with all the features of the Classic 2.0 and more!
It has the same precise water pressure and angle controllers. These features allow you to choose from a gentle to a strong stream of water and select your desired angle for the water to spray. It also has the much coveted heated seat and air dryer, making each trip to the toilet seem like a spa day.
This model's hygiene is at par with the best bidets on the market for a tiny fraction of the price. The Classic 3.0 has a SmartSpray water nozzle that self-cleans by rinsing itself pre- and post-use and automatically retracting when not in use.
It also has a slim body and a new BuildUp-resistant Design to help minimize grime. You can choose between the bamboo or brass adjustable knobs for your Tushy, both of which are antimicrobial and make your home look clean and modern.
The Tushy Classic 3.0 is the most sustainable, clean, and efficient bidet I have tried. It also fits on almost any toilet you may have and takes less than 10 minutes to install!
Hello Tushy Bidet. Minimal Features:
One major downside for many users is the lack of features these Hello Tushy Bidets have. Since they are focused on environmental benefits, they primarily provide non-electric toilets. This means that if you choose to use their brand, you will miss out on a lot of the more luxurious features that bidets can provide.
Big ones that people seem to miss the most:
built-in water heaters
Heated seats
Air drying
Deodorizer
Nightlights
Various spray types
However, if you go into a Hello Tushy Bidet wanting to help the environment and don't mind missing some of these bigger features, you will likely not be disappointed. Most people seem to rate the toilets highly on both Amazon and Google.
Their electric one even comes with minimal features compared to other electric seats.
Hello Tushy Bidets: Pros and Cons
Pros:
There are some outstanding features of Tushy bidets that make them great.
Uses less toilet paper.
Easy to install the basic Tushy toilet
Simple to operate
One version is portable.
It fits on most standard toilets.
No electricity required
Long hose connection
Cons
However, nothing is perfect. Some lower reviews pointed out some downsides to using the Hello Tushy Bidet brand.
No temperature control for a basic installation.
You can install the toilet on your hot water lines, but it is much more difficult.
Some one-piece toilets don't work with these bidets.
The nozzle might stick out enough that some people accidentally pee on them.
Hello Tushy Bidet Buying Guide
Before buying a bidet, consider many factors before settling on the perfect match. Ask yourself these four questions before deciding:
What type of bidet do you want?
There are many bidets out there. Some examples include:
Portable: These are bottles with nozzles on top, but you can get electric ones.
Attachments: These are great for beginners and require just a quick installation between the bowl and seat of your toilet.
Non-electric: These are much simpler and powered by your water pressure.
Electric: These are considered more luxurious and have a tank heater.
Standalone: These aren't popular in the US. They are made from ceramic and look like a sink.
Integrated: These bidets are also called smart toilets. They have all of the most advanced technology in one setup.
A bidet with all the features is preferable, such as with integrated or electric toilets. However, there are other things you have to consider, such as installation hassles and costs. These additional costs make it vital to refer to a buying guide before purchasing.
What additional features do you want in a bidet?
There are dozens of features that your bidet can come with. The more luxurious brands also have features that seem to be from the future.
Heated water
Filtration system for smells
Heated seat
Self-cleaning/sterilizing nozzles
Adjustable nozzle
Music to drown out sounds
Different spraying speeds and types
Specific wash for women
Air drying
Adjusting water temperature
Adjusting water pressure
And more
Decide which features you'd love to have, which are necessary, and which you could live without before purchasing. Considering these factors will ensure you don't forget the main goals while people try to sell you other features.
What is your budget?
Some bidets are cheap, while others can dent your savings. Knowing your budget can help prevent you from buying more than you can afford and regretting your decision.
So how much does a bidet cost? Depending on the model, features, and type of bidet, they can range anywhere from $10 to $1000. This cost is just for the toilet itself. Some of the higher models require professional installations that can inflate your total cost.
You can find Hello Tushy's portable bidet and the simple attachment for anything under $200. After that, you are looking at significant price increases. A non-electric bidet can also be on the lower end, but you lose all of the features you may want.
The classic and integrated models will likely need professional installs, so keeping that in mind is essential.
Are you renting?
This question is one people don't always consider. It makes sense that you can't rip out the toilet to install a brand-new one in a rental, but the type of toilet you have is essential. Some bidet seats and add-ons are designed to fit specific shapes of toilets.
They are also suitable for toilets with tanks or even tankless ones. Even the size and shape of your toilet seat are significant factors!
Before continuing with your purchase, research all this so you don't buy one you can't use.
FAQs
How do I install a Tushy Bidet?
Tushy toilet seats have one of the easiest and most stress-free installations of any product I have tried. All you have to do is remove your current toilet seat, connect your Tushy to the clean water supply using the given adapter, and place the seat back. For more luxurious electrical models, you will need to connect it to a grounded three-prong outlet.
How and when should I clean Tushy bidets?
Clean your Tushy bidet when you clean your regular toilet by retracting the nozzle and cleaning around it with an all-purpose toilet cleaner. The nozzle is self-cleaning with a jet of water, so you do not need to clean it.
Do Tushy toilets dry you?
The Tushy bidets lack the air drying feature found in most bidets, but this is because Tushy is focused on sustainability and not wasting energy. Instead, Tushy offers a line of sustainable and reusable Bamboo Bum Towels, Bamboo TP, and single-sheet Bamboo Tissues. These can help cut toilet paper use by 80%.
How does the water get hooked up to the Tushy?
You will need to use the adapter that is included with the Tushy to connect it to the water supply that fills your toilet tank.
How do I know if it will fit on my toilet?
All the bidet seat attachments on this list fit on all standard two-piece toilets and a majority of one-piece toilets. Tushy provides a Toilet Compatibility List on its website to ensure the product will work for you before you buy.
Can I attach and remove the Tushy bidet easily? What if I move?
Tushy bidets are extremely easy to remove and reinstall. You can take your Tushy with you anywhere and install it wherever you want in minutes if it fits the toilet.
Final Thoughts
Hello Tushy bidets are a dream for folks looking to be more sustainable in their everyday life. Bidets, on average, are more environmentally friendly in some ways compared to regular toilets because you don't use toilet paper. Still, the electricity used in more luxurious bidets might be unsustainable for many.
This is what Hello Tushy bidets are here to fix. They make bidets that do the job and save the planet without electricity or toilet paper. They have bidets for every occasion and need; for travel, for luxury, or just for a nice, thorough wash after the toilet.
If you were confused about which Tushy to get, I hope my thorough review and buying guide of their best products helps you decide!