Have you ever been to Japan? If so, you may have noticed that the toilets in the country are different than others in certain countries. You may have heard of Japanese toilets or of a Japanese toilet seat.
Of course, Japanese toilet seats provide the same basic function as toilets worldwide. They eliminate your waste in a sanitary and effective manner. However, these incredible gadgets do much more than disposing of unmentionables. Japanese toilet seats come with a bewildering assortment of extra functions, ranging from handheld bidet nozzles, fixed nozzles, adjustable knobs, and even the ability to listen to music that users may choose to listen to during their time in the bathroom.
These beautiful, modern toilets initially gained popularity in Japan back in the 1980s, and by the mid-2010s, nearly all Japanese homes possessed a toilet with these extra, cutting-edge functions and features. These multipurpose toilets are quickly gaining popularity throughout the world, and it's easy to understand why.
What Is A Japanese Toilet Seat?
Yes, they are called Japanese toilet seats, but the truth is that they are all over the world now and in just a few more years, they will probably be vastly more popular than regular toilets that you already use.
The name can be a bit misleading, but it does mean something important. To be deemed Japanese, a toilet does not have to originate in Japan. In fact, the term "Japanese toilet" refers to any commode that has extra functionality outside those found in standard toilets in the West. These characteristics were generally created and trademarked in Japan.
A bidet or nozzle that sprays water into your nether regions for washing is the distinguishing characteristic of a Japanese toilet. While many European toilets have a separated bidet, and American toilets typically don't have bidets at all, Japanese toilets feature built-in digital bidets that take a little more work to activate.
What Functions Come With A Japanese Toilet Seat?
If you are looking to purchase a Japanese toilet seat, you can look forward to many different features that will make your entire trip to the bathroom so much better and easier.
Spray Wash
This is perhaps the most well-known function of a Japanese toilet seat. The spray wash feature will make you feel cleaner than ever after use. There is a rear wash or a female wash for extra fresh feelings. Best of all, you can adjust the temperature of the liquid and can alter the patterns of spray and the intensity and pressure too.
Deodorizer
If you want your restroom to always smell fresh and clean, the deodorizer function of the Japanese toilet seat is a must-have. It will extract air and odors left in the bowl before they have time to reach the room and leave a stench. This is a great way to keep your bathroom consistently ready for guests at all times.
Stopping Functions
There are many Japanese toilets that are manufactured to stop immediately once it notes that a user has stood up. This sensor is ideal for people who want to be in and out of the bathroom quickly.
Lighting
Many Japanese toilets are built with LED lights that are actually implanted in the bowl. What is the use of this? Well, you don't have to turn on the overhead light when you enter the bathroom late in the evening. Instead, you can see clearly and still stay sleepy and relaxed while attending to your business.
Air Dryer
After the spray wash feature is used, you will love the air dryer function of a Japanese toilet seat. It will ensure that the water sprayed up at you is dried and leaves you feeling comfortable and clean. You can adjust the temperature, so it feels just right for you, as well as the intensity of the air and the speed and pressure too.
Heated Seats
This one speaks for itself. A heated bidet toilet seat is an excellent way for your toilet to feel comfortable even on the coldest days of winter. No matter when you need to sit on the toilet, you can be positive that it'll feel comfortable and warm to the touch.
Best Japanese Toilet Seats and Toilets For Your Home
Just years ago, it was hard to find a Japanese toilet outside of the country of Japan. But thanks to sites like Amazon, you can now find one that suits your needs and your home. Plus, modern plumbing has made it so installation couldn't be easier and can even be completed by someone who has little experience doing so.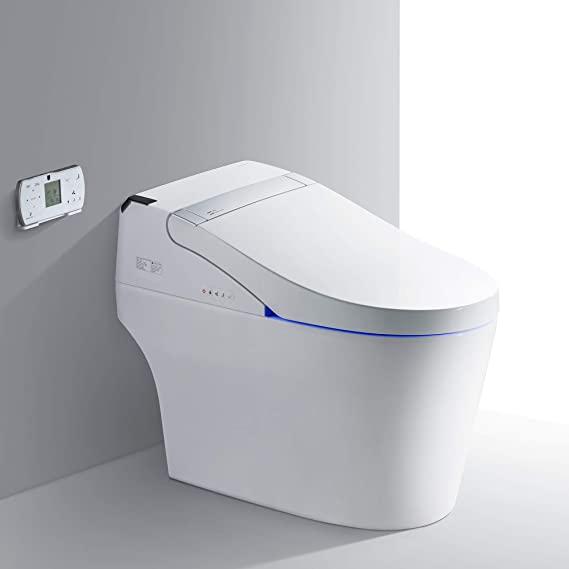 Woodbridge Bath is the American brand that best embodies the Japanese culture and attitude toward bathroom creativity. This B0960S toilet offers everything you could want: it functions completely without using your hands, its bidet is controlled by a remote, and it can rotate to soothe your backside with a warmed seat, odor remover, and air dryer.   It has its own specialized tech support hotline too. Oh, and the night light is very handy and nice too.
If you decide to go with this option, be aware of certain issues with its wax hose rings included. The one that comes with it must be adjusted prior to use, or the water supply will spill out. Regardless of that drawback, this is still one of the greatest Japanese toilets currently on American markets.
See Reviews On Amazon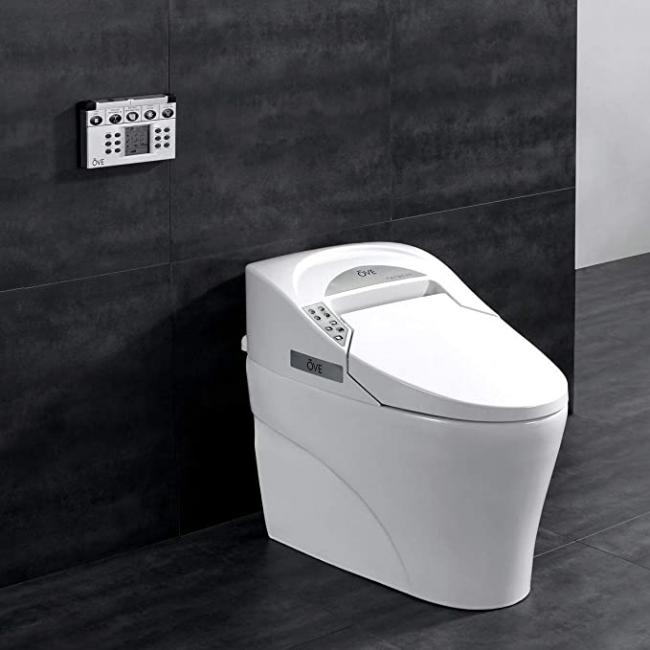 The Ove Decors 735H Smart Toilet is a stylish, well-designed Japanese toilet that is suitable for all types of individuals from different walks of life.
The in-bowl control center is convenient and quick to operate, making it an excellent solution for persons with limited mobility. You'll still have anything you need, just a short reach away. It also achieves a good blend of self-cleaning features and minimal water use.
If there is one flaw with the 735H, it is that the user handbook is difficult to understand because it is poorly transcribed from another nation. Several of the automated features, particularly the flush, have an unacceptably long wait, which sometimes takes just a few seconds to get started and finished.
See Reviews On Amazon