If you're remodeling a bathroom or getting a new one built, installing a bidet might have crossed your mind. Bidets are more common in the Middle East or Asia but are rapidly gaining popularity in the United States. Bidets have been around for years and have more fancy features than water spray.
A bidet toilet combo may have sounded foreign to you. Still, these hybrid models are perfect for modern homes with bathrooms of all sizes. The notion that bidets are a luxury appliance is true in features but not affordability since there are now bidet toilet combos for all budgets.
Bidet combos have a higher price tag than bidet additions and non-electric bidets, so research and picking the best option before committing to a considerable expense is necessary. So let me help you find the best bidet toilet combo for you!
The Rundown
Best Overall: Kohler Veil K-540k1-PA-0
Best Self-Cleaning: WOODBRIDGE B-0960S
Best for Power-Saving: VOVO Stylement TCB-090S
Best for Hygiene: TOTO MW4463046CEMG#01 WASHLET
Best for Mobility: Bio Bidet Prodigy P700 Integrated Bidet Toilet Combination
Top 5 Picks for the Best Bidet Toilet Combo
Over the last year, while remodeling bathroom plans for myself and my friends, I had the opportunity to research many toilet bidet combos. I tried out many different ones, researched each feature and add-on, and read consumer reviews before putting together this list.
After all that research, I present the top 5 bidet toilet combos on the market today that I love!
Best for Power Saving: VOVO Stylement TCB-090S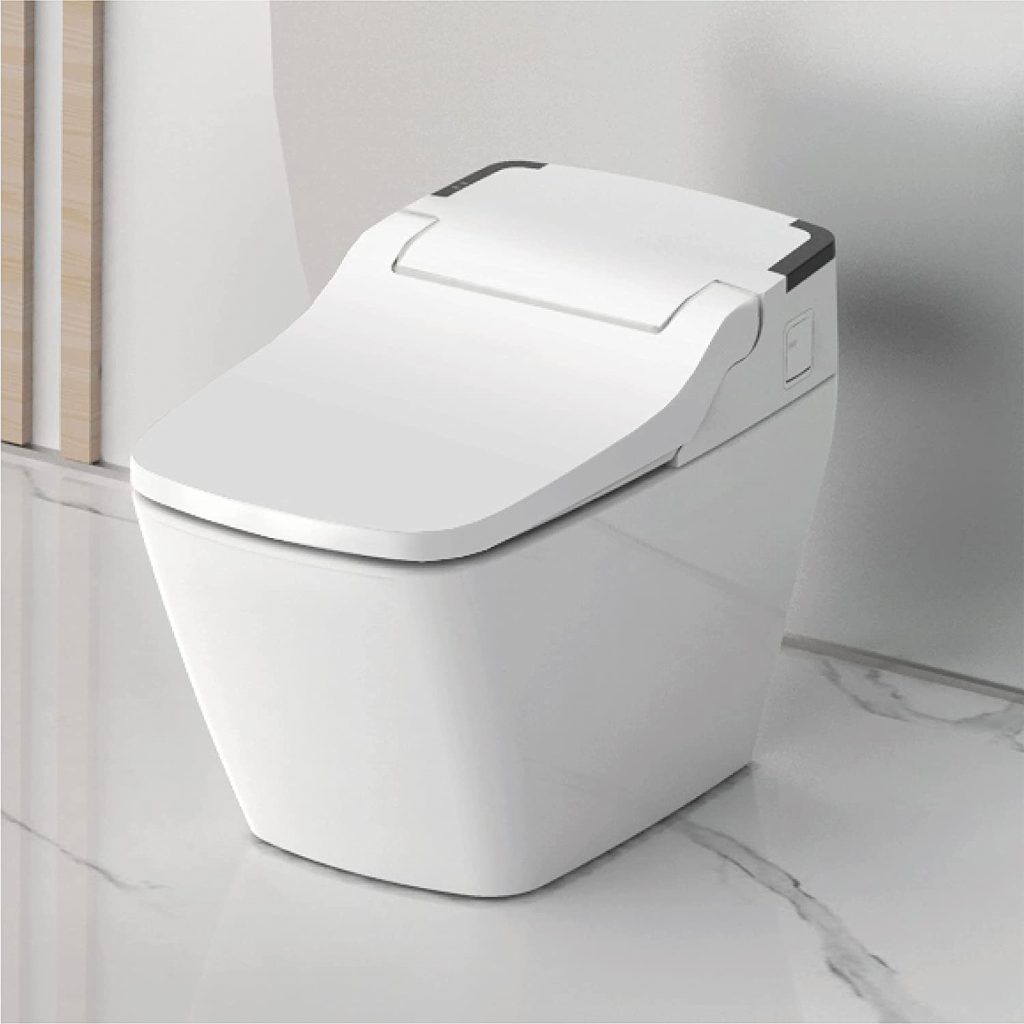 VOVO's integrated smart toilet features a built-in bidet that updates the décor and functionality of your bathroom. VOVO designed this integrated bidet toilet combo to provide you with the highest comfort without sacrificing efficiency.
This fully automated combo unit has tons of different functions. My favorite feature, you ask? Well, it HAS to be the fully automated flushing system that senses when you've sat down, done your business, and determines whether a full or half flush is needed! A close second is the auto-deodorization that removes unpleasant odors!
This unit is perfect if you get up at night to relieve yourself. It comes with a subtly illuminated inner bowl to find your way. The VOVO also has a heated seat AND water system, which is especially useful for those winter trips.
The seat temperature can be set to three modes while providing 24-hour power saving. If you think you'll ever be able to return to a bidet without warm water, think again. The warm drying system will make you never need toilet paper again and stay much cleaner.
The VOVO Stylement is excellent at its primary function; hygiene. It has a stainless, semi-permanent water nozzle that performs three functions at five different pressure levels: posterior, feminine, and turbo wash. This toilet-bidet attaches quickly to any toilet. I was worried my toilet size would be too small, but it fit perfectly and was super easy to install.
Pros:
24/7 power-saving feature
Automated flush detection
Auto deodorization
Nightlight
Heated seat and water system
Warm air drying
Multiple wash modes
Cons:
Thin plastic toilet lid
Faulty auto deodorization function
Best Self-Cleaning: WOODBRIDGE B-0960S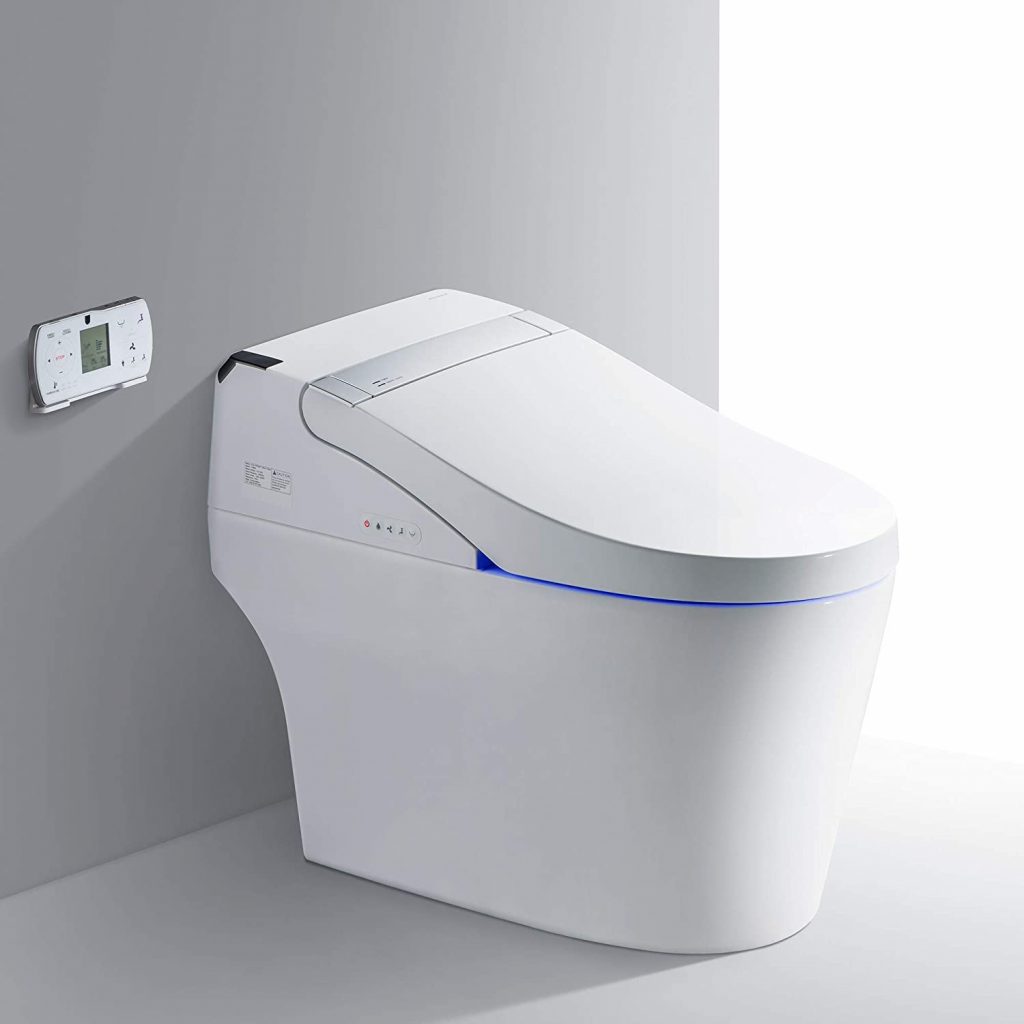 This bidet toilet from Woodbridge is here to make your life easy. It comes with a sleek white finish in a contemporary design. The Woodridge has a soothing night light (one of my favorite features!), an auto flush feature, and remote control with multiple functions.
This bidet sports a specially designed heated seat with a powerful warm air dryer to keep you warm and cozy. The drying system also helps you skip the toilet paper and save the planet and your money!
Best of all? The Woodbridge is a self-cleaning bidet that cleans itself before and after each use. If you're as lazy as I am, this is all you need to convince yourself to get this model. And if that's not all, this has an adjustable warm water temperature, pressure, and nozzle jet position. With the hands-free operation, the seat automatically activates the spray wand and cleans the toilet when you leave.
This Woodridge Smart Bidet is fully automated, and the lid opens when you enter (warning: for the first few days, this will terrify you). Also, to eliminate unpleasant odors around the toilet, this deodorizer uses an air filter to draw in air and pass it through an ionized carbon filter. With 1.2-1.6 gallons per flush, this is the best combination of quietness and efficiency.
Pros:
Nightlight
Auto-flush
Heated seat
Self-sterilizing
Adjustable water temperature and pressure
Automated lid opening
Cons:
Best for Hygiene: TOTO MW4463046CEMG#01 WASHLET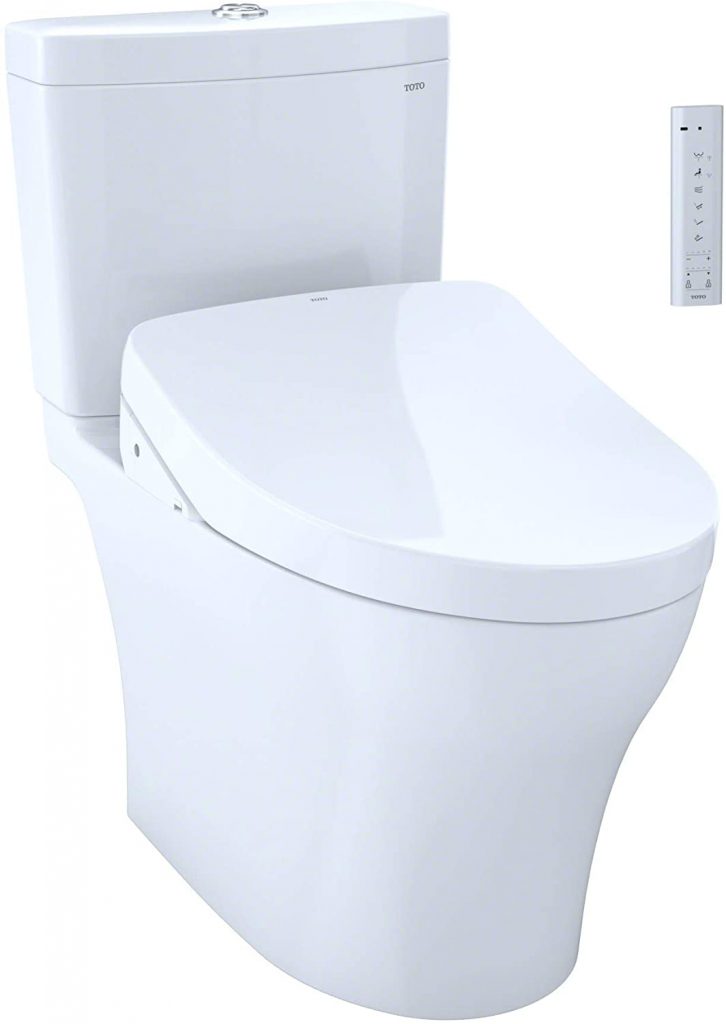 The TOTO Washlet combo can make a boring old toilet trip feel like a mini spa vacation! This bidet toilet combo has a concealed power cord and water hose for seamless installation. No cords are needed! It also includes a modern, compact WASHLET S500e bidet seat with a dual flush feature.
The MW44 features TOTO's EWATER+ system, which creates a highly effective and safe compound with electrolyzed water through a technical process. The WASHLET S500e offers the latest shower technology. The EWATER+ technology, a safe and effective cleaning agent, cleans the bidet by misting the bowl after each use. This method does not involve adding harsh chemicals, which is a great bonus! I see the appeal in this unit for someone unable to clean their toilet as often as they should.
The TOTO Aquia bidet toilet provides seamless integration while concealing the water supply and power cord. Washing is possible with both warm water and the front. Two stream options can oscillate or pulse with five pressure and temperature controls. One of my favorite features is the memory option; it can store up to two users' specifications and identify users quickly.
Compared to other units on this list, the TOTO bidet lacks some additional features. It has a tank system, so water consumption and looks are compromised. The absence of a nightlight is also a factor worth considering.
Pros:
Concealed power cords
Dual flush
Self-cleaning
Heated seat and water
Excellent memory feature
Cons:
Slightly pricey
Tank system
No nightlight
Best for Mobility: Bio Bidet Prodigy P700 Integrated Bidet Toilet Combination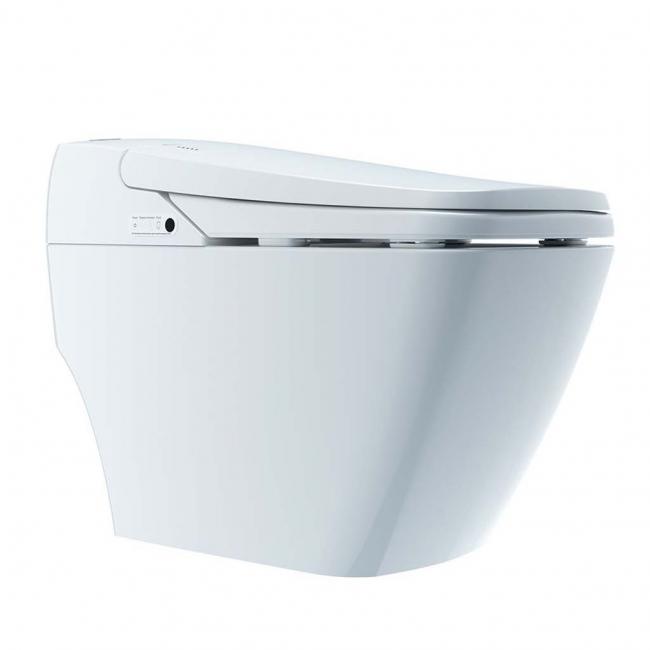 The Bio Bidet Prodigy P770 features the latest in bidet toilet systems and is a fan favorite. The Prodigy P770 has a modern and elegant design combined with the most comfortable feel.
One of the most advanced features of this bidet toilet combo is its integrated bidet. In addition to its powerful cleansing capabilities, efficient drying, and touchless flushing option, it's a tankless design! Tankless technology will make your bathroom appear elegant and minimal and flush effectively with minimal sound. Never underestimate how beautiful tankless designs can look in your bathroom. I love the tankless look in my bidet and will never shift back to a tank system.
The Bio Bidet P770 automatically selects the proper size flush depending on your habits and sensors. A high-speed water jet circulates water throughout the bowl and flushes out debris. The lid automatically opens when entering the bathroom, and you can perform other features through the remote. With this luxurious bidet, you can adjust the temperature and spray settings for a customized cleaning experience or let the bidet determine which spray style is right for you.
Pros:
Integrated bidet
Elongated bowl for mobility
Automatic sensor flush
Quiet flush
Tankless design
Cons:
No automatic lid opening system
Best Overall: Kohler Veil K-5401-PA-0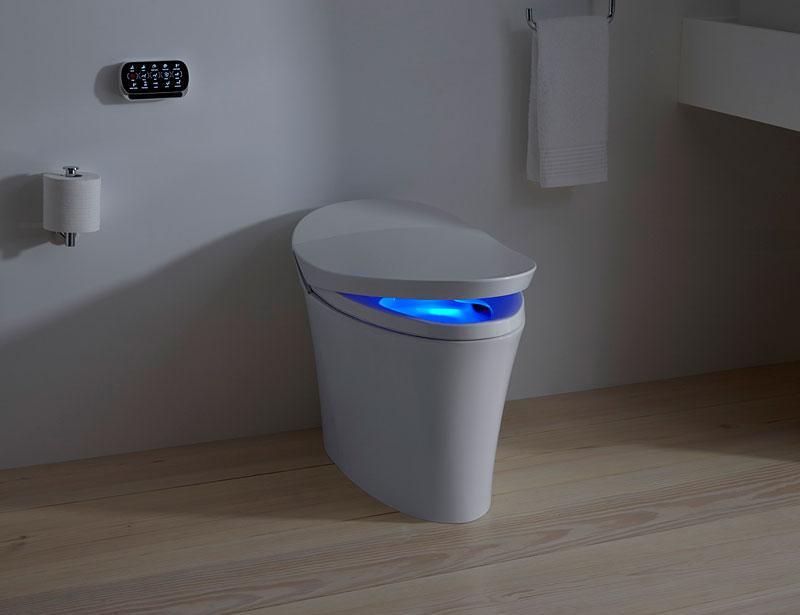 Last but not least, this bidet toilet combo is the best and highest-priced on our list, but the consensus is that it is worth it! Consumers have pointed out that getting a professional to install it would be beneficial, although heavy on the pocket. But when you think about the money you're spending, it makes sense that you'd want to get it fit and installed correctly. I got it fitted in by a handyman, so I recommend it.
The Kohler Veil has a sleek design and fluid shape. It offers an array of precision features, including an LED night light, hands-free opening and closing, and exceptional comfort and hygiene. Its LCD touchscreen remote controls all these features.
This streamlined, compact toilet has an integrated personal cleansing system; its Comfort Height® feature makes it easy to use while standing or sitting. The bidet feature has a self-sterilizing, stainless steel wand with adjustable pressure, jet shape, temperature, pulsation, and oscillation, allowing for front and back wash modes. Don't forget the warm water and air drying features that you can adjust to your needs.
The Kohler Veil has a spacious and comfy elongated bowl. This unit is tankless with a direct water supply. It has a subtle LED illumination, making your bathroom feel as cozy as a spa and look straight out of a sci-fi utopia!
When you're getting a bidet, it's a one-time investment. The extra bells and whistles on this baby might seem like bells and whistles now, but each feature is something you don't know you need until you get it!
Pros:
LED night light
Automatic lid opening
LCD touchscreen remote
Self-sterilizing
Integrated cleaning system
Cons:
How to Choose a Toilet Bidet Combo
Investing in a toilet bidet combo can be a little daunting. These things can be luxurious and exciting to purchase, but they are pricier than other toilet options for your bathroom. Unlike shopping for a regular toilet, choosing the perfect toilet bidet combo can be nerve-wracking. Don't worry; I have the perfect shopping guide sorted by the most important things to look for when choosing a toilet bidet combo.
Toilet hygiene
Hygiene is the most crucial feature of a bidet. All bidets will clean you, but some models have multiple wash modes for washing front, back, and feminine areas. There are also extensive controls on some bidet combos to control water pressure and movement. There are even modes for a pulsating or oscillating water spray. When choosing a bidet combo, think about the people using it; how many wash modes do they require? How much coverage would they need from the wash zones?
When choosing a bidet, choose one that allows you to easily clean the inner washlet or wand. Many models now come with self-sterilizing wands; these bidets use electrolyzed water or UV sterilizing treatments to clean the bowl before and after each use. Self-cleaning ones are especially perfect if you're busy and on the way; they can save so much time!
Heating
Getting up in the middle of the night to use the bathroom is always annoying, especially with the icy toilet seat and wiping it with scratchy toilet paper. Night visits to the toilet can become dreamy with a toilet bidet combo, so if you invest in a bidet, get one with a heated seat, water supply, and drying system.
Newer models come with extensive controls to adjust the water temperature to your liking and direct warm air after the washing. Once again, if you are investing in a bidet and want the best value for your money and expectations, look for this feature, and you will never look back. These features will practically eliminate toilet paper and reduce infections or irritation. Not to mention how luxurious it feels to have this feature, especially on winter days!
Automation
If you've never experienced an automated, hands-free toilet, you NEED to! Bidets now boast different features, from automatic lid openers to auto-flush, night lights, self-cleansing wands, and warm air dryers. The more automatic features in a bidet, the more expensive it is, and sometimes not worth it.
When contemplating the automation features on bidet toilets you like, find out if they are remote-controlled or fully automated. There can be issues with either. Also, make sure the bidet you pick has backup plans for the functionality of the automatic features in case of a power outage.
Installation & Install Cost
With every remodeling or building comes appliance installation. With installation comes installation costs; whether you decide to do it yourself or hire an expert, you will accrue an expense, which will probably be high.
Depending on your budget and the bidet toilet combo, installation could go a few different ways. At the same time, the expense could quickly skyrocket out of budget. So when choosing a model, ensure you understand how intensive the installation is, how expensive it could get and how best to go about it.
Nowadays, most bidets are pretty easy to install. Still, people prefer to hand them over to experts, so their money doesn't go to waste. However, if you save on the extra installation costs, pick an easily installable unit based on reviews and product information.
Accessibility
Bidets ease your life and toileting routine, and they definitely can! Newer bidets come with more and more functionalities and features and, as exciting as they can be, equally overwhelming.
For users with disabilities or who get easily overwhelmed with technology, a fancy bidet can be more of a hindrance than a breeze. When choosing a bidet, carefully determine how users will react to the many features available, how many are necessary, and how many would unnecessarily complicate the user's experience.
The Final Verdict
Getting a bidet toilet combo is the best option if you're ready to invest in a bidet's luxury experience. These are a bit pricier than a bidet attachment for your existing toilet. However, anyone who tries a bidet will agree it's worth the extra coin.
There are bidet toilet combos available for every budget and bathroom, so you're sure to find something that fits your specifications. Based on the consensus and my experience, the Kohler Veil has the best features, looks, and value. But if you're looking for a less fancy or budget option, the TOTO washlet or Bio Bidet would be perfect.
If you've brought other bidet toilet combos that I forgot to mention and are just as good or better, let me know in the comments!
If you're interested in the luxe features that a bidet toilet combo offers but aren't loving the price tag, check out our article on The 6 Best Heated Bidet Toilet Seats of 2021. You can find similar features in bidet toilet seats at a more affordable price.
FAQs
How do I install a bidet toilet combo?
Installing bidet toilet combos is not complicated. Most people prefer to call a handyman or get it installed by a company. However, ensure you have the proper equipment and guides if you decide to do it yourself.
What's the weight limit for a bidet toilet combo?
The average weight limit is around 150-300 pounds. There are bidet toilets available with higher weight capacities for inclusivity.
What is the warranty on bidet toilet combos?
The average bidet combo's seat warranty is 1-3 years. Each component, such as the tank or toilet, has separate contracts available at the manufacturer.
Do I need toilet paper for a bidet?
The whole purpose of a bidet is to eliminate the need for toilet paper and leave you clean and dry. You do not need toilet paper if you get a bidet with a built-in warm air dryer.
Does my new bidet need an electrical connection?
It depends on the model you bought. Some bidets are completely electricity-free; standard bidet attachments are usually mechanical, even those with heated seats and water. But another type of bidet will require an electrical connection.
How do tankless bidet toilet combos work?
Tankless bidet toilet combos are not very complicated. Instead of a tank, a tankless unit uses a direct water supply for all its needs.
How to clean a toilet bidet combo?
Toilet bidet combos are usually not that hard to clean. For a standard toilet bidet combo, you may clean it like a regular toilet. But with a self-cleaning one, you only need to clean the outside of the bowl. However, in standard bidets, the bidet wands and buttons can get very unclean and need to be cleaned regularly.
Why Trust Us?
During the past year, while planning to remodel my bathrooms and helping my friends remodel theirs, I reviewed the specifications of all the best-rated bidet toilet combos on the market. I read reviews and discussion forums. I also got first-hand experience using some of these bidets; let me tell you, it was a luxurious experience.
It was a close call in picking favorites, but I scoured the web and had long discussions with my handyman about which units were good for my home and bathroom health. Armed with this info, I put together a list of favorites I will get in a heartbeat once my remodeling begins.
Read Next: The Top 7 Best Bidet Converter Kits in 2022