Switching to zero waste toothpaste is a small swap that can save lots of waste from ending up in a landfill.
Combine it with some zero waste mouthwash and some reusable toilet paper, and you have an all-round sustainable bathroom routine.
Read on for my zero waste toothpaste tips, I cover
What's wrong with regular toothpaste?
The best sustainable toothpaste options currently on the market
How to make zero waste toothpaste
What's wrong with my regular toothpaste?
Most commercial toothpaste comes packaged in a squeezy tube which is made using a mix of different materials. 
Commonly used materials include plastic, aluminium and steel. 
The blended nature of the material means that the tubes are tough to recycle, and most end up in landfill.
Nearly 1 billion tubes a year are sent to landfill, and with the plastic tubes taking between 500 and 700 years to decompose, that's a lot of unnecessary waste!
On top of the packaging issue, there's also controversy surrounding some ingredients used in mainstream toothpaste.
"Sodium Lauryl Sulfate (SLS) is regularly used as a foaming agent, but evidence shows it can aggravate gums and cause ulcers"Department of Oral Surgery and Oral Medicine, Dental Faculty, University of Oslo, Norway
Switching to zero-waste toothpaste is an easy way to save this plastic from ending up in a landfill. 
Furthermore, zero-waste toothpaste tends to be made with natural, ethically sourced ingredients, so you know exactly what's going into your body.
What are the zero waste alternatives?
If you don't feel like making your own, don't worry! 
There are lots of natural, sustainable toothpaste options available on the market. 
We have compiled a list of our favorites to save you the hard work of finding them yourself.
There are several types of products on the market:
Toothpaste
Tooth Powder
Toothpaste Tablets
The only real difference between them is the texture. 
Pastes are the most like mainstream toothpaste in texture, while powders are a good option for people who prefer a less oily consistency. 
Tablets are super convenient and great for people who travel a lot.
Some bigger brands have all three options, while the smaller brands tend only to offer one option. 
We've made sure that all the options listed contain ingredients that will actually clean your teeth. 
Maintaining your oral hygiene should always be your first concern when choosing a zero-waste toothpaste.
Uncle Harry's Natural Products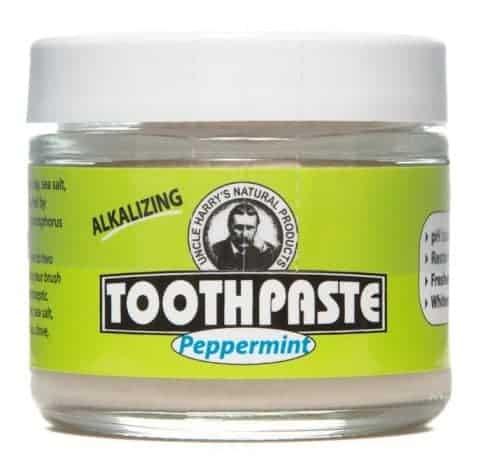 Sustainably sourced
Cruelty-free
Vegan
Palm oil free
Sustainable packaging
Uncle Harry's is one of the first companies most people will mention when talking about zero waste toothpaste. 
They have an extensive range of oral health products ranging from toothpaste to remineralization powders and natural breath fresheners.
The entire oral health range is vegan and free of fluoride, carrageenan, triclosan, artificial sweeteners, and SLS.
Their all-natural toothpaste encourages remineralization of enamel and maintains a naturally alkaline pH. 
The toothpaste uses a unique blend of essential oils to reduce bacteria and help keep your breath fresh. 
It comes in a range of flavors, including peppermint and cinnamon, and they even have a specially formulized children's version.
The toothpaste comes packaged in a glass jar that's perfect for reusing around the house.
Davids Premium Natural Toothpaste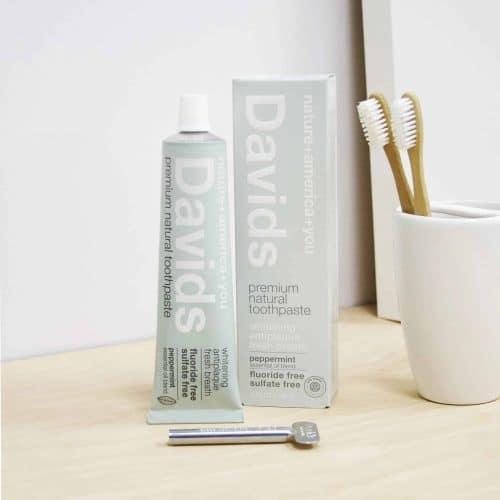 Sustainably sourced
Cruelty-free
Vegan
Organic
Palm oil free
Sustainable packaging
Davids is a family-owned business in California which sells natural toothpaste in a tube, unlike most other options which come in glass jars or metal containers.
The toothpaste uses natural ingredients sourced in the USA and is vegan and cruelty-free. The formula is fluoride-free, sulphate free and contains no artificial flavors, sweeteners, colors, or preservatives.
David's claims their zero waste toothpaste safely & effectively whitens teeth, fights plaque, and freshens breath. 
There are a few different flavor options, including one with added charcoal for a whitening effect.
The 100% recyclable metal tube comes in FSC certified paperboard packaging made with renewable wind energy. 
Also contained in the package is a recyclable metal key which you can use to make sure you get every last drop of toothpaste out of the tube.
You can specify not to receive this key again on future orders, along with the small plastic lid that you can reuse repeatedly.
Georganics Natural Toothpaste
Sustainably sourced
Cruelty-free
Vegan
Organic
Palm oil free
Sustainable packaging
Based in the UK Georganics is another brand with an extensive range, stocking zero waste toothpaste, tooth powder and tablets. 
Their range also includes some innovative mouthwash tablets. We take a closer look at these in our tips on sustainable mouthwash options.
They're a zero-waste company and have a 'zero to landfill' initiative meaning that any product you buy from them which cant be recycled easily at home, you can send back to them free of charge.
All the ingredients in Georganics toothpaste are organic and food-grade certified. They have lots of flavors, including orange which is recommended for children. The formula is high in key minerals vital for a healthy mouth, and free of synthetic chemicals and flavorings. 
The natural toothpaste is also palm oil free.
The packaging is 100% recyclable as a glass jar with an aluminum lid, and a cardboard box. It also comes with a small compostable bamboo spatula for spooning the paste out.
The Dirt Toothpowder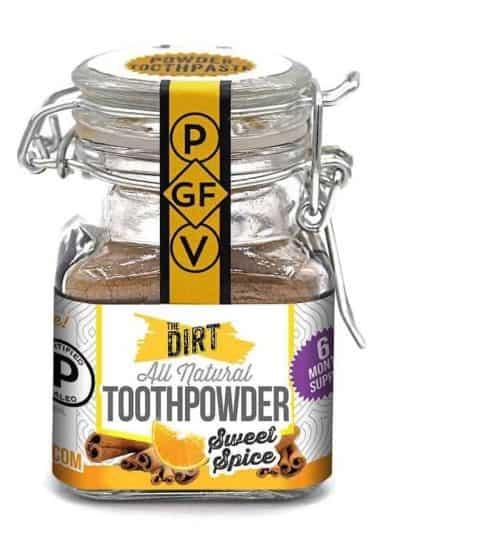 Sustainably sourced
Cruelty-free
Vegan
Organic
Palm oil free
Sustainable packaging
The Dirt only makes products that are safe for us to eat – perfect if you are worried about what you are potentially swallowing when you brush your teeth.
The vegan tooth powders are made with 100% natural ingredients. 
They're free of fluoride, glycerin and any soy, corn or gluten-based ingredients such as GMO-derived Xylitol. Therefore, they're paleo-friendly.
However, be careful when ordering from The Dirt as some of the products, such as toothpaste and smaller tubs of tooth powder, come packaged in plastic. 
We recommend sticking to the 6-month version of the tooth powder, which comes in a mason-style glass jar.
Furthermore, the toothpaste contains beeswax so isn't vegan.
Dirty Hippie Tooth Powder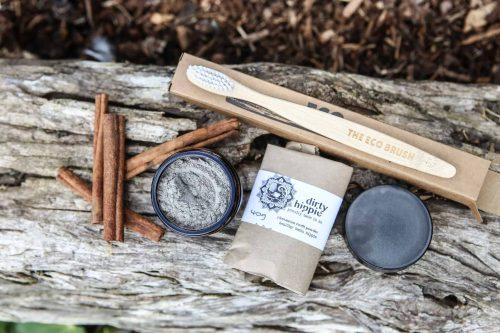 Sustainably sourced
Cruelty-free
Vegan
Organic
Palm oil free
Sustainable packaging
Based in New Zealand, the Dirty Hippie makes zero waste tooth powders using minimal ingredients. There's no essential oils in their tooth powders, so they're a good choice if this is important for you.
The simple ingredients list only has five elements, but Dirty Hippie claims the tooth powder still cleans teeth effectively and promotes remineralization. 
The five ingredients are: Organic Bentonite Clay, Organic Baking Soda, Himalayan Sea Salt, Activated Charcoal, Ground Organic Peppermint.
There's currently two flavours, mint or cinnamon.
The powder comes in a glass jar, but you can request that the refills be sent in a recycled paper envelope instead for repeat purchases!
Treat Yourself Natural Clay Tooth Powder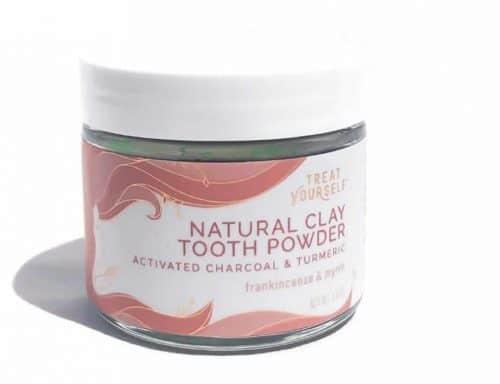 Sustainably sourced
Cruelty-free
Vegan
Organic
Palm oil free
Sustainable packaging
Treat yourself tooth powder is a good option for people with sensitive teeth because it doesn't use baking soda, which is a mild abrasive.
All of their products are completely non-toxic, cruelty-free, and free of parabens, SLS, and phthalates.
All the zero waste tooth powders have activated charcoal and turmeric in to help promote natural whitening; the other ingredients are both cleansing and remineralizing.
There is a range of flavors, some of which are not suitable for younger children or pregnant women due to the essential oils used. Make sure you check the small print before you order.
Treat yourself is another company that offers refills packaged in compostable paper. Once you have purchased one container, you can reuse it again and again. 
Alternatively, if you already have a spare airtight container, you can just use this.
Nelsons Naturals Toothpaste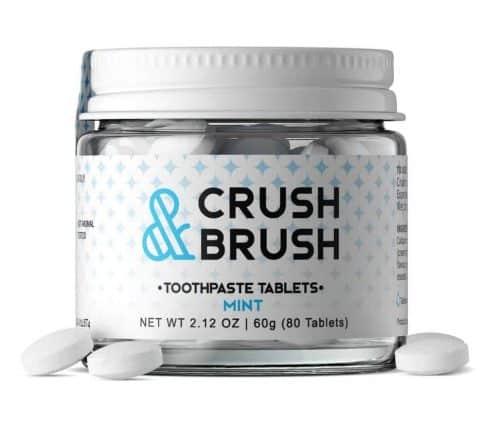 Sustainably sourced
Cruelty-free
Vegan
Organic
Palm oil free
Sustainable packaging
A Canadian company that donates 5% of its profits to animal charities they have committed to selling 100% plastic-free products. 
The brand is also vegan and doesn't test on animals. Furthermore, if you live in Canada, you can benefit from their bulk refill program.
Nelson has two zero-waste offerings, toothpaste in a glass jar or the more innovative toothpaste tablets. 
Both products use non-toxic, food-grade ingredients and don't contain glycerin, SLS, fluoride or palm oil.
The toothpaste comes in a variety of flavors, including fennel, a funky alternative to the popular peppermint. 
Nelsons is also unique in the fact they include Castile soap in their natural toothpaste to help keep your mouth squeaky clean.
The toothpaste tabs are ideal for travelling and also use less water than traditional ways of brushing.
Butter Me Up Organics Toothpaste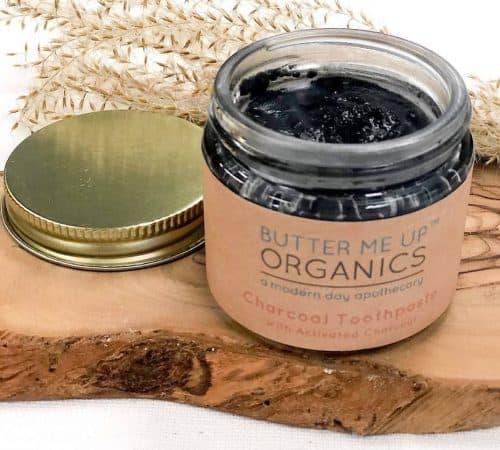 Sustainably sourced
Cruelty-free
Vegan
Organic
Palm oil free
Sustainable packaging
Zero waste since its inception in 2008, Butter Me Up offers two versions of their eco-friendly toothpaste.
One contains an added ingredient, activated charcoal, for its teeth whitening ability. 
They claim that you'll be able to notice the whitening effect after your first use! 
Both products are completely organic, non-GMO, cruelty-free, fluoride-free and palm oil free.
The basic ingredients of baking soda, sea salt, calcium, essential oils and coconut oil have naturally occurring antibacterial properties and prevent tooth decay.
The packaging is a glass jar that Butter Me Up guarantee uses at least 30% recycled material. One pot is estimated to last you three months.
Bite Toothpaste Bits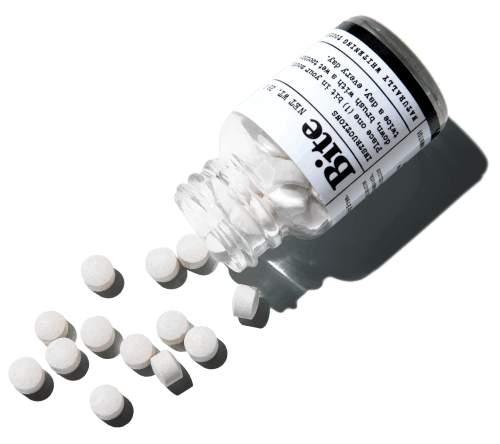 Sustainably sourced
Cruelty-free
Vegan
Palm oil free
Sustainable packaging
Bite offers only one product – plastic free toothpaste tablets. 
Unlike most zero-waste toothpaste these tablets foam in your mouth, something lots of people miss when they make the swap.
You can pick from 3 different variations with a berry flavor for kids. The tablets are 100% gluten-free, vegan, and cruelty-free — without any harsh chemicals (like fluoride and sulfates).
Bite has a nifty subscribe and save model where you'll get a new shipment of the tablets every four months. 
The first shipment will include a glass jar, and after that, Bite will send the toothpaste tablets in compostable packaging. 
Deliveries will be shipped automatically, so you never have to worry about running out of toothpaste.
PopCare Toothpaste Tabs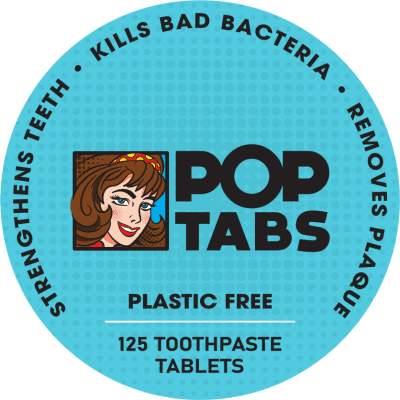 Sustainably sourced
Cruelty-free
Vegan
Palm oil free
Sustainable packaging
Another option that contains fluoride, these natural toothpaste tablets are manufactured in New Zealand but ship worldwide. They're currently setting up worldwide distribution centers to reduce shipping miles.
The product comes in an aluminium tub which is infinitely & easily recyclable. 
The tablets are vegan, palm oil free, cruelty-free, and gluten-free. 
They are less abrasive than mainstream toothpaste and contain Erythritol, which improves oral health significantly by starving harmful bacteria.
Popcare also offers a subscribe and save model, with a new box being shipped every two months.
Homemade zero waste toothpaste
You can also DIY your own natural toothpaste, it's super simple and can be 100% zero waste if you source the ingredients packaging free. 
Homemade toothpaste is suitable for those on a budget and has the potential to be extremely cheap. In fact it'll probably save you money! To save even more money consider making your own mouthwash too.
Most recipes contain only 3 or 4 natural ingredients which are combined to make the toothpaste. 
A basic low-cost, but still effective, toothpaste recipe:
Ingredients
2 tbsp baking soda – a mild abrasive, this dislodges plaque from teeth, helps removes stains and neutralizes acids to help prevent tooth decay
1/2 cup organic coconut oil – has antibacterial and antifungal properties, and helps create a paste consistency
15 drops peppermint essential oil – has antibacterial properties and adds flavour to the toothpaste (cinnamon and orange work too)
Feel free to adjust the amounts to create the consistency and taste you like. You could even make slightly different versions for each family member!
Did you know baking soda can also be used to make zero waste DIY dish soap?
Method
Mix the ingredients together, and you have your eco friendly toothpaste! Depending on the type of coconut oil you use, you may need to heat it before mixing and leave to cool afterwards.
Once you have made the toothpaste it can be stored in an airtight glass jar or steel container. 
When you want to brush your teeth simply dip your toothbrush in the pot, or use a small spoon to scoop the toothpaste out.
Although none of the ingredients have a shelf life, we recommend making small batches because water residue can cause the toothpaste to go off. 
If you use a spoon rather than dip your toothbrush in then, this is less of a problem.
The toothpaste doesn't need to be refrigerated, so can be kept in the bathroom. 
However, remember coconut oil can change texture with temperature, so don't be alarmed if you find your toothpaste has melted on a hot summers day. 
Pop it in the freezer for a few minutes, and it should be good to go. Alternatively, if you find the mixture is too hard running the container under hot water should fix it.
Are homemade toothpastes effective?
Yes! Even the basic recipe above which only has three ingredients will be effective at fighting plaque and keeping your teeth clean. 
Each ingredient has been picked with the end goal in mind, so every ingredient has properties that will help clean your teeth effectively. 
Homemade toothpastes just replace synthetic chemicals with natural ingredients that have similar properties. 
Other common ingredients that you could add for extra cleaning power are listed below.
Charcoal  – this ingredient will help whiten teeth, but can cause sensitivity if overused
Bentonite Clay  – draws out toxins and contains calcium so helps remineralize teeth
Ground Spices (cinnamon, ginger, turmeric) – mainly added for taste but also have antibacterial properties
Xylitol  – a natural sweetener, this prevents bacteria from sticking to the teeth and neutralizes the pH to help avoid tooth decay
Sea Salt  – added for its mineral properties to help nourish teeth
If you're using bentonite clay do not use any metal in the preparation or storage of the toothpaste because contact with metal will deactivate the clay.
Is toothpaste or tooth powder better?
You will come across recipes for both toothpaste and tooth powder while looking at zero waste toothpaste options. 
The only real difference between them is the consistency, recipes for tooth powder tend not to use any coconut oil, and you need to wet your toothbrush before using it. 
It's personal preference which option works best for you, so try both and decide for yourself.
As you will have seen above toothpaste tablets are also an option, however you wont be able to make these at home. They are a super handy product to have for when you need to be away from home!
Whatever recipe you end up using it will take some getting used to at first, especially if you give the toothpaste to your kids. 
The natural toothpaste won't foam like mainstream options and can taste pretty salty due to the baking soda. 
Perseverance is key here, eventually, you'll wonder why you ever bought regular toothpaste in the first place.
Final thoughts
These days there are lots of eco friendly toothpaste options available, our list is by no means exhaustive. If you know of another great option we haven't mentioned be sure to let us know. 
If you've decided on a zero-waste toothpaste, be sure to check out our guide on zero waste mouthwash as well.