If you're in the market for a new bidet, chances are that you're considering getting a new Brondell Swash. Brondell bidets are some of the very best that money can buy, rivaling luxury brands such as Toto and Kohler.
But choosing a bidet can be quite a daunting task. Brondell offers 21 different bidet models at the time of writing – most without any logical hierarchy or naming conventions. This is further complicated by the fact that you can only compare 11 of the 21 models on the official Brondell site. But fear not, as I have included all models in the comparison table at the bottom of this article.
I have laid this article out into four sections. One for each of my three chosen bidets, and an in-depth buying guide to help you make the right decision. Click any of the following links to jump to the relevant section:
Ready? Let's jump right in.
The Best Option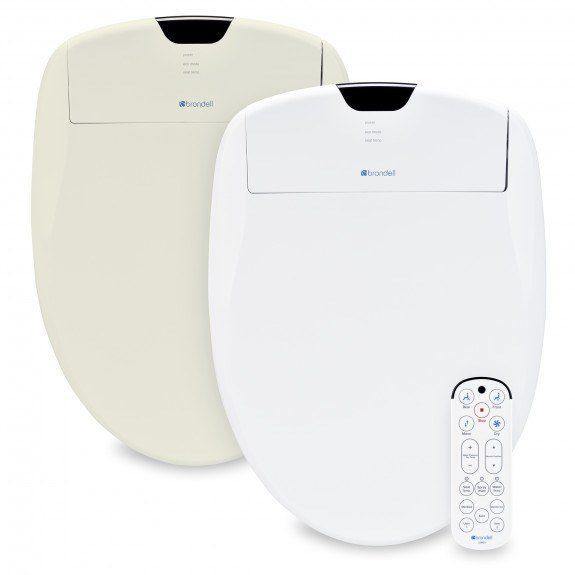 Brondell Swash 1400
Brondell's flagship model is jam-packed full of useful features, including an unlimited hot water supply, spray width adjustment and on-demand nozzle sterilization. Now you can try the Swash 1400 risk free for 30 days.
Great Value
Brondell Swash LE99
The Swash LE99 offers incredible value for money, boasting features usually reserved for high end models at a fraction of the price.
Also Consider
Brondell Swash Ecoseat
The Swash Ecoseat is super easy to install, doesn't require electricity, and features the thinnest profile of any Brondell bidet.
Brondell Swash 1400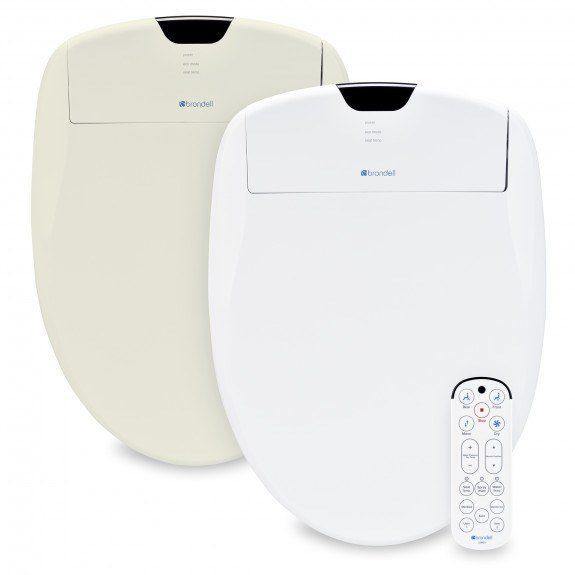 The best Brondell bidet is indisputably the Swash 1400. 
It's Brondell's flagship model and widely recognized as a best-in-class bidet toilet seat. The Swash 1400 has a lot of features, but there are also lots of incremental improvements from previous models that make it stand out.
So why is the Swash 1400 the best Brondell bidet?
Design, ease of use and cleanliness.
Let's go through these one by one.
Design
The Swash 1400 is Brondells best looking bidet. 
At first glance it looks very similar to others in the range, but the 1400 has some small (but very impactful) design upgrades.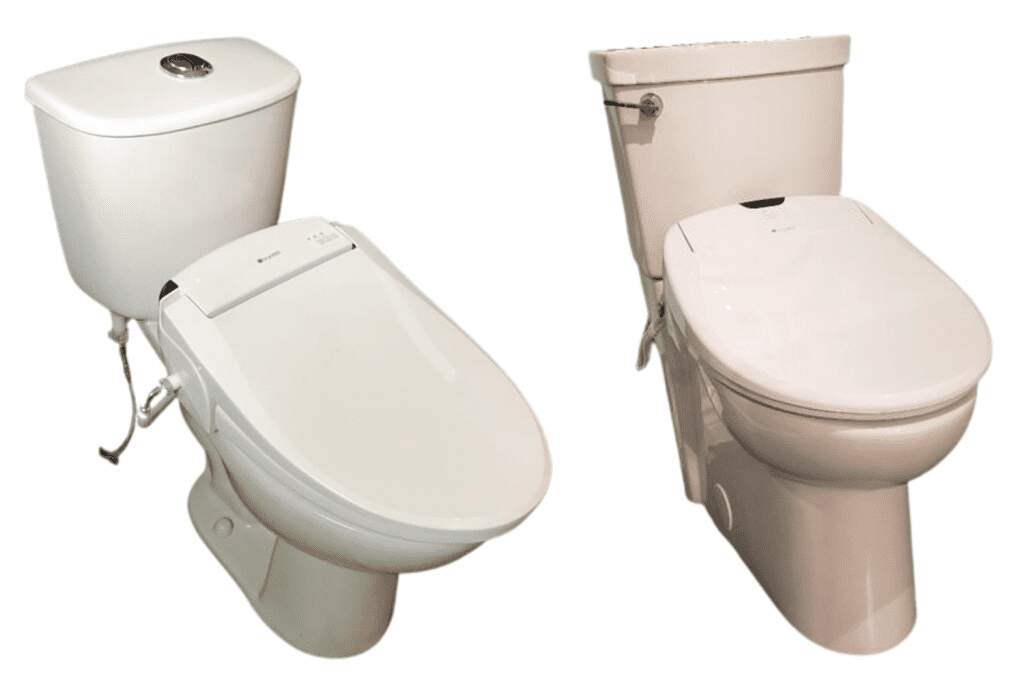 The best one is the hidden pocket for the wires.
You know that feeling when you untangle and tidy all your computer wires? 
This bidet gives you that same feeling.
The wires are tucked out of sight instead of hanging obviously from your toilet.
If aesthetic is of utmost importance to you, Brondell's hidden pocket may leave you wanting just a little more. This isn't necessarily Brondell's fault – designing a bidet that can universally fit on nearly any toilet is no small task.
You may want to consider a manufacturer that offers a toilet and bidet designed in conjunction – the Toto Washlet+ series is the best example of this. Be prepared to spend significantly more than even the top-end Brondell, though.

The other design element that makes the Swash 1400 stand out is the new sleek seat design (shown above). The lid and base of the Swash 1400 have been redesigned to make the unit less bulky and more modern – a common issue with cheaper electronic bidet seats.
Ease of use
If you've ever shared a car with your significant other, you'll understand the frustration of buckling up and noticing that the mirrors and seat have been adjusted. 
It's no fun readjusting them every time.
Just like it's no fun readjusting the bidet settings each time.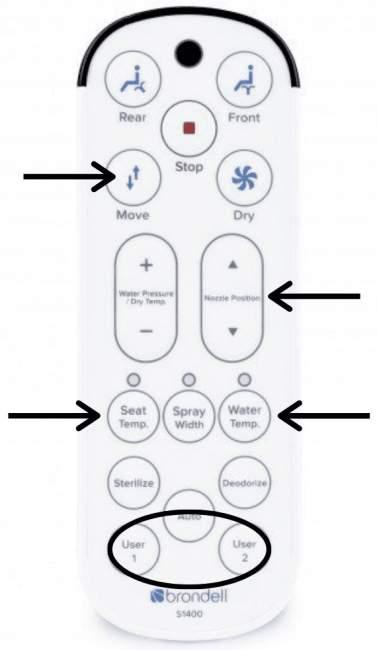 Luckily, the Swash 1400's remote comes with user presets. The remote will remember your preferred settings for:
water temperature
water pressure
spray width
nozzle position
It will also remember if you want oscillation on or not. All you need to do is press one button and all the settings will change at once.
What happens if more than two people use the bidet? Those who don't make the cut for user presets can use auto mode.
The auto mode will run a set wash and dry cycle with just one click. Perfect for when you want to show off your shiny new bidet to your guests!
Cleanliness
Exclusive to the Swash 1400 is a replaceable carbon deodorizer with replaceable filters. Other Brondell models have a deodorizer but without the replaceable filters. Not great for a purchase that should last you at least 10 years.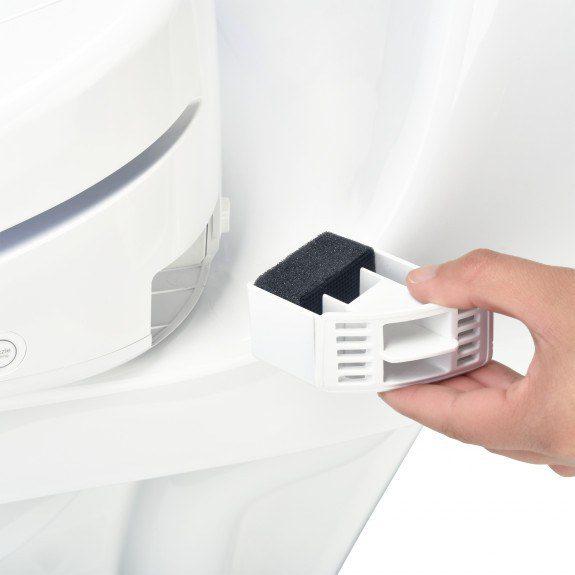 The filter captures and absorbs any bad odors so you never have to worry about your number twos stinking out the bathroom. 
I also want to talk about nozzle sterilization. 
The Brondell Swash 1400 doesn't just use water to clean the nozzles, it uses silver nanoparticle infused water.
The silver nanoparticles are antibacterial and antifungal which means your bidet wands stay squeaky clean without you lifting a finger. The silver infusion mechanism is designed to last the whole lifetime of the bidet and won't lose effectiveness over time.
And best of all, you can clean the nozzles whenever you want with the 'wand cleaning' button on the remote. Most Brondell bidets will only clean the wands after a wash cycle (with the exception of the Swash 1000). 
Cleaning effectiveness
The Swash 1400 is one of the best bidets for women because it comes with a unique spray width adjustment feature.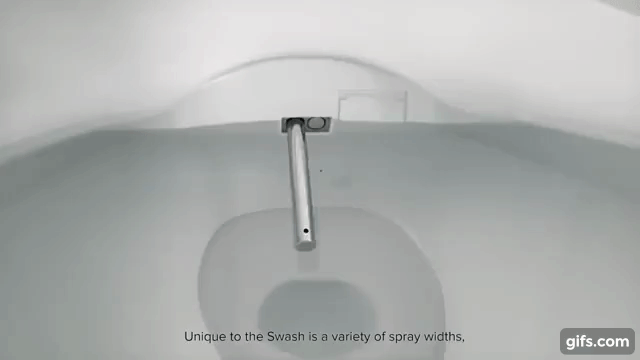 Lots of bidets allow you to change the position of the spray, but being able to change it from a thin targeted spray to a wider, softer spray is pretty rare.
Females, in particular, can benefit from this because the wide (frontal) spray is perfect for ensuring a thorough, full-coverage clean that won't hurt.
See also: Using A Bidet On Your Period
Mobility issues

If you're a wheelchair user (or have a walking aid) the Swash 1400 (or the Swash 1000) is the safest option. The Swash 1400's mounting bracket is the most secure and was engineered with wheelchair users in mind.
Also, the Swash 1400 has the sturdiest lid and can hold up to 270 lbs. If you're lighter than 270 lbs you can sit on it which is super useful for users with mobility issues.
The next strongest lid in the Brondell range is the Swash 1000 which can hold up to 220lbs.
The above weight limits are specifically for the lid of the bidet toilet seat, the bidets also have a (higher) weight limit for normal sitting use which I discuss in the below section on suitability for larger and heavier users.
Features summary
Dual stainless steel nozzles, on-demand nozzle sterilization, self-cleaning nozzles, front and rear wash modes, adjustable water pressure, adjustable water temperature, nozzle oscillation, aerated wash spray, heated seat, adjustable spray width, replaceable deodorizer, warm air dryer, soft closing seat and lid, programmable user settings, auto mode, nightlight, hidden pocket for wires, safety seat sensor, quick-release seat, eco mode, wireless remote control
The competition
The Swash 1000 and the Swash 1200 are the closest models to the Swash 1400.
The Swash 1400 is my recommendation because it takes all of Brondells best features and combines them. With every other bidet in the range, there's at least one key thing missing.
For example, the Swash 1000 doesn't have user presets or a nightlight. And the Swash 1200 doesn't have a dryer, nozzle sterilization, or a deodorizer. 
You're not going to be left wanting with the Swash 1400.
Brondell Swash LE99
The Swash LE99 is a relatively new bidet and has a mid-low range price point, but boy does it pack a punch!
Being newer gives the LE99 the advantage of being able to include premium features but at a fraction of the cost. 
It's not got everything, but it offers great value for money – much more so than the older mid-range models such as the SE400 or SE600. 
So what makes the Swash LE99 stand out?
An advanced heating method and a thorough clean.
The biggest upgrade you'll find in the Swash LE99 is the heating method.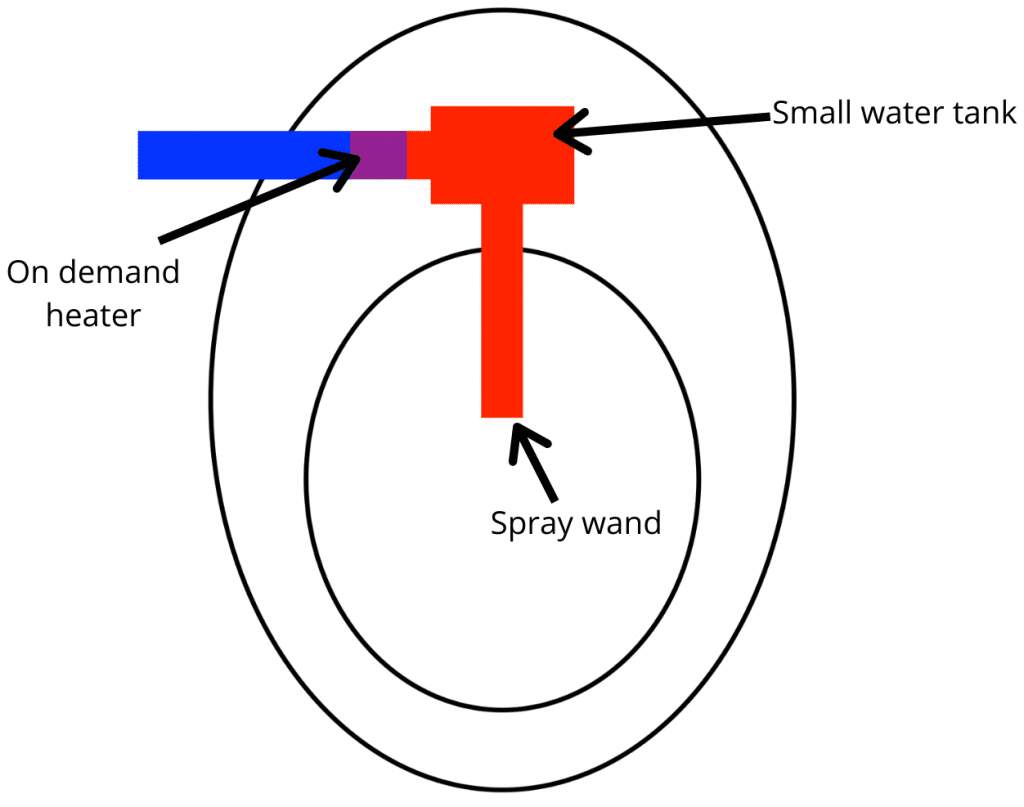 It uses a hybrid heating method, which combines the tankless heating of the Swash 1400 with the tank used in the SE400/600.
There's a small water tank where a tiny amount of water is kept hot, but the bidet also heats on demand. When the small water tank runs out, the bidet will switch to on-demand heating.
What does this mean for you?
Instant and unlimited hot water. 
With a water tank (like on the SE models) the hot water runs out, and with tankless (e.g. the Swash 1400) there may be a 1-2 second delay before your water heats up.
Another thing that makes the whole LE/LT range stand out is the strong mode and massage spray. 
These spray modes ensure that you get a deep clean every time you use the toilet.
Strong mode provides a (you guessed it) strong, concentrated spray to target you exactly where you need i.t It will get rid of even the most stubborn bits of dirt.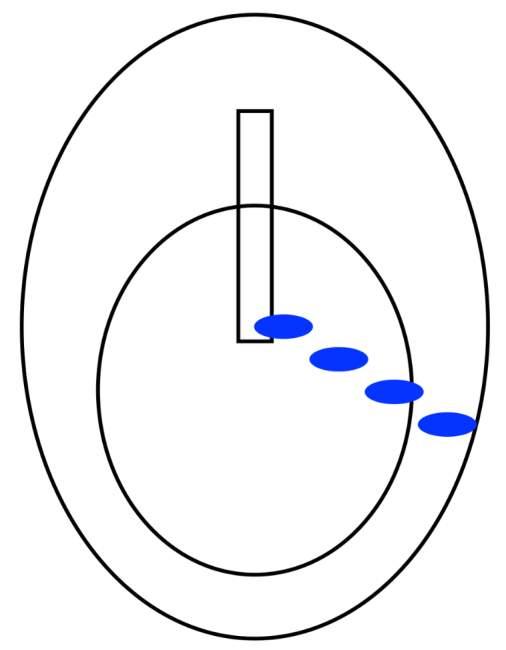 The massage spray sprays water in a pulse pattern. The pulsating spray is useful when you're struggling to get going on the toilet – it can help stimulate movement.
Of course these aren't the only great things about the LE99, but they're the most unique.
Features summary
Single stainless steel nozzle, rear and front wash modes, adjustable water temperature, adjustable water pressure, adjustable nozzle position, strong wash, pulse mode, nozzle oscillation, warm air dryer, gentle wash mode, heated seat, nightlight, soft closing seat and lid, eco mode, quick release seat, wireless remote control
The competition
You'll notice there are lots of similarly named bidets: LT99, LE99, LT89 and LE89. They're named similarly because they share most of the same features and style.
So what distinguishes them?
| | | | | |
| --- | --- | --- | --- | --- |
| | LE99 | LE89 | LT99 | LT89 |
| Dryer | Y | Y | N | N |
| Remote/Side Panel | R | SP | R | SP |
The T models include and air drying, while the E models don't.
The 99 models come with a remote control, the 89 models come with an attached side panel.
If you're looking for a bidet with a side panel then go for the LE89. It comes with all the benefits I described above but just has a different control mechanism. The 89 models are slightly cheaper so a good option if you're on a tight budget and don't mind forgoing the dryer.
The SE400 and SE600 are also aimed at the same (slightly higher) price point, but in all honesty, I wouldn't recommend them. You spend more but get less. For example, they use the old tank heating method and don't offer a strong wash.
Brondell Swash Ecoseat
For those of you looking for a budget option I recommend going for the non-electric Brondell Swash Ecoseat. 
No power outlet in your bathroom? 
No problem. 
The Ecoseat is a solid basic option that doesn't require any electricity. You simply attach it to your toilet and it's ready to go.
The Swash Ecoseat doesn't have any fancy features like an air dryer or deodorizer, but it does the core thing you'd expect of a bidet seat: clean you (and well).
It has dual self-cleaning nozzles, one for a front wash and one for a rear wash and you can adjust the water pressure to suit you (plus the temperature if you get the hot water version).
Simple, streamlined and effective (and it won't break the bank).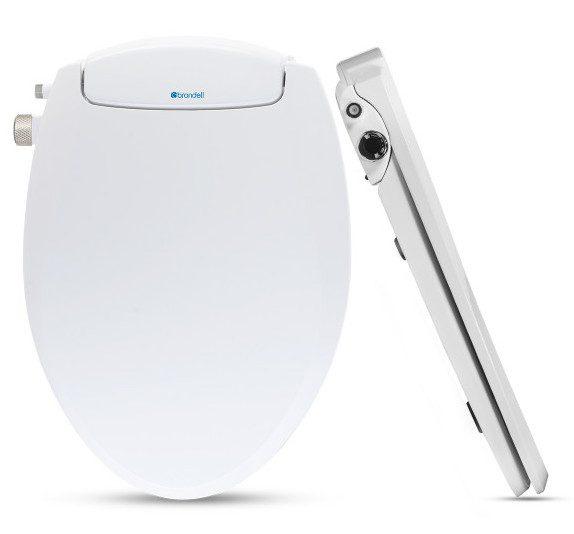 The fact there's no water heater means the seat has a really low profile compared to any electric bidet seat. The raised tank at the back of an electric bidet seat can cause some people to feel crowded out, but this non-electric bidet seat feels just like a normal toilet seat.
But don't worry, no water heater doesn't necessarily mean no hot water.
You can opt to buy a hot water version of the Ecoseat that works by tapping into your sink's hot water supply to provide you with a warm wash. However, be aware that this can be tricky to install depending on your bathroom layout. In some cases, it may actually be easier to install a budget electric bidet.
The competition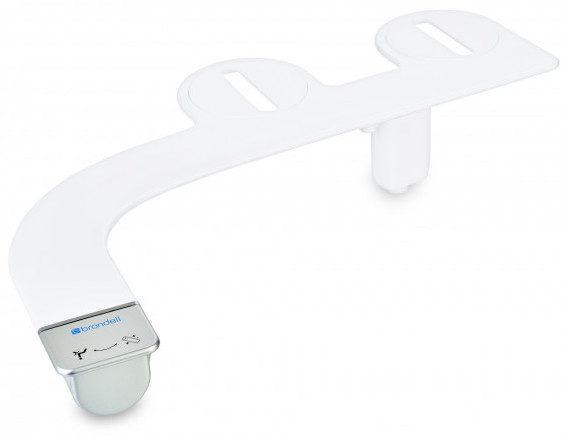 Brondell also offers bidet attachments – they essentially sit between your toilet and current toilet seat.
If you have a particularly nice toilet seat, you might be reluctant to put it into storage for your new bidet seat.
Attachments solve that issue, but overall I prefer the seat because of how the controls are laid out.
The controls on an attachment stick out to the side, similar to an electric bidet with an attached side panel. With a seat, the controls are located on the side of the seat so don't interrupt the streamlined look.
Buyers guide
I've given you my personal recommendations for the best Brondell bidets. Now I'm going to go through the key buying motivations and let you know how each Brondell stacks up against each other, and against other brands.
Features
When you're shopping for a bidet it's easy to get overwhelmed by the choice of features available. I suggest sitting down and going through each one to decide if it's a must have for you or not.
Here are the main features you should consider.
Heating method
Heating method is often one of the main differences between different bidet models.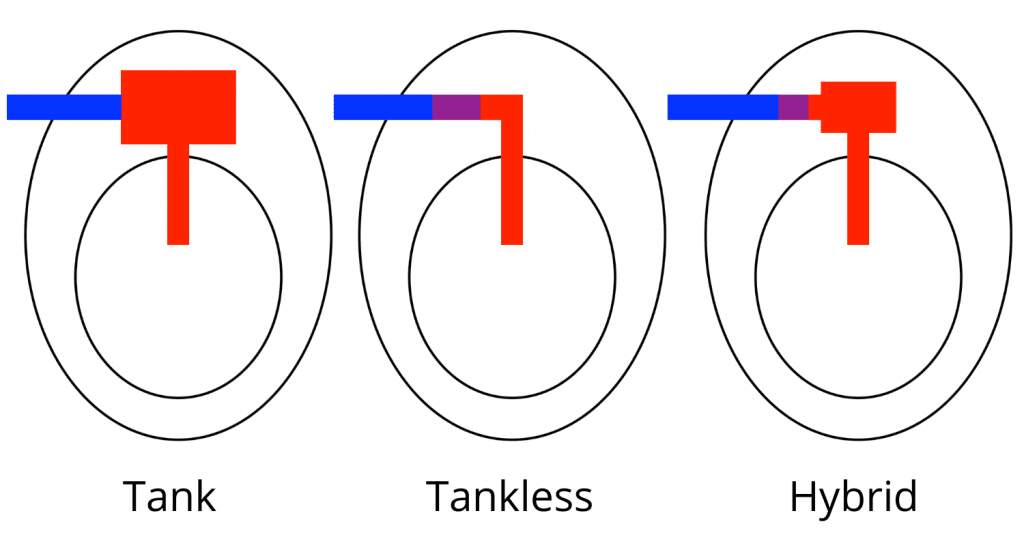 Brondell's range has three different heating methods.
Tank – A water tank holds the hot water and keeps it warm.
Tankless – The bidet heats water on demand, there's no tank.
Hybrid – A combination of tank and tankless. There's a small water tank in the bidet, and when that runs out the bidet will heat water on demand.
Here are the models that use each heating method:
| | |
| --- | --- |
| Heating type | Models |
| Tank | SE400, SE600, 300 |
| Tankless | 1400, 1200, 1000 |
| Hybrid | LT99, LT89, LE99, LE89 |
| N/A | Ecoseat |
Using a water tank is the oldest technology and is often found in cheaper seats. It's good in the sense that you always have instant hot water, but the hot water can run out.
In most tanks, the hot water will last 1-2 minutes, but if you're using the highest pressure it will be a little less. The water won't go straight from hot to cold, it will be a gradual transition.
Tankless heaters mean the hot water is endless, it won't run out.
But the first second or two of water that comes out will be cold because you need to wait for the heating elements to activate. You quickly get used to it, but it's a shock if you're not expecting it.
Hybrid heaters combine the best of both worlds. The LT/LE range uses a hybrid heater which is impressive considering the price. This is one of the reasons I think they're such good value for money.
Nozzles and spray (cleaning ability)
Most Brondell models have either one or two stainless steel bidet wands. 
| | |
| --- | --- |
| Nozzle type | Models |
| Dual stainless steel | 1400, 1200, 1000 |
| One stainless steel | LT99, LE99, LT89, LE89, SE400, SE600 |
| Dual plastic | 300, Eco Seat |
Stainless steel is considered better than plastic because it's naturally antibacterial and feels more premium. 
Whether you want one or two wands is up to you. Some people prefer two wands because they feel it's more hygienic to have one wand dedicated to the front and one to the back. 
I personally don't mind having only one, as long as you can change the position of the wand (which you can do with all Brondell electric bidets except the 300). By changing the position you can ensure the wand is going to spray in the correct place.
| | |
| --- | --- |
| Number of nozzle positions | Models |
| 7 (plus 3 different spray widths) | 1400, 1200 |
| 5 | 1000, SE400, SE600, LT99, LE99, LT89, LE89 |
| 1 | 300, Ecoseat |
Most of the Brondell models offer 5 different wand positions (which is the norm across most brands). Toto Washlets have 5 wand positions, as do Bio Bidets and Smart bidets.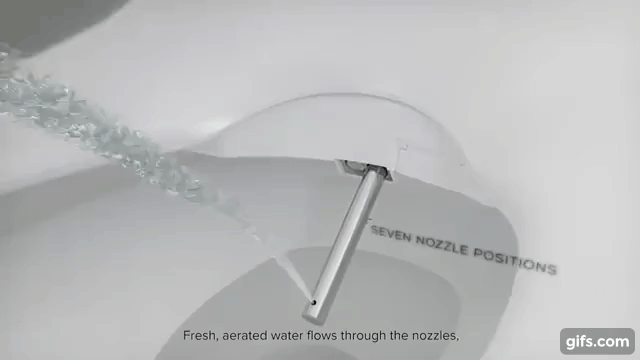 Premium Brondell bidets (Swash 1200 and 1400) have 7 different nozzle positions. Every body is unique, so I say the more adjustment the better.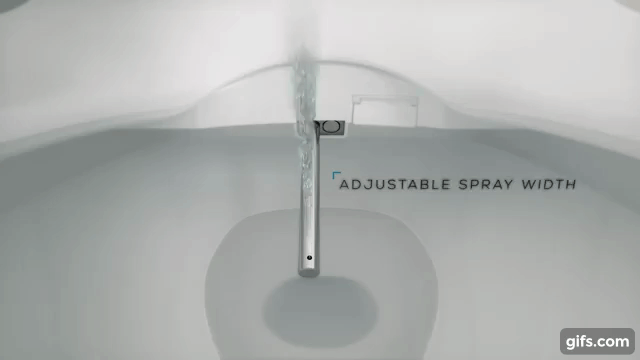 Normally a bidet spray width is fixed, but with the Swash 1200 and 1400, you can pick between 3 different spray widths. The narrowest one is good for when you need a targeted blast, and the widest is good for when you just want a gentle cleanse.
The only other bidets (that I'm aware of) where you can adjust the spray width are the Toto s500e and Toto s550e, some of the most expensive bidet toilet seats on the market.
Lastly I want to talk about the different spray modes. 
| | |
| --- | --- |
| Spray modes | Models |
| Oscillating only | 1400, 1000 |
| Pulsating only | – |
| Oscillating and pulsating | SE400, SE600, LT99, LE99, LT89, LT99 |
| None | 1200, 300, Eco Seat |
Brondell bidets are slightly behind other brands here as most high-end electric bidets have both pulsating and oscillating mode.
A lack of pulsating mode wouldn't be a deal-breaker for me simply because you can't miss something you've never had, right? But if you've previously owned a bidet with a massage mode you might notice its absence.
Dryer
Dryers are often on people's 'must have' list. They're a pretty common feature in electric bidets – but let me caveat this section now by saying the no bidet dryer is amazing.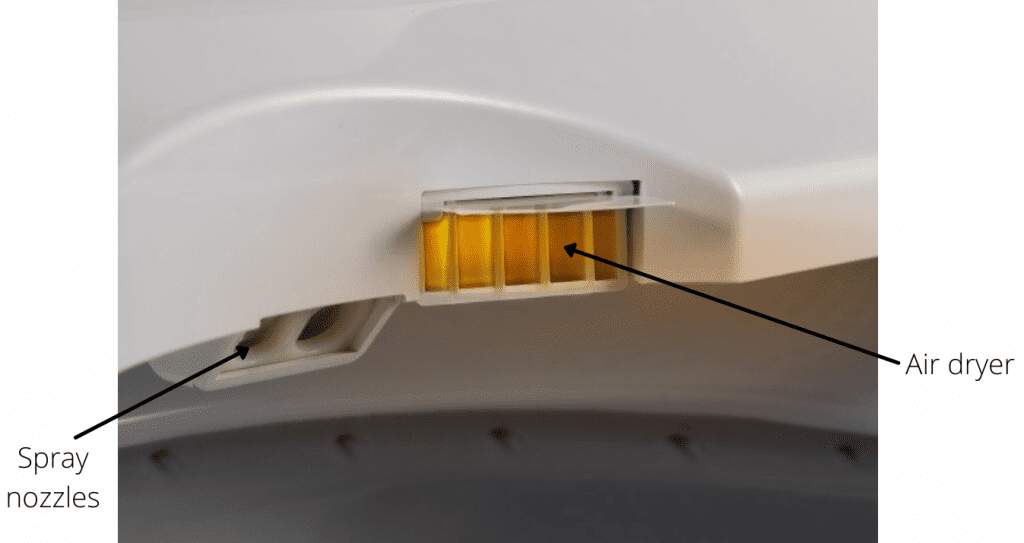 The wash nozzles have to take center stage, so the dryer is positioned off to the side and therefore isn't as effective as it could be.
Bidet dryers will take on average 2-3 minutes to fully dry you. Most people use them in conjunction with toilet paper.
Brondell's dryers are average in terms of ability. They're not super strong, but they're not weak either.
Nightlight
Nightlights are by no means an essential feature, but for a lot of people they're a nice to have. 
They're designed to make the toilet easier to use in the nighttime. 
Which Brondell bidets have a nightlight?
| | |
| --- | --- |
| Nightlight | Model |
| Yes | 1400, 1200, LT99, LE99, LT89, LT99, SE400, SE600 |
| No | 1000, 300, Eco Seat |
Brondell describe the nightlight as a 'cool blue' color. It illuminates the whole bowl.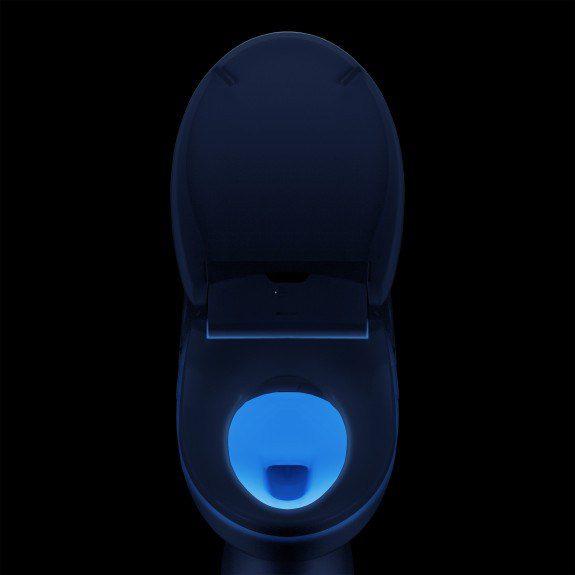 Most people love it and find it useful, but some find it too bright. It's really personal preference. I personally don't mind it, but I would rather have a shade of white rather than blue. (We can't have everything though, right…).
If you happen not to like it, then you can disable it but it's a little primitive in the way it works.
You might assume that because it's called a "night light", it either comes on at night or is activated by the push of a button. Sadly this isn't the case. You can either have the nightlight on 24/7 or completely off.
Toggling this feature requires a complicated set of joint button pushes which can be found in the user manual here (I'll save you the boring details).
Nightlights vary across brands, so if this is an important feature for you it's worth testing a few out to see which ones suits you.
For example, the Bio Bidet BB-2000 has a nightlight, but it only illuminates the limited controls on the side of the bidet rather than the whole bowl. The BB-1000 and BB-600 don't offer nightlights.
With regards to Toto bidets, only the super high-end s550e features a nightlight. It's designed to light up the entire room, but whether it works as promised depends on the layout of your bathroom. No other Toto model offers a nightlight.
Deodorizer
Deodorizers are the final feature I want to mention.
| | |
| --- | --- |
| Deodorizer | Models |
| Yes | 1400, 1000, SE600 |
| No | SE400, 300, LT99, LE99, LT89, LE89, Ecoseat |
Only the Swash 1400's deodorizer has a replaceable filter. All other Brondell models have inaccessible deodorizers (without replaceable filters), meaning that they'll get less effective over time.
The Brondell deodorizer isn't automatic – you have to press a button on the remote to activate it. Once you activate it, it will run for 1 minute. 
While it's more convenient for the deodorizer to be automatic, some people don't like the fan noise it makes. In that case, it's better that you can choose when the deodorizer comes on. 
Personally, I think a better effort could be made the make the fan quieter, and then Brondell could automatically activate the fan/deodorizer on every use (Toto Washlets do this, and I've never seen any complaints). This is not a dealbreaker by any stretch though.
The 1 minute run time is standard across most brands.
Look and feel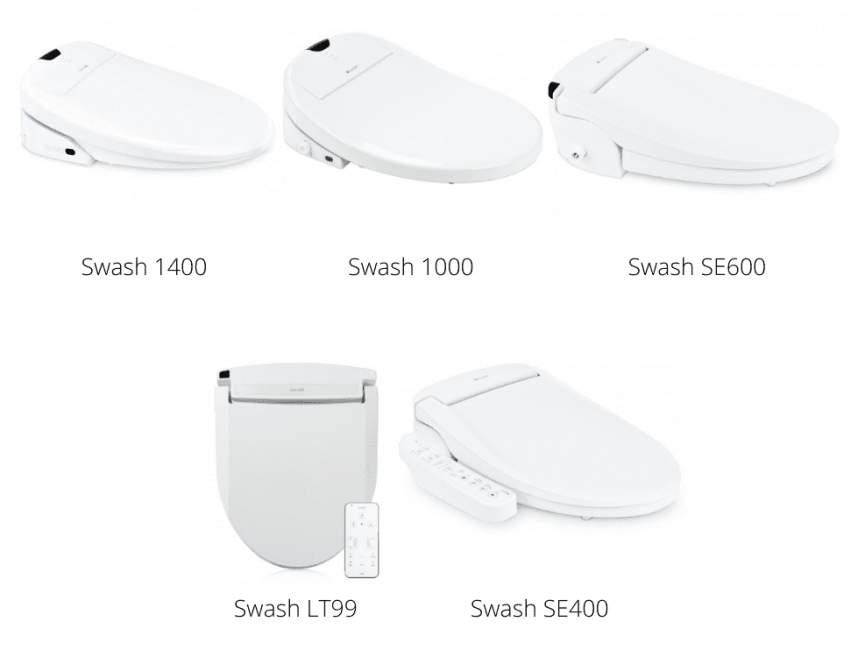 Unsurprisingly, the newer Brondells look better.
As I said above, the Swash 1400 has the most premium look and feel to it (the Swash 1200 is also identical). They're the least bulky seats, a common problem with bidets, and have indented pockets so you can hide the wires.
The LT/LE range is a bit more clunky but you'd expect a less streamlined look for the price. Overall, they don't look bad and I am a fan of their touch-activated remote (althought it's not for everyone as I discuss later).
The SE400 and the SE600 are in my opinion the worst of the Brondell range. They have a height of 6.1 inches at the back, while all the others are around 5.7 inches high. This extra height not only ruins the aesthetic of the bidet, but makes it less comfortable to sit on. 
The slope makes you feel like you're being pushed forward, which is particularly annoying for male users. For reference, the most popular Toto bidets (the K300 and the C200) have a height of 5.8" and 7.4", while the Bio Bidet BB-2000 (a direct competitor of the Swash 1400) is 5.9".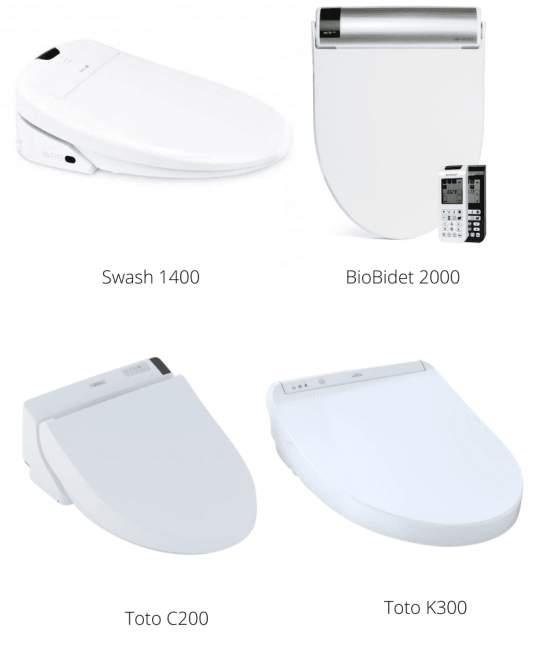 Compared to other brands, the Brondells hold their own in terms of aesthetics and quality. The seats don't feel flimsy when you sit on them, and they have a nice sleek look. Totos do feel slightly sturdier, but they're significantly more expensive.
Brondell prides itself on being 'designed for the North American bathroom' so if style is important to you, you're on the right track!
Installation 
None of the Brondells are hard to install and all of them can be installed without a plumber, but some have more steps than others.
Electric bidets
You install all Brondell electric bidets in the same way – so there isn't any difference in difficulty between the models. The same stands between brands, how you install an electric bidet doesn't really change despite what one you have.
But the overall difficulty will vary depending on how close you have a GFCI protected outlet to your toilet.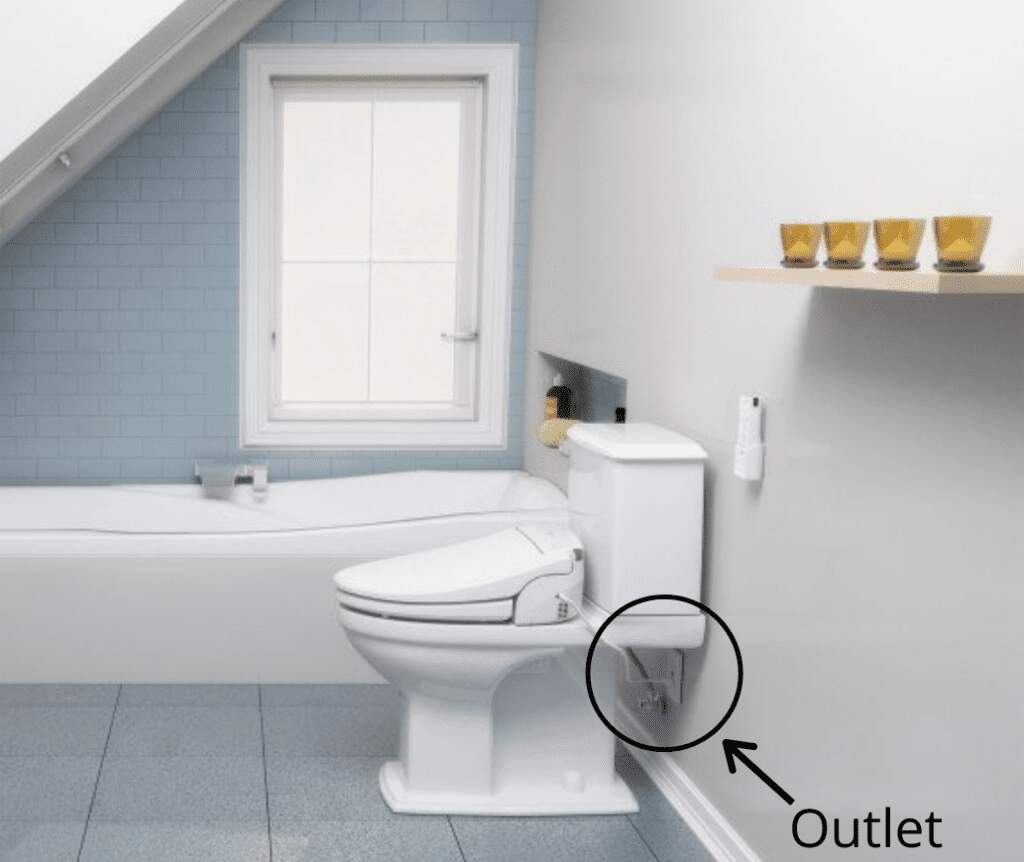 Power cables on Brondell bidets vary in length from 3.5 feet to 4 feet. This is one area where the Swash 1400 falls a little short (half a foot, to be exact). It has the shortest power cable. 
| | |
| --- | --- |
| Power cable length (ft) | Models |
| 3.5 | 1400, 1200, 1000, 300 |
| 3.9 | LT99, LT89, LE99, LE89 |
| 4 | SE400, SE600 |
| N/A | Eco seat, attachments |
Power cable length of different Brondell models
3.9-4 ft is standard in the electric bidet world, so Brondell is on par with other brands here.
If you don't have an outlet within reach of your toilet, the installation process gets a tad trickier. You can either get an electrician to install one or use an extension cord.
Note that you can't use any old extension cord, it must be rated to work with your bidet. For help choosing the right extension cord for your bidet, check out my article on bidet extension cords.
Non-electric bidets
The cold water Ecoseat is super easy to install – you don't have to worry about a power line. You just need to connect it to your toilet's water supply. The same goes for the cold water bidet attachment. 
The hot water Ecoseat is a little harder. You'll need to connect the bidet to your hot water supply under your sink. This could be easy, or near impossible, depending on how far away your sink is and how the piping is set up. 
You may find the hot water supply is behind a wall! If that's the case, it may be worth thinking about getting a budget electric bidet to save you too much hassle.
Ease of use (controls)
Bidets are meant to make your life easier, not harder.
Many people who use bidets are of an older generation and may not be very comfortable with modern technology. A simple interface is a must for an easy bidet experience.
A simple interface can be quite tricky to balance when you have tons and bells of whistles. In this section, I look at how easy Brondell bidets are to use.
Controls 
There are two different control options when it comes to bidets.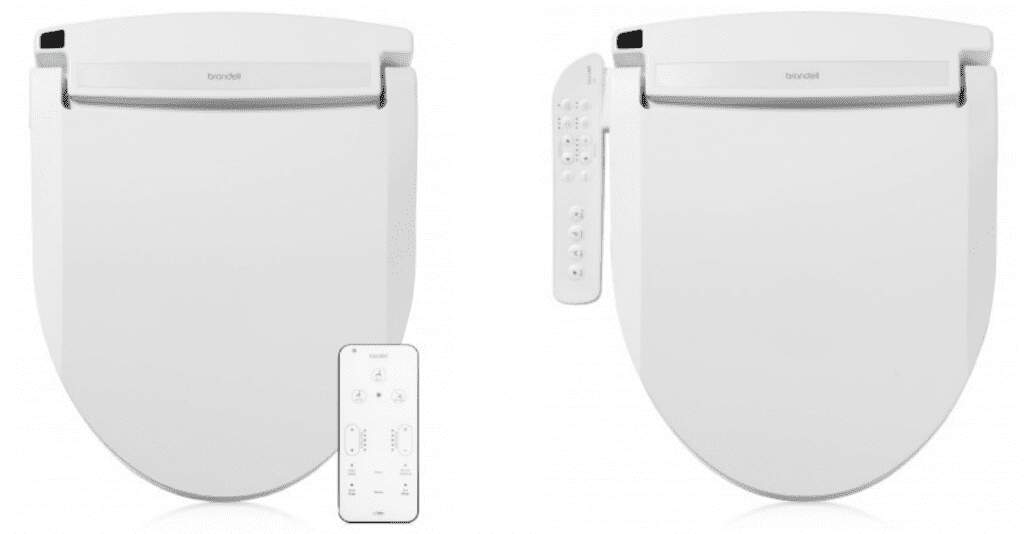 A wireless remote or an attached side panel.
The remote is considered more premium and is the most common, while the side panel is often found on budget bidets.
Remotes are more popular because they're easier to use. You don't have to twist around to look at them. They also look a lot better, having a side panel adds around 3 inches to the width of the bidet and makes it stick out like a sore thumb.
To be exact, the side panel adds 2.6" of width on the LE/LT89 model compared to the LE/LT99 models. 
One downside to remotes is that some of them are quite finicky and have lots of small buttons. Side panels tend to be bigger with fewer buttons, so the buttons are more spread out.
If you're looking for a remote with big buttons, check out the Bio Bidet BB-1000.
Also, side panels can't fall on the floor. If you have shaky hands, a side panel might be more suitable.
Which Brondell models have remotes and side panels?
| | |
| --- | --- |
| Remote / Side panel | Models |
| Remote | 1400, 1200, 1000, SE600, LT89, LE89, 300 |
| Side panel | SE400, LT99, LE99 |
| N/A | Ecoseat |
The Brondell remotes are clean looking and intuitive, the buttons are clearly marked and it's easy to tell what each one does. 
The 1400's remote is the most crowded because it has the most features. But as you reduce the features the remotes become clean and simple.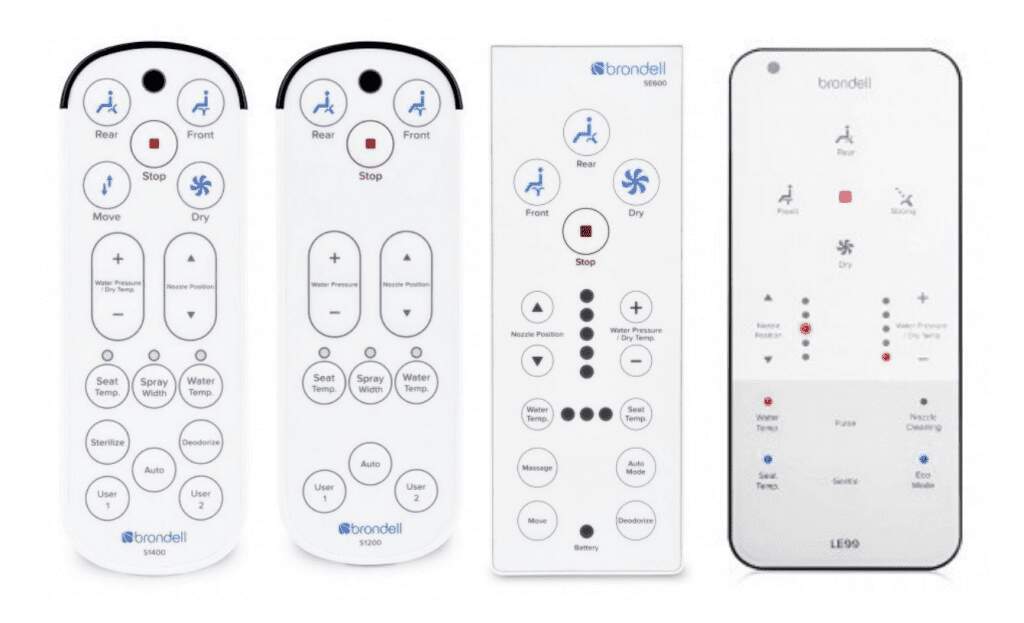 The 1400/1200/1000 remotes have the same design and the SE600 remotes are very similar. But the LT/LE remotes have had a redesign.
The 1400 etc and SE ranges have buttons to press while the LT/LE remotes use lite-touch technology. 
Younger users may appreciate the lite-touch technology as most things these days are touch screen, but for older users with less steady hands or for people with larger fingers it makes it easier to press the wrong button.
Another point of difference between the remotes are the visual clues you get. There a small indicator lights on each remote to let you know what setting is selected.
For me, the lights on the LT/LE remotes are more obvious than the other remotes. There isn't a big difference, but it's something to be aware of.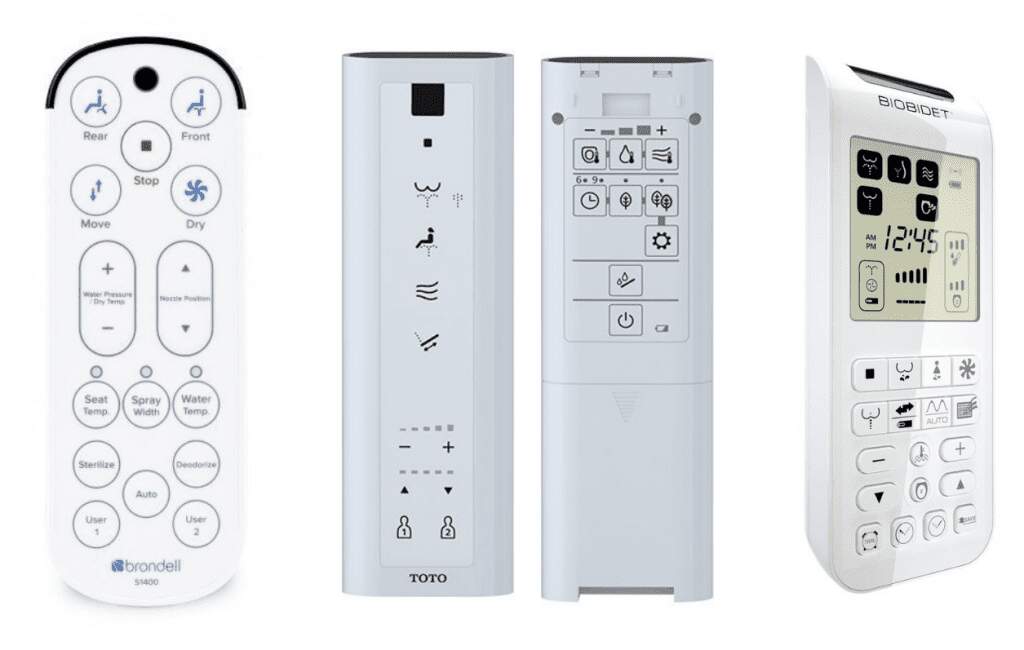 If you compare Brondell's remote to that of their competitors, it is immediately apparent that they are the most clear. They use pictures and words to explain each button. I think they strike a good balance between ease of use and style.
Lots of other brands only use symbols. For the less experienced user this can be confusing.
The Brondell options with side panels are all very similar. They all have actual buttons, no lite touch technology.
Tip: If your remote becomes unusable for any reason, all Brondell bidets have 'emergency' buttons on the unit itself which will allow you to perform a wash. 
None of the Brondell remotes or side panels come backlit. That said, the only other manufacturer that offers anything resembling a backlight is Toto. I feel like this could be a quick and easy win – we'll just have to wait and see.
Cleaning
Cleaning the toilet is probably the worst job to be left with, and you might worry that having a bidet will only complicate matters.
Thankfully, it's standard practice for bidets to have 'quick-release buttons so you can easily take them on and off the toilet for cleaning. All the Brondell models have this feature.
Self-cleaning nozzles are also very common in bidets, and all Brondell models come with it as standard. 
The Swash 1400 and the 1000 models go a step further and use special antibacterial water to clean the nozzles so they stay cleaner for longer. They also offer on-demand cleaning so you can clean the nozzles whenever you want.
The other models will only clean the nozzles before and after each use.
Price
Price is a big sticking factor for most people.
Generally speaking, pricing is pretty linear with bidets. The more features, the more the bidet costs.
There are also other things (such as the water heating method) that dictate the price of the bidet. Bidets that use a tank are usually cheaper than bidets that are tankless.
The Brondell Swash 1400 is the most expensive Brondell bidet but has a lot of features. It includes things like on-demand nozzle sterilization, and personalized user settings.
For some people these features will be worth it, for others they won't.
The LT/LE models are a lot more streamlined in terms of features, they're no fuss models and therefore cost less.
The cheapest Brondell models are the non-electric bidets.
Suitability for heavier users
For heavier users, the weight capacity of the the bidet is a primary concern. 
| | |
| --- | --- |
| Weight Capacity | Models |
| 330 lbs | 1400, 1200, 1000, 300, LE99, LT99, LE89, LT89, Eco Seat |
| 275 lbs | SE400, SE600 |
Most Brondell seats have a weight capacity of 330 lbs. The only exceptions are the SE400 and the SE600 which have a weight capacity of 275 lbs. 
Toto bidets are similar with a weight capacity of 320 lbs. Bio Bidet excels in this category and it's the brand I recommend if you are on the heavier side (in particular the Bio Bidet BB-1000). 
Bio Bidets can support up to 400lbs.
I always recommend elongated seats for larger users because the round sizes have smaller seat openings. All Brondells seats come in an elongated size.
Suitability for mobility impaired 
If you're purchasing a bidet for someone that has mobility issues, ensuring the seat is sturdy and safe is of utmost importance. Brondell recommends the Swash 1400 or 1000 for this because they have a specially designed mounting bracket to make it extra robust and secure.
Sittable lids are also really helpful for people with mobility issues because it allows them to sit down in the bathroom. (Easy to take this for granted with a normal toilet seat!).
The Brondell Swash 1400 (and Swash 1200) have sittable lids and can handle up to 270 lbs of weight. The rest of Brondell's electric bidet range can hold either 160 or 180 lbs, so sittable if you're petite – but not for everyone. The non-electric Ecoseat can support up to 330lbs.
Toto and Bio Bidet advise not to place any significant weight on their bidets' lid. 
Suitability for kids
There is no specific kids mode on the Brondell like some other bidets (e.g. the Smart Bidet 110 or the Bio Bidet 600) but there's no reason a child can't use one.
There's no lower weight limit, as long as skin touches the sensor the bidet will work.